Do you wish you could easily, in one place, see what are all of your options for a dog tennis ball launcher?
Well, now you can. All you need to do is continue reading this article and you'll read reviews about them all. From automatic to interactive, for big and small dogs. We have it all here, and you are also sure to learn something along the way as well that will make it easy for you to decide on the best one for yourself.
The Summary
Best 10 Dog Tennis Ball Launchers
BEST OF BEST DOG TENNIS BALL LAUNCHER
PetSafe Automatic Dog Ball Launcher
Outdoor And Indoor Use
You'll get to use it outdoors with batteries and indoors because an adapter is included. It's 13.8-in tall, and 14-in wide so it won't take up much space indoors. It can throw the ball between 8-30 ft so, for indoor use, you should adjust it to a smaller setting using the knob found on it.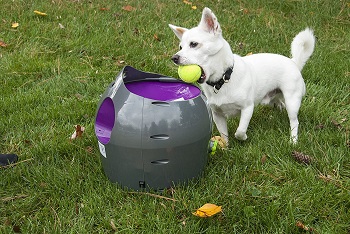 Safety Features
The Petsafe tennis automatic ball machine features a rest timer for your dog to take a break when it's needed and it's got a built-in motion sensor that won't let it fire if the dog is standing too close. A total of 9 distance settings and 6 angle settings should prove to be enough for any dog. There are dozens of self-ball throwers for dogs so find the one that fits you best.
In Short:
It's 13.8-in tall and 14-in wide
Hass 9 distance and 6 angle settings
Can throw the ball up to 30 ft
Can be used indoors and outdoors
Has a rest timer and a safety sensor
BEST AUTOMATIC TENNIS BALL LAUNCHER
Franklin Pet Supply Ball Launcher
Manual And Automatic Settings
It's always good to have an auto-ball thrower that can shoot standard tennis balls. This one and many others can so be sure to read all about it later on. Adjusting the angle from which it throws is a manual process. It has 3 settings while the distance is set with a knob and it can throw up to 25 ft.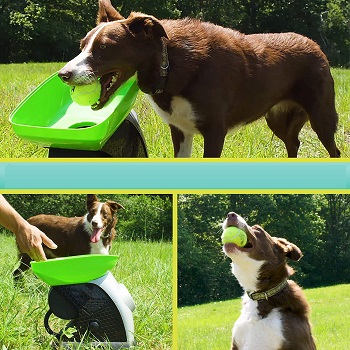 Locations And Ways Of Use
It doesn't require assembly and your dog can place the ball back into the bin where it will shoot from on its own. The balls shouldn't be too wet because they might affect the performance of this Franklin automatic tennis ball launcher. You can use it outdoors and indoors.
In Short:
Works with regular tennis balls
You can manually adjust the 3 angle settings
Can throw balls up to 25 ft away
The balls shouldn't be too wet when placed in
Works outdoors and indoors
BEST SLINGSHOT TENNIS BALL LAUNCHER
Hyper Pet Ball Launcher
Build And Ball
You will get one ball to shoot from this interactive ball launcher but its benefit is that it can shoot standard-sized balls. Many others do as well and you can read the article about them to make sure. It has an all-metal construction and it's exactly what it says it is a tennis ball slingshot.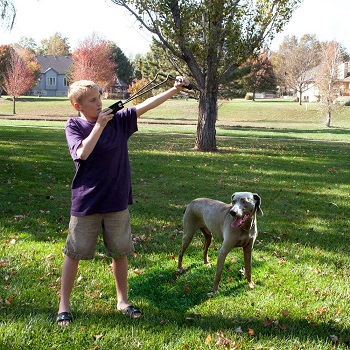 Size, Ball Pick Up, And Distance
It's no more than 12-in tall and it will fit into your hands nicely due to its grip handle. This handle also features a place where you can store an additional ball. It will allow you to pick out balls without having to constantly keep bending down. the distance you can throw it all depends on you.
In Short:
Has an all-metal frame
Features a comfortable grip handle
Allows for hands-free ball pickup
Comes with one ball
Can store one ball
The distance thrown depends on you
BEST CHEAP DOG TENNIS BALL LAUNCHER
ChuckIt! Ball Launcher
Enhanced Throws
With the Chuckit cheap tennis ball launcher, the distance you're able to throw is enhanced by how tall the dog ball thrower stick is. This rule applies to most of them so make sure to check the other ones out as well. This one specifically is 26-in tall and that's the largest size.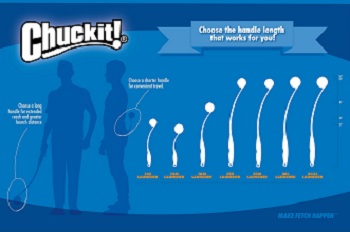 Dog And Owner Interactions
It's made to throw balls medium-sized dogs. This is important because a smaller ball might harm your dog while it is in his or her mouth. You won't have to bend to pick up the ball from the ground which is a great benefit if you love playing with your dog but it's sometimes exhausting.
In Short:
Made for dog and owner bonding
It's 26-in tall
Made for throwing medium sized balls
Comes with one ball
You can change its height and ball it can throw
Made to boost your own throwing distance
BEST HANDHELD TENNIS BALL LAUNCHER
Hyper Pet K9 Ball Launcher
Cannon Thrower
You can always count on a tennis handheld launcher to be interactive and will allow you to bond with your pet. The hyper pet K9 kannon ball launcher will also make it fun for you because it's designed to be used as a cannon thrower shaped and functioning as a kids' toy gun.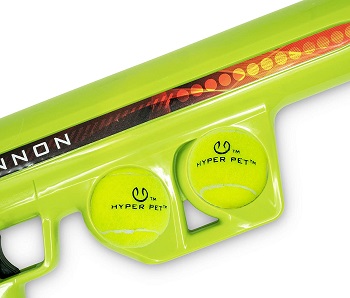 How It Works
Since it's small, it's perfect for kids and small dogs. It can hold up to two dogs that you can then throw. The way you shoot it is by pulling the lever in the back that then fires it in the air, depending on the angle you're throwing it from. It's made out of plastic and rubber. You can check more similar tennis ball shooters for dogs here.
In Short:
Shaped like a cannon
Can hold two additional balls
Fires with a lever in the back
It's small-sized for kids and small dogs
The angle of throw depends on you
BEST INDOOR DOG TENNIS BALL LAUNCHER
Idogmate Auto Ball Launcher
Who It's For
If you have a small dog that you'd want to play fetch with indoors, this tennis indoor launcher for dogs will be perfect for it. It comes with 3 1.75-in diameter balls that are perfect for the mouths of small dogs like toy poodles, chihuahuas, and other dogs.
All Of The Functions
In the back of the Idogmate ball launcher, you'll find everything you need to set it up, the power button, and the distance setting button that can throw the ball up to 35 ft away. It also has a ball chamber. The top is where your dog will get to place the balls that will then automatically fire away. To see more models similar to this one, read the post about the best electric dog ball throwers.
In Short:
Has a powder and distance setting in the back
Has a back ball chamber
Comes with 3 balls
Fires the balls up to 35 ft away
Made for small dogs
Comes with 3 1.75-in diameter balls
BEST MINI TENNIS BALL LAUNCHER
Afp Automatic Dog Ball Launcher
How It Can Work
You can turn this small dog ball launcher on, as well as many other and you can convince yourself in this article, either by plugging it into the electricity with an adapter, or you can use batteries for it that are not included. It's made for small dogs because it's able to shoot out 1.88-in diameter balls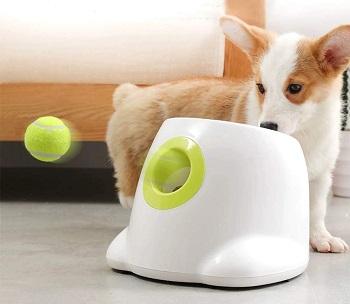 Most Important Features
It can shoot balls from 10.20, or 30 ft. It's best for older dogs and small but energetic young dogs. It comes with 3 balls of the already mentioned diameter. You should avoid putting dirty and wet balls inside it because it may cause this tennis mini launcher to break.
In Short:
Works with 1.88-in diameter balls
Comes with 3 balls of the same size
Shouldn't be used with wet and dirty balls
Can throw the ball 10, 20, or 30 ft away
Made for smaller elderly, or young dogs
BEST PORTABLE DOG TENNIS BALL LAUNCHER
Chew King 2.5 Ball Launcher
Throwing Standard Balls
The 2.5 in the title of this launcher marks the fact that you can use standard tennis balls for this dog ball thrower stick. You can check other ones that can and can't have standard balls in the article. With the simple knob in the back, you can adjust the angle of throw, distance, and level of difficulty.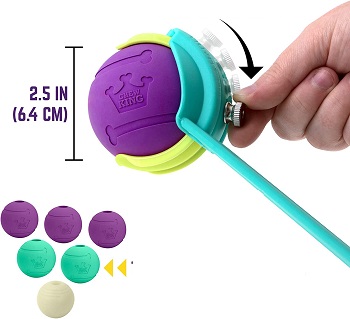 Ball Types And Who Can Use It
It comes with a total of 6 balls. 5 Of them are rubber balls and one is a glow-in-the-dark one. It's made out of plastic and it's one of the only throw enhancers that you can actually adjust and decide on how you're going to throw it. It works great for elders, children, and adults.
In Short:
Anyone can use it
Acts as a throwing stick
You can adjust throwing distance, angle, and difficulty
Works with 2.5-in tennis balls
Comes with 6 balls, one glows in the dark
BEST CATAPULT TENNIS BALL LAUNCHER
Nerf Dog Tennis Ball Blaster
The Way It Works
No matter if it catapults or blasts the ball, the Nerf tennis ball catapult launcher is a fun little gadget that kids will most definitely enjoy having when they're the ones playing with the dog. All it takes is to reload it, create pressure by pulling the lever, and shooting it like a gun.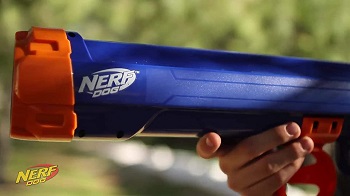 Throw Distance And Balls
If you'd like to have more freedom with your throw and get more distance, you should definitely check out other ball launchers for large dogs since they, and this one can throw the ball over 50 ft away. You'll get 4 balls in total that are all squeaky tennis balls for dogs of all sizes. You can store one at a time in the bracket.
In Short:
Can launch ball over 50 ft away
Acts like a gun
Comes with 4 balls
Has a bracket for storing one ball
The balls have a smaller diameter fitting most dogs
The balls are squeaky
BEST LARGE DOG TENNIS BALL LAUNCHER
iFetch Interactive Ball Launcher
Ball And Distance Details
There is a smaller version of the iFetch automatic ball launcher, but this one can hold standard-sized tennis balls that have a 2.5 diameter. You will get three of them with the launcher. You'll get to choose between 3 throwing distances, 10, 25, and 40 ft, and it even has a random distance setting.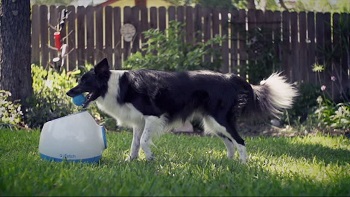 Training Tool
This is probably the only tennis automatic ball launcher for large dogs that comes with training instruction but you can make sure of that yourself by reading the article. When you first get it, training mode is on that limits the throwing distance to 10 ft. You can easily turn it off for larger distances.
In Short:
Can throw the ball 10, 25, or 40 ft away
Has a random distance setting
It arrives in training mode that limits the distance to 10 ft
Comes with a training guide
Comes with 3 balls
Can hold standard-sized tennis balls
How To Pick A Tennis Ball Launcher
With so many launchers out there, it's hard to pick the tennis ball machine for dogs that are suitable for your dog specifically. We're here to make everything just slightly easier so that in the end, you choose the launcher that's best suited for your dog, you, and your shopping abilities.
Tennis Ball Types – There are two types of tennis balls that we want to direct your attention to. These balls will, in the end, determine which launcher you'll get. These balls are standard 2.5-in diameter balls and 1.75-in diameter balls. The first is made for large dogs and the smaller diameter ones are made for smaller dogs.
Types Of Launchers – There are many types of launchers but the two categories that all can somehow fit in are automatic and interactive launchers. If you don't have the time of day or the energy to play with your dog, get the automatic ones, and if you do, bonding with your dog will be an unskippable part of the experience.
Price Points  – The cheaper tennis ball throwing machines will be the ones that you'll have to use your strength to throw the ball, aka. interactive launchers. They can vary in price and it all depends on the brand, and how exactly they work. The stick throwers are the cheapest and they can cost as low as 10 dollars. Automatic launchers can cost up to 200 dollars.
Locations Of Use – For indoor use, you'll have no option but to get an automatic launcher because interactive ones throw balls too far away for indoor use. No matter if it's a launcher for big or small dogs, it can work indoors because all of them can throw the ball as low as 10 ft away.
Outdoor Use – Unless you can somehow plug an automatic tennis launcher into electricity, you'll have to use them with batteries so that's one reoccurring cost for outdoor use that directly relates to only automatic launchers. Interactive launchers don't need electricity to run so it won't be a concern.
Where To Find Them – You can find these launchers anywhere on the internet but amazon is the place where you'll find the most types of launchers. Even though we only mentioned two types, the interactive ball launcher can be further categorized into cannon, slingshot, and even stick launchers.
To Sum Up
Which dog tennis ball launcher you'll choose only really depends on your needs so we can't truly recommend a specific one. Just remember, for smaller dogs, a launcher with an around 1.75-in diameter ball will be best and for larger dogs, a launcher with standard tennis balls will work great. If you want to learn more about these but so that it's not specific to tennis balls, you can always read the article about automatic ball launchers and if you don't need it to be exclusive to automatic launchers, you can always read the article about ball launchers.