Is your hand getting tired of all the balls you've been throwing for your dog to catch them and are ready for an automatic ball launcher?
You can rest after you read this article where we reviewed a lot of different types of launchers. One is bound to fit you and your needs and wants because we've got everything from automatic launchers for small dogs, large dogs, and we even reviewed interactive ones that will keep the bond between you and your dog tight.
The Summary
Best 10 Automatic Ball Launchers
BEST OF BEST AUTOMATIC BALL LAUNCHER
iFetch Interactive Ball Launcher
Training Is Easy
Upon receiving this launcher, it'll be in training mode that you can easily turn off. You will also get instruction on how to properly train your dog to use it by himself. The ball is supposed to be dropped on top from where it will fire in a few seconds. The iFetch ball launcher can throw the ball up to 40 ft away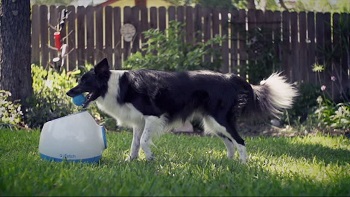 No Replacement Batteries
The balls it can shoot are standard tennis balls that have a 2.5-in diameter. You'll get 3 of them, and what's best about it is that it can be recharged so it doesn't run on batteries. If you'd prefer to see other automatic ball launchers for large dogs you can do so in this article.
In Short:
Comes with 3 standard-sized balls
Made for large dogs
Comes with training mode on
You'll get instruction on how to train the dog to use it
Can throw the ball up to 40 ft away
Can be recharged for wireless use
BEST LARGE DOG AUTOMATIC BALL LAUNCHER
Idogmate Big Dog Ball Thrower
Ball Throwing Details
You will be saving money with the iDogmate ball launcher that can throw standard 2.5-in diameter balls. You'll get three of those with this machine and what's unique about it is that it will still throw dirty and wet balls due to the special mechanism it has on the inside.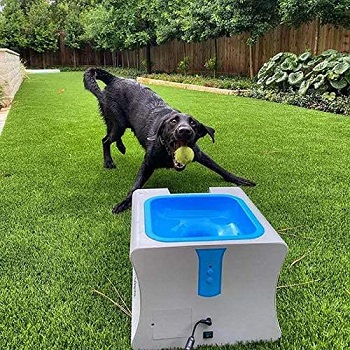 Throwing Distances
It's typical for these launchers to be able to throw balls up to 40 ft away. This one can and has 3 more distance modes. The 10 ft mode can be useful for indoor playtime. Although it's the greatest, you might want to check out other automatic ball launchers for large dogs.
In Short:
Can throw the ball up to 40 ft away
Has a total of 4 distance mode
Uses 2.5-in diameter balls
Can throw wet and dirty balls
Can be used indoors as well
BEST TENNIS AUTOMATIC BALL LAUNCHER
Franklin Pet Supply Ready Set Fetch
Manual Adjusted Settings
Although the angle settings on the Franklin automatic tennis ball launcher can be adjusted manually, the distance setting can be set by adjusting the knob on the machine. There are three angles modes, low, medium, and high. The distance it can throw ranges from 10 to 25 ft.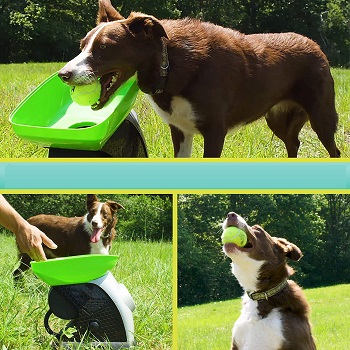 Balls And Safety
It uses standard-sized tennis balls and you will get one with the machine. Before the ball shoots, a buzzer will warn you that it's ready to launch. The basket in which your dog will throw the balls is deep. There are more tennis dog ball throwers with safety features so check them out if safety is a priority.
In Short:
Has manual angle settings
IT can throw the ball low, medium, or high
The throwing distance ranges from 10 to 25 ft away
Has a deep ball basket
Releases a sound to alert you that it's going to shoot
Uses standard sized balls
Comes with one tennis ball
BEST SMALL AUTOMATIC BALL LAUNCHER FOR DOGS
All for Paws Interactive Ball Launcher
Ball Diameter For Small Dogs
The balls made for small dogs aren't standard. This machine can shoot 2-in diameter balls and you will get 3 balls with it. They look like standard tennis balls though. With the push of a button, you can change the throw distance from 10, 20, or 30 ft.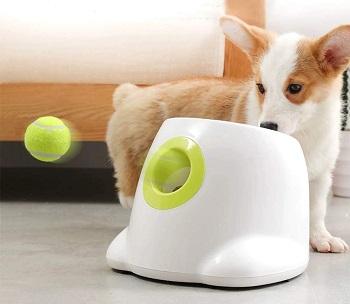 Easy Use Build
The basket for placing balls on the Afp automatic ball launcher is angled so that your dog gets used to placing the ball inside in the back. It works with an adapter or with 6 D batteries. If you are in great need of a small dog ball launcher, this is not the only one out there so be sure to check others out as well.
In Short:
Comes with 3 balls
The balls used have a 2-in diameter
Can throw the ball 10, 20, 0r 30 ft away
The basket is angled at the back for safety
Can be used with batteries or with an adapter
BEST INTERACTIVE AUTOMATIC BALL LAUNCHER
Jopetio Auto Dog Feeder
Dog Enrichment Toy
Automatic can mean a lot of things but in this case, it means that it uses treats to reward your dog for a job well done. It's an enrichment toy and it doesn't shoot out balls into the distance. Your dog will get rewarded every time he successfully places the ball into the dispenser.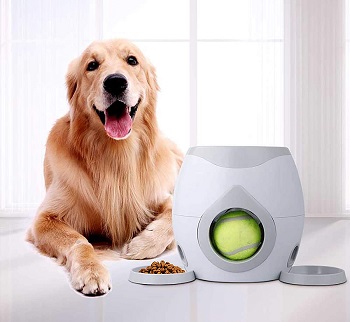 Materials Used And Ball Details
You will get 2 tennis balls and one spoon to feed the machine treats. You will have to clean it from time to time since it uses treats. It doesn't require you to plug it in for it to work. This is not the only type of interactive ball launcher so be sure to check all of them out.
In Short:
Made out of ABS plastic
Has a treat compartment
Dog gets rewarded every time he places the ball inside
It's easy to clean
Works with standard-sized tennis balls
Comes with 2 balls and a spoon
BEST ELECTRIC AUTOMATIC BALL THROWER
PetSafe Dog Toy Ball Launcher
Safety Sensors
The Petsafe automatic ball launcher has multiple sensors that exude safety. The front sensor detects motion up to 7 ft away from the launch area and prevents the ball from shooting. It releases a sound to alert you and the dog for when the ball is ready and about to launch.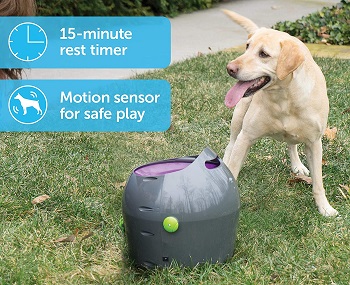 Resting Period
Your dog won't ever get tired of this launcher because it has a built-in 15 minute rest period so that the dog isn't exhausted. It comes with 2 standard tennis balls and can load up to three at once. Electric ball throwers regularly have multiple safety features, each is different so make sure you read the article to find out all about them.
In Short:
Has a motion sensor to prevent unsafe ball launch
Releases a sound before launch
Has a 15 minute rest period
Works with standard-sized balls
Comes with 2 balls
BEST SLINGSHOT AUTOMATIC BALL LAUNCHER FOR DOGS
Hyper Pet Ball Launcher
Impressive Range
Although it is more of an interactive launcher, it's still able to throw the ball so far that it's beyond your wildest imagination. It's estimated that it can shoot balls up to 220 ft away without any sort of hassle since it's a slingshot. It works with standard-sized balls and can hold up to 4 in the bracket.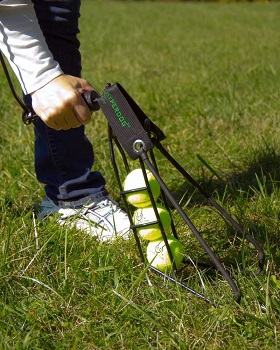 Frame And Ball Pick Up
This auto ball thrower for dogs is all black and the frame is made out of metal. You won't have to scoop the ball up with your hands, you can do it with this interactive ball launcher. if you want to tone it down a bit, there are more that are completely different in the article.
In Short:
It has a metal frame
Acts as a slingshot
Can shoot the ball up to 220 ft away
Holds up to 4 standard-sized tennis balls
Allows for hands-free pick up
BEST SELF AUTOMATIC DOG BALL THROWER
GoDogGo Inc. Fetch Machine
Remote Controlled
You won't have to stand up and change anything on this launcher because it comes with remote control. It will still work 50 ft away from the Godoggo auto dog ball launcher. You can change the launch time as well. It can launch every 4, 7, or 15 seconds.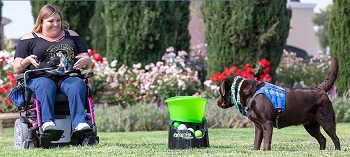 For Balls Of All Sizes
The huge basket at the top can hold up to 25 balls at a time. This of course all depends on the size of the balls. It works with balls of all sizes which is a rarety with self-ball throwers for dogs but if there's another one out there, you'll find it in this article.
In Short:
Can hold up to 25 balls
Can launch the ball every 4, 7, or 15 seconds
It can shoot balls of all sizes
It can be remote controlled
The remote works 50 ft away from the unit
BEST STICK AUTOMATIC BALL LAUNCHER
Chew King Ball Launcher
Adjustable Throw
The reason why this product is here is because of its unique ability that allows you to adjust the throwing distance and angle. All of this can be done by adjusting the simple knob in the back. You can find this knob at the top where it holds the ball for launch.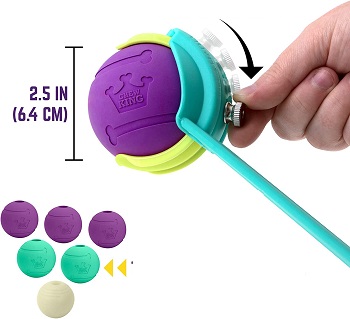 Balls Info
This automatic stickball launcher comes with 6 balls in total. 5 of them are made out of rubber while the last one is a glow-in-the-dark ball so that you can have fun even when the sun isn't out. For more uniquely made dog ball thrower sticks, you can read the article about them where we go into detail about each one.
In Short:
Comes with 6 balls
5 of the 6 balls are rubber balls
Comes with 1 glow in the dark ball
Has an adjustable throwing distance
You can adjust the throw angle
BEST CHEAP AUTOMATIC BALL LAUNCHER FOR DOGS
Felix & Fido Small Ball Launcher
Price And Uniqueness
If you're looking for a cheap option, it's usually hard to find but this one comes pretty close to it with an affordable price. For that price, you'll get to throw in the dirty and wet ball which a lot of these machines just don't offer.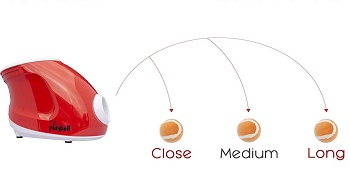 Distance And Specialty Balls
The 3 tennis balls that come with it are customized. This means that they are smaller to fit inside the machine. It works with 1.5-in diameter balls and uses batteries. Small dog ball launchers don't go over 40 ft of throwing distance. You might be able to find one though in the article we recommend you read.
In Short:
Comes with 3 balls
The balls are small and have a 1.75-in diameter
Won't break if used with dirty or wet balls
Can throw the ball up to 35 ft away
Designed for smaller dogs
Costs around 110 dollars
How To Pick An Automatic Ball Launcher
Which automatic ball launcher you'll get mostly depends on the breed of your dogs and their habits and behavior. We'll go through every detail in this guide so that you can truly pick the right one even though it might be your first purchase ever for launchers.
Launcher Sizes – The size categorization doesn't have a lot to do with the actual machine size but instead, it has to do a lot with ball size. A standard ball is around 2.5-in in diameter. If you find a machine that can throw these, it's made for large dogs. If it throws 2.0-in diameter balls and smaller, it's made for small dogs.
Throwing Distances – If your dog is highly active and needs a good throwing distance you might be satisfied with the up to 50 ft launch distance that big dog launchers usually have. If not, you can always opt for semi automatic launchers that will help you throw the ball even further away. The most efficient launchers in this department are definitely slingshots.
Indoor VS Outdoor Use – Mechanical or semi-automatic launchers will always have larger throwing distances than those that are fully automatic. This makes them available for use in larger fields but not in homes. Automatic ones will, on the other hand, do just fine in homes because the throwing distance can generally be set as low as 10 ft.
The Price You'll Pay – You'll rarely find an automatic ball launcher that can actually shoot balls with a price lower than 100 dollars. The ones that you can find for lower either don't shoot out balls or they're poorly made. We'll talk about trusted brands in a bit.
Brands To Trust – The brands you can trust to deliver a high-quality and safe product are Petsafe, GoDogGo, iFetch, IDogMate, and a few more. All of them either have impressive throwing ranges, or they have multiple safety features like sensors, angled throw baskets, training modes, and more.
Product Maintenance And Reoccurring Costs – Fully automatic launchers will most likely need a change of battery if you want to use them outdoors. All of them can be used with an adapter but only a handful has a rechargeable battery. Semi-automatic launchers don't require maintenance. The most reoccurring cost will always be new balls. You'll pay the lowest price for these if they're standard-sized tennis balls.
To Sum Up
We can't truly pick out the best automatic ball launcher for dogs because the recommended product won't ever fit everyone's needs. The things to remember are that you need to be aware of the ball size suitable for your dogs, how to treat your launcher, and you should focus on safety features that a product might have because they will definitely be helpful. If you want to read more about them with other models included like more sticks and slingshots, you can check out either the article about dog tennis ball launchers or about ball launchers in general.