Getting tired of your classic litter box emitting nasty smells and require an automatic cat litter box?
You can stop the smells fast if you continue reading this article. All we did was review the best ones out there and trust us, one is bound to be made just for you because we made sure to review different types of boxes like multiple cat boxes, large automatic ones, self-sifting ones, and more.
The Summary
Best 10 Automatic Cat Litter Boxes
BEST ELECTRIC AUTOMATIC CAT LITTER BOX
Nature's Miracle Cat Litter Box
This is a litter box for a single cat that weighs up to 15 lbs. It will turn on automatically after every use and scoop litter. The litter will then go to a compartment with carbon filters that will absorb any odors. After some time, all you need to do is dispose of the litter inside the compartment.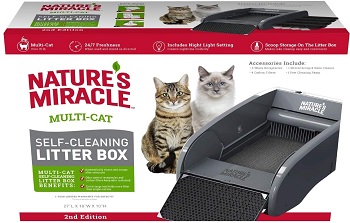 Kittens can only use this box if it's unplugged. You'll get 4 carbon filters and 4 boxes where the litter will go to. It even has a nightlight. There are many other electric cat litter boxes out there just like this one or we'd argue, even better, so be sure to check them out.
In Short:
Can be used by a single cat
The cat shouldn't weigh over 15 lbs
Scoops litter after every use
Comes with 4 carbon filters and 4 litter disposal boxes
Includes a night light
Should be unplugged when a kitten uses it
BEST MULTIPLE CAT AUTOMATIC LITTER BOX
LitterMaid Multi-Cat Litter Box
There isn't a limit as to how much your cats can weigh to use this box but they can weigh over 15 lbs. The reason why it has great odor control is that dirty litter and your cat excrements will end up in a closed bin with a carbon filter that will absorb nasty odors.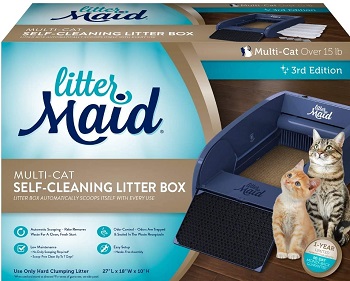 You won't have to do anything for up to 7 days. After that period all you need is to get rid of the disposable container and put a new one in. It has a ramp that will clean your cat's feet of the excess litter as well. There are plenty of tidy automatic litter boxes for multiple cats and you can see for yourself by reading the article.
In Short:
The multiple cats can weigh over 15 lbs
Comes with bins with carbon filters
The litter is raked and placed in the bin
Can work up to 7 days without you doing anything
Features a ramp for cleaning your cats' feet
BEST FLUSHING LITTER BOX SELF CLEANING
CatGenie Self Washing Cat Box
The litter box acts and is shaped just like a regular human toilet. You'll have to connect it to your water line so the best location of use would be in your bathroom. everything is well explained so it will be easy to set up and get going as well.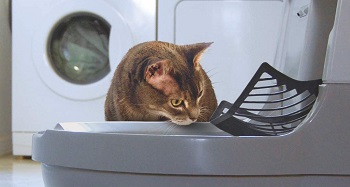 After every use, it scoops litter and flushes it down where your regular toilet does. It will also clean and dry the litter inside for extended use of the granules it uses instead of regular litter. If this cat box is too complicated for your taste, you can check out the more simple and easier to use flushing litter boxes.
In Short:
Shaped like a toilet
Connects to a water line to flush out litter
Uses granules instead of litter
The granules are washed and dried with hot air regularly
Instruction on how to install it are easy to follow
BEST LARGE CAT SELF CLEANING LITTER BOX
PetSafe ScoopFree Cat Box
The magic of this litter box happens with the litter used for it. It's crystal litter that's 99% dust-free and won't stick to your cats' feet so the surrounding area will be cleaner. It has a wonderful blue color and it can last up to 30 days without you having to change it.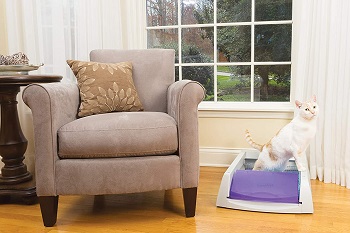 The place where the litter ends is sealed so that no odors ever leave it. It has a sensor that will stop the cleaning process if your cat's inside. This is not the only automatic litter box for large cats with exceptional litter so be sure to check them out if you feel as if it's not the right fit for you.
In Short:
Uses blue crystal litter
The litter is 99% dust-free
Dirty litter ends up in a closed bin to prevent odor from spreading
The litter lasts for up to 30 days
It won't track on the cat's paws
Features a sensor to stop cleaning when a cat is inside
BEST CHEAP AUTOMATIC LITTER BOX
Pet Zone Smart Scoop Box
For the price of around 124 dollars, you will get a litter box that works and looks similar to the more expensive branded ones. The benefit of this cheap automatic litter box and others is that they don't require special litter so be sure to read about them all if you want another one.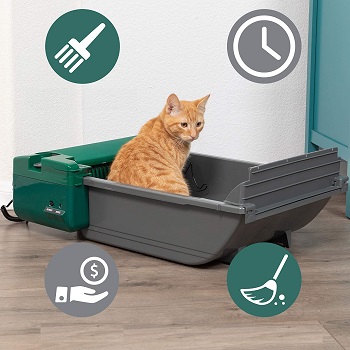 The container with a carbon filter where litter will be sent can be lined with a plastic bag so that the container lasts longer free of odors. You will get a monthly supply of these bags. It will begin the cleaning cycle 30 minutes after your cat has used this cheap self-cleaning litter box.
In Short:
Costs around 124 dollars
Doesn't require specialty litter
The litter disposable container is reusable
You can line the container with plastic bags
Comes with plastic bags for one month of use
BEST EASY CLEAN LITTER BOX SELF CLEANING
Omega Paw Roll N' Clean
This is a closed-off litter box and for a good reason. You'll be able to easily sift the dirty litter by simply rolling it. Next up is taking out dirty litter collecting cup, throwing them out, and putting it back inside. It's located in the front and has a handle so you can easily pull it out.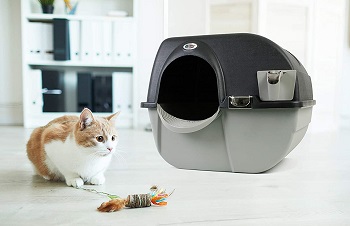 The entrance features a little stand that will clean your cat's paws of excess litter. It works best with clumping clay litter. If you don't like complicated technologies but want the benefit of an easy cleaning litter box, you can check more of them out.
In Short:
Works by sifting dirty litter
Has a lid on top
You can simply roll to start the sifting process
Works best with clumping clay litter
Dirty litter ends up in a cup with a handle for easy disposal
BEST MECHANICAL AUTOMATIC LITTER BOX
SpeedySift Cat Litter Box
With this litter box, the main help with cleaning will be plastic bags with holes in them. These bags will sift the clean litter when you lift them and then you can easily dispose of the dirty litter that's left inside. This is just one way a mechanical litter box works so you can see for yourself how others work if this way is not convenient for you.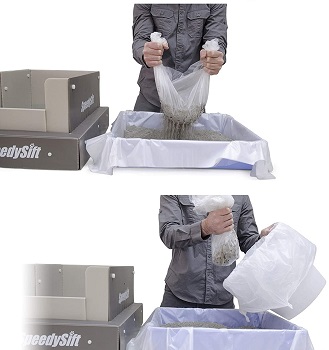 It's made up of a base where the lined bags with holes go to and all that is covered with a lid that has tall edges to give your cat more privacy and to keep the surrounding area cleaner. It's made out of corrugated plastic which only means that it's highly durable and even weatherproof.
In Short:
Made out of corrugated plastic
The plastic is durable and weatherproof
Has tall sides for privacy and for keeping messes in order
Comes with bags with holes
The bag sift the clean litter onto the next bag
BEST SELF SIFTING AUTOMATIC CAT LITTER BOX
Litter Spinner Quick Clean Box
It would be best if you'd use this litter box for a small cat because the inside might be cramped and the entrance hole might be too small for a medium or large cat to get inside. It sits on a stand and the shape of the litter box is sort of like a tumbler.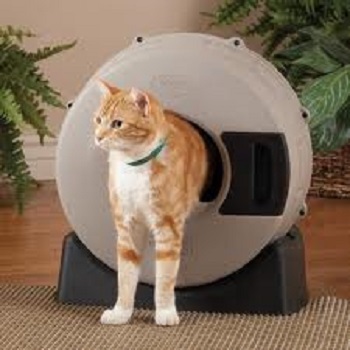 It will stand in place on the base when you roll it to sift the dirty litter into the compartment for easy litter disposal. If you want an even more automatic approach to a self-sifting litter box, be sure to read the article about numerous types of these.
In Short:
Sits on a stand
Has a small interior and entrance hole
Made in a shape of a tumbler
Rolls in place on the stand to sift clean litter
The dirty litter ends up in a removable compartment
BEST AIR PURIFIER FOR CAT LITTER
Levoit Air Purifiers
If you still can't get rid of the cat litter smell, you can get a wonderful litter box air purifier. Many won't just purify the cat litter smell but your whole house so you can make sure you get the best one for yourself in the article about them. Even at high speed, it's as quiet as in a library which is 46 dB.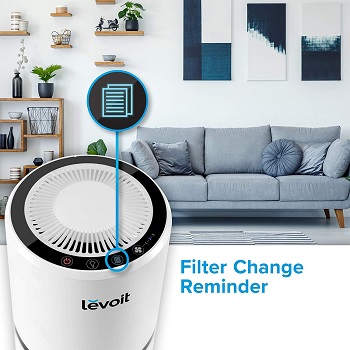 It purifies the air using three stages of filtration that are safe for humans and animals. It has a pre-filter, a HEPA filter, and a carbon filter. The filters should be replaced every 6-8 months. You can even use it as a night light for quick trips to the bathroom or someplace else.
In Short:
Works with 3 filters
Will filter air in a whole room
Uses a pre-filter, a HEPA filter, and a carbon filter
The filters should be replaced every 6-8 months
At high speed, it's only 46 dB loud
Comes with a night light
BEST ROBOT VACUUM FOR CAT LITTER
iRobot Roomba Vaccum
No matter the quality, some litter will always be lying around your home. With that, the best robot vacuum for cat litter can help. If you'd like a cheaper version or a fancier version, you can read all about it in the article we prepared for you. This one works with a mobile app.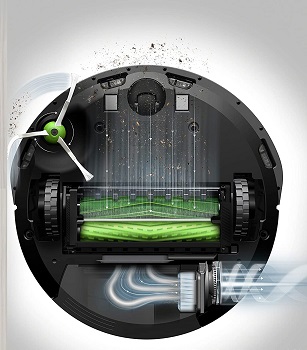 It sucks and brushes even the tiniest dirt particles. It has 5x the cleaning power of the previous model and it can go on multiple surfaces and be efficient still. The cleaning happens in 3 different stages so it's bound to pick up cat litter and even hairs.
In Short:
Works with a mobile app
Has a 5x stronger suction power
Cleaning goes through 3 different stages
The brush can handle pet hairs
It works well on different surfaces
Will clean your whole home
How To Pick An Automatic Cat Litter Box
Any litter box self-cleaning model can be a wonderful addition to your home and your cats' life. This all depends on what you're prepared to spend for them, what type of box you'd have the most use of, and also the size of your can and your cat's habits. Read more to find out more and make purchasing one a breeze.
Types Of Boxes – There are two types of boxes that we were able to review that stand out from the classic litter box. Both will have you left with clean hands and with no scooping experience. The first is the automatic ones that run on electricity and the second is the mechanical ones.
Litter Types – The most common litter type out there is clumping clay litter and this is the litter that mechanical litter boxes work best with. Unless it's stated otherwise, an automatic litter box will require you to buy specialty litters that are said to last longer and are almost completely dust and odor-free during that period of time but they are more expensive.
Litter Sifting – What is always the most discussed with mechanical litter boxes, self sifting, and easy cleaning litter boxes is the litter sifting process. With ones that don't use electricity, you'll most likely have to roll the box so that dirt litter can get separated and leave only fresh and clean litter. It's recommended that use clumping clay litter with these.
Pellet Litter – Although we haven't mentioned pellet litters, it's arguably better than clumping clay litter unless your litter box needs it to work. Generally, it's cheaper, environmentally friendly, neutralizes odors better, causes fewer messes, and it's even better for your cat's health.
Litter Collecting With Auto Boxes – The way that automatic boxes for litter work is that they rake the litter and collect it inside a bin that can either be disposable or reusable. Disposable ones are more expensive but they do come with carbon filters that will odors until it reaches its limit and you need to replace it.
Cat Size – A large cat is considered to be any cat that weighs somewhere between 14 and 24 lbs. Any cat below can be considered small or medium. With mechanical litter boxes that are partially closed, you'll want to pay attention to the actual interior size, and for automatic litter boxes, it's a no-brainer because they already have a recommendation for what cat size is allowed. Some can even be multiple cat boxes.
Price And Most Common Costs – Mechanical litter boxes are always going to be cheaper than automatic ones that run on electricity. The only reoccurring cost with them is litter that you'll have to replace less frequently because it recycles clean and still usable litter. If you can find a litter box that runs on electricity that doesn't have disposable parts unless it's a plastic bag and will allow you to use any type of litter you usually use, you can consider it to be cheap because your costs after purchasing it will be lesser.
To Sum Up
We can't pinpoint the best automatic cat litter box because they're all so different and excel at different things and areas. What we'd advise is for you to see what litter works best for your cat and specific litter box and to see how often you will have to have additional costs. For more detailed and specific reviews of electric cat litter boxes, you can check out our article about that, and if your choice is to go with mechanical ones, we advise you to read the article about mechanical litter boxes.