Read our article about the cat trees without carpet and find out more about the best six models.
Check out our buyer's guide. Learn all about the benefits of owning such a unit, and be sure you know what your cat needs.
The Summary
Best 6 Non-Carpet Cat Trees
BEST OF BEST NO CARPET CAT TREE
Catforest Cat Tower No Carpet
Safe And Pet-Friendly
This cat tree by Catforest is constructed out of natural pine wood. This eco-friendly cat tree is completely safe for your household, cats, and the environment. The sturdy and firm construction keeps this unit stable. The unit does not wobble or shake when cats jump off of it.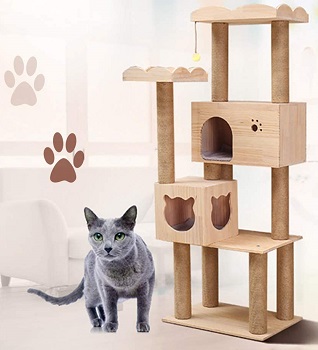 Tall And Multi-Level
The tall design with multiple levels allows your active cats to play and climb. The unit includes perches, condos, and posts. It is a unit that will keep your cats occupied and help to reduce feline conflicts. This Catforest's cat tree is ideal for indoor cats.
The Fun Content
There are multiple scratching posts included. They help to keep your cats' claws strong and allow them to climb easily as well. Apart from that, there is a dangling toy included that keeps cats active. This fun cat tree will satisfy all of your cats' needs.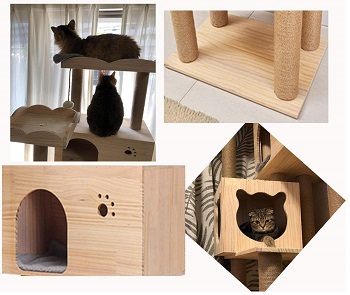 Two Condos
This cat tree without carpet comes with two cat condos. One of them is more spacious than the other. It may fit two small cats. Both condos have large entrances and windows. They are well-ventilated. They come with a soft sheet to keep your cats cozy.
In Short:
made of natural pine wood
eco-friendly and safe for cats
includes multiple levels
comes with a dangling toy
there are two condos
keep cats active and occupied
BEST TALL CAT TREE WITHOUT CARPET
Lazy Buddy XL Activity Cat Center
Fine Quality
This cat tree manufactured by Lazy Buddy is made of CARB-certified natural particleboard materials and covered with a walnut laminate finish. It is pet-friendly and looks nice in any household. The design is attractive and the unit is fun and cool.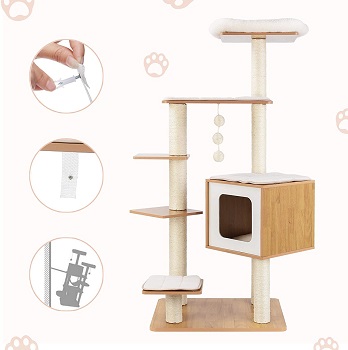 Stable And Firm Construction
This tree is well-proportioned. It has a wide and heavy base that keeps the tree in one place. Apart from that, it includes anti-toppling fittings as well. They make sure that your tree does not wobble or shake. The unit is perfect for climbing and jumping between levels.
Cozy Cushions
This is a no-carpet cat tree. However, it includes cushions that you can place inside of a cat condo and on the platforms. The cushions are simple to remove when you want to wash them. The unit is easy to clean as well. Simply dust off the surfaces with a cleaning cloth.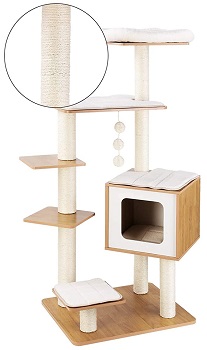 Ideal For Long Nappings
This cat tree is fun and provides your cats with a lot of possibilities to play, climb, and jump. It is also a cozy space perfect for napping and sleeping. The unit includes two large perches that will accommodate cats of all sizes. This cat tree for extra large cats is safe and long-lasting.
In Short:
made of premium quality materials
safe cat tree for cats of all sizes
stable and well-balanced construction
includes removable and cozy cushions
it is simple to keep the tree clean
BEST CONDO NON CARPET CAT TREE
Vesper Cat Tower Without Carpet
Beautiful Design
Vesper's non-carpet cat tree is modern, attractive, and nice-looking. The dimensions of the baseboard are 22.1 x 22.1 inches. The base is wide and keeps the tree stable. The unit is 47.8 inches tall. It has three levels, columns, and a cat condo.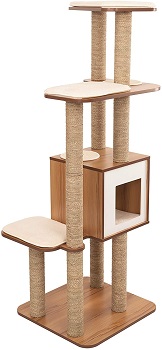 Roomy Cube Condo
One cube cat condo comes with this tree. It has a large entrance and allows cats of big sizes to enter with no problem. The cat condo comes with a removable cushion. It keeps cats cozy and warm and it is simple to wash as well. The condo is an ideal private resting space for cats.
Multiple Scratching Posts
This cat tree is supported by multiple columns. They are covered in rough sisal rope material which is ideal for scratching and sharpening cats' claws. This will not only help your cat to meet its natural needs but also keep your furniture undamaged.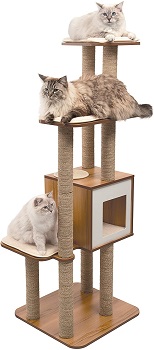 Useful Details
This unit is perfect for two or three adult cats. One large of a large size can use the tree as well. This unit is ideal for keeping cats busy and active on a daily basis. The unit is made of MDF. It is a sturdy cat tree that is simple to set up and clean.
In Short:
the tree is made of MDF material
sturdy and stable unit for adult cats
includes multiple scratching columns
one spacious cube cat condo is included
helps to keep cats active and busy
BEST SMALL NON CARPET CAT TREE
PawHut 2-Level No Carpet Cat Tower
Cat Condo Tree
The PawHut cat tree with a cat condo on the ground floor is ideal for cuddly cats or senior cats that cannot climb to high locations. Also, this is an ideal cat tree for small spaces. It looks beautiful, rustic, and looks nice with vintage and retro home decor.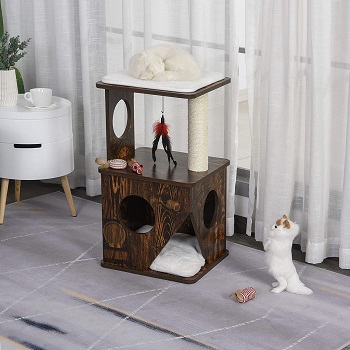 Wooden Construction
This all-wood cat tree no carpet is made of premium-quality dark wood veneer. It is sturdy and stable. The tree is not easy to overturn. The high-quality material ensures durability. The tree comes with a sisal scratching column as well. It invites your cat to scratch and maintains its claws healthy.
The Dimensions
The overall dimensions of this attractive cat tree are 15″ L x 15″ W x 28.25″ H. The unit is space-saving and does not occupy much space. It is a perfect cat tree for two adult cats. There is enough space for both cats to sleep and play.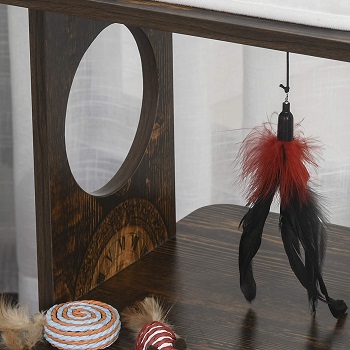 Cozy And Comfortable Cushions
Just like other wood cat trees that don't include carpet, this tree includes warm white cushions for your cats. One cushion is for the condo, and the other for the elevated perch. The cushions are easy to remove and can be washed in a washing machine.
In Short:
cat tree with a large condo
includes an elevated perch
the perch is supported by a column
the column is wrapped in sisal
perfect unit for two adult cats
comes with washable cushions
BEST MODERN ALL WOOD CAT TREE NO CARPET
Pawz Wooden Gray Cat Tower
Wooden Gray Tree
This cat tree without carpet by Pawz manufacturer is made of heavy-duty and strong material. The base is wide and keeps this unit stable. The tree comes with a security strap to anchor the unit to the wall. This helps your cats to play and jump with no shaking or wobbling.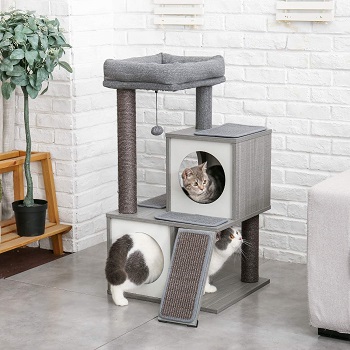 Safe And Comfortable
The unit is made of pet-friendly materials. There are no sharp edges that may hurt your cat in any way. This tree is here to help your cats feel busy, active, safe, and relaxed. It includes two condos. Both have two large entrances and include soft removable cushions.
For Active Life
If you have two or three adult cats at home and they stay indoors most of the time, you surely need to get such an indoor cat tree. It includes scratching posts, a dangling cat toy, and an elevated perch. It keeps cats busy, reduces feline conflicts, and satisfies all of their natural needs.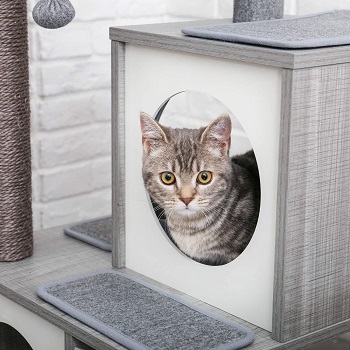 Last Information
The assembled size of this cat tree is 9 x 17 x 3 inches. The unit is made of quality material. It is sturdy and firm. Its net weight is 33.25 pounds. This is a stable and multi-cat tree for up to three mid-sized cats.
In Short:
made of heavy-duty material
fun and cozy at the same time
includes two spacious cat condos
a dangling toy hangs from the perch
safe and pet-friendly unit
BEST WALL WOOD CAT TREE NO CARPET
PetFusion Climbing Wall Cat Tree
Wall-Mounted Cat Tree
PetFusion's cat tree is narrow and tall. It is ideal for active cats that love to climb to high places. It is a unit that will allow your indoor cats to stay active on a daily basis. The tree will accommodate cats of all sizes, ages, and brees. The unit stands on a baseboard and gets attached to the wall.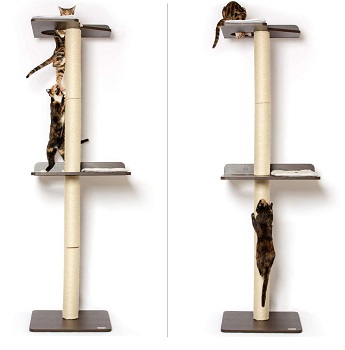 Saves Space
If you have limited space at home, this unit might save you. This tall narrow cat tree is perfect for small apartments or rooms. Place it next to any wall or in an unoccupied corner. The unit is sturdy and it will keep your fur friends safe and busy.
Simple To Mount
Just like every non-carpet cat tree on this list, the PetFusion's wall cat tree needs to be assembled and installed. Put all the pieces together and secure the unit to a wall. This is a no-drilling installation unless you want it to be. All you need is a screwdriver and hammer.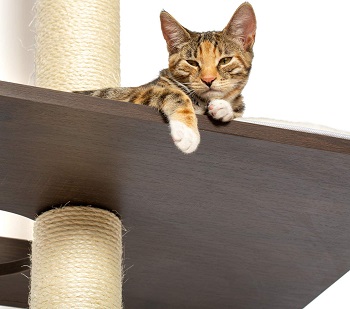 The Size And Material
This unit is made of quality E0 grade MDF material. It is firm and strong. This cat tree will last you a long time for sure. The unit's measures are 24 x 20. 8 x 76. 8 inches (LWH). Check if it fits into your home before buying.
In Short:
attaches to the wall for extra stability
made of Eo grad MDF material
stable and almost impossible to overturn
fast and easy no-drilling installation
for cats that love to climb and scratch
How To Pick: Cat Tree Without Carpet
If you are looking to buy an all wood cat tree no carpet or a cat tree made of another material but still don't know which unit to choose, read our buyer's guide. We will try to help you pick the best model for your household. Read more about the benefits of such units. Know your cat's personality, needs, and habits, and buy accordingly.
Simple To Maintain Clean – Cat trees with no carpets are modern, elegant, and attractive. They are simple to maintain clean. All you need to do is take a cleaning cloth and dust the surface off. There are some units that include removable carpets. They can be machine-washed. Also, you can choose if you want to keep them or take them off permanently.
The Assembly Process – Almost all cat trees and towers have to be put up. The assembly is usually fast and quick. It will take some more time to set up a tall or large cat tree. The tools and instructions for the installation are included. One or two adults can set up the tree with no problems.
Perches And Condos – Most units include one or two cat condos. They usually have large entrances to allow cats of all sizes to enter. Some trees come with perches and numerous platforms. If your cat likes to rest in high locations, then a cat tree with an elevated perch will be the right one for you.
Removable Soft Cushions – A large number of cat trees include one or more soft cushions that keep cats warm. They can be placed inside cat condos and on platforms. They are here to make your cats feel relaxed and cozy. The cushions can be washed in a washing machine or cleaned with a lint roller.
Toys To Keep Cats Active – If you have active cats, make sure that your new no-carpet cat tree includes interactive toys such as dangling cat ball or mouse. Such toys are here to keep your cat busy and occupied. Apart from that, be sure to get a unit with scratching posts. They will help your cat to climb and maintain its claws strong.