Are you tired of heavy crates that you can't easily transport so you're looking for a replacement that's a more lightweight dog crate?
Today is your lucky day because you've stumbled upon this article. By continuing to read it you will find reviews of the crates that fit this description. We made sure to review only the best small, large, and many other light crates so that you can really find one that fits you best.
The Summary
Best 6 Lightweight Dog Crates
BEST OF BEST LIGHTWEIGHT DOG CRATE
A4Pet Soft Collapsible Dog Crate
How Much It Weighs
Although this isn't the most lightweight dog crate we will review it's still pretty light considering the fact that it can house medium and large dogs because most of the time, the weight increases with size. To be more specific, it weighs around 9 lbs which makes it easy enough to carr around.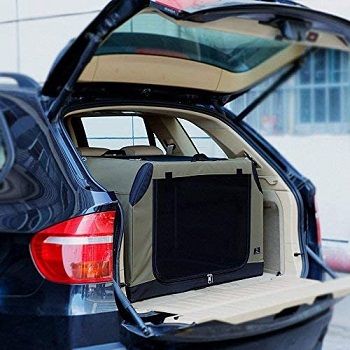 Light And Heavy Parts
What might surprise you but really shouldn't is that the crate has a steel tube frame. This is actually where it gets most of its weight since the cover is made out of oxford fabric. The frame makes it foldable and you can actually take the cover off to clean it when you need to
Traveling Companion
It's best that we describe it as a soft travel dog crate since it has a leakproof bottom that will contain liquids and prevent them from going onto your car floors and the corners of the crate are rounded so that your car interior doesn't get damaged.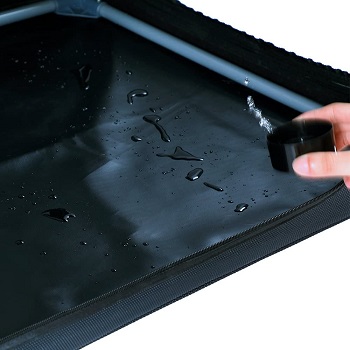 Window And Door Size
The crate has large mesh windows all around it including the top and excluding the back. The top, along with the front and side mesh fabric windows are also access doors while the back features a pocket for ou to store dog accessories.
Max Dog Size
This lightweight travel crate is 36-in long which means that it's best that you use it for either medium or large dogs that weigh up to 70 lbs. Another thing you should remember is that it should only contain dogs that are calm and crate trained.
In Short:
Made with a steel frame that can be folded down
the fabric cover is washable
Weighs around d9 lbs
Has a leakproof bottom
The corners are rounded to keep your car free from damage
Can house dogs up to 70 lbs
Best for travel
Has an accessory pocket
BEST SOFT LIGHWEIGHT COLLAPSIBLE DOG CRATE
Amazon Basics Soft Pet Dog Crate
Weight According To Size
This is a large soft dog crate meaning that it can house large dogs with up to 90 lbs. This definitely won't make the crate lighter but the crate itself weighs 13 lbs which is still light enough compared to other crate types like wire and wooden dog crates.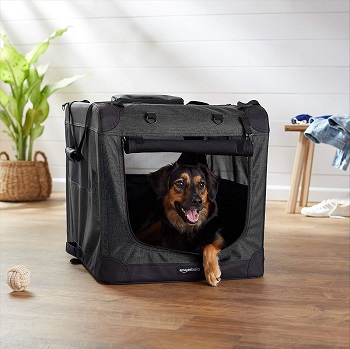 Light Frame
Unlike most soft crates, this lightweight collapsible dog crate features a PVC frame instead of a steel tube one while for the cover, it uses the already typical polyester fabric that you can take off to wash. The PVC frame also allows for the crate to be folded down.
Useful Extra Supplies
If you're going to use this lightweight dog crate for long travels with your dogs you might find it more useful that you will get a fleece bed for the bottom so that your dog can rest comfortably inside. You'll actually get some storage space with this crate since the crate has a top accessory pocket and a removable back one as well.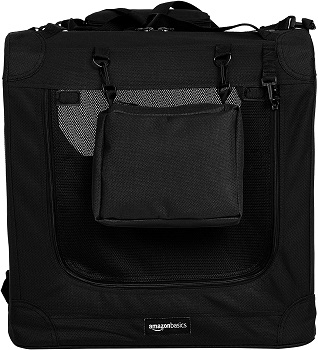 Secure Entrances
The front mesh window is larger than the rest since you'll be using it as a front entrance. There's also a top entrance and both open with zippers. The front door zipper can be attached to a locking clip so that the door doesn't accidentally get opened.
In Short:
Made with a PVC frame
Has a polyester fabric cover
The bottom can feature a fleece bed that comes with it
Weighs 13 lbs
Made to house dogs up to 90 lbs
The front door zipper can be attached to a locking clip
Comes with two storage pockets
BEST FOLDING LIGHTWEIGHT TRAVEL DOG CRATE
Petsfit Portable Soft Collapsible Dog Crate
Parts Functions
Just like the rest of the soft dog crates for cars, this one is also a lightweight collapsible dog crate and it's thanks to its steel tube frame, that you have to screw in, that this is made possible. The frame makes it hold its shape better while the oxford fabric cover keeps it light and portable.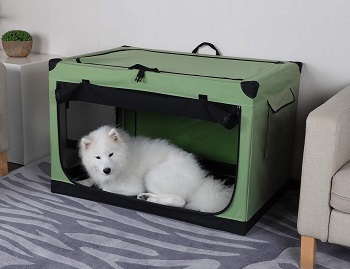 Assembly Required
Since the frame has to be screwed in the crate requires assembly but you won't have to go through too much trouble to assemble since it doesn't require any tools. The crate features three entrances located on top, side, and the front of the crate. You can secure the zippers with locking clips so that they don't accidentally get opened.
Fabric Cover Features
The fabric cover also features a storage pocket in the back instead of mesh windows. The windows that are there to assist with airflow and proper ventilation of the crate are located in the front and on the sides of this lightweight dog crate.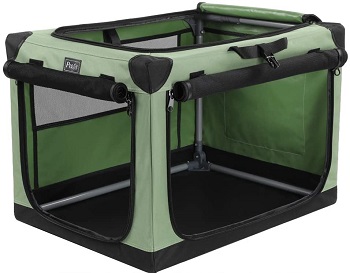 Height And Length
The crate is 42-in long and 28-in tall. What this means is that it can house large dogs. We wouldn't put too much trust into the weight limit of 100 lbs since this is very unreliable information when you're trying to determine what crate size you should get for your dog.
In Short:
Has a screw-in steel frame
The cover is made out of oxford fabric
Made to house large dogs
Has a back storage pocket
Features an entrance in the front and on top
Folds down flat
Has side and front mesh windows
The zippers can be attached to the locking clip
BEST METAL LIGHTWEIGHT DOG CRATE
Carlson Pet Products Metal Dog Crate
Use Options
The whole crate is made out of steel wire that's colored black so it won't exactly be a sight for sore eyes inside your home. It's still a very portable dog crate since it weighs only 5 lbs and you can actually use it as an indoor dog crate unlike the rest of these.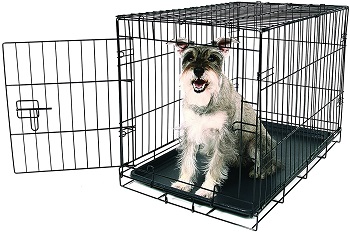 Certified Crate
This lightweight metal dog crate is certified to two standards, JPMA and ASTM. We would like to focus on the JPMA standard that takes care of baby product's safety. What this means is that your puppy will be safe if you choose to get this small wire dog crate.
Getting Heavier
The main reason why the lightweight dog crate is so light is that it can only house small dogs. If you were to get a larger crate of the same model that weight would go up. You can also fold down the crate so that you can store it or transport it easily to your car if you're traveling.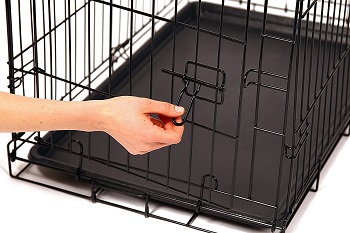 Secure Door Lock
There's a single door that you'll get to access this crate but rest assured that your dog won't escape it with ease since the crate locks from multiple points. You can also easily clean this crate because of the slide-out plastic cleaning pan that you can find on the bottom
In Short:
Certified to ASTM and JPMA standards
Can be folded down
weighs 5 lbs
Can only house small dogs
It's safe for puppies
The single door locks from multiple points
Made out of steel wire
BEST FOR SMALL DOGS DOG CRATE LIGHTWEIGHT
X-ZONE PET Airline Approved Travel Carrier
No Frame
This lightweight dog crate actually doesn't have a steel tube frame that makes it hold its shape well. It's completely made out of fabric but for the bottom, you'll get a hard base insert that has an outer fleece layer and a waterproof layer inside as well.This will help your dog with standing and being comfortable when he's inside this crate.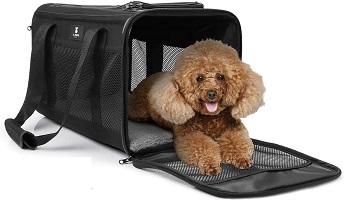 Color Options
This nice dog crate comes in black but you can choose to get it in 4 different colors as well. The four other colors are purple, blue, brown, and grey. For added safety, you'll get a leash for it located inside this lightweight travel dog crate.
Large Model But Made Small
This is a large dog airline crate but that does not mean it can house large dogs. In fact, you'll only be able to house small dogs inside even though it's a large model. The crate is small enough to fit below most airplane seats as well.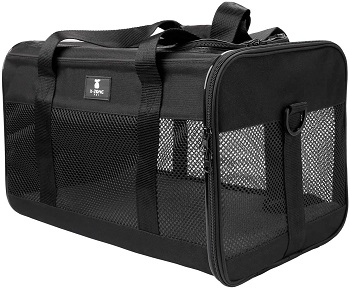 Carry Strap And Handle
To carry this crate you'll get two options to do so. It's either with the carrying handles or the paddded shoulder strap. The padded shoulder strap can also serve you as a seat belt. The crate can also be attached to the handles of your luggage because of the belt loop.
In Short:
Fits below most airplane seats
Comes in 5 different colors
Fits below most airplane seats
Made to house small dog breeds
Can be carried using handles or padded shoulder straps
Comes with a hard bottom insert with a fleece exterior
The shoulder strap can be used as a seatbelt
Can be hooked to your luggage
BEST FOR LARGE DOGS LIGHTWEIGHT DOG CRATE
EliteField 3-Door Dog Crate
Spacious Design
It's really hard to mess up the sizing with this large soft sided dog crate since each crate is made to be 4-in taller and 2-in wider than most soft crate brands. This makes the crate more spacious for your dog that can be large-sized dog to fit inside comfortably.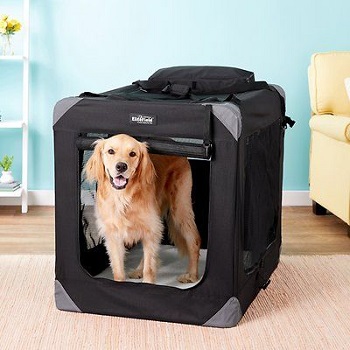 How It Holds Its Shape
It's made to hold its shape well using the strong steel tube frame that will also allow you to fold the crate down when you either need to store it away or transport it and the cover that's made out of 600D oxford fabric can be removed to wash.
Comfort Bottom Bed And Carry Options
For the bottom of this lightweight dog crate, you'll get a bed that can be removed just like the cover for you to wash it when you need to. You'll also get a carry bag for the crate that has a shoulder strap on it while the crate itself has carrying handles so that you can transport it in more than one way.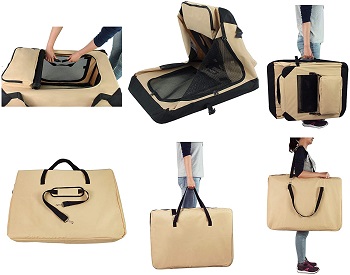 Entrances As Ventilation Windows
The crate has mesh fabric windows on all sides and two of those are also entrances to the crate. The top also features a door so that leaves you with three entrances in total. The back also features a removable accessory pocket and a non-removable top accessory pocket.
In Short:
Тhe steel tube frame allows for folding down
Can house large dogs
The fabric cover and bed are removable and washable
Made 2-in wider and 4-in taller so it's spacious
Comes with its own carry bag
Has carrying handles on top
HAs 2 accessory pockets
Has 3 entrances
How To Pick A Lightweight Dog Crate
There's more to a lightweight dog crate than just its weight. Before buying, you want to know about some of the differences between these crates like size and you also want to know about some of their distinct features like the frame and how durable they are.
Typical Uses – The most typical use for these is to use them as lightweight travel dog crates. Since they are light, that automatically means they're portable and most of them are made to only contain dogs for short periods of time rather than to actually house them while you're at home.
Other Portability Factors – You want to make sure that there's more to these crates than just their lightweight. You can search for a crate that has carrying handles or even find ones that are collapsible travel dog crates. All of this will help greatly with their portability.
Training Is Important – Unless the light crate you're getting in question is a wire dog crate you will have to crate train your dog before you contain him inside. The first reason is that these crates won't survive chewing and scratching and another reason is that if you're using them to travel, having a calm dog ensures that you'll have no distractions while driving.
Growing Weight – Remember that with an increase in size, more often than not, the weight of the crate will increase too. The lightest crate will always be small soft dog crates with a weight of up to 7 lbs while larger crates at least when it comes to soft ones will weigh up to 13 lbs
Size Tips – We have to mention this because we don't want you to get the wrong size and waste money. You should always size the lightweight dog crate according to your dog's dimensions. Specifically, you want to be looking at your dog's height ad length. When you get that you should add at least 4 inches to it and see if it matches the crate's length and height.
To Sum Up
Since lightweight dog crate are mostly used for traveling we decided that we should recommend the one that keeps your car floors safe by having a leakproof bottom and also keep your car interior safe because of the rounded edges and that is the A4Pet Soft Collapsible Dog Crate. If you're looking for a crat that's slightly sturdier but still light enough you should definitely have a look at the article about medium plastic dog crates and if that's not what you're looking for but instead you want a crate that will look well inside your home the article about indoor dog crate furniture is the one for you to read.