Are you more of a neutral person and your household matches that so you need a large white dog crate to fit it as well?
We understand what such a crate should be and have to be seen as almost nonexistent inside your house so we've prepared reviews with only the best for you to read and decide on one. You can find crates that are made as furniture, wooden ones, and more so keep reading to be sure to get a crate today.
The Summary
Best 5 Large White Dog Crates
BEST OF BEST LARGE WHITE DOG CRATE
Unipaws Pet Crate End Table
Wooden And Steel Parts
This large white dog crate is made out of wood but it only uses wood for the frame, top, and bottom. The sides are made with steel wire so that it looks more spacious and so that it's made with the same amount of airflow as a wire dog crate.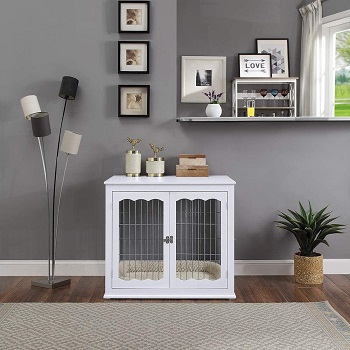 Chew-Proof Sides And Doors
What the wire sides will also do is make the crate chew proof. This is true just for the wire parts and not the wooden ones. There are three doors in total, a double door on the side of the crate and a single one in the front. All doors can lock with three different types of locks so you can be sure that your dog won't succeed in unlocking the crat .
Blending Into Your Home
The top of this crate actually makes it function as a white dog crate furniture. This feature will make the crate blend nicer into your home and almost make it invisible. The weight limit for the top is 200 lbs so you can get really creative with what you're gonna put on top.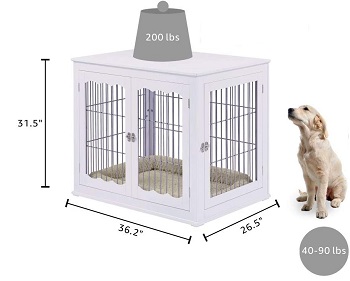 Comfort Extras And Size
With this large dog crate, you'll also get a comfort bed that's waterproof and that can be washed easily. The crate has a weight limit of 90 lbs but that shouldn't be your measure of whether or not your dog can fit inside. Instead, you should look at the crate's dimensions to figure that out.
In Short:
Has a wooden frame and steel wire sides
The steel wire is chew-proof while the wood is not
Can house dogs up to 90 lbs
The top functions as furniture with a weight limit of 200 lbs
Comes with a washable and waterproof bed
Has a double side door and a front door for entrances
The door can be locked with three different types of locks
BEST PLASTIC WHITE LARGE DOG CRATE
IRIS USA Wire Open Pet Pen
Looks Like Wood
The crate is intended to look like it's made out of wood but in fact, it's actually plastic. The plastic is used for the frame while the sides are made out of steel wire that's coated with white epoxy. This large white dog crate definitely looks modern and minimalist.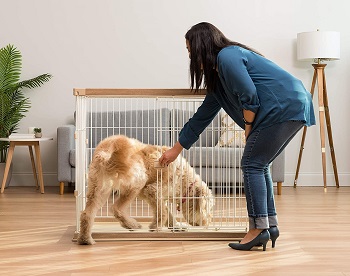 Taller, No Top Design
This crate is taller than most but you can get a regular large version of it as well if more height is not what you're looking for. There isn't a top so this crate functions better as a dog crate playpen than a regular crate and it's far better to use it indoors because of this as well.
Saving Space With Doors
One more reason as to why it's best to use it indoors is that this crate will save you some space in terms of the surrounding crate area since the single door for access is a sliding door which means that it won't get in your way if you choose to leave it open for your dog to walk in and out freely.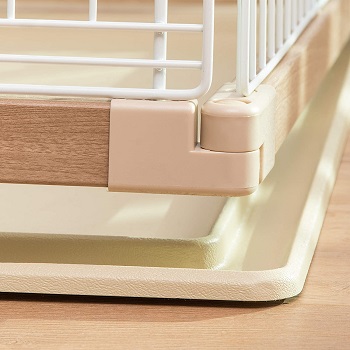 Bottom Of The Crate
The bottom features a plastic liner that's molded. The bottom edges fit perfectly into the raised edges of the pan and they will also turn out to be pretty useful in preventing overflows onto your floors if your dog ever urinated while he's inside.
In Short:
Has a plastic frame intended to look like wood
The wire sides are coated with white epoxy
Doesn't have a top
Has a taller design
The plastic cleaning tray is molded to fit the bottom edges well
Has a single sliding door for access
BEST FURNITURE STYLE WHITE DOG CRATE LARGE
New Age Pet ecoFLEX Pet Crate
What Ecoflex Is
If we told you that this crate is made out of eco flex this wouldn't mean much to you so we will introduce it to you. Ecoflex is a material that combines wood and plastic to create a composite material that has better properties than the two separate materials. This means that it won't split, crack or warp.
Doors And Material Durability
Ecoflex is not chew-proof so it is advised you buy this crate if you have already crate trained your dog. The crate features a single door for access located at the front of the crate and since it's large, it has 2 locks for it that are shaped like cute dog bones.
2 Access Point For Cleaning
You can either clean this large white dog crate by accessing it using the front door or you can remove its top to do it. The removable top can also be used for the crate to function as a piece of furniture. This feature will help you with saving space inside your home.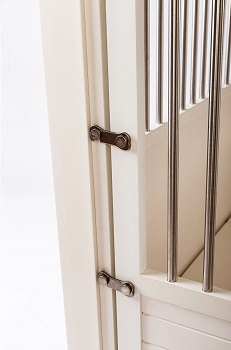 Non-Absorbent Material
If you're worried that your dog might urinate inside this crate so that it then absorbs the liquid and the moisture from it, you don't have to worry about it since ecoflex doesn't absorb either of those. This will also make it stainless and keep nasty odors away from it.
In Short:
Made with durable ecoflex material
The crate won't absorb moisture and odors or even stain
Can be cleaned by removing the top
Has a single door for access that locks with double locks
Can function as a furniture piece
BEST INDOOR LARGE WHITE DOG CRATE
Zoovilla Dog Crate
MDF Wood Explanation
This crate can easily be considered a wire dog crate but it does have wooden parts as well. The crate's top and edges are made with MDF wood that's colored white. MDF wood is a type of wood that you get by combining wooden fibers and some kind of glue, like resin or epoxy.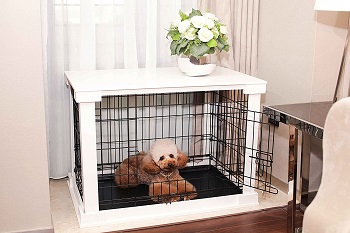 Chew Proof Parts And Cleaning
Since it's made with MDF wood, this means that it's not chew-proof although the sides can take it. Another feature of wire dog crates that this large white dog crate has is a plastic tray that you can pull out to clean it. The tray has raised edges as well to prevent overflows.
Top Function
The fact that you can put items on top of it so that it functions as a piece of furniture won't affect the crate's stability and proper functioning. Another thing that this will consequently do is make the crate blend better into your home while also saving you some space.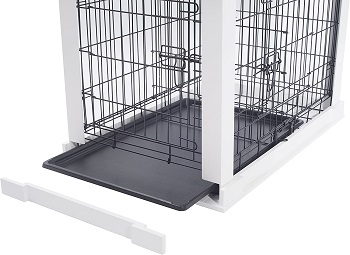 Wire Crate Locks
This is a side door dog crate and apart from that, you'll also get a front door for your dog to access it. This will allow you to position the crate more freely inside your home. Each door can be locked with a single sliding bolt lock that are common in wire crates.
In Short:
Has steel wire sides and a wooden frame
The bottom features a slide-out plastic pan for cleaning
Has a front and side door for access
The door can be locked with sliding bolt locks
The top functions as furniture
BEST WOODEN WHITE LARGE DOG CRATE
BarkWood Large Pet Crate End Table
100% Natural
We can proudly say that this large white dog crate uses none of the wooden polymers or composites for its materials but actually solid wood. Solid wood tends to be stronger so the crate can handle some light chewing if it ever happens.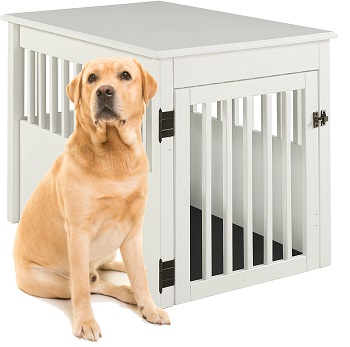 Fully Openable Door
The single door of this crate can be opened fully and attached to the sides of this white wooden dog crate that will consequently save you space when you leave the door open for your dog to walk freely in and out of this crate
Rubberized Bottom
What you won't need to worry about with this crate is if your dog urinates while he's inside that he'll automatically damage the interior bottom. The reason why you don't have to fear it is because the bottom is rubberized so that it minimizes liquid absorption.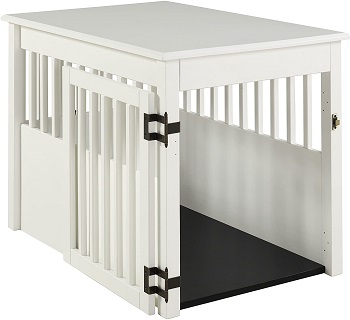 Top And Bottom
The crate's top, just like most of these can be used for you to place your things on top of it like lamps, magazines, and other things you can think of. It will also work well in your home because of the rubber feet below that will prevent damage to your floors.
In Short:
Made out of solid wood
Can survive light chewing
Has a single door that opens fully to the side
The bottom is rubberized to minimize liquid absorption
The top can function as furniture
How To Pick A Large White Dog Crate
For you to get the best large white dog crate possible you need to know some of the most common differences between them starting with materials and their function. Another thing you should worry about is how you're gonna properly size the crate and how the crate will make sure to blend into your household well.
What Size Is Large – The crate's length will usually range from approximately  36 up to 48 inches. The reason for that is that large dogs tend to be almost as long as the crate with the difference of around 4 inches with the crate being larger of course. the same goes for the height so if you wanna get the right crate size, Make sure your dog is at least 4 inches smaller than the crate.
Common Double Function – If you're getting one of these crates so that they blend well into your household you'll be pleased to know that they do it quite well because of the option to use their top as a piece of furniture. Make sure you know the weight limit for the top and don't overdo it
Elegant Housing – You don't have to get an XL wooden dog crate for the crate to blend well into your home. You will often find that white wire dog crates work just as fine although they usually won't function as furniture well. this is only true about crates that are made completely out of wire.
Crate-Trained Dog Crates – Unless the large white dog crate you're getting has steel wire sides, you shouldn't get these crates for dogs that haven't gone through crate training yet. Although most of them, especially the solid wood ones will handle some light chewing, you're risking visible damage to the crate which will, in turn, make the crate last shorter than you would like.
To Sum Up
Not only does the large white dog crate that we chose to recommend have chew-proof steel wire sides but it also has three different types of locks for yout o lock the double side door and the single front door and it is the Unipaws Pet Crate End Table. If you're just looking for a dog crate that simply looks nice then the article about pretty dog crates is the one you should read next and if you have to crate train your dog first then reading the article about training cages for dogs will help with that.