Do you need to keep an eye o your dog at all times so you'd feel much safer if you got him a dog crate and playpen for when he wants to play and exercise?
We can help you find one fast. What's left for you to do now that you're here is continue reading this article where we picked out and reviewed our 6 picks for the best models. We also wanted to make sure that almost no one walks away unsatisfied so we've included types like metal, plastic, and even wooden.
The Summary
Best 6 Dog Crate Playpens
BEST OF BEST DOG PEN CAGE
Lemka Heavy Duty Dog Playpen
Heavy Duty Construction
You can easily compare this crate with a heavy duty metal dog crate because it's made with heavy duty metal. It even has a powder coating that makes it water-resistant and an e-coat finish that protects it from different outdoor weather elements like snow and sun.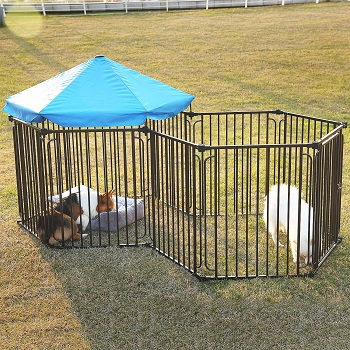 Outdoor Use
This crate and playpen combined is perfect for outdoor not only because of the things listed above but also because there's an added UV protection layer on it. This protection layer will prevent it from fading in the sun and other sun damage like peeling, cracking, and even ripping. This makes it perfect for outdoor use.
Versatile Use
You don't have to limit its use to just the great outdoors since it's very versatile and modular. It consists of 10 panels and you'll get a length of around 83.15-in and a width of 48-in and a height of around 30.32-in. This is succeptible to change because you can use how many panels you'd liek and you can also bend them to your liking. This will allow yout o use it indoor as well.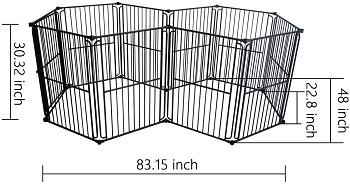 Who Can Use It
You can use this playpen to house virtually any size of dog. You can use it to house a new born puppy litter, a single puppy, medium dogs and even larger dogs. Just make sure your dog isn't one to be able to jump high enought o get out of the playpen. You should also make sure that your dog is constantly supervised.
In Short:
Consists of 10 hevay duty steel panels
The panels are covered with a water-resistant finish
Has an e-coat that protects it from sun and snow
CFeatures UV protection that prevents fading, peeling and cracking
The panels are customizable and you can change the shape of the pen
It is 83.15-in long, 48-in wide, and 30.32-in tall
BEST FOLDING DOG CRATE PLAYPEN
MidWest Folding Metal Exercise Pen
Panel Build
Just like Midwest's dog crates, this Midwest exercise pen 36-inch model is made out of steel wire ad it even has an electro coating finish that conveniently makes it resistant to rusting. What this means in practical use is that you can also use it outdoors from time to time.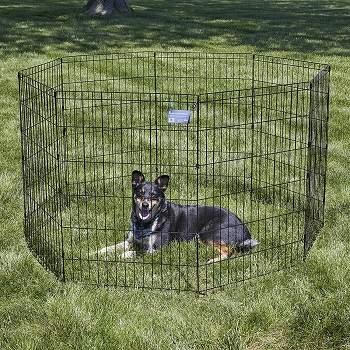 What It Consists Of
The dog pen cage is made up of 8 panels that can be connected into an octagon cage for dogs. Each panel has a height of 36-in and width of 24-in. When connected, they give your dog a total of 16 square feet of playing area that's enclosed. The way you'll connect the panels is through clips.
Outdoor Use Supplies
If and when you want to use it outdoors you can stabilize its build with ground anchors. This will secure the dog crate playpen into the ground so that it doesn't' move. If you're willing to spend a little extra for some era security, you can even buy a top for it so that it's an enclosed dog crate.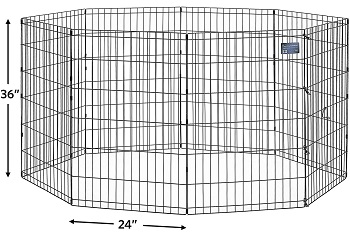 Crate Conectiveness And Sizing
You can actually connect this playpen to a crate. If you're unsure about what size of the playpen to get, think of the playpen's height as the length of a crate. So if you have a 42-in dog crate that houses a large dog, you should probably get a playpen of the same height but please make sure if the manufacturer provided some information on how to do it with their pens.
In Short:
Made with steel wire coated with electro coating
The playpen is rust-resistant
Comes with anchors for the ground for outdoor use
Consists of 8 panels that connect with clips
Can be connected to a crate
You can purchase  top separately
Can contain medium-sized dogs
BEST METAL DOG CRATE AND PLAYPEN
Petmate Courtyard Exercise Pen
Galvanized Steel Build
This just might the most durable dog playpen connect to the crate model we will review. If you don't believe our word for it you might believe it when we tell you that it's made with galvanized steel. Galvanized steel goes through the process of applying a zinc coat to it for rust prevention.
Outdoor Use Assistance
Because of the galvanized steel build, you can easily use it as an outdoor dog pen cage as well. Another thing that will make it safe to use outdoors are the stakes that you can insert into the ground to give it more stability. These stakes are built-into the pen so you don't have to worry about losing some of them.
Panel Quantity, Size, And Connectivity
It features 6 panels instead of 8 like many other playpens but they are somewhat larger than the rest. each of the 6 panels is 18-in long and 38-in tall. You can connect all of them with drop pins and shape the pen in a versatile manner. You can even use it as a gate.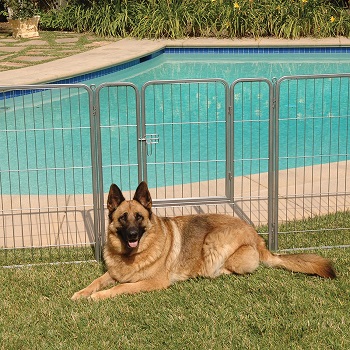 Special Panel Feature
The panels can easily be folded down for you to store it when it's not in use. This is really good since it would take up a lot of storage space otherwise. One of the panels on this dog pen cage features a door that you can lock the same way that you would lock a regular medium wire dog crate, through a sliding bolt lock.
In Short:
Made with galvanized steel that prevents rusting
Made up of 6 panels
The panels connect with drop pins
Has built in-ground stakes for outdoor use
The playpen is 38-in tall
Can be folded down
Features a lockable door
BEST PLASTIC CRATE AND PLAYPEN COMBINED
Kousi Small Animal Pen
Panel Size Limitation
This is definitely a versatile dog crate playpen. For starters, it features 24 panels. The reason why we chose to review this exact model is mainly that each panel is only 18-in tall which would mean that it's best to use it as a puppy crate playpen since it's not that high.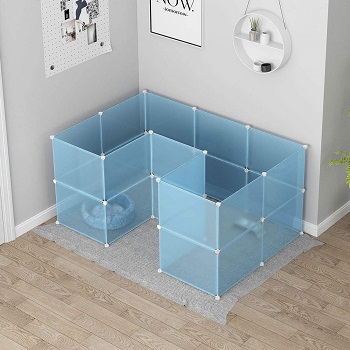 Versatility In Panel Quantity
Since it has 24 panels you can really get creative with how you're going to place them. You can add more height to it by stacking panels on top of each other or make it wider by connecting the panels on their sides. The way the panels connect is with connectors that have multiple angles.
Materials Used
The thing about this crate playpen is that you can almost endlessly connect these panels by buying more. They are made out of plastic material and can easily be cleaned. The connectors are also made out of plastic so this can easily be considered asmall plastic dog crate playpen.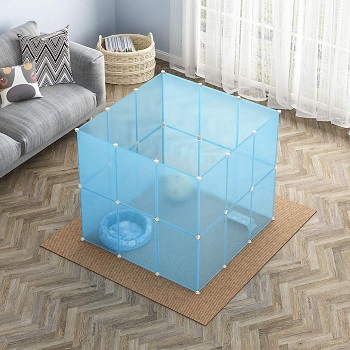 Small In Size
As we've mentioned before, the panels are quite small with a width of 14-in and a height of 18-in so it's best you use it for small puppies and dogs. If by any chance you were to attack multiple panels on top to get more height, make sure that your dog is crate trained or at least constantly supervised when he's inside.
In Short:
Has 24 plastic panels
Each panel is 14-in wide and 18-in tall
Comes with multi-angled connectors
You can stack panels on top of one other
Best to be used for containment of small puppies and dogs
BEST WOODEN DOG PEN CAGE
Simply Plus Wooden Dog Crate
Тwo Material Build
There are two parts to this dog exercise cage. The first material it's made out of is wooden and you'll find this material on the crate's frame while on the sides you'll find steel wire. To be more specific about the wood that's used to make it, it's actually new Zealand pine wood.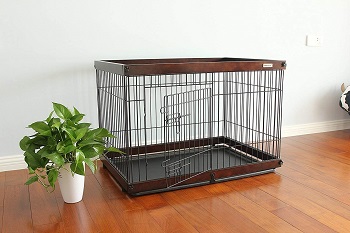 Top On Or Off
This dog crate playpen combo is mainly here because there is no top, and if there is, it uses a fabric cover for it that's made out of oxford fabric. The fabric is mildew-proof, very stretchable, and quite breathable so that the crate gets ventilated from the top as well as the sides.
Elevated Design Reasoning
The crate is slightly elevated from the ground. this is to that you can slide in a plastic cleaning tray that you can then prevent from accidentally sliding out by blocking with a pan stopper that's shaped like a lovely dog bone. Other cute features of this large wooden dog crate include screws that are shaped like dog paws.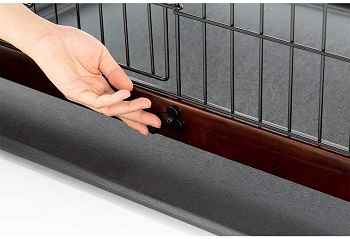 Dogs To House
The crate's width makes us come to the conclusion that this is an XL wooden dog crate but it is recommended you use it to house only crate-trained dogs that are either large or medium-sized. Mainly it's due to the fact that it doesn't feature a top and it's a wooden dog crate and playpen combo.
In Short:
The frame is made out of new Zealand pine wood
Has durable steel wire sides
Has no top but can have a fabric cover instead of it
Features a cleaning tray on the bottom
To prevent accidental tray slide outs it has a bone-shaped stopper
Has paw-shaped screws
Can be used to house medium and large dogs that are crate trained
BEST OUTDOOR DOG CRATE AND PLAYPEN
Bms Playpen Dog Crate
Multi-Functional
What we mean by saying this is a multi functional pen is that you can customize is all you want. You can either buy another pen and conect it to the one you already have to give your dog even more safe room to play any you can even choose how the pen will be shaped because of how its panels are conected.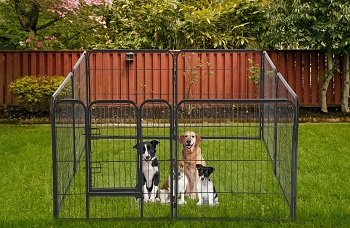 Build And More Functions
It is made out of heavy duty teel wire. What this propably means is that the wire has a low gauge so that its thicker. What the steel wire buil ddoes is that it help your dog feel safe while he's inside this crate and playpen combined because it provides him with more visibility on the outside.
Panel Number And Stability
It features a single door on one of the panels that locks with 2 sliding bolt locks.It consists of 8 panels that connect with long pins that you can push into the ground to make the crate stay firmly where you've placed it. If you can't put them into ground because you're using it indoor your dog might be able to move the entire dog cage playpen.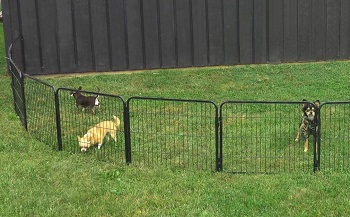 Size And Dogs To House
How long and wide this playpen is mainly depends on hwo you're going to asssemble it since yo can make it so that it has a rectangular, ocatgon, or a simple square shape. What we can tell for certain is that you can choose to have even a larger dog inside it.
In Short:
Has a rust-resistant steel build
Ca be used indoor and outdoor
Consists of 8 panels
You can change it's shape however you'd like
Features an access door that locks with 2 sliding bolt locks
You can push the pins into the groud for more stability
How To Pick A Dog Crate And Playpen
Not all dog crates with playpens can house the same dogs. This is due to their differences in build, height, durability and so much more so if you're unsure which one you should get, you might find it easier to decide when you read all about the tiny details that make a big difference.
Picking Out The Perfect Size – If you already know how to size a crate you'll still need to learn how to properly size a dog crate playpen. If you're buying a playpen with all the panels, connector clips and other things that can get attached to a crate, then you should check the playpen's height and treat it like you're looking at the length of a crate and sizing it according to your dog's size.
Two Types – We've already mentioned the first type of cage playpen and that is the one that's separated from the crate but can be attached to one to create an enclosed exercise area. the other type is the one that's a playpen and a crate in one. The usually don't come with a top, have a cleaning tray on the bottom, and can sometimes even function as gates. They can't be attached to a crate because they are both a crate and a playpen.
Playpen Abilities – If you want to use these playpens outdoor as well, try and focus on getting a steel wire playpen because they're typically coated with a finish that makes them resistant to rust. They should also feature ground anchors that will make them more stable.
Typical Use – Most commonly, these playpens are used to give puppies some exercise. the puppy should never be left unattended but even if you were to get it for a grown-up dog, the same rule would apply. They are not housing tools, they are simply tools to get your dog moving a little bit if you're busy.