Do you need a rottweiler crate for one of the most popular breeds out there?
You want to learn more about their size, crate training process, and more?
We can help you in both aspects but only if you continue reading this article with our top picks. We made sure to include a crate for every possible dog scenario that you might have so there are crates for pup
The Summary
Best 5 Dog Crates For Rottweiller
BEST OF BEST ROTTWEILLER CRATE
Cardinal Gates Sliding Door Pet Crates
Thick Steel Wire Build
Rottweillers are extra large dogs so they need a durable enough crate that will keep them contained safely and well. We definitely see this crate as a sturdy one, but don't take our word for it, believe the steel wire build that uses 10 gauge wire and for the doors, it uses even thicker and tougher 6 gauge wire.
Different Openings
This is just the perfect large indoor dog crate because the doors don't swing open like regular doors do but instead, they slide open. There are 3 doors but 2 entrance points. The double door on the side opens like a barn door while the front door can be opened upwards and placed on the top of the crate where it will rest.
Easy Fold And Unfold
You don't need to go through the hassle of assembling the dog crate for rottweiler since it comes folded down and all you really need to do is unfold it. This future goes vice versa so you can fold it back down just as easily and then either store it somewhere or transport it if you want and need to. You can also easily carry it with the provided handle on it.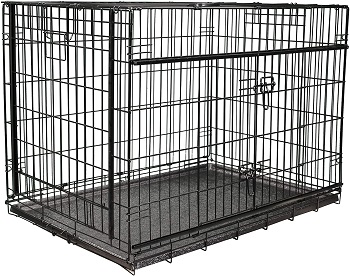 Size And Cleaning Process
The bottom is equipped with a plastic cleaning pan that will help you get rid of any accidents that end up on it, without having to clean your floors as well. This is a 48-in long and 33-in tall dog crate that are the perfect dimensions for you to house a male rottweiler inside it.
In Short:
Has a 10 and  gauge steel wire build
There'3 2 entry point and 3 sliding doors
For assembly, all you need to do is unfold it
Can be folded back down and carried with a handle
The crate's 48-in long and 33-in tall
Has a cleaning plastic pan on the bottom
BEST EXTRA LARGE DOG CRATE FOR ROTTWEILER
Luckup Heavy Duty Metal Kennel
Roof House-Top
The crate is almost 20-in taller than the one before it since it's 51-in tall. This is because it's a dog house crate. It has a top that resembles a house rooftop that gives it more height. You might be thinking that this is unnecessary but sometimes, with rottweilers you can really know how tall they're going to be so the extra height might help with that.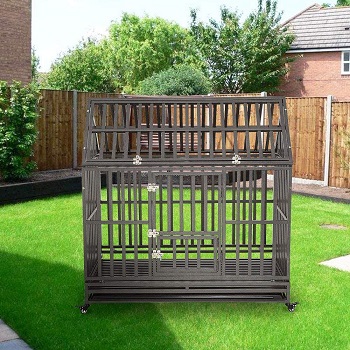 Available Outdoor Use
This rottweiler crate wouldn't be considered a house if you weren't able to use it outside. it's made with corrosion-resistant steel and it even has a spray paint finish that won't threaten your dog's health since it's non-toxic and it gives the crate some anti-rusting features as well. We wouldn't recommend you use it outdoor too often though.
Escape Proof Door Locks
Each door that you'll find on this crate features anti escape locks because each lock has a climbing buckle to ensure you that the dog won't be able to escape. There's a door on top, in the front and there's a small door that's built into the front door that can be used as a feeding door.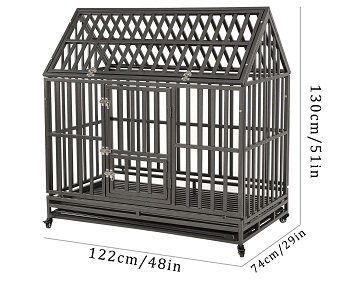 Bottom Things
Since it's so large and made with steel tubes, it comes as no surprise that this dog crate for rottweiler weighs almost 75 lbs. For that reason, the bottom has sockets for attaching wheels that come with it. The bottom also holds a slide-out plastic tray below the interior  gridded bottom for easy crate cleaning
In Short:
Built out of corrosion-resistant steel
Has a non-toxic and anti-rusting spray paint finish
It features a roof-house top so it's 51-in tall
Has anti escape locks on all doors
Has a top, front, and built-in small feeding door
Sits on wheels for easier movement
Features a cleaning pan below the floor
BEST FOR PUPPIES DOG CRATE FOR ROTTWEILER
MidWest Ultima Pro Series Crate
Heavy Duty Steel Wire
Although the crate is made out of steel wire it doesn't mean that it's not heavy-duty and durable. It's because the whole rottweiler crate is made with professional gauge steel. The crate is considered to be the toughest MidWest dog crate so you can count on the fact that is incredibly sturdy.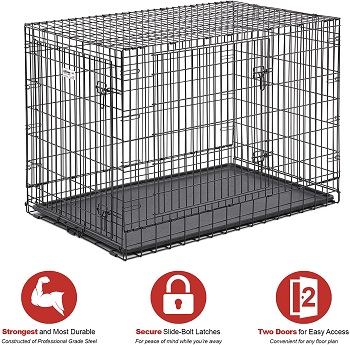 Housing Puppies
This wire dog crate comes with a puppy crate divider so if you need a crate for your rottweiler puppy this is definitely the one to get because it won't disappoint even after years of use. The divider is adjustable and what it does is that it can adjust to your rottweiler's size until he's fully grown up.
Protected Floors
There are two ways that this dog crate ensures that your floors are going to be kept safe and clean. The first feature of the crate to help with that is the rubber feet that you can attach to the bottom wire to prevent scratching and the other is the cleaning pan with raised edges so that dog urine doesn't end up on your floors.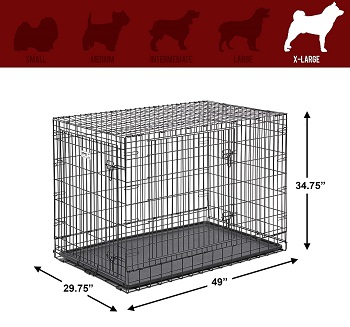 Traveling With Your Dog
Most wire crates can be folded down for storage and this one can be too. What it also has is the carrying handle so you to simply transfer the crate to your car by carrying it there. You can be sure that this crate is durable enough for traveling but make sure your dog is crate trained before you do that.
In Short:
Made with professional gauge steel wire
Can be folded down and carried with a handle
Comes with an adjustable puppy crate divider
Features roller feet to protect your floors from scratches
The bottom holds a cleaning pan with raised edges
BEST HEAVY DUTY DOG CRATE FOR ROTTWEILER
Itori Heavy Duty Metal Dog Cage
Steel Build Properties
This is the third heavy-duty dog crate we are reviewing and it's for a good reason. Rottweillers are seen as strong dog breeds and if you don't put in the effort to crate train them, you're going to need a durable dog crate. This one is made with 20 gauge steel and is reinforced with steel tubes.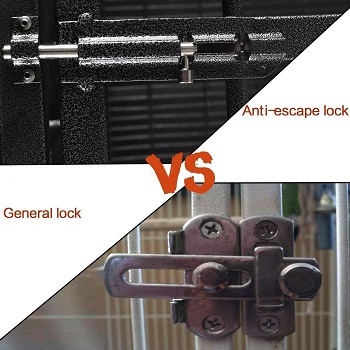 More Durability Properties
Every single steel tube is welded together for increased toughness and durability and the whole rottweiler crate is treated with materials that are resistant to corrosion and rust. Not only will this help with making the crate last longer but it also allows you to move it outdoors but not that often.
Anti-Escape Crate
The two locks on both the front door for your dog to access the crate and the top door for you to interact with your dog are made to be anti-escaping ones. If you have a rottweiler that's particularly clever in escaping his crate, the locks on this door might just solve this problem.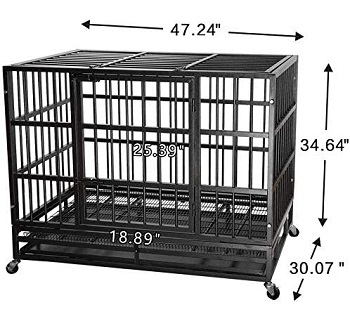 Moving And Cleaning The Crate
As with most heavy-duty dog crates, this one is also heavy with the weight of 83.6 lbs so you'll get lockable wheels to move it around more easily. Two of the four caster wheels are lockable. Of course, you'll get a cleaning tray to place below the gridded floor for much more easier cleaning as well. This is the most typical feature of these crates.
In Short:
Made with 20 gauge steel
Reinforced with steel tubes and welded parts
Has corrosion and rust-resistant finish
Has anti-escape locks on the top and front door
Comes with 4 wheels for moving, 2 are lockable
There's a cleaning pan below the bottom that slides out
BEST FOLDING ROTTWEILER CRATE
Petmate Navigator Pet Carrier
Wire Crate Lock Upgrade
Typically, you'll find that wire dog crates either have 1 or 2 locks that are usually sliding bolt ones and although they might do their job right, sometimes you need a reliable upgrade. The manufacturer of this crate made that upgrade and made the doors lock from 5 different points.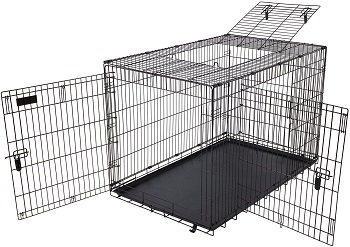 Typical Construction
Just like the rest of them, it features a heavy gauge steel wire build that is also coated with a black epoxy finish which conveniently makes it rust-resistant. You'll find three doors on the crate. One is located in the front, one on the side and one on top. This will allow you to place the crate more freely inside your home.
Safety Inside The Crate
The inside of the crate can hold an adjustable divider for puppies that will adjust the size of crate to your puppy. This will help potty train the dog. Your puppy will also be safe inside this crate because there are no sharp edges and the corner of this rottweiler crate are rounded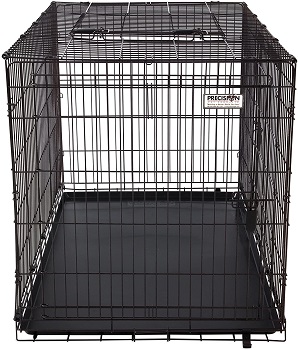 Bottom Equipment
The bottom is equipped with rubber feet that will protect your floors from damage and what will protect them from getting into contact with dog urine is the cleaning tray on the bottom. You can fold the crate down as well and carry it with a handle either when you want to store it or transport it.
In Short:
Has a heavy gauge steel wire build
Coated with a black epoxy, corrosion-resistant finish
Features 3 access doors
The doors can be locked from 5 points
Has rubber feet for floor protection
Cleans easily with a bottom cleaning tray
How To Pick A Dog Crate For Rottweiler
Each dog crate for rottweiler we reviewed is quite durable but here are some differences between them and the one you'll want to pick mostly depends on how your dog acts and how big he is. We don't see rottweillers as inherently aggressive dog breeds, it's just a matter of proper training so we made sure to include different crate types so there's something for everyone and now we're going to explain them a bit better.
What Size To Get – Typically, a rottweiler is going to need a 48-in heavy duty dog crate. This is mainly because an adult rottweiler is somewhere around 22-27-in tall which corresponds to the typical crate height for 48-in dog crates. The size also depends on breed and if the dog is male or female. Male rottweilers are going to be a few inches larger than female ones.
Wire Dog Crates – XL wire dog crates are great training cages for dogs so they are a good starting point to properly crate train your dog. This is especially true if you have a rottweiler puppy because they are the crates that most commonly come with adjustable divider panels for puppies to potty train them.
Heavy Duty Crates – There isn't really a need for you to get heavy-duty metal dog crate if your dog is well behaved, not anxious and crate trained but if you tried everything but your rottweiler keeps breaking out of his crate it might be time to consider getting one. They're not really nice-looking dog crates but in this case, quality definitely should beat looks.
General Sizing Advice – If you're thinking that your rottweiler might be either too small or too big for a crate, it's time to measure your dog to know exactly what crate size to get because sometimes you can even get away with getting a 42-in rottweiler crate. The way you figure this out is to take your dog's length and height and compare if the dog is at least 4 inches smaller than the crate.
To Sum Up
The one rottweiler crate that we recommend you get is the MidWest Ultima Pro Series Crate. Mainly it's due to its heavy-duty steel wire build and the fact that it comes with an adjustable divider panel for puppies so it's the perfect middle ground crate to get if you're unsure. If you happen to have a Pitbull that needs housing you might want to check out the article about dog cages for Pitbulls and if you generally just need a big and sturdy dog crate look into the article about XL metal dog crates.