Have you come here in hopes to find a dog cage for pitbull because you're really tired of searching for one?
Do you want it to be easy?
We can help you make it easier. What you need to do now is continue reading this article where we reviewed our top picks for these crates. We tried to include every possible dog crate type like wooden crates, heavy-duty ones, and more. We will go on to explain some things on how to pick the best crate for your dog's needs so check the useful guide at the end of the article.
The Summary
Best 6 Dog Cages For Pitbulls
BEST OF BEST DOG CAGE FOR PITBULL
MidWest Life Stages Folding Crate
Build And Coat
The steel wire of this crate isn't a professional gauge on but that doesn't make it less sturdy than other wire dog crates. For this to be true, it is coated with a black e-coat. What the e-coat does in this case and any other case is that it makes the crate resistant to rusting.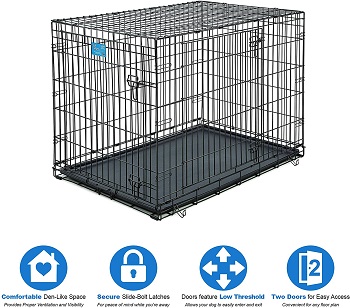 Car Travel Crate
The two features of this crate are the foldable design that will allow you to carry the crate and transport it to your car easily and its slide-out cleaning pan on the bottom that won't accidentally slide out because the pan stopper makes it fit for traveling. You can even use it as an SUV dog crate.
Built For Puppies
It is called life stages for a reason. it's equipped with everything needed for housing puppies. You'll get a puppy crate divider with it that's adjustable. Divider panels on a wire pitbull cage can help you potty train the puppy by adjusting to his size. Another thing that it has is rounded corners so that your puppy doesn't accidentally pinch his paws and hurt himself.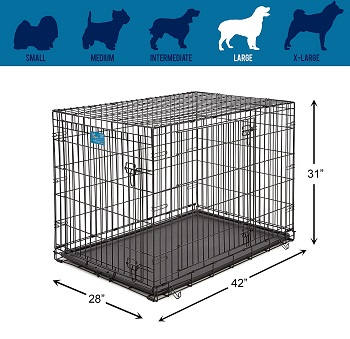 Large Size Explanation
It has 2 large access doors that lock with two sliding bolt locks. This is a 42-in on dog crate that typically houses large dogs. If you happen to have a pitbull that's larger than most, you might want to get it. Typically, Pitbulls are small enough to fit inside a 36-in long dog crate but that can vary.
In Short:
The steel wire is coated with a black e-coat
The crate is rust-resistant
Has 2 doors and 2 locks for each door
It is 42-in long
Has rounded corners for safety
Can be folded and carried with a handle
Comes with an adjustable puppy divider
The bottom is equipped with a slide-out cleaning pan
BEST INDOOR DOG CRATE FOR PITBULL
Cardinal Gates Sliding Pet Crate
Thick Wire Build
If you were to want to get a wire crate that's considered to be a durable dog crate you might want to take your chances with this one. It's because it's built with 10 gauge steel wire and the door features an even thicker 6 gauge steel wire. Gauge determines the thickness of a given material, or to be precise the diameter.
Surrounding Crate Space-Saving
Not only is this crate durable but it's also a space-saving one. It will save you space in the surrounding area of the crate because it is a sliding door dog cate. The side door is actually a double door and it opens like a barn door while the front door slides up and can rest on the top of the crate.
Fold And Unfold Process
You won't have to go through the trouble of assembling this crate even though the doors are what they are. You'll simply have to unfold it and if you want to store it away or travel with it, you can fold it back down and carry it with the provided handle located on top of this pitbull cage.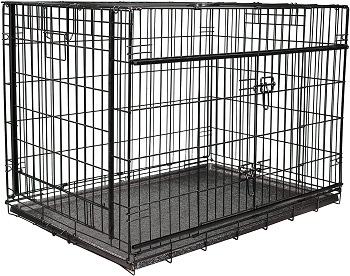 Crate Cleaning And Length
There's a cleaning pan on the bottom that's made out of plastic and has raised edges so that most of the dog urine stays in there and not on your floors. This is another 42-in long crate that can mainly house bigger Pitbulls than average. We will go through how to actually pick a size in the buying guide.
In Short:
Made with 10 gauge and 6 gauge steel wire
Features 2 entrances with sliding doors
It's a 42-in long dog crate
Can be folded and unfolded easily
Comes with an attached carrying handle
The bottom holds a plastic cleaning tray.
BEST FOR PUPPIES PITBULL CRATE
Diggs Revol Dog Crate
Plastic And Metal Build
Possibly, this crate is everything that you could wish for in a crate. it's made durable even though it's made of plastic but because it's a reinforced plastic, you can consider it to be tough. The sides of the crate are also made with durable material since they're made with aluminum steel wire that's high grade.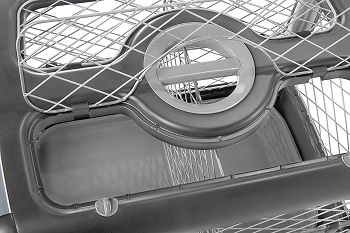 Travel Supplies
You can use the dog crate for pitbull to travel as well. Due to its collapsible design and built-in wheels and handle, it's easy to transport this crate anywhere you'd like, be it a car or another vehicle. It's not as light as you'd expect. To be specific, it weighs 31.3 lbs but it's still an easily manageable weight when it comes to ease of carrying.
Built For Puppy Safety
You probably won't find a crate that's as safe as this one. We don't have anything specific to go from but the entirety of the crate is built with baby industry standards kept in mind. You can be sure there will be no pinched paws. It even comes with a puppy crate divider that will help with potty training your young pitbull.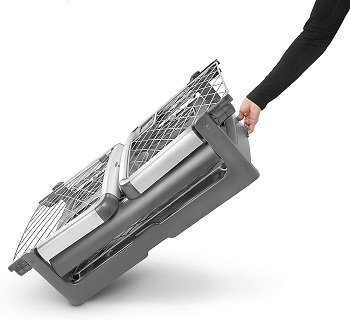 Smaller Size
If everything we mentioned wasn't enough the crate also features 3 entrances. One is located in the front, one on top and one on the side. The side door opens upwards so it won't get in your way if you leave it open. This is a 32-in long dog crate that is suitable for housing Pitbulls that are smaller than average.
In Short:
Made with reinforced plastic
Features aluminum steel wire sides
Has three entrances
Comes with a puppy crate divider
Can be collapsed
Has built-in wheels and a handle
Built with baby industry standards kept in mind
Weighs 31.3 lbs and is 32-in long
BEST HEAVY DUTY DOG CAGE FOR PITBULL
ProSelect Empire Cage
Steel Tube Design
We are not to say that Pitbulls are generally aggressive dogs. This can happen to any dog and any owner so the solution to this is to get a heavy-duty metal dog crate like this one that can put up with a lot of abuse because it's made with 20 gauge, 0.5-in diameter steel tubes.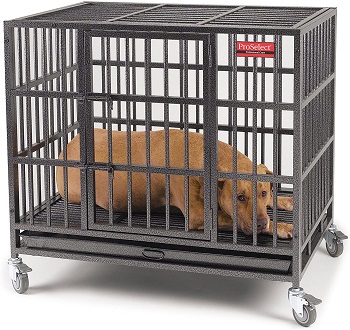 Other Durability Features
The manufacturer of this crate recognized that the crate has stress points so, to make it even stronger, it's welded at these exact points. It even has a durable hammertone finish that not only makes it durable but also nice looking.
Cleaning Access
It features a single access door that can be locked with s2 strong sliding bolt locks. You won't have to access this strong dog crate for pitbull through the single door to clean it. Instead, you'll only have to slide out the deep metal tray located below the gridded floor to clean the tray and not the crate.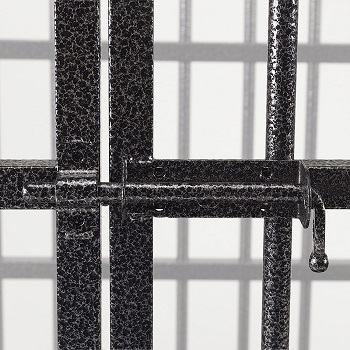 Standard Size
It's heavy so you'll get caster wheels with it to move it more easily. This is the first crate we are reviewing that is made to house Pitbulls of standard size because it's 36-in long. Like with all of them, you should measure your pitbull first to figure out if he's large or small enough to fit inside comfortably.
In Short:
Made with 20 gauge steel
The steel tubes have a 0.5-in diameter
it is welded at stress points
Has a hammertone finish
Features single access doors
You can attach wheels to it for easy moving
There's a deep metal cleaning pan below the gridded floor
The single door locks with 2 sliding bolt locks
BEST WOODEN DOG CRATE FOR PITBULL
Unipaws Pet Crate End Table
Calm Dog Crate
All of the crates we reviewed before this one didn't require you to crate train your dog because they were made to crate train dogs but with this one it's different. The reason why it isn't made as a training cage for dogs is that it's made mostly out of wood. For the sides, it uses metal bars though.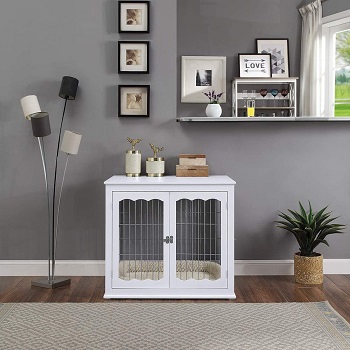 Decorative Function
It's made with wood so that it could blend nicely into your decor. Not only that, but you can make it blend even nicer if you choose to put your stuff on top of it because it can function as a furniture piece as well. You can really get creative with what you put on top since the top's weight limit is 200 lbs.
Door Panels
It features 2 entrance points but has 3 doors. This is because it has a double door on the side and a single door in the front. each door can be locked with a set of 3 different locks and if you don't particularly like the way the panels are placed, you can change it upon when you're assembling this dog crate size for pitbull.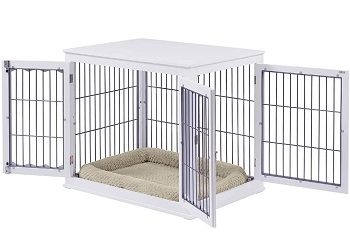 Bonus Supplies And Their Function
As we've said, your dog shouldn't be a chewer if you want this crate to last you a long time although the metal sidebars are chew-proof. As a bonus, you'll get a waterproof bed that you can take off to wash any time you'd like. Since it's waterproof, it might protect the bottom from getting into contact with liquids.
In Short:
Made out of wood that's not chew-proof
Has metal bar sides that are chew-proof
The top makes it function as furniture
The weight limit for the top is 200 lbs
features a double door and a single door for access
The door locks with a set of 3 different locks
Comes with a washable and waterproof bed
BEST SOFT DOG CAGE FOR PITBULL
A4Pet Collapsible Dog Crate
Crate Traveling
If you intend to travel with your pitbull you should consider getting this crate. The only thing you need to make sure of is that the dog is crate-trained and calm. This is not only because the crate is made out of oxford fabric but also because you and your dog will be a lot safer if the dog is crate trained when you're traveling. The crate's cover can be take off for you to wash.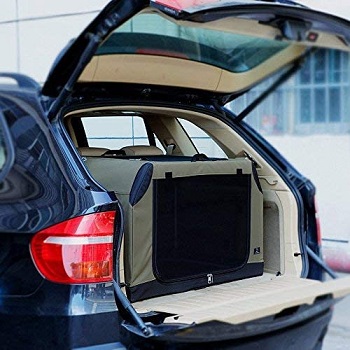 Vehicle Protection
There are two things on this crate that will protect your vehicle. The first one is the waterproof and leakproof bottom that will prevent dog urine from winding up on your car floor. The second thing is that it has rounded corners that will keep the interior of your car safe as well.
Temporary Dog Containment Crate
What makes it hold its shape well is the steel tube frame. Thanks to it, this is a soft collapsible dog crate. You'll put this feature to good use when you want to tuck the crate away since this is not a crate that should house any dog inside your home because it's too flimsy and doesn't guarantee your dog won't destroy it if he's left alone in it.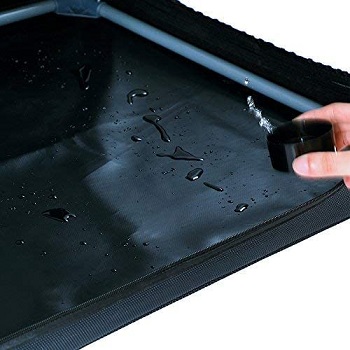 Side Contents
The inside of this dog crate for pitbull will get enough air because of the mesh fabric windows located on all sides except for the back. The top, front and side windows are also doors that can be opened or closed with zippers. Although the back doesn't feature a window it does have an accessory pocket where you can store most of your dog travel necessities.
In Short:
Made with oxford fabric and a steel tube frame
The frame is foldable
The cover is removable and washable
Features mesh fabric windows on 4 sides
The back features an accessory pocket
Can only contain crate trained dogs
it's advised you use it as a travel crate
Has a leakproof and waterproof bottom
Features rounded corners
How To Pick A Dog Crate For Pitbull
Because this dog breed differs so much in size it might not be an easy task to pick out the best dog crate for pitbull. We want to make it easier for you so we've decided to write this simple buying guide so you can learn a bit about the differences between crates like their size and functions so you can then pick out the perfect crate.
Size Spectre – This is a thankful breed at least when it comes to what size of crate you can get for it. The average crate size for a pitbull is a 36-in long crate. These are intermediate dog crates and you should start there to figure out the size. Other crate sizes that are large enough to house Pitbulls are 32-in long and 42-in long crates. These are rarer sizes but still an option in some cases.
Figuring Out The Right Size – The next thing you should know before buying a crate for your pitbull is how to get the correct size. You'll want to measure your dog's length from the tip of the nose to his rear and his height from the top of his head to the floor and see if these proportions are 3-4 inches smaller than the crate you're looking at. If it is, you can safely assume that that's the right crate size for your dog.
Puppy Housing – With puppies, there are some things that need to be done differently. Firstly, you'll have to size the crate according to his approximate adult size and you'll also want to make sure you're getting a crate with a divider. Dividers usually come with a wire dog crate and it's for a good reason. They are excellent tools for crate training your puppy right from the start.
Dog Behavior=Different Crate Type – Another thing that you should do that will make your job of choosing the right crate easier is to get a crate according to your dog's behavior. If your dog is aggressive you should opt for a heavy-duty crate, if he's calmer but still needs crate training, then you'll want to get a wire crate and if your dog is calm and crate trained, you can reward your dog and yourself with a furniture style crate or a soft travel dog crate.
To Sum Up
We would love to recommend all of these dog crates for Pitbulls but we can only recommend one so what we've done to choose it is find the middle one between these types. We concluded that we should recommend the MidWest Life Stages Folding Crate. It's sturdy enough to crate train your dog, you can safely house a puppy inside and if you want, you can even travel with the crate. If your dog is a bigger breed like a rottweiler we suggest you read the article about dog crates for rottweilers and if the dog in question is a Yorkie or an even smaller dog, you might want to read the article about extra small dog crates.