Trying to find the perfect cozy dog crate for your dog to rest well inside it?
Let us help you find one by continuing to read this article where we reviewed our top picks. While reading, you'll stumble upon a lot of different crates like plastic ones, metal ones, and even wooden ones. They all have one thing in common though, they're each cozy in their own way.
The Summary
Best 6 Cozy Dog Crates
BEST OF BEST COZY DOG CRATE
Diggs Revol Dog Crate
Safety Like No Other
The way this crate creates a cozy rest space for your dog is by being incredibly safe. It's safe for puppies and adult dogs because it's designed to comply with baby industry standards which revolve around the safety of baby products. Your puppy or dog won't pinch his paws or hurt himself in any way while inside.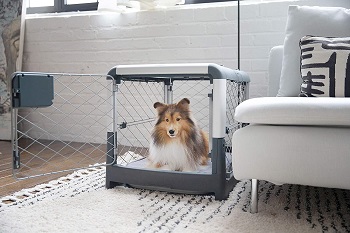 Clever And Durable Construction
It's made out of reinforced plastic and uses aluminum steel wire for its sides that's of a high grade as well. it's great that it does have steel wire sides because another factor of coziness is how well your dog will see outside cozy dog crates. Oftentimes, seeing you will reassure him that he's safe and will be calmer because of it.
Puppy And Adult Dog Housing
You'll get to house a medium-sized dog inside it but because of the puppy crate divider it comes with, you'll also get to house a puppy inside. If that's the case, you'll want to make sure that the crate's size fits your dog when he grows up so he can stay comfortable inside even after he's fully grown.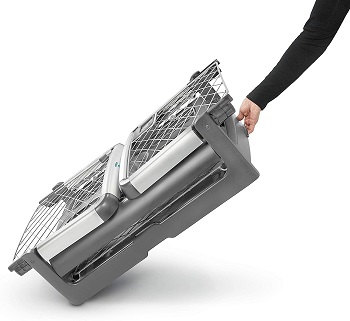 Travel Supplies
You'll get to use it as a travel crate as well. It has a collapsible construction and features built-in wheels and a handle for easier transport. These are important features because the crate is not as light as you'd think. It weighs 32 lbs. You'll also get to easily position it inside your home or car because it has a top, front, and side access door.
In Short:
Comes with a divider for puppies
Made to be completely safe for puppies and adult dogs
Can be collapsed and has built-in wheels and a handle
Can be used as a travel crate
Can house medium adult dogs
Weighs 32 lbs
Made with reinforced plastic and aluminum steel wire
Has a top, side, and front access door
BEST PLASTIC COZY DOG CRATE
Pet Gear 4 Door Steel Crate
Door Number Advantage
Doors are an important part of a crate made for indoor use because they allow you to place the crate with more flexibility if a crate has more than one. This crate has 4 doors in total. 2 are located on the sides, one on top, and the last large door is located in the front and can be opened upwards so it won't get in your way if you choose to leave it open.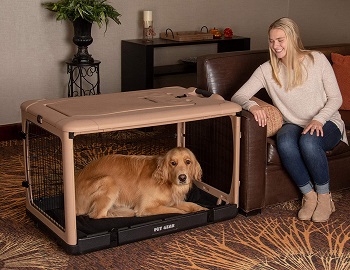 Interior Coziness
It's made out of heavy-duty plastic that has been blow-molded and it also features sides made out of steel wire. The corners on the inside are rounded while the sides don't have any exposed sharp steel wire edges meaning it's safe. Another feature that truly makes it a cozy pet dog cage is the washable plush bed that comes with it.
Travel Accessories
Just like the first cozy dog crate we reviewed, it comes with built-in wheels on the bottom and a built-in handle on top. You can also collapse it and when you do, you can either store it away for future use or you can put it inside its own travel bag that you'll get with it.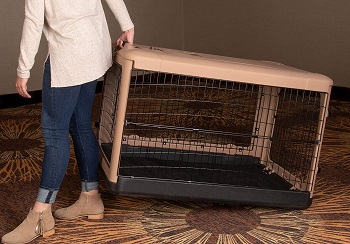 Knowing How Big It Is
The crate is 42-in long, 28-in tall, and 28-in wide. These proportions should concern you because of two reasons. One is to see if it will fit inside the trunk of your car and the second and more important reason is that with them you'll have to figure out whether or not your dog is too large for it. Generally, you'll get to house a large dog inside it.
In Short:
Features steel wire sides and a plastic frame
The inside has rounded corners and no exposed steel edges
Comes with its own plush bed that's washable
Can house large dogs
Has 4 access doors, one opens upwards to save you some space
Has a built-in handle and wheels
Can be collapsed and stored inside its travel bag
BEST METAL COSY DOG CRATE
MidWest iCrate Starter Kit
Privacy Cover
Not all dogs will find the stimuli of an open dog crate that has great ventilation and visibility pleasing. Some will feel much more comfortable if you use a breathable dog crate cover to cover it. With this crate, you won't have to buy it separately because it already comes with one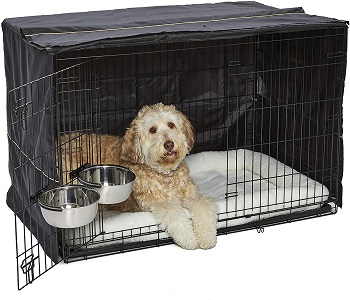 Starting Accessories
You'll get everything needed to set yourself up for success when trying to house your dog inside a cozy dog crate for the very first time. It comes with a fleece bed that will help your dog feel less anxious inside if he gets familiar with this bed and you'll get water and a food bowl that you can attach to the crate's wire.
Actual Crate Features
This cozy pet dog cage is made out of steel wire that has rounded corners for added safety while your dog is inside it. It features 2 access doors that lock safely with 2 slide bolt locks each. You'll find one on the side and one in front. This feature will help you position the crate more freely inside your home.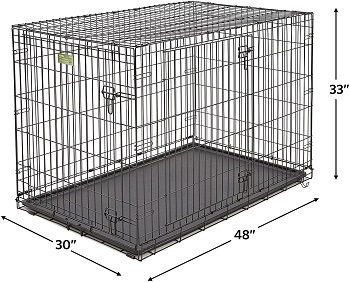 Indoor And Travel Crate
The rubber feet that you'll find on the bottom and a cleaning slide-out pan that's also located on the bottom will both help keep your floors free from damage and clean. For easier transport or even storage, you'll be able to fold the crate down and carry it with a handle just like a briefcase.
In Short:
Comes with a crate cover and a fleece bed
Features a water and food bowl that are attachable
Built out of steel wire
Has rounded corners for safety
Has rubber feet and a cleaning slide-out pan on the bottom
For more versatile indoor placement, it has 2 access doors
You can easily fold it down and carry it with a handle
BEST WOODEN COZY DOG CRATE
Unipaws Pet Crate End Table
2 Purposes
If your dog has been crate trained already and you want to get yourself and your dog a unique crate this is the perfect crate for it because it's not only a dog crate but also a piece of furniture. the wide top can hold things up to 200 lbs so you'll have a lot of choices when it comes to what you're going to put on top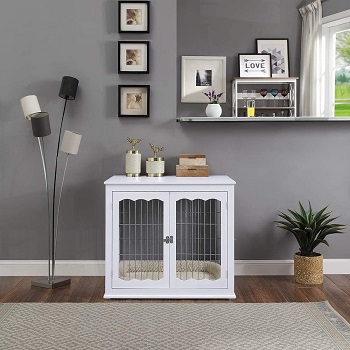 Two Material Construction
The furniture-style top is not the only thing that makes it a beautiful piece of white dog crate furniture. it's also because this cozy dog crate has a wooden frame. The sides are made out of metal bars that will ventilate the crate and make your dog see better outside. An important thing to add is that the wood won't survive a chewing dog while the metal bars will.
Versatile Use Thanks To Doors
Since it has 2 entrance points and three doors in total, you'll be able to choose if you want to use it as a credenza, side table, end table, or even a nightstand. The doors lock safely with 3 different types of locks and you can even choose to place the door panels however you'd like when you're assembling it.
Cozy Feature And Size
We haven't forgotten that this should be a cozy pet dog crate. we put it here because it comes with a washable waterproof bed. the bed might even protect the crate from damage if your dog urinates inside because it's waterproof. You'll get to use this crate to house large dogs that weigh up to 90 lbs but you should check the dimension out just to be sure.
In Short:
Functions as a crate and a furniture piece
The weight limit for the top is 200 lbs
Can house large dogs up to 90 lbs
Built out of wood and metal bars
The metal bars on the sides are chew-proof, the wood is not
Has a double door and a single door for access
The doors lock with 3 different locks each
Comes with a bed that's washable and waterproof
BEST CAR COZY DOG CRATE
EliteField 3-Door Soft Dog Crate
Spacious Design
Not only is this crate extremely comfortable because of the fact that it comes with a washable bed that you can easily remove. It's also comfortable because of its size. You see, it's a 42-in long crate but it's made so that it's 2 inches wider and 4 inches taller than most crates of this type and size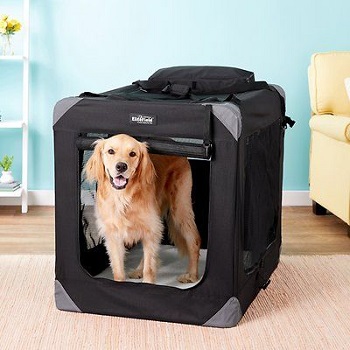 Build And Design Varieties
You can think of this cozy pet car dog cage as a fashion dog crate as well. it's because you can choose to get it in a total of 16 colors and patterns. That's because it has an oxford fabric cover. To hold its shape, it has a steel tube frame. You can also fold the crate down because of it.
Cover Features
The things that you'll find on the removable fabric cover of this cozy dog crate are 3 doors that also function as ventilation windows because they're made out of mesh fabric, 2 smaller mesh fabric windows, and a built-in and removable accessory pocket. The built-in pocket is located on top while the removable one is found in the back.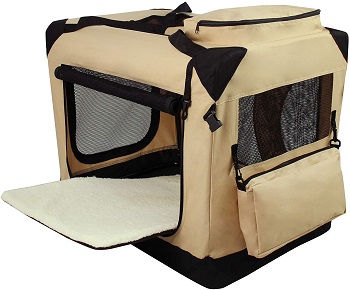 Crate Portability
You'll get to travel with it because it's a lightweight dog crate. You'll get to carry it either with the attached handle or by storing it side its own carry bag and carrying it with a padded shoulder strap. Your large dog should be crate trained and calm if you don't want it to get destroyed almost immediately.
In Short:
Comes in 16 color varieties
Has a foldable steel tube frame and an oxford fabric cover
The cover is removable and washable
There's a built-in accessory pocket and a removable one
Can house large dogs that have been crate trained
it's incredibly light and portable
Comes with its own carry bag
The bottom is equipped with a bed pad
Has three access doors
Gets ventilated through mesh fabric windows
BEST AIRLINE APPROVED COZY DOG CRATE
Morpilot Store Dog Carrier
Extra Small Crate Advantage
This extra small dog crate has a travel advantage because it's so small. Instead of your dog traveling as cargo, you'll get to take him aboard an airplane with you. you will have to make sure that your dog weighs up to or less than 15 lbs though.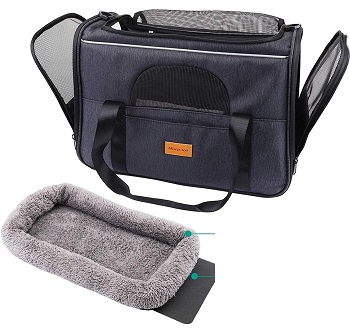 The Way it's Made
It's made to look like a regular carry-on bag and it's built with similar materials. it's primarily made with 600D oxford fabric cover and it does feature mesh fabric windows for ventilation. To make it hold its shape better, the bottom is equipped with a board that will let your dog easily stand up while he's inside.
Traveling By Car And Carry Options
You can use this cozy dog crate to also travel by car because you can fasten it with seat buckles to secure it. You'll get to carry it either with a shoulder strap or with carrying handles. There's also a belt loop on one of the sides so you can attach it to your luggage as well.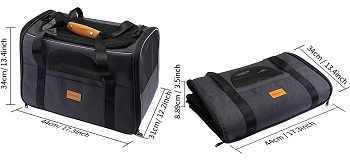 Crate Accessories
You'll get a foldable food bowl with it and the thing that makes it even cozier is the soft bed it comes with. This will be especially useful during long travels. You can wash the bed either by hand or in a washing machine. For more safety on the inside, there's a built-in leash that you can hook to your dogs' collar.
In Short:
The crate is airline approved
Can be brought with you aboard an airplane
Can only house dogs up to 15 lbs
Made with durable 600d oxford fabric
The interior bottom features a hard support board and a bed
Has a built-in leash for more safety
Can be carried with a shoulder strap or carrying handles
Has a belt loop for attachment to luggage
Can be fastened to a seat buckle in a car
Comes with a foldable food or water bowl
How To Pick A Cozy Dog Crates
Cozy dog crates are more than just the bed they come with. a dog crate like this can easily be just as cozy because it's safe, breathable, and roomy. These things might not seem like much but when combined with the difference between crate types, they make all the difference so continue reading so you don't have to spend much time choosing the right crate.
Coziness Through Safety – You don't have to have accessories like a bed to make the crate comfortable. You can just as easily make it cozy by ensuring that the crate is safe for the dog. The most common safety feature of crates is if it has rounded corners and no sharp edges exposed if it has steel wire as a part of its build.
Number One Comfort Feature – Many dog crates, like most of the ones we reviewed come with crate beds for puppies and adult dogs. By getting a bed, you might make it easier for your dog to be calm inside his crate. You can easily treat the bed like a toy that your dog can get acquainted with.
Size And Comfort – You'll also make the crate cozier for your dog if you get the correct crate size. The way you'll do this is that you'll take your dog's length and height and see if your dog is at least 3-4 inches smaller than the crate. Some crates are built in a way that they are much taller or wider. The important thing about the size is that the crate is not too much longer than your dog. Crates are typically sized by their length as well.
Visibility Importance – You should definitely look out for crates that have steel wire sides or are as a whole made out of steel wire. Wire crates provide your dog with the most visibility which is really important if your dog needs to see you at all times to feel more safe and comfy. If that's not the case and your dog would much rather have his own private space with little visibility, you can always get a crate cover.
To Sum Up
Out of all the cozy dog crates, we see the MidWest iCrate Starter Kit as the most comfortable one and that's why we'd recommend it. It's not only comfy because it comes with a privacy crate cover and a bed, but also because it's safe since it has rounded corners. If you want to have a look at just bed and bedding, we strongly advise you to read the article about puppy crate bedding and if you want to find a great crate cover then the article about waterproof dog crate covers might interest you.