Do you want to splurge out and give your newcomer the best puppy bed for crate?
You can easily find one here by continuing to read this article where we tried our best to review only the best. Don't worry, we made it so that there's a lot of different beds to choose from. That's why you'll easily find beds for small, medium, large, extra-large, and even giant dogs.
The Summary
Best 6 Crate Beds For Puppies
BEST OF BEST CRATE BED FOR PUPPIES
Big Barker Orthopedic Crate Pad
All In One
If you don't know what you should be looking for in a puppy bed all you really need to do is check out the details of this bed. It might be excessive price-wise but your puppy will be thankful since it can successfully prevent early-onset joint pains and diseases if your dog's more prone to those.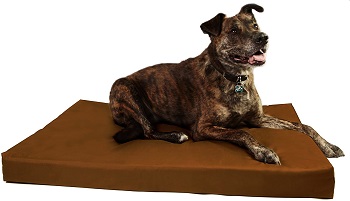 Foam Types
The reason why this crate bed can prevent the diseases we mentioned is because of the foam types. These are orthopedic foams and altogether you'll be getting a 4-in thick bed. The top layer foam is a 2-in thick h10 comforting foam while the bottom 2-in thick foam layer is an h45 support foam.
Use Of The Waterproof Cover
Thanks to the cover, this crate bed for puppies is also a dog crate pad waterproof model. You should consider getting a bed with this type of cover since puppies to tend do urinate more inside their crate since they need to be potty trained with crates that feature a divider.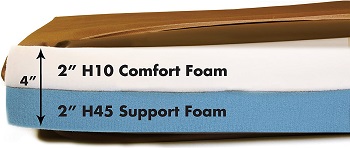 Bed Durability
It's not really that the whole bed is durable but instead, the focus is on the cover. This cover is made out of Cordura nylon that's tightly weaved. This material makes the whole bed chew-resistant. Since it's so durable we'd recommend you use it with 48-inch heavy-duty dog crates.
In Short:
Provides support for joint pains and diseases
It's 4-inches thick
The 2-in h10 foam and 2-in h45 foam are orthopedic
The cover is waterproof and chew-resistant
Can fit inside 48-inch long dog crates
BEST XXL PUPPY BED FOR CRATE
K9 Ballistics Tough Dog Crate Pad
Cover Properties
With bigger breeds like Great Danes come their own set of problems in terms of dog beds. First up is the fact that they have to be much more durable. Luckily for you, this one is. the cover of this durable crate pad is to thank for in this case since it's a cover designed to withstand digging, scratching and some light chewing.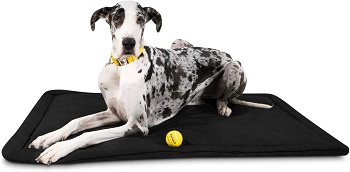 Tear Spread Prevention
Even if your dog rips off the fabric cover, the tears will hardly spread if ever because of the ripstop weave technique. The manufacturer of this best puppy bed for crate recognized the problem of dogs and puppies chewing on the edges of the pad. That's why you can attach each corner to the crate with zip ties.
Crate Floors And Floor Protection
The cover can also protect your floors or crates' floors. this is since it's a water-repellant bed. This is also good because the bed won't pick up many of the nasty odors that puppies tend to produce as a byproduct when urinating inside their crates.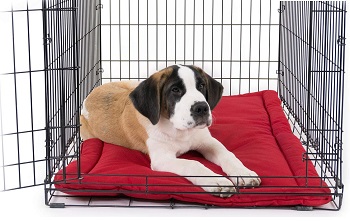 Filling, Size, And Cleaning
The filling of this bed is a 1.5-inches thick polyfill. It is comfortable but it's not orthopedic though. The bed has been stitched so there's no cover to take off when you want to wash it. All you need to do is throw the whole thing inside your washer. It can fit well inside crates for giant breed dogs.
In Short:
Can survive scratching and digging
It's made for light chewers
The cover is water repellant
Has a 1.5-in thick polyfill
Can be cleaned as a whole inside a washing machine
Made for giant standard-sized crates
BEST XL CRATE BED FOR PUPPIES
BedSure Extra Large Dog Bed
Reversible Design
Probably the biggest advantage f this bed is that you'll get to use it throughout the year. What we mean by this is that your dog will be kept cool in warm weather and warm in cold weather. This is possible because of the reversible design. The cooling side is made out of oxford fabric while the warming side is made out of sherpa materials.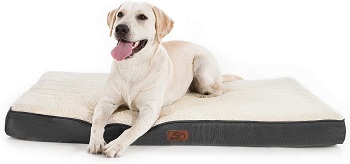 High-Density Foam Filling
The filling inside this best puppy bed for crate is actually a single piece of foam. This foam has a higher density so it's less likely that your dog will still touch the floor with his body while on this bed. The high density will also provide him additional support to the already existing orthopedic support since the foam is an egg crate foam.
Cover Toughness
The oxford fabric that's used to make the cover of this orthopedic crate pad helps the whole bed become scratch-proof and dig-proof. That's not all though because the cover also makes the bed chew-resistant. Please keep in mind that there's a difference between chew-resistant and chew-proof.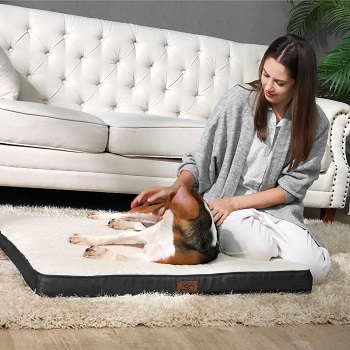 Size And Waterproof Bits
What's waterproof about it is the oxford fabric cover bit. This will protect the interior foam that's far more important than the cover. The whole bed is 44-in long which means that you can easily fit it inside XL wire dog crates. This is great because these crates also happen to be the ones that typically come with dividers for puppies.
In Short:
Made with high-density egg-crate foam
The cover is reversible to keep your dog cool or warm
It's scratch and dig proof and chew-resistant
Fits inside XL wire crates
Offers support to dogs with joint pains
BEST LARGE PUPPY BED FOR CRATE
Pet Craft Supply Super Snoozer Bed
Indoor And Outdoor Use
You don't have to limit this beds' use to just using it indoors and inside a crate. It can function as a standalone bed inside but also outdoors. This is since that the cover is UV treated which means that it's resistant to fading and won't damage easily when it gets into contact with direct sunlight.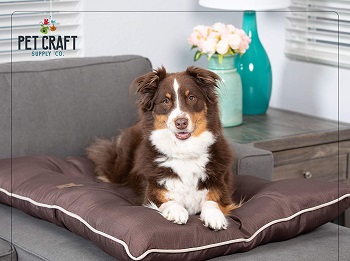 Tough Cover Properties
The cover is not just UV-resistant otherwise it wouldn't be considered one of the best crate beds for puppies. It's durable in the sense that the polyester cover is chew-resistant. Keep in mind that it's not a chew-proof bed so for persistent and heavy chewers you should think about getting a more chew-proof bed.
Stable Filling
Since the filling inside is polyfill stuffing, the channeled liner that's durable will help keep everything in place no matter how much your dog moves around on the bed. This means that your dog won't get to create nesting holes and actually sleep on the floor instead of the bed.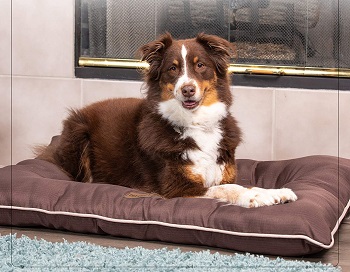 Washing And Proper Sizing
You don't have to worry about it soaking up liquids and dog accidents since it's water-resistant. When this bed for puppies gets dirty all you need to do is throw it in the washer to clean it. It's 40-in long which is a length 2 inches shorter than the length of a standard size 42-inch dog crate with divider that's intended to house large dogs.
In Short:
The polyester cover is fade-resistant
Can be used outdoors and indoors
Easy to wash inside a washer
Won't dent overtime
Can survive light chewing
Fits inside large dog crates
BEST MEDIUM PUPPY BED FOR CRATE
MidWest Maxx Dog Bed
Crate And Bed Synergy
If we were to choose a crate type with which this bed will work best with not just because of the size but because of their synergy it would definitely be puppy crates with divider. Dividers are typically used to potty train puppies and this be will survive the urine that gets onto it easily.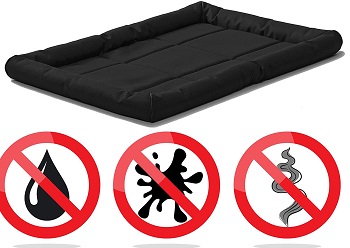 Cover Resistance
We said that it would easily survive the urine that gets onto it but we didn't mention how exactly and why. The reason why is because its cover is resistant to water but more importantly to stains and odors. This means that it won't pick up a nasty smell after prolonged use.
Standard Dimensions
When looking at the size of it it's actually an inch smaller than what it says. The reason for it is that this dimension fits the size of all the standard-sized dog crates so it will be much easier for you to figure out what size you should get. This bed perfectly fits inside intermediate dog crates.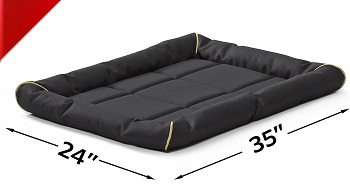 Washing Levels
Depending on how much your puppy leaves his accidents on this best puppy bed for crate, you'll get to wash it according to those. If you need to clean it slightly, you'll get to spot clean it, and if it needs a thorough washing you'll get to dump the whole things inside a washing machine to clean it.
In Short:
The cover is water-resistant
It resists odors and stains
Can be spot cleaned or inside a washing machine
Fits inside standard sized 36-in long crates
BEST SMALL CRATE BED FOR PUPPIES
Umchord Small Dog Bed
Polyester Cover
At first glance, this bed might look simple but it's far from it. Starting with its cover, it's a 100% polyester fabric that's dyed with a cationic dye. These dyes make it fade-resistant but because of the type of polyester used, it's also a wear-resistant cover.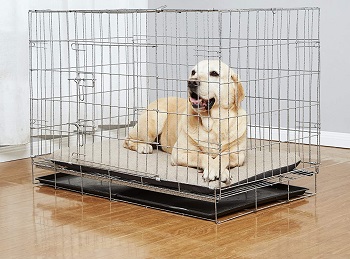 Cover Bottom
It's not that the cover is just comfortable and durable. Its bottom is made out of separate PVC material that makes it non-slipping. it also consists of a mesh bottom that's a very breathable material and will help with keeping your dog cooler during hot summer days.
Foam Protection
On the inside and just below the cover of this crate bed for puppies, there is a separate line that's waterproof. The sole purpose of this liner is to protect the foam layer on the inside. It's not just waterproof but actually 100% waterproof so there's no chance that any liquids will make their way onto the foam.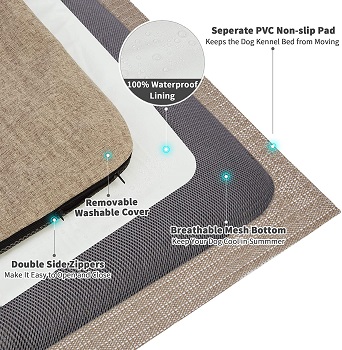 Foam Comfort And Size
The foam inside has a high density and because of it, the fact that the foam is 2-in thick shouldn't worry you. it's an orthopedic foam so it's perfect for breeds prone to arthritis. You'll easily get to wash the cover inside a machine and you'll also get to put the whole bed inside an 18 x 24 dog crate since it's 24-in long and 16-in wide.
In Short:
Has a cationic dyed polyester cover
The cover is wear and fade resistant
Has a waterproof liner inside
Features a 2-in thick orthopedic foam
The bottom is made with PVC and mesh fabric
Fits inside standard small-sized crates
How To Pick A Crate Bed For Puppies
To get the best puppy bed for crate, there's a lot you have to think about and watch out for. The bed's durability is one thing, size is another and that's just the tip of the iceberg. To truly get the crate that you and your dog will be satisfied with, we recommend you continue reading this buying guide where we'll go through all the important bits.
Crate Training Assistance – The number one thing that these beds will help you with is crate training. All you need to do is get your puppy familiar with the bed before starting his crate training journey. If the puppy has something familiar inside the crate he's more likely to willingly go inside one.
Early Disease Prevention – Although all dogs can suffer from diseases like arthritis and have joint problems, some breeds are more prone to it than others. These dogs are typically giant dogs and you can help relieve them of this pain or postpone it when your dog is still a puppy. You need to focus on getting a puppy bed for crate with some form of orthopedic foam.
Important Puppy Bed Features – There are two things that you need to watch out for when deciding on a bed. You should make sure that the bed you're getting is waterproof and at the very least chew-resistant. Puppies are more prone to urinating inside their crate s a bed would easily get destroyed if it isn't waterproof and they're also more prone to chewing so it's just another recipe for bed destruction.
Sizes To Fit Inside Crates – The only thing you have to worry about when choosing the right bed size for your puppy's crate is to make sure that the bed is not too big. If you want it to fit perfectly inside you want to make sure that it's of the same length or maybe an inch or two shorter.
To Sum Up
We feel that it doesn't get better in terms of the best puppy bed for crate than the Big Barker Orthopedic Crate Pad. It provides orthopedic support, it's completely waterproof and the Cordura nylon cover is also chew-resistant. It's everything you need in a bed for puppies. If all our missing is a mat to protect your floors we advise you to check out the article about mats for under dog crates and if you want a workaround to that floor protection solution, we advise you to read the article about metal crate trays.