Are you trying to find quality dog crate pads waterproof models but having difficulties deciding on one because there are so many?
You can trust us to help you pick one out. All you need to do is continue reading this article and read reviews of the best. We've even made sure to include a lot of different ones so that we're not repeating ourselves. That's why you'll get to find orthopedic pads, mattresses, and even different size varieties like large and small.
The Summary
Best 6 Dog Crate Pads Waterproof
BEST OF BEST DOG CRATE PAD WATERPROOF
K9 Ballistics Tough Dog Crate Pad
Aggressive Dog Pad
If we had to think of a crate where this pad would be perfect it would without a doubt be a heavy-duty metal dog crate. The reason is simple, heavy-duty crates are made to house aggressive dogs and heavy chewers and this pad can endure this type of behavior as well.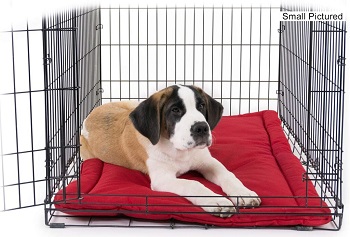 Filling Explanation
The filling of this waterproof crate pad is a polyfill. Polyfill is a very fluffy material that's usually used in making pillows. In this industry, it's used as cushioning and is a polyester type of material. It's 1.5-in thick and it is stitched instead of containing a zipper.
Cover Abilities
The thing that made this pad waterproof is its cover. The cover is dig-proof and scratch-proof as well. It's easy to wash because it is machine washable and you can even spot clean it if you want to have a quick cleaning solution for it. It's considered to be a ballistic cover.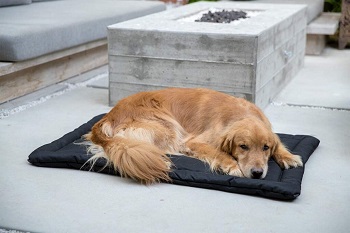 Size Information
We should note that this is a chew-resistant pad and not a chew-proof one. This means that it can still be damaged. The dogs that'll get to play and sleep on this pad can be extra large dogs. Most metal crates are 48-inch heavy-duty dog crates so it's perfect for these since it's 47-in long.
In Short:
The cover is waterproof
Includes a 1.5-in polyfill
The cover is also dig and scratch proof
The bed is chew-resistant, not proof
Can be used by extra large dog breeds
BEST ORTHOPEDIC WATERPROOF CRATE PAD
Barkbox Memory Foam Dog Bed
Bed Filling
This pad is more of a bed than a pad because it's a lot thicker than a pad. It's 3-in thick and is filled with memory foam. Because it's a memory foam dog crate pad and since it comes in a bo, you should let it inflate for a maximum of 72 hours before your dog starts to use it.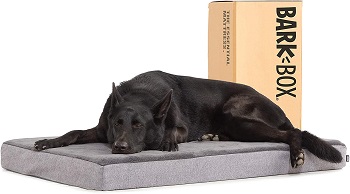 Memory Foam Types
These pads usually come either with shredded memory foam or with a single piece. This one's made out of a single piece and because of the foam type it's a waterproof orthopedic crate pad. The top layer of the foam is filled with a temperature-regulating gel to keep your dog both cool and warm when it's needed.
What's Actually Waterproof
It's not that it's a waterproof crate pad in all segments. The memory foam will be protected from getting into contact with accidents and other liquids because of the cover. You can also wash the cover in a washing machine or if you want a quick fix, you can do it with a stain remover,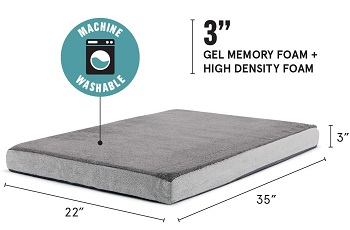 Colors And Size
The pad comes in many different colors so you can color-coordinate it to your liking or dog crate. This one is grey but you can also get it in plaided black, espresso, navy, sand, gree, plaided white, and even stripped. It's 35-in long so you'll get to put it inside an intermediate dog crate.
In Short:
Filled with memory foam
The memory foam is orthopedic and has a gel
Fit for use in intermediate dog crates
Has a zippered cover that's machine washable
Good for dogs with joint pains
BEST MATTRESS WATERPROOF DOG BED FOR CRATE
SunStyle Home Foam Dog Bed
Egg Foam Filling
This pad's also more of a dog bed than a pad. The thing that determines this is probably the thickness of the filling. This one is 4 inches which are more than we reviewed so far. The filling is an egg crate foam that has a high density. Because of it, it's an orthopedic bed.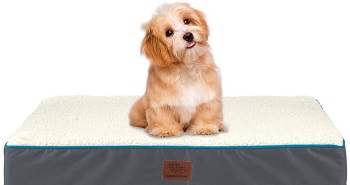 Reversible Cover
You will get a cover to protect the foam filling inside. The fun thing about it is that it's reversible. It's made out of faux lamb wool and oxford fabric. The oxford fabric is cooling while the lamb's wool is warming. The oxford fabric has a water-resistant coating that makes this dog crate mattress waterproof.
Washer And Dryer Friendly
You won't have to worry about cleaning this waterproof dog bed for crate too much because when the time comes you can just take the cover over with no hassle. After all, it has a zipper and you can easily throw it in your washing machine. When it's washed you can even put it inside a dryer.
Dimensions And Weight Limit
You should worry more about its dimensions than its weight limit. Its 30-in length and 20-in width tell us that it's suitable for medium-sized crates. It doesn't really have a weight limit but the fact that it can fit dogs up to 50 lbs might help you figure out with which medium wire dog crate you can use it.
In Short:
Has an egg crate foam filling
It's 4-in thick, 30-in long, and 20-in wide
Has a reversible cover
The cover is made out of oxford cloth and lambswool
The cover is washer and dryer friendly
Can be used for medium crates and dogs up to 50 lbs
BEST UNDER WATERPROOF CRATE PAD
Snagl Paw Whelping Pad
Initial Function
Initially, this mat is designed for dog whelping. Whelping is the process of a female dog giving birth and you'll typically find a mat like this inside a whelping bo but that's not its only use. Think of it as a carpet that can go under any standard-sized dog crate.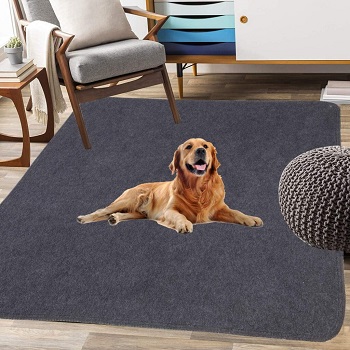 Water Absorbing
You can put it in the category of waterproof dog crate mats but it does work a little differently than the others. It wouldn't make sense if it were to repel water so instead, it's waterproof in a sense that it won't leak through when absorbing liquids. It can absorb up to 10 cups of water.
300 Times Reusable
You can think of it as puppy pads in crate but instead of being on the inside, it's located on the outside. it's reusable and you'll get to wash it up to 300 times before having to buy a new one or before it's rendered unusable in its primary function.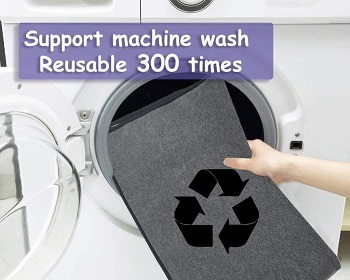 Size Of Crate It Fits Under
Although it's made out of soft materials, it is still durable and it even has a non-slip rubber bottom. It's 72-in long and 72-in wide so it's impossible that this waterproof mat for under dog crate will be bigger than any crate. Because of this, we would advise you to use it with crates for giant breed dogs
In Short:
Can be used for dog whelping
Fits under all standard sized dog crates
Can absorb up to 10 cups of water
Can be reused up to 300 times
Has a non-slip bottom
BEST SMALL WATERPROOF DOG CRATE MAT
Gorilla Grip Waterproof Pet Pad
How It Looks
This pad is made up of 4 layers but let's start with how it looks. The top features a soft quilt that has little dog paws painted black all over it. It's colored gray so it both looks great and functions great. The edge is leakproof since the pad will absorb liquids.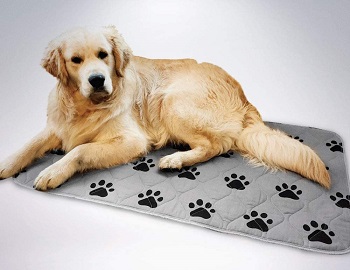 The 2 Inner Layers
As we've already said, it's got a leakproof edge because the two inner layers are water resilient and will absorb the liquids that get onto it. The liquids will then disperse and stay there until another round comes. One thing is for certain, it can absorb a lot of liquid.
Last Layer And Pad Durability
The last layer is an outer layer that's located on the bottom side of this waterproof dog crate mat. It's made to be slip-resistant so that the pad doesn't move around as much when you don't want it to. The whole pad can maintain its absorbing power for up to 300 washes.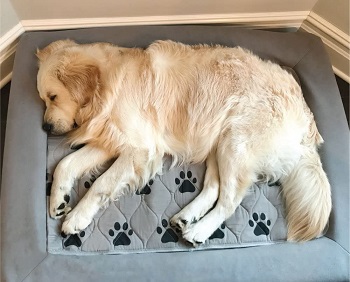 Flexible And Extra Small
You can use this pad with soft travel dog crates or with regular dog crates. The important thing is that it's an extra small dog crate that's no more than 18-in long. It's not as thick as a bed but more like a blanket so you don't have to worry if it's too big for the crate.
In Short:
Made up of 4 layers
The 2 inner layers are water resilient
The bottom layer is non-slipping
Fits extra small dog crates
It might lose its absorbency after 300 washes
BEST LARGE WATERPROOF CRATE PAD
Petmaker Waterproof Crate Pad
Water Repellant Cover
There are multiple ways with which this bed prevents liquids like urine, dog drool or just simply water from ending up on your floors. The first one is the cover that's made out of nylon. It repels any water that ends up on it since it's completely waterproof.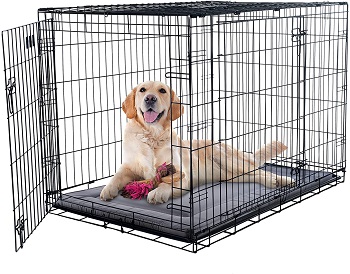 Fewer Overflows
The idea is that any liquids get trapped on the bed not because it will absorb them, but because the edges of the waterproof crate pad are raised. These edges create a pool in the center where liquids will stay instead of overflowing. This is similar in function to the dog crate plastic liners.
Cleaning Options
There are multiple ways in which you'll get to choose to clean this bed. You can either simply rinse it off with water and allow it to dry, you can wipe it down, or if you want to give it a more detailed cleaning you can easily throw it inside a washing machine.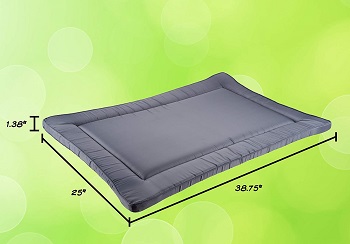 Crate Recommendation
Although this bed is durable, it can't be considered chew-proof so make sure you're dog isn't one to do so. For that reason, we'd recommend you use this bed with large indoor dog crate furniture since these crates don't allow chewing dogs inside either.
In Short:
Has a waterproof nylon cover
Has raised edges so that liquids don't overflow
Can be cleaned in multiple ways
Recommended for large and calm dogs
How To Pick A Waterproof Crate Pad
There are a lot of types of dog crate pads waterproof models and everyone's function is a bit different so in order for you to figure it out, we'll go through their details. From mats to beds and even pads, we'll go through all of them and explain them a bit more.
Mattress Use – If you have an elderly dog or a dog with joint pains, or that has been through surgery lately we would definitely recommend that you get a mattress. It'll be even better if the mattress has memory foam or if it's made out of egg crate foam so that they're orthopedic crate pads.
Mat Uses – If the mat you're getting goes under a crate all that really does is protect your floors from liquids and dog dirt that found their way outside the crate. If the mat is intended to go inside, it can well protect a crate's bottom and with it your floors.
Pad Uses – Crate pads are typically non-reusable but with waterproof ones, you'll get to reuse them time and time again until they lose their absorbency power. Most pads like this can last up to 300 washes. The frequency of washing depends on both how much the pad can absorb and how many liquids will end up on it.
Crate Protection – If you get these waterproof crate pads, mattresses, or mats, what they might do is protect your crate from getting into contact with liquids. This is great because some crates like indoor dog crate furniture shouldn't get into contact with liquids whatsoever.
To Sum Up
The K9 Ballistics Tough Dog Crate Pad acts as a perfect waterproof dog crate mat. Of course, it's waterproof but it's also dig and scratch-resistant, and in terms of chewing it's resistant to that too. It's designed for dogs that love to play with their beds. If you've chosen your waterproof pad and are now looking for a waterproof dog crate cover to go with it we advise you to read the article about it and if you're looking for more breathable options we suggest you look into the article about breathable dog crate covers.