Do you really want to get your dog a privacy crate cover but are worried about it not letting in enough air so you're after a breathable dog crate cover?
There is such a thing and for you to pick one out in a matter of minutes, you should definitely continue reading this article where we reviewed only the best. We didn't just stop there, we made sure to include a lot of different types of covers so you'll get to read about small, medium, large, and even XL covers.
The Summary
Best 6 Breathable Dog Crate Covers
BEST OF BEST BREATHABLE DOG CRATE COVER
HiCaptain Double Door Dog Crate
Reversed Colors
Although you can get this privacy cover in both tan and black, we decided to review the gray one, because it can be reversed. What this means that you'll get to offer it a different look by just flipping the cover. The colors included are a light gray and a darker shade of gray.
Material Weight
It's made with 600D polyester fabric. In case you're wondering what 600D means it is there to determine the weight and thickness of the fabric. This one's pretty thick and weighs 3 lbs. It won't make much of a difference in weight when you want to lift the crate through the special hole on top for crate carrying handles.
Proper Airflow
The material used to make it is windproof which takes off from the material's breathability. To actually make it a breathable dog crate cover, you'll get a large mesh fabric window in the back. Mesh fabric is a material that has holes and promotes good airflow without taking much from the privacy aspect of the cover.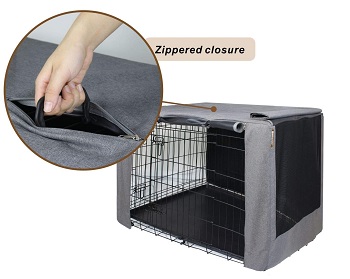 Crates It's For
The material has been coated with a water-resistant coat which means that you confidently get to use it on folding metal dog crates for traveling. It's got two door shades that can be zipped door you can roll them up and fasten them with a toggle. Since there are two of them and the cover is 37-in long, we'd recommend you get it for large 2-door dog crates that are 36-in long.
In Short:
Made with 600D polyester fabric
The fabric is windproof
Has a water-resistant coating
Features a large mesh fabric window in the back
Has 2 door shades
Can be used to cover 36-in long dog crates
BEST XL BREATHABLE DOG CRATE COVER
Honest Outfitters Dog Crate Cover
Well Know Material
Instead of being made out of polyester like the crate before it, this crate used a well know material in the making of soft travel dog crates. The material in question is 600D oxford fabric that's, as a standalone material, windproof and even water-proof. It's even resistant to scratching.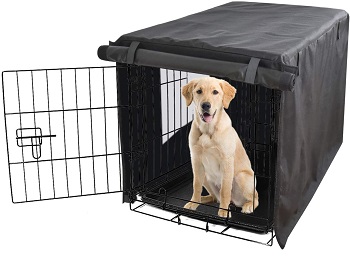 Full Coverage Shades
Other breathable dog crate covers have door shades that are edged out to fit the door shape perfectly. This might be risky because not all door dimensions are the same for every crate. That's why the front and side door shade of this cover are made to shade the whole front and side.
Breathability Feature
Although the windproof ability is contradictory to what a breathable crate cover is, the solution to this is to offer you a mesh fabric window. This window is located on the lengthier backside and it's quite large so your dog will get enough air flowing through. You'll get to cover the window with a shade as well.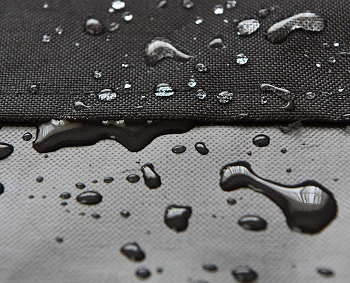 Last Side Contents And Size
The side we didn't already mention features two small accessory pockets. This just goes to show that it's definitely an XL dog travel crate cover. It's 49-in long so it's only logical that it's a perfect fit for 48-in long dog crates. Preferably, these crates should be wire dog crates.
In Short:
Has a 600D oxford fabric construction
It's both windproof and waterproof
The ventilation window is large and found on the side
The back has 2 accessory pockets
Can be used to cover 48-in long, 2 door wire crates
BEST LARGE BREATHABLE DOG CRATE COVER
Morezi Dog Crate Cover
Heavy Duty Cover
This crate cover can easily be considered a heavy-duty one. It's made out of heavy nylon that's both water and tear-resistant so if you're dog is a little bit rowdy and likes to scratch on his crate and cover, this breathable dog crate cover can definitely take it.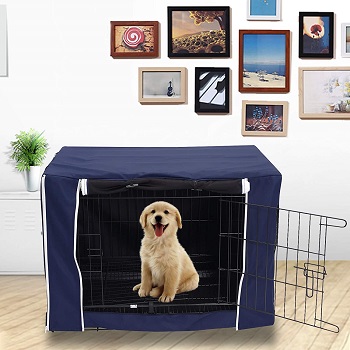 Multiple Colors To Choose From
You don't have to make your crate cover ruin the beauty of your colored crate. The cover comes in a variety of different colors so you can easily color-code it according to your dogs' crate colors. The colors you'll get to choose from are beige, black, dark gray and light gray, and navy blue.
Door Shades Options
There are 2 doors shade on the cover. They can cover the front and side entrance to a crate and you can easily roll them up and hook them to plastic toggle locks to give your dog more visibility and airflow without having to take the whole crate cover off. The mesh fabric window in the back doesn't have a shade.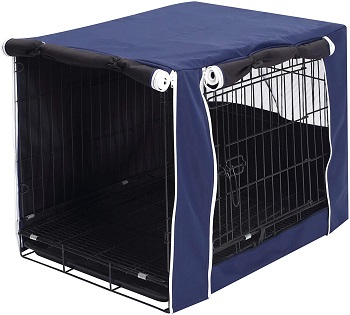 Size And Washing
If the cover ever gets dirty, although we don't see how that is easily possible since it repels both water and oils, you'll get to wash it inside a washing machine. the cover is 43-in long which means that you'll get to cover a 42-inch dog crate with a divider with it.
In Short:
Made out of heavy-duty nylon
The nylon is wind, tear, and waterproof
Comes in 5 different colors
Has 2 door shades and 1 ventilation window
Can cover 42-in long large dog crates
Can be washed inside a washer
BEST MEDIUM BREATHABLE DOG CRATE COVER
Femuar Durable Crate Cover
Intermediate Size
Although we defined this covers' size as a medium, that's not exactly true. It can fit well on intermediate dog crates. These crates aren't medium but they aren't big either. The length of these crates' is right in the middle between a large and medium crate so the cover is as well.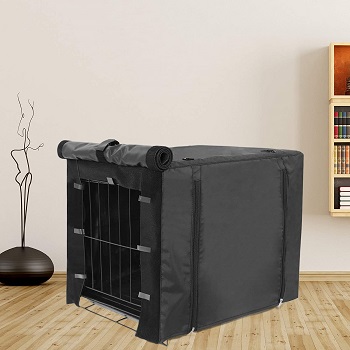 Tight Fit
Typically, breathable dog crate covers and crate covers, in general, are 1 inch longer than the crate they cover. With this one, it's different since it's as long as the crates it's supposed to fit on. This makes it a snug and tight fit on dog crates but if you happen to like that, it's great.
Thinner But Still Tough
It's made with 300D polyester so it is a bit thinner than normal and lighter as well. It's waterproof and windproof so it will be easy to clean. The mesh fabric window that will promote good airflow is located in the back and has its own shade that can be fixed with velcros.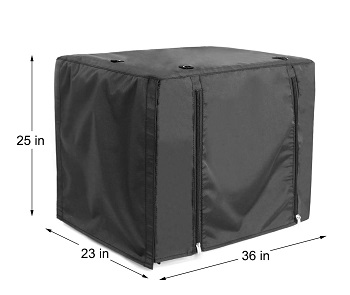 Door Shades And Their Bits
The shade of the cover can be closed with zippers or with velcros. The front door shade closes with velcros while the side door shade closes with zippers. Both can be rolled up to stay there with another piece of velcro fabric. To make it even more fixed, you'll get to hook the bottom to the bottom wire of your crate
In Short:
Made with 300D polyester material
A bit thinner than most
It's a snug fit on 36-in dog crates
It's water and windproof
Has a ventilation window in the back
Features 2 door shades
BEST SMALL BREATHABLE DOG CRATE COVER
Amazon Basics Dog Metal Crate Cover
Size Range
Although dog crate covers generally aren't expensive, this is probably the best one you can find at an affordable price. It covers all sizes from standard-sized wire dog crates. These sizes range from small to extra large. In inches, they range from 24-in to 48-in in length.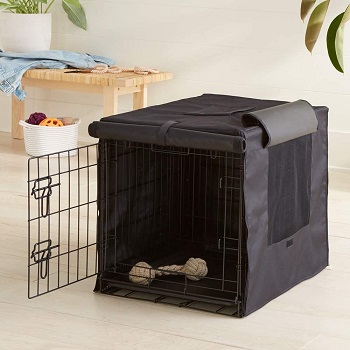 How To Clean It
Although the cover is made out of durable polyester, it's best to use it indoors. You can clean with a damp cloth when it's needed but other than that, you won't get to put it inside a washing machine to clean it thoroughly. It's made to be a simplistic breathable dog crate cover so cleaning it is simple as well.
Top And Front Shade
It has a single door shade in the front. You'll get to roll this shade up and attach it to velcro to allow more air inside the crate and to offer your dog some visibility on the outside. The top shade is there to allow you to grab the crate's handle when you want to carry it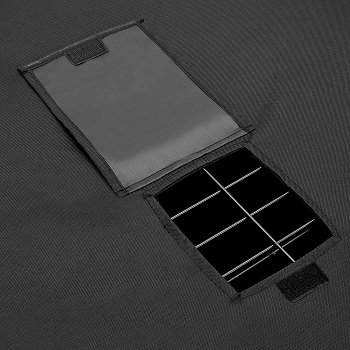 Vent Window And Size
On the side, you'll find a window made out of mesh fabric. this window isn't large but compared to the size of the crate it will be enough to provide it with good ventilation. You can put a shade over it as well. You'll get to fit this cover on small wire dog crates.
In Short:
Made out of black polyester
Intended to be used indoor
fits on 24-in dog crates
Has a single door shade in the front
The side has a shade for the vent window
BEST TRAVEL BREATHABLE DOG CRATE COVER
Explore Land Dog Crate Cover
Triple Shades
We say that it's better to be safe than sorry and this is the phrase we would use to describe this cover. Mainly it's because it has 3 door shades instead of the standard two. The third one can be found on the top and it's rare to find a triple door dog crate made out of steel wire but if you have one you can use this cover to cover it.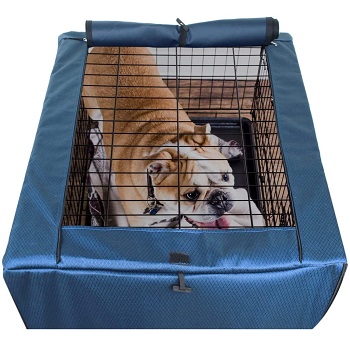 Beautiful Patterns And Colors
It's not that you'll just be getting a beautifully colored dog crate cover but the colors have their own pattern. The pattern is lattice and it resembles the diamond steel wire pattern. You'll get to choose between the lattice brown, lattice black, and even lattice blue.
Polyester Fabric Details
It's made with 600D polyester so it is thick to the touch. The cover blocks out most of the direct sunlight and protects your dog from wind. The polyester material of this breathable dog crate cover isn't waterproof on its own but it has a coating that makes it waterproof. the cover is made to cover 42-in long dog crates.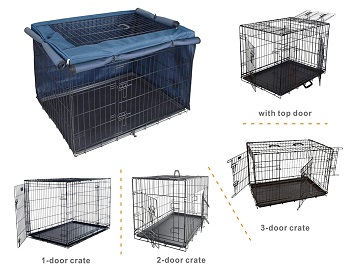 Ventilation Through Door Shades
It doesn't have a mesh fabric window that will properly ventilate it but what it does have is another side panel for ventilation that you'll get to roll up and attach to plastic toggle locks just like any door shade. The top door shade, since it's rare for a wire crate to have this opening, will also help you with air ventilation.
In Short:
Made with 600D polyester fabric
Has a waterproof coating
Protects your dog from wind and direct sun
Has 4 roll up shades in total, one is found on top
Can be used to cover 42-in long dog crates
How To Pick A Breathable Dog Crate Cover
To get the perfect breathable dog crate cover, there are some things that you should keep in mind and know in general. For starters, it's important that you what privacy covers are for since not all dogs want or need them. Secondly, you should worry about the size and of course, how breathable they are. This and a lot of other things will be explained in this guide where we'll help you to pick one on your own.
Determining Breathability – When determining how breathable a dog crate cover is, we're mainly looking at the breathability when the door shades are down and zipped closed. That's when we are truly able to see just how breathable a crate cover is. What you want to be looking at are mesh fabric windows
Windows Details – Mesh fabric has tiny holes all around it that allow air to flow through. They don't take away much from your dog's feeling of privacy since seeing through them is possible, but it's not that great. This makes them the perfect material of choice for privacy covers.
Cover Uses – If you're wondering why your dog might find a crate cover useful you have to know that their instincts are to have their own private den space. Covers reduce both the sound and more importantly, the visual stimuli that might make your dog anxious or rowdy. Not all dogs are like this though, some prefer to keep an eye on their owner at all times and you'll get the most out of that by getting a folding metal dog crate made out of steel wire.
Correct Cover Sizing – Since breathable dog crate covers are purposed for dog cages, it's important to get the correct size. Typically, covers are an inch longer than the standard-sized dog crates they cover. If you have a standard-sized 24-in dog crate that can house small dogs you should look for a cover that's 25-in long. Of course, the width and height of the cover are also important so after you're done with determining the length, you should double-check that these measurements fit your crate as well.
To Sum Up
We determined that the best breathable dog crate cover that we can recommend has to be the HiCaptain Double Door Dog Crate. It's windproof and waterproof so you can also use it to travel. The mesh fabric window that helps airflow through is quite large so it should prove to be enough. If you want to learn more about covers for traveling be sure to check out the article about waterproof dog crate covers and if you want to base your focus on large ones, there's an article about large dog crate covers.