Have you been trying to find a cover for large dog crate for the longest time but never had any luck with finding one?
You can change that by continuing to read this article where we really tried to bring you only the best of what the internet has to offer. We did go even further than that and reviewed them under categories that describe them well in a few words like heavy-duty, indoor, travel, and more.
The Summary
Best 6 Covers For Large Dog Crates
BEST OF BEST COVER FOR LARGE DOG CRATE
Morezi Dog Crate Cover
There are some interesting color patterns to choose from for this cover so if you don't want your crate cover to be monotone and boring you might just like the options that this cover offers. The colors are black blue or gray while the patterns to choose from are paws, dog bones, and a swirly pattern.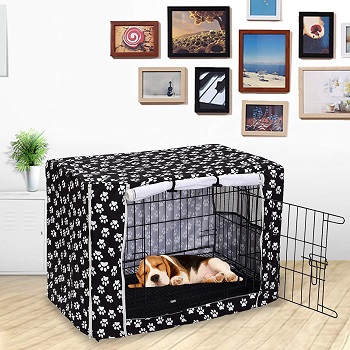 Cover Durability
This cover for large dog crate is made out of nylon and you can consider it to be heavy duty since it's tear-resistant. This means that you can easily put it on a training cage for dogs without having to worry that your dog will destroy it prematurely if ever.
Travel Protection And Shades
It's not only a tear-resistant cover but also waterproof so if you're one to travel with your dog a lot this cover will provide you with the perfect amount of weather protection. You'll find the door shades in the front and on one of the sides and you can roll them up and make them stay like that with plastic toggles.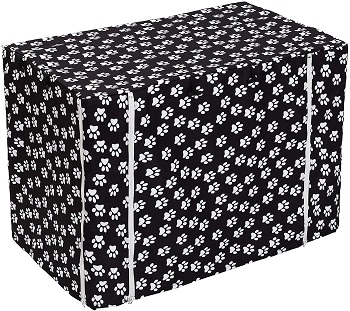 Air Flow And Full Privacy
When you want to give your dog full privacy, you can close the door shades with zippers and you don't have to worry about him not getting enough air inside. That's because it features a mesh fabric window in the back that will constantly let air through. It's a great fit on 42-inch dog crates with a divider.
In Short:
Made with tear-resistant nylon
The cover is waterproof
Features a side and front door shade
Has a mesh fabric window for ventilation
Fits on 42-in long dog crates
Comes in 3 color patterns
BEST INDOOR XL DOG CRATE COVER
Explore Land Dog Crate Cover
Indoor Use
It's common knowledge by now that oxford cloth is the standard material used in the making of soft travel dog crates. This cover is made out of it too but unfortunately, it's not designed for traveling so we'd recommend you use it for large indoor dog crates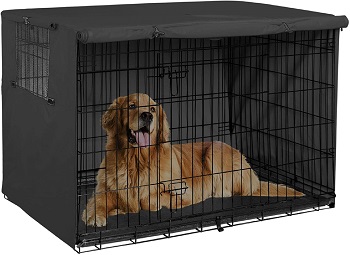 Benefit Of Indoor Use
The reason why you won't get to travel with it, although technically you can, is mainly because the cover is not waterproof but only windproof. That's okay though because you'll still find it useful when it comes to reducing the visual noise that your dog might experience that would then make him anxious
Full Opening Shades
The two-door shade found in the front and on the side of this XL dog crate cover doesn't open like you would expect them to. They open fully which means that there's no chance for it to block the door when you're trying to open it. This will also allow you to easily slide ut the cleaning tray if your crate comes with one.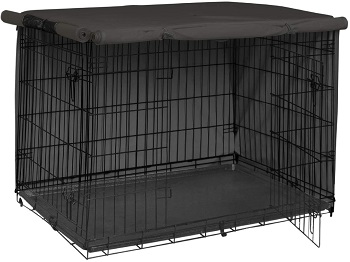 Zippered Openings, Vents, And Shades
Large wire dog crates typically come with a top handle for carrying. This cover is designed to fit them if they're 48-in long because there's a zippered opening through which you'll get to grab the handle to carry your crate when needed. For proper ventilation, you'll get a single mesh fabric window that's built into the front door shade that has its own shade.
In Short:
It's windproof but not waterproof
Has a built-in vent window on one door shade
Has a front and side door shade that opens fully
Perfect fit for most 48-in long wire crates
On top, there's a zippered opening for crate handles
BEST HEAVY DUTY CRATE COVER LARGE
Hersent Privacy Crate Cover
Polyester Details
We are yet to find another cover that's made out of 420D polyester fabric. This fabric is not only waterproof but also tear-resistant so it's the perfect option if you have a dog that needs to be crated inside a heavy-duty wire dog crate. We can't guarantee that it won't tear eventually, but it will definitely take some time if your dog is rowdy.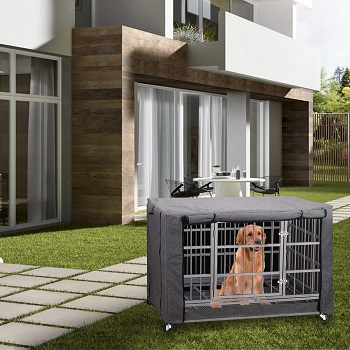 Stains And Odor Protection
Thanks to the PVC coating that the polyester fabric has, this crate cover large is also stains and odor repellant. This means that you won't have to clean it as often and it won't be rendered useless because it absorbed some nasty odors and stains that are hard to get rid of.
Door Shades Location And Details
If you have a large 2-door dog crate this is the perfect cover for it. It features door shades in the most typical places possible, in the front and on one of the sides. These shades can be rolled up to stay like that with toggles found on top. They don't open fully but it should be enough for any door to be opened with the cover blocking it.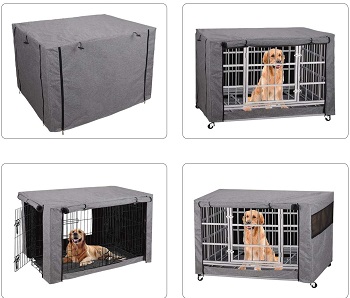 Ventilation And Size
The mesh fabric window located in the back that makes this a breathable dog crate cover is the one responsible for proper air circulation inside the crate while the cover is on. This window can resist scratching as well. The cover will be the perfect fit on 42-in long dog crates.
In Short:
Made with 420D polyester fabric
The fabric is tear and water-resistant
The door shades are located in the front and on the side
Has an anti-scratch ventilation window
Fits on 42-in long standard-sized dog crates
The PVC coating helps it repel stains and odors
BEST WATERPROOF DOG CRATE COVER
HiCaptain Double Door Dog Crate
Category Reasoning
It's only logical that there's a difference between large and extra-large dog crates and their cover so that's the exact reason why we separated the two and made them categories. Large crate covers, if we're talking about standard-sized dog crates can cover 42 inches long crates and the same goes for this one.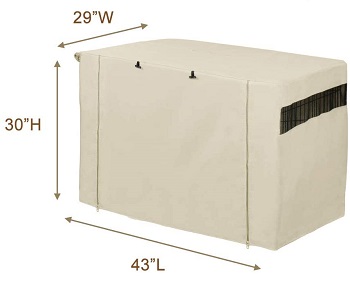 Material Weight And Thickness
The 600D polyester fabric is thick. We know this because the number determines the fabric's weight and thickness. If you want a more precise description of just how thick this crate cover large model is, we can compare it to soft travel dog crates since they're typically made out of 600D fabrics.
Cover Resistance And Crate Fit
It's not water-resistant on its own but it does have a coating that makes it resistant to water-. To make it stay perfectly in place while it's on your crate, you'll get to attach the corner toggles not the bottom of your crate. They can be found on the cover's corners.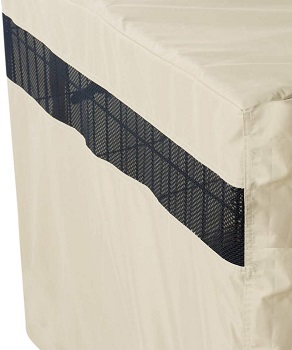 Vent Windows And Door Openings
It's got a small mesh fabric +window in the back that will provide the crate with enough air without taking much out of the privacy aspect of the cover. There are 2 door shades placed in the front and on one of the sides. They don't open fully, but on the bottom, you'll get to easily slide out a plastic crate liner for cleaning since there's no fabric there.
In Short:
Made with 600D polyester fabric
Feature a water-resistant coating
Has an air ventilation window in the back
Has 2 door shades that close with zippers
Fits on 42-in long dog crates
BEST WASHABLE DOG CRATE COVER
Pethiy Dog Crate Cover
For Eye Sore Crates
Since large and xl large crates are usually an eyesore mainly because of their share size and limitations in terms of crate type you might find it useful that this cover comes in a variety of colors and one's bound to fit your style. The colors to choose from are grey, black, blue, gray soles, and a different type of gray. All of these colors have some type of pattern on them.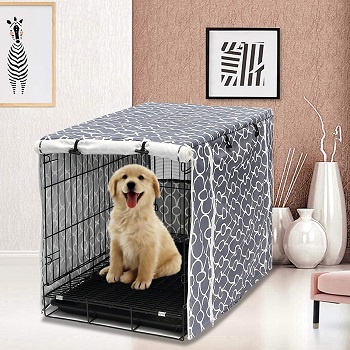 Shades And Their Abilities
It does have 2 shades to cover the front and side door but you can use it with a crate that only has one door, typically this door will be located in the front. The shades of this XL dog crate cover close and pen with zippers and you can also roll them up and attach them to toggle locks on top.
Ventilation Through The Back
Although you can adjust just how much air and light comes through with the door shades if you want to give your dog complete privacy but still let him have enough air inside his crate you can rely on the mesh fabric window in the back to do this job properly.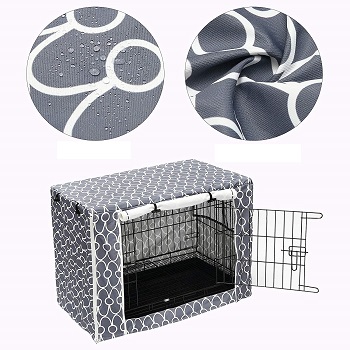 Size And Cleaning
If the cover ever gets dirty, you can easily wash it inside a washing machine. It's 48-in long so you'll get to use it on XL wire dog crates that are 48-in long. Keep in mind that it will be a tight fit since it isn't an inch longer than the crates it can fit on. ž
In Short:
Comes in 5 different colors
It's a tight fit on standard 48-in long crates
Can be washed inside a machine
Has a small vent window in the back
Has 2 door shades
BEST TRAVEL COVER FOR LARGE DOG CRATE
Explore Land Dog Crate Cover
Neither Medium Nor Large
In terms of size, you might both get to think that this cover is not large but somehow still is. This is because it's sized to fit 36-inch dog crates with a divider. In terms of dog size, these crates fall somewhere in between large and medium and you'll get to house an up to 70 lbs dog inside them.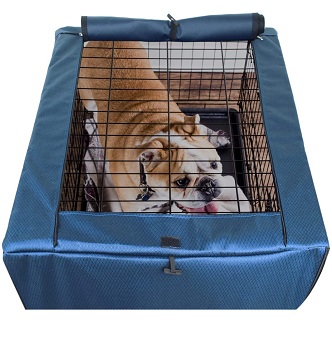 Travel Features
The material used to make it is 600D polyester. Since it's 600D you can trust that it is a thick material and because of the waterproof coating, you can safely use it for traveling or even camping when the weather is not ideal. It's even windproof and will protect your dog from direct sunlight.
Looks Enhancement
You'll get to have fun with the colors of this crate cover large model. It doesn't just come in blue brown or black but each color also comes with a lattice pattern. It will almost go unnoticed but it will definitely enhance how the whole cover looks and with it, your dog's crate.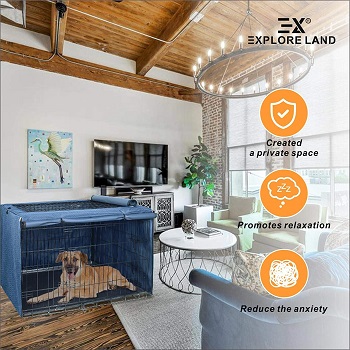 3 Door Crate Compatible
It's compatible for use with crates that have up to 3 doors. Wire crates don't tend to have a third, top door, but if you do, you don't have to hesitate with buying. These shades have zippers and you can also roll them up and attach them to toggles when you want to let in a bit more light and air inside.
In Short:
Has a 600D polyester material
Features a water-resistant coating
It is windproof and protects your dog from sunlight
Can be put on 36 dog crates
It is compatible with crates up to 3 doors
How To Pick A Cover For Large Dog Crate
Although a cover for large dog crate might be easy to find, the problem that arises is the fitting size. It's important to know what size you should get and apart from that, it's important to know what their other abilities are so that you can fit it to your liking and your dog as well.
Standard Large Sizes – When talking about large dog crates and their covers, there's a lot of different choices and each one is different than the other. The sizes that are considered to be large are intermediate, large, and extra-large covers. Intermediate ones fit o 36-in long crates, large ones fit 42-in long dog crates while extra-large ones fit 48-in long crates.
Size Limit – Unfortunately, if you have a crate for a giant breed dog, you won't get to find a cover that fits these crates even though they might be the ones that need them the most since covers can help these crates become more pleasing to the eye. They're an eyesore inside homes because of their size so a beautiful cover might solve this problem.
What Covers Are For –  This is probably the first thing you have to know before deciding to buy one. Covers are great tools for reducing anxiety that comes from visual stimuli and sound stimuli as well. Some dogs value their privacy while others are far less anxious if they can keep an eye on you at all times.
Sizing Them Properly – Most covers are designed to fit standard-sized dog crates. These crates are usually wire crates so these are the crates you'll be able to get them for. A crate cover should be an inch longer than your crate to fit it properly. This goes for width and height as well but length is the starting point to find your perfect xl dog crate cover or smaller one.
To Sum Up
Of course, you'll choose a cover for large dog crate that's of the right size but since we got the chance to recommend one, we'd definitely go with the Morezi Dog Crate Cover. It's incredibly durable since it's tear-resistant and it can even be used when traveling because of its waterproof ability. If you're done with giving your dog privacy and want him to be even cozier inside his crate, we suggest that you read either the article about orthopedic crate pads or durable crate pads.