Having trouble with your regular dog crate pads because they all get destroyed easily so you're looking for a more durable crate pad?
There's an abundance of them on the market and we chose to review only the best of them. You should definitely continue reading this article if you want to make sure that your dog's next pad lasts for years of use. You can find, small, medium, and even large and extra-large ones here.
The Summary
Best 6 Durable Crate Pads
BEST OF BEST DURABLE CRATE PAD
K9 Ballistics Tough Dog Crate Pad
No Cover To Take Off
Typically, what makes crate pads durable is their cover. They can usually be taken off but with this or you won't get to do that. The reason why is because the pad is stitched together. The cover is still to thank for in terms of its durability while the filling is to thank for comfort.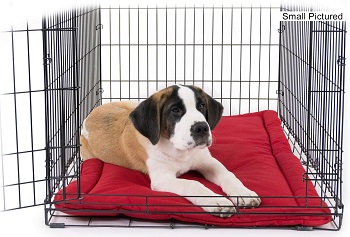 Cover Possibilities
There's a large distinction between chew-resistant and chew-proof crate pads. Chew-proof crate pads typically have a metal frame and they aren't as comfortable as chew-resistant pads. This one is chew-resistant which means that it's suitable for dogs that like to play around with their durable crate pad. It won't survive heavy chewing so we'd recommend it with XL wire dog crates.
Inner Filling
The K9 ballistics tough crate pad is filled with a recycled polyfill. It's 1.5-in thick and again, it's stitched so that the filling doesn't come out over long-term use. By long-term use, we mean washing since the whole pad can be placed in a washing machine. For a quick fix, you can spot clean it if you'd like.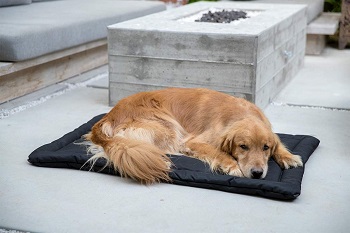 How Well It Fits Inside A Crate
You could virtually color code it to fit the color of your crate but since extra large crates don't typically come in a variety of different colors you'll have to match it with something else. It is 47-in long which is just an inch shorter than the standard length of extra large dog crates so that it can fit inside perfectly.
In Short:
Has a 1.5-in thick polyfill
The pad is stitched together, there are no zippers
Can be washed in a machine as a whole
The cover is chew, scratch, and dig resistant
Fits inside standard 48-in dog crates
BEST SMALL DURABLE DOG BED FOR CRATE
MidWest Maxx Dog Bed
Size Confusion
This bed's durability shows in a different matter than the one we reviewed before it but more on that later. it's sized as a 24-in bed but it's really 23-in long. The first measurement is here to make it easier for you to figure out the size of crate you can get it for. The one we're reviewing fits inside standard small wire dog crates.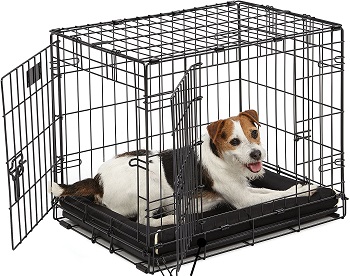 Small Bed Color Benefit
You can get it in standard black but since it's made for small crates and these typically come in a variety of different colors, you can color code this durable dog bed for crates to the color of crate easily. It comes as a green, brick, and even camouflage-colored bed.
Different Durability
Back to the different types of durability. This bed is durable not because it's chew-resistant but because it's resistant to water, odors, and even stains. You won't have to go through the trouble of cleaning it all that often but when you do, you can easily machine wash it on cold.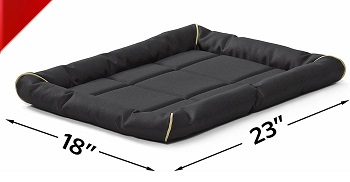 Base And Edges Design
Its base is cushion-filled and has a non-slip bottom. The top edges are what's interesting about it since they are raised and bolstered. This is so that your small dog can easily rest his head on it. You don't have to worry about positioning since every edge is bolstered.
In Short:
Has a cushioned base
The edges are raised to act as a headrest
Can be machine washed as a whole
The cover is water, stain, and odor resistant
Has a non-slip bottom
Fit inside 24-in small dog crates
BEST MEDIUM DURABLE DOG CRATE PAD
Vibrant Life Durable Crate Mat
Inside Filling
After being filled, this mat has been stitched together so you won't have to take off the cover to machine wash it. The filling in question is a thermal polyester fiber that's both soft and well bonded. This does not only make the bed cozy but can also help keep your dog warm.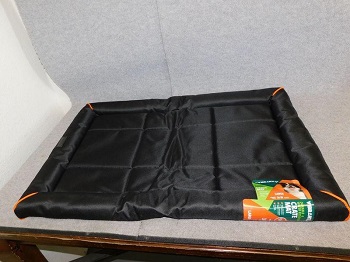 Wash Options
We already mentioned that the Vibrant Life durable & water resistant crate mat is machine washable. For easier and quick fixes you can either wash it down with water by rinsing it, or you can brush off the dirt when there's some on this durable crate pad.
Simple Design
It's simple in its design seeing as it's painted black and only features an orange line on each edge. Unfortunately, you won't get to change the color nor will you get to change its size. it's 36-in long which means that it can fit perfectly inside intermediate dog crates that are typically 36-in long.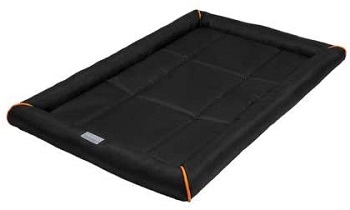 Raised Edges Use
Before we mention the cover's properties, we have to say that the edges of this bed are raised. These bolstered edges will provide your dgo with a cozy headrest spot on all sides. The cover is considered to be durable because of its excellent water-resistant properties.
In Short:
Only comes in one color and size
Has a water-resistant cover
Filled with thermal polyester fiber
The bed has been stitched together
You can machine wash it
Fits inside 36-in long dog crates
BEST LARGE DURABLE DOG CRATE PAD
Big Barker 4-In Orthopedic Bed
Recommendation By Dog Age And Breed
The fact that this bed is filled with a special type of foam is not much of a sign of durability. it's more a sign of how cozy and comfortable it is. If we were to recommend it by dog age or breed, we would definitely recommend you get it for elderly dogs and dog breeds that tend to suffer from joint pains.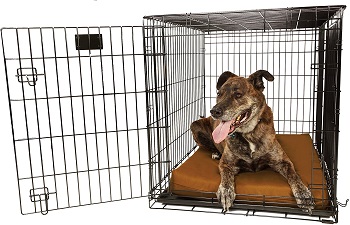 Two Foam Types
Your dog won't ever touch the floor again if he continues sleeping on this bed since it's 4-in thick. It's not only thick but it's also high quality. it features a 2-in thick h10 comfort foam and a 2-in thick h45 support foam. The h10 foam makes for a softer placement, while the h45 foam does all the work of relieving your dog from his aching joints.
Cover Toughness
If you were to imagine a scenario where you threw this bed from an airplane and if it were to hit the ground going at it with a speed of around 120 mph this durable dog bed for crates cover would still be intact. It's made out of Cordura super weaved nylon which is a rare fabric material. The cover is also 100% waterproof.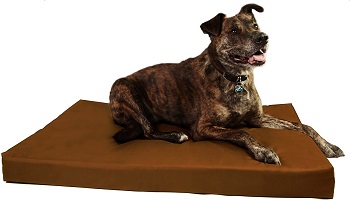 Perfect Fits
This bed will definitely be a challenge to rip so we'd recommend you use it inside crates for more active dogs. these crates can be heavy-duty large dog crates but make sure the crate is 42-in long if you want it to fit inside entirely. For folding metal dog crates that have a cleaning tray below, it will right inside the tray.
In Short:
Fits for use in large metal dog crates
The foam is orthopedic and easy on the dog's joints
The foam consists of 2-in h10 foam and 2-in h45 foam
It is completely waterproof
The cover is a Cordura super weaved nylon fabric
BEST WATERPROOF DURABLE CRATE PAD
Tuff Pupper Indoor Outdoor Dog Bed
Sun Protection
If you want to place this bed inside one of the safest dog crates for cars and travel with it you can. You won't be damaging the bed by having it be partially outdoors because its fabric is UV coated to protect it from sun rays and with it, protect it from fading.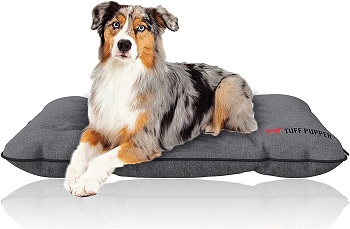 2 Part Inside Fill
The inside holds a 4-in thick orthopedic mattress so you can consider it to be an orthopedic crate pat that's great for dog breeds that are prone to joint diseases. Typically these dog breeds are large and extra-large dogs so this bed is extra large as well. It also has plush cushioning.
Multiple Durability Factors
The secret to this durable dog crate pad is its cover. it's made out of ballistic grade fabric that's for starters waterproof to protect the mattress inside. Additionally, this cover is stain-proof and even odor-resistant. In terms of dog behavior, it's scratch-resistant.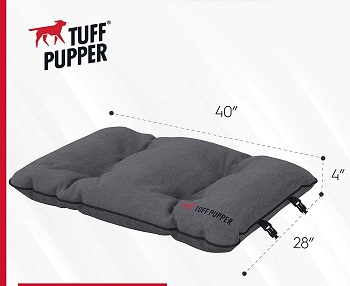 Dog Size Recommendation
As a stand-alone bed, large and extra-large dogs can sleep on it comfortably but if you want to put it inside a crate, we wouldn't recommend you go over the size of a large wire dog crate. This bed is 40-in long while standard-sized large dog crates are 42-in long so it can fit inside almost perfectly.
In Short:
The cover is made out of ballistic fabric
It is chew and odor resistant
It's is completely waterproof and stain proof
Has a 4-in thickness and is cushioned
Offers orthopedic support for large dogs
Can fit inside 42-in crates perfectly
BEST SOFT DURABLE CRATE PAD
GoDog Bed Bubble Bolster
Texture And Color Patterns
There's something different about the colors and color patterns that you'll get to choose from when buying this bed. that's because it's not just about color but also about texture. You'll get to choose from grey and beige bubble plush but also tan and cocoa shag plush.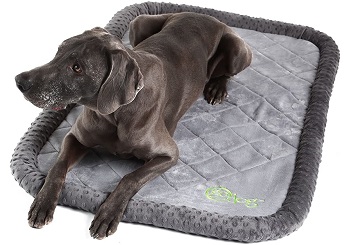 Borders And Filling
The borders of this bed are raised. This means that your dog will get to comfortably rest his head on every corner of the bed no matter how he's laying down. These borders are cushioned. The outer material is incredibly soft and made out of high pile plush.
Dog Behavior Recommendation
This durable dog crate pad is not advertised as indestructible so we wouldn't recommend it for heavy chewers that are contained inside tough dog crates. For light chewers, it'll do just fine since it's made with chew-guard technology that boosts its durability.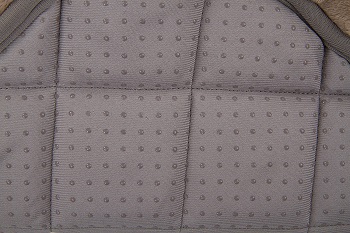 Reinforced Bits
The seems of the bed are reinforced and also the whole outer material. That's true due to the fact that it has a mesh liner that's quite durable and bonded to the beds' inside which makes it reinforced. You'll also get to wash the whole thing inside a washing machine. Its bottom is made to be non-slipping.
In Short:
Has raised cushioned borders
Comes in 4 different colors and 2 textures
Not recommended for heavy chewers
Has a non-slip bottom
Has chew-guard technology that increases durability
How To Pick A Durable Crate Pad
You might think that durable dog beds for crates have everything in common with one another but that's far from the truth. each bed can be durable in its own way and it's just a matter of what type of durability you want. These differences are what we're here to talk about so that you can get the best bed possible.
What's Actually Durable – With these beds and pads, it's not that the whole bed is durable. Typically it's the outer layer cover that is. If you have an orthopedic or a special type of foam bed or mattress, these covers will usually be designed to protect the inside since it's the most valuable part of them.
Durability Types – What bed you'll get all depends on what type of durability you need. If your dog is one that's highly active and gets too playful with his bed in terms of chewing, scratching, and digging, you should for a bed with a cover that's at least resistant to those things. If your dog is one to easily create messes, you should look for crates that are either resistant or proof to water, odors, and stains.
Crate Type Recommendation According To Bed – We usually recommend the crates you want to get the beds for by comparing their uses. For example, a heavy-duty metal dog crate is made to house aggressive dogs. For these crates, we usually recommend more durable options in terms of chew resistance.
Pad Benefits Inside Of Crate And Sizing – The benefits to having a bed inside of a crate go beyond just sheer comfort. With a bed inside that your dog is familiar with, you might make his crate training journey a lot easier. In terms of what size fits inside. You want the bed to at least be an inch smaller than the crate's length.
To Sum Up
We'll stick to the durable dog crate pad we already thought to be the best meaning we would recommend the K9 Ballistics Tough Dog Crate Pad. It's chew, scratch, and even dig resistant, You can easily wash it when it's dirty, and it's fit for use by extra large dog breeds. If your dog's problem is overheating keep him cool inside the crate by getting him a cooling crate pad from that article and if you want to see more options for large dog beds we advise you to check out the article about large dog crate beds.