Do you think that getting one of the options for dog crate beds washable models will help your dog be comfortable all the while making it easy for you to keep it clean?
We think it would too and because of it, we prepared for you this article with reviews of all the best models we could find. If you want to be almost guaranteed to find a dog bed like this, continue reading and you'll definitely find one here. This is mainly due to the fact that we tried our best to review different models like small, medium, and even metal ones.
The Summary
Best 6 Dog Crate Beds Washable
BEST OF BEST DOG CRATE BED WASHABLE
Barkbox Memory Foam Dog Bed
Filling Options
Memory foam dog crate pads like this one tend to come either with shredded memory foam or with a single memory foam mattress. Both have their own benefits but this time, we chose to review the one with a memory foam mattress. Because of this, the foam mattress has two parts to it.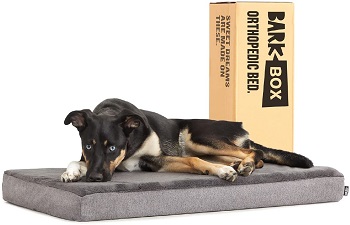 Mattress Details
The mattress inside of the cover of this dog crate bed washable model consists of two types of memory foam that create a single mattress. The bottom is made out of memory foam that relieves pressure because of its high density while the foam is filled with a gel that regulates temperature.
Colors And Crate Type Recommendation
If you happen to have indoor dog crate furniture, this bed's color will get along well with the crate's color because most of its colors are neutral. This one's grey but you can get it in other colors like espresso, plaided black, and white. Espresso is the most typical furniture style crate color.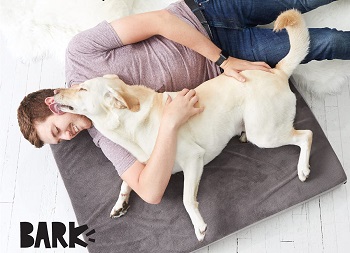 Washable Part
We have to note that the part that's washable is this bed's cover. You can easily unzip it and take it off. After that, you can put it inside a washing machine. The cover is waterproof so that you can rely on it to protect the memory foam pad inside which is really important for prolonged use.
In Short:
The inside has a memory foam pad
The memory foam is high density and pressure relieving
The top of the foam is filled with gel for temperature regulation
Comes in a variety of colors like espresso and plaided black
The cover is waterproof and machine washable
BEST SMALL DOG CRATE BED WASHABLE
American Kennel Club Crate Mat
Crates It Fits In
This bed is colored gray but it's a dark, almost black grey so we'd definitely recommend you use it with standard black dog crates that are typically wire crates. The crate should be a small wire dog crate since the bed is 24-in long and these crates are as well so it will be a perfect fit.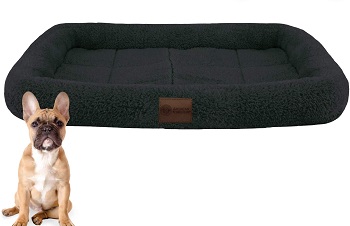 Other Standard Sizes
Even if you were to get a bigger model, you would still be able to fit it inside most crates because it's designed to have the length and width of standard dog crates. Other sizes included are 30-in for medium crates, 36-in for intermediate dog crates, and 42-in for large dog crates.
Materials Design And Looks
The outside of this dog crate pad washable model is made out of faux fur that's plushy to make it more comfortable and soft for your dog. It's a microtechnology sleep surface and it has raised lip edges to create sort of a pillow all around it where your dog can rest his little head-on.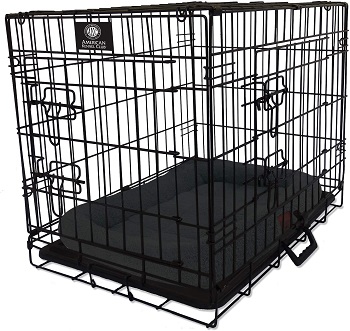 Wash Instructions
Unlike the first dog bed for crate washable model we reviewed, this one can be washed as a whole. This means that there is no cove to unzip and separate from the bed so you'll just have to take the whole bed and throw it in the washer to clean it. You should machine wash it on cold though.
In Short:
Made out of plushy faux fur
Has a raised lip edge that's a headrest
Can be machine washed as a whole
You should wash it on cold
Fits inside standard sized small crates
BEST MEDIUM DOG CRATE BED WASHABLE
Western Home Orthopedic Dog Bed
Orthopedic Support
Just like a memory foam bed, this orthopedic crate pad contours to your dog's shape when he lays on top of it. It's able to do that because the foam it's filled with is an egg crate foam. Thanks to it, your elderly dog might be relieved of some pain if he has some like joint pain.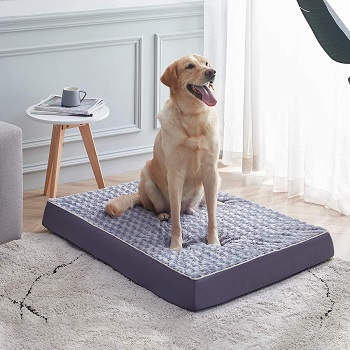 Cover Contents
The cover of this dog crate pad washable model consists of two things. Its top has a faux fur sleeping surface that's incredibly soft so that your dog is more comfortable than ever when lying on this bed. On the side of this cover, you'll find a zipper to take the cover off so that you can wash it.
Bed Bottom
The bottom of the cover has nothing to do with comfort in terms of material but it does when it's about its function. It's made out of plastic that's dotted and what this does is make the cover non-slipping. You won't get much out of this if it is inside the crate but you will if you ever want to use it outside the crate.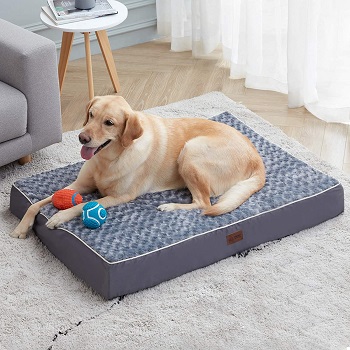 Dog Size And Behavior
The bed is 3-in thick, 30-in long, and 20-in wide. Because of its length, it's easy to conclude that this mat can be used in medium-sized crates. We would recommend you get it for an elderly dog that's calmer since it doesn't have any chew-proof features and could get destroyed if not.
In Short:
Made with egg crate foam
The cover can be unzipped and washed
The covers' bottom is plastic and non-slip
The top of the cover is made out of soft faux fur
Recommended for elderly medium-sized dogs
Offers orthopedic support
BEST XL DOG CRATE PAD WASHABLE
Petsgo Super Soft Crate Mat
Bed Filling
The filling of this crate is 100% microfiber polyester that makes it bot super comfortable and durable as well. Even though it's durable, you shouldn't use it with dogs that tend to chew both not their crates and beds. For that reason, we would recommend it for XL wire dog crates.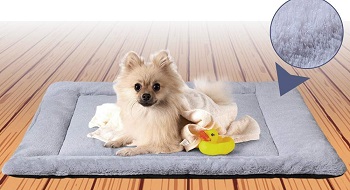 Sleeping Top
The top of this dog crate bed washable where your dog will lay and rest is incredibly soft but that's not the only amazing thing about it. Thanks to ti the best supports your dog better and relives some pressure points. All together this makes it easy and comfy to sleep in.
Non-Slipping
On the bottom, you'll find an anti-slip part. It'll work great if you ever decide to use the bed outside of the crate. You also won't have problems with leaking if the bottom ever comes into contact with liquids because it won't get wet so easily.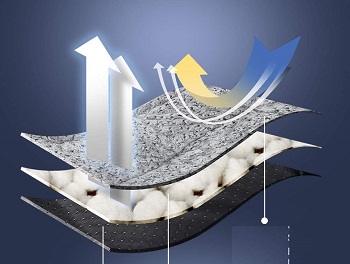 Washable Parts And Size
You won't have to go through the trouble of separating washable pieces of this bed since it can be washed as a whole inside a washing machine. We recommended it for Xl wire dog crates for a reason. It's 48-in long and seeing as XL crates typically have a 48-in length it'll ft perfectly inside one.
In Short:
The filling is made out of 100% microfiber
The top part is soft and relieves pressure points
The bottom is non-slipping
The bed can be washed the whole
Can fit inside 48-in long crates
BEST METAL DOG CRATE PAD WASHABLE
K9 Ballistics Armored Dog Crate Pad
Undoubtedly Durable
We really don't have to think twice about the crate recommendation for this pad. It's chew-proof so it's perfect for aggressive and highly active dogs that tend to be housed in heavy-duty metal dog crates. If your dog likes to play with their bed a lot, this is the bed for him.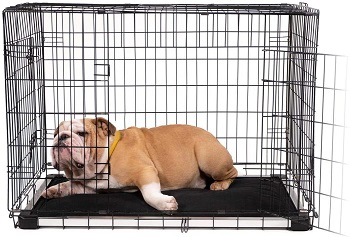 Metal Edges Purpose
The edges of this pad are not like with any of the other dog crate pads washable models that we reviewed. They're made out of aluminum metal and they're the ones that prevent your dog from chewing to the fabric parts of the bed and with it destroying them. Because of these edges, this bed can be washed by spot cleaning.
Center Materials
The fabric parts of this bed are made out of recycled polyester fabric. They will give your dog orthopedic support just like an egg crate foam bed or a memory foam bed. Although it's partially made out of metal, it's still lightweight and easy to transport. Since it's so thin, it can be used inside folding metal dog crates as well.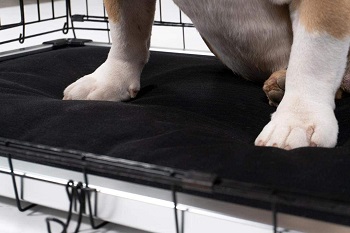 Giant-Size Pad
Since it's so durable and comes in not-so-standard size, we couldn't miss out on an opportunity to review it as a giant dog bed. It's 50-in long so it won't exactly fit perfectly inside giant dog crates that are 54-in long but since it has a metal frame, it's better to get a smaller size since you can't fold it.
In Short:
Has an aluminum metal frame
The center is soft and offers orthopedic support
It is a chew-proof bed
Made for giant dog crates
Can be washed by hand
BEST FOR PUPPIES DOG CRATE BED WASHABLE
MidWest Maxx Dog Bed
Easy Size Decision
The size chart for this bed is amazingly accurate and you won't have to think about what size you have to get because it's all written down. This is a 36-in bed even though it's 35-in long. This means that it's fit for use in 36-in long dog crates. All the other sizes are like this as well and they are standard wire crate sizes.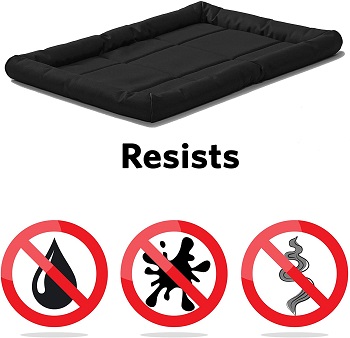 Puppy Proof
The fabric of this crate makes it fit for use in the best crates for puppy training. Puppy training crates focus on potty training your puppy with the use of a divider but until that happens, you'll need a well-protected bed and this is the one that's fit for the jobs since it's water, stain, and odor resistant.
Easier Crate Training
Another reason why we recommend you get this bed for a puppy is that they'll have to go through crate training as well. It will be much easier for your dog to use and feel comfortable inside his new crate if he has a bed that he loves and is used to inside it.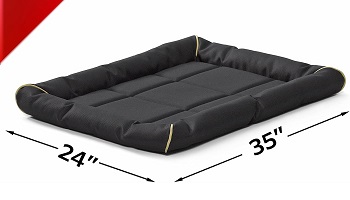 Bolstered Edges
When it's time to rest or sleep, your dog or puppy will get to rest his head on this dog crate bed washable model. This is true due to the fact that its edges are raised and bolstered with extra cushioning. You can clean this bed as a whole in a washing machine or you can spot clean it if you'd like.
In Short:
The bed is water, odor, and stain resistant
Has raised edges for head resting
Great for puppies that are being crate trained
Can be washed in a machine or by hand
Fits inside standard 36-in dog crates
How To Pick A Dog Crate Bed Washable
We can almost guarantee that all do beds are dog crate beds washable models and because of it, it might be harder for you to choose the right one. We reviewed many different ones with a lot of different functions so you need to know what does are. Find everything that you need to know and more before buying in this simple buying guide
General Dog Bed Benefits – By getting your dog a bed for his crate you're allowing yourself to crate train him more easily. This is mainly true if you already familiarized our dog with his bed and then, later on, put it in a crate. Your dog will feel much more comfortable and safe if he has something familiar inside with him.
Memory Foam And Orthopedic Bed Details – There is a big market for dog beds that fit this description. They're so good that some of them can even be used by humans let alone dogs. You'll typically want to get this type of bed for dogs that are either old or the ones that have joint pains, arthritis, or that have gone through surgery recently.
Washable Parts – Rarely will you find a dog bed that can be washed as a whole. Usually, the parts that can be washed are the bed's covers. The covers on these beds can usually be taken off by you unzipping them. If not, then usually the whole bed will get to be washed. Covers of these beds tend to be waterproof since they protect what's inside.
Getting The Bed Inside The Crate – When you're picking out a dog crate bed washable model to cover the whole crate surface you'll want to make sure that the size is right. Most are designed with dimensions to fit standard size dog crates for example 42 inch dog crates with divider. If not, make sure that the bed is at least 1 inch shorter in length and width. If, on the other hand, you're not planning on getting a bed that can cover the whole crate surface, all you really need to make sure of is that not larger than the crate.
To Sum Up
The MidWest Maxx Dog Bed is the one we would like to recommend out of all dog crate beds washable models. You can wash it in a machine or by hand, it's water, stain, and odor resistant and fits inside all standard-sized dog crates. If you still haven't found a standard-sized dog crate though, we would advise you to read either the article about medium wire dog crates or large wire dog crates depending on your dog's size.