Do you wish you could take your dog anywhere you go and for that, you realize you're going to need a dog travel crate?
You're in the right place and all you have to do is continue reading to find the one tailored to your and your dog's needs. We made sure to include every possible travel crate type out there so that's why you'll be able to read about airline approved, car, 2-door, and even cheap crates with much more waiting for you to read about them.
The Summary
Best 20 Dog Travel Crate
BEST OF BEST DOG CARRIER CRATE
Mim Safe VarioCage
Crash Safety
Thanks to the sidebars on the Mim VarioCage single dog cage, you can adjust its length to fit your dog more comfortably inside. In the back, some space acts as a crumple zone. This and many other things like the fact that it passed rollover, front, and rear crash tests make it one of the safest dog crates for a car so if this is your priority, check other models out as well.
Doors, Size, And Price
It's large but you should see the sizing chart to understand the size better. It has a front door that you can lock with a key and it has an escape door in the back. This crate carrier is made to keep both you and your dog safe in the event of a car crash but it doesn't come cheap with the price of around 800 dollars.
In Short:
Passes the roll-over, rear, and front crash scenarios
It has an adjustable length
Locks with a key
Features a safety crumple zone
It's large but check the size chart for proper sizing
Features an escape door
BEST AIRLINE APPROVED DOG TRAVEL CRATE
SportPet Designs Plastic Kennel
Air Travel Basics
You'll get all of the basic things needed for airline travel like "live animal stickers, nuts, and bolts, tie-down holes for bungees, and 2 water and food bowls. It's built to be an airline-approved dog crate for travel as well with its 2 plastic shells build that connect with locking clips or nuts and bolts.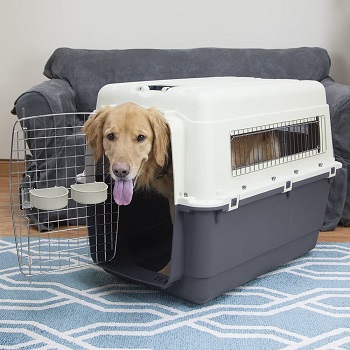 Dog Size And Mobility
Your dog should be smaller than 28-in in length and 20-in in height to fit inside comfortably. The wire door features a pinch to open the lock and it comes with 2 carry handles and easily removable wheels. It has a strong plastic build so if you'd like to check out more heavy-duty plastic dog crates, you can read that article next.
In Short:
Made out of 2 plastic shells
They connect with plastic clips or nuts and bolts
Comes with basic travel accessories
Has a pinch to open the lock on the wire door
The dog should be less than 28-in in length and 20-in in height
Comes with easily removable wheels
Has 2 handles on top for carrying
BEST CAR PET CARRIER AND CRATE
Midwest Side-by-Side Crate
Travel Design
Taking into account the previous space you have in your SUV or car, this crate is narrower than others but has the standard 42-in length. It has a front door but also a back door since it's primarily a dog car crate for a large dog and if you'd like to learn more about them and find different models, be sure to read the article we linked below next.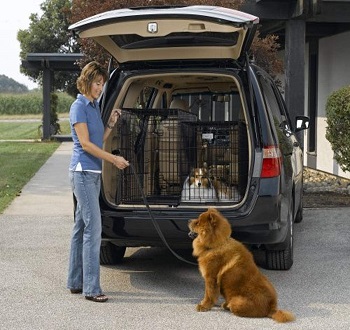 Other Details
This dog car carrier is fully made out of wire and has a black e-coat finish. This helps it become corrosion and rust-resistant. Each door has 2 sliding bolt locks for safety ad on the bottom, you'll get to place a slide-out cleaning tray made out of plastic. You can fold it down when it's not in use.
In Short:
Made out of wire
Has rust and corrosion-resistant e-coat finish
Features a back and front door
The doors lock with 2 sliding bolt locks
It has a narrower design
it's 42-in long
Can be folded down
BEST EXTRA LARGE DOG TRAVEL CRATE
Petmate Ultra Vari Kennel
Size And Material
Airline crates such as this one are made to be a snug fit for dogs. It's extra-large but it allows you to house large dogs up to 90 lbs. it's 40-in long 27-in wide, and 30-in tall. The 2 plastic shells are made ou to recycled plastic but it's still heavy-duty plastic.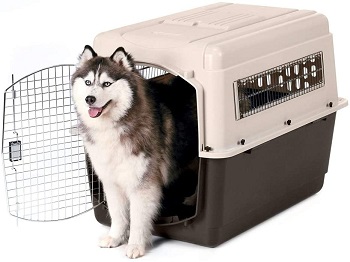 Shell Connection And Comfort
The shells of the Petmate large crate can stay connected with metal screws. It has a raised interior and with the combination of tie-down holes, it will keep your dog comfortable while flying by air. If you'd prefer an extra-large travel dog crate, you will certainly find one in the article about them.
In Short:
Has a recycled heavy-duty plastic build
it's 40-in long
Can house dogs up to 90 lbs
Made for air travel
Comes with metal nuts and bolts
Has a wire front door
Features a raised interior and has tie-down holes
BEST LARGE DOG CARRIER CRATE
Pet Gear The Other Door Crate
Classic Plastic
By now, you will have noticed that plastic is a reoccurring theme with travel crates. This one has a heavy-duty blow-molded plastic frame and steel wire sides. It has a standard 42-in length made to house large dogs. For more standard and nonstandard crate sizes read our article about large and extra-large dog travel crates.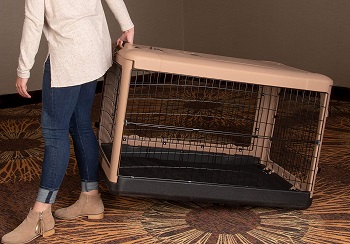 Interior And Uses
The interior is safe because of no sharp steel wire edges and rounded corners but it's also comfortable due to the plush bed it comes with. You can collapse it and place it inside its travel bag or you can pull it assembled with built-in wheels. it has a total of 4 entrances and one slides open.
In Short:
Made with heavy-duty blow-molded plastic
Has steel wire sides
Has a safe and comfy interior
Comes with a plush bed
Can be collapsed and stored inside its travel bag
You can pull it using the built-in wheels
Has a standard 42-in long size
BEST 2 DOOR PET CARRIER AND CRATE
Petco Brand You & Me Crate
Door Abilities
We advise you to keep the doors on and locked when traveling but when used indoors, you can take both the front and side door off. Bot doors lock with a single sliding bolt lock and the whole thing is around 36-in long so it can house intermediate dogs. Due to the divider, you can house and potty train puppies inside.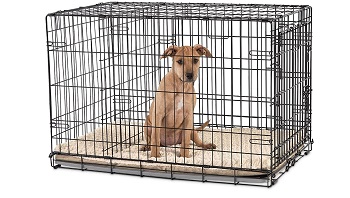 Crate Build
This 2 door pet carrier crate is fully made out of wire and it's easy to fold down and unfold. You can easily place it in multiple ways inside your home since it's a large 2-door dog crate so for more like this 2 door pet carrier, read the article we prepared for you.
In Short:
Made out of wire
HAs a front and side door
The doors can be taken off
It's easy to unfold and fold down
Has around 36-in in length
Comes with a puppy divider
BEST PORTABLE DOG CARRIER CRATE
MidWest Portable Tent Crate
2 Parts Build
There are two important build materials on this crate. The first one is the water-resistant polyester fabric and the second up is the folding metal frame. Due to both, this is one of the best portable dog crates for travel since it weighs only 20 lbs but can house large dogs. It's highly portable and we recommend you use it as a dog camping crate and you can learn about them and check out more in the linked article below.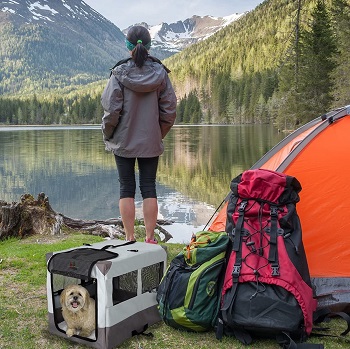 Ventilation And Comfort
It has 4 mesh fabric windows for ventilation and the front one is also an entrance. It comes with a faux sheepskin pad to keep your dog cozy inside. When it's folded down, you can buckle it up so it's easier to carry around and transport. It should only house crate trained large dogs.
In Short:
Made out of water-resistant fabric
Has a folding steel tube frame
Weighs around 20 lbs
Made to house crate trained large dogs
Has 4 mesh fabric vent windows
Comes with a faux sheepskin pad
BEST CHEAP DOG TRAVEL CRATE
Amazon Basics Folding Crate
How It's Made
The cheapest crates are always going to be soft dog crates and such is this one. The cover is made out of polyester while the folding frame is made with PVC. weighs around 13 lbs and can house large dogs that should be crate trained first. For more models and types, you can read the cheap large dog crate article next.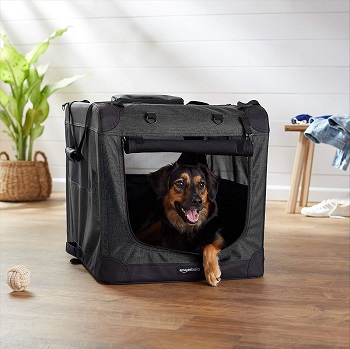 Crate Sides
In the back, you'll find a detachable accessory pocket along with the mesh fabric window. There are three more all around the crate and two, the top and the front one, act as entrances to the crate. You can place a plush, fleece-covered bed inside to keep your dog comfortable. It's possible to find this cheap pet carrier on the market for a price under 100 dollars.
In Short:
Made with polyester and a PVC frame
Can be folded down
It's 42-in long
Has 5 mesh fabric windows
Features 2 entrances
Comes with a detachable accessory pocket
BEST COLLAPSIBLE DOG CARRIER CRATE
A4Pet Soft Collapsible Crate
Cover Info
The reason why you can fold this crate down is its strong steel tube frame. The frame is covered with a removable and washable oxford fabric cover that has 4 ventilation windows and three entrances that close with zippers. You can roll them up to keep the dog crate for travel open as well.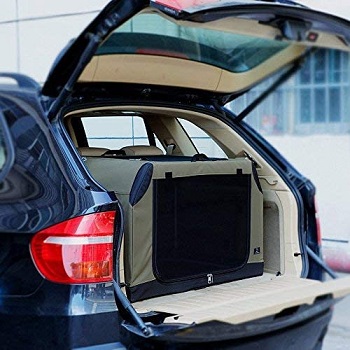 Car Protection
The top corners are rounded to protect your car's interior and the bottom is leakproof so that no accidents end up outside of the crate and on your car floors. This collapsible travel dog crate can house small dogs only so check out the article to find larger models.
In Short:
Made with oxford fabric and a steel tube frame
Has a leakproof bottom
Its top corners are rounded
Made to house small dogs
Has 4 large vent windows
You can access the crate using 3 entrances
BEST TRUCK PET CARRIER AND CRATE
Gunner Kennels G1 Crate
Human Error And Weather Protection
Luckily, this crate is crash-tested for dogs up to 75 lbs that are categorized as intermediate. The length of 36-in proves the before claim as well. It has a roto-molded, double-wall plastic build that protects dogs from the rain, humidity, and the sun as well when traveling.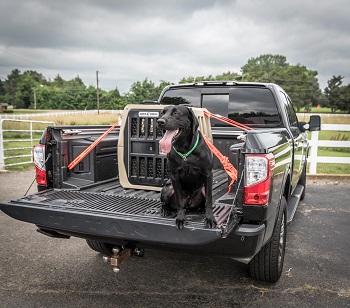 Door And Cleaning
The front is where the welded metal entrance is found. The dog carrier for trucks has 3 locks and is reinforced with an aluminum frame. It has a drainage system inside for ease of cleaning. This truck dog carrier and many other hunting dog crates for trucks are impressively durable so to keep being impressed, read our article about them.
In Short:
Made with double-wall roto-molded plastic
Has a welded door
The door locks with 3 locks
Protects dogs against different weather conditions
It's crash-tested for dogs up to 75 lbs
It's 36-in long
BEST SHIPPING DOG TRAVEL CRATE
Petmate Vari Kennel
Where Shipping Occurs
By dog shipping crate, in this case, we mean dog crates that will let your dog travel as cargo load inside an airplane. These crates are usually medium large or extra large so if one of the sizes is your dog's size, check out the large dog airline crate article for more.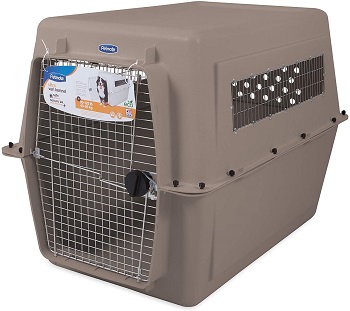 Air Travel Build
Just like any other, this dog travel cage consists of 2 shells made out of heavy-duty plastic. You can connect them with winged nuts that won't rust or corrode. It's 48-in long which makes it the standard extra large size. It's got a wire door and left and right wire vent windows. It has a raised interior and the door lock opens easily but won't slide open when traveling.
In Short:
It's 48-in long
Can house extra large dogs
Has 2 heavy-duty plastic shells
Comes with winged nuts that won't corrode
Has a wire door and 2 wire windows
Features a raised interior
BEST HARD SIDED DOG CARRIER CRATE
4pets ProLine Crash Tested Crate
How It's Built
This is yet another crash-tested crate so it's an excellent choice for cars. It's made out of aluminum that won't rust and has rounded corners due to the rounded fiberglass corner connectors. The back wall is reinforced and the front door is self-lubricating so it won't produce sounds when being opened.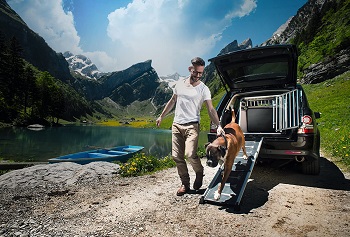 Size And Interior
It's an intermediate dog crate for travel due to its 36.5-in in length. It's fairly rare for a crash-tested dog crate not to be a hard-sided dog crate so check out all of your options in the article linked below. On the inside, you'll get to place a floor mat that you can easily remove for cleaning.
In Short:
Made out of aluminum
Has a reinforced back wall
Features fiberglass corner rounded connectors
Has a self-lubricating door
It's 36.5-in long
It's crash-tested
Comes with an interior floor mat
BEST MEDIUM DOG TRAVEL CRATE
Diggs Revol Dog Crate
How It Aids Traveling
We'll get into why it's great as an indoor crate later but it's excellent for traveling because you can collapse it and drag it with built-in wheels. It does weigh 31.3 lbs so it's a bit more on the heavier side. For a lighter medium dog travel crate, check out the article we've written about them.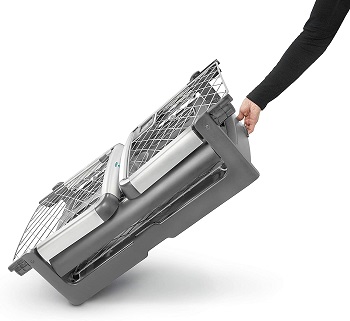 Build Durability And Extras
The combination of a reinforced plastic frame and aluminum wire sides makes this an incredibly durable choice. Apart from durability, it also exudes safety since it's made with baby industry standards. This medium crate for dogs to travel features a puppy divider that you can use to potty train them. It's 32-in long and has 3 entrances, one slides open upwards.
In Short:
Has a reinforced plastic frame
The wire sides are aluminum
It's safe for adult dogs and puppies
It's 32-in long
Comes equipped with a puppy divider
Has 3 doors
Weighs 31.3 lbs
Can be collapsed and dragged with built-in wheels
BEST PLASTIC PET CARRIER AND CRATE
Primos Hunting Kennel
Plastic And Door
Plastic quality depends a lot on the making process. This plastic dog carrier is made out of roto-molded, single-wall plastic so you can be sure it's tough. The door is also made out of plastic but does have a stainless steel frame and lock with a key so no dogs can get out. It won't slide due to the rubber feet and will be properly ventilated with the help of the removable back vent.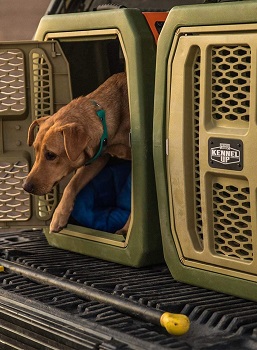 Size And Other Info
You can secure this plastic dog travel cage with the help of aluminum tie-downs found on top. it's 34-in long so it's can house medium and some intermediate dogs more on the medium side. It will act great as hunting but also a camping dog crate so check out the article we linked below for more types and designs.
In Short:
Made with single wall roto-molded plastic
Has a removable back vent
The door is plastic reinforced with metal
You can reverse how the door opens
The top has aluminum tie-downs
It's 34-in long
BEST PUPPY DOG TRAVEL CRATE
Midwest Life Stages Dog Crate
Travel And Indoor Crate
Many full wire crates can become great travel crates for dogs and many can serve as in-home crate training tools as well so check other puppy crates for the car out for the full package. It's 36-in long which categorizes it as an intermediate dog crate.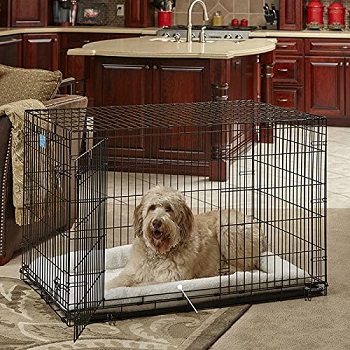 Puppy Crate Details
It's made for puppy and adult dog safety. The travel pet crate has rounded corners and comes with a puppy divider for potty training. It has a side and front door for versatility in-home placement and has roller feet on the bottom for preventing scratches on your home floors. It's easy to fold down and transport or store as well
In Short:
Made out of wire
Can be folded down easily
Comes with a puppy divider
It's 36-in long
Has rounded corners
Features roller feet on the bottom
BEST RETRIEVER PET CARRIER AND CRATE
EliteField 3-Door Folding Crate
Spacious And Comfy
Your dog will have plenty of room inside this crate since it's 2-in wider and 4-in taller than most crates of this type. It's a soft dog crate made out of 600D oxford fabric cover and has a foldable metal tube frame. The cover can be taken off and cleaned as well as the bed on the inside.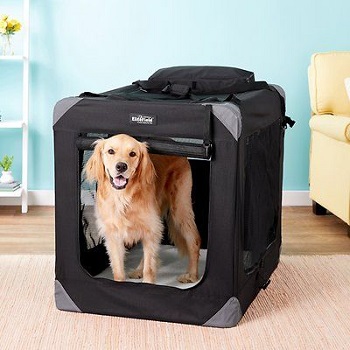 Crate Sides And Size
You'll find 5 mesh fabric vent windows on it and 3 act as doors. The pet travel cage has a top built-in and back detachable accessory pockets. It's 42-in long which would mean that it can house large dogs that have bee crate trained. That's why it's a retriever pet carrier and if you'd like a crate to train your dog, check out other crates for golden retrievers.
In Short:
Has a 600D oxford fabric cover
Can be folded down due to the steel tube frame
The cover and interior bed are removable and washable
It's 2-in wider and 4-in taller than most
It's 42in long and can house large dogs
BEST SMALL DOG TRAVEL CRATE
One for Pets Portable Crate
Number Of Dogs It Can House
No matter how you look at it, this crate can only house small dogs. What we mean by this is that if you were to remove the divider it comes with that will allow you to house 2 dogs separately, it would only still fit a small dog. If you'd like to see more options, read the small dog travel crate article next.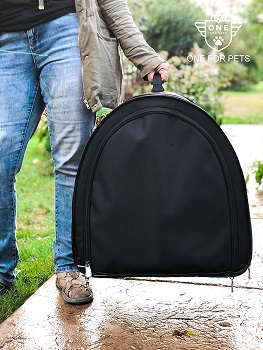 Construction Info And Extras
The outside features straps that will allow you to connect it to a seatbelt. This travel crate for small dogs comes with a comfy interior bed but also a hammock that you can remove. You can easily fold it down and store it inside its travel bag or you can carry each crate part with the provided handle.
In Short:
 Comes with a fabric divider
Cna house one dog or two dogs separately or together
Made to house small dogs no matter what
Comes with a soft bed and hammock
Can be connected to a seatbelt
Comes with its travel bag
BEST SOFT CAR DOG CARRIER CRATE
X-Zone Pet Dog Carrier
Carrier Build
This carrier is fully black and is made out of waterproof fabric. It holds its shape nicely and has a base insert on the inside as long as a soft mat for comfort. It has a top, back, and front entrance and features mesh fabric windows on the left and right sides.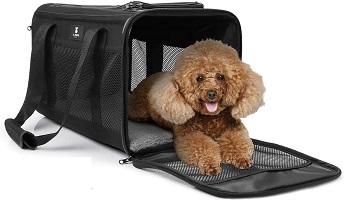 Size And Trave Options
It's 17.5-in long which makes it an extra small dog crate. Because of this, it can fit under the seat of most airlines so it's airline approved as well. It can work in a car as well so for more lightweight soft dog crates for car travel in bigger sizes and different shapes, read the article we linked below.
In Short:
Made with waterproof polyester fabric
It's lightweight
Can house extra small dogs
It's 17.5-in long and fits below airplane seats
Has a base insert and a soft comfort mat
Has a back, top, and front entrance
BEST 22 INCH DOG TRAVEL CRATE
Lucky Dog 22 Dog Crate
Dogs It Can House
A 22-inch dog crate can house any extra small dog such as chihuahuas. If you have such a dog, check out our article about them. It's fully made out of wire and even though it's small, it still has space-saving double sliding doors. It features another regular door in the front, can be folded down.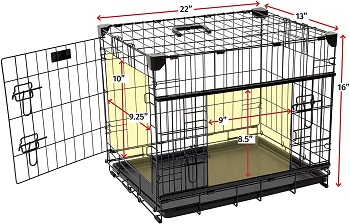 Low Noise And Extra Details
This dog carrier crate for travel produces less rattling noise and is also more stable due to the corner stabilizers made out of plastic. On the bottom, there is another plastic bit which is the slide-out cleaning tray and you'll also find rubber feet there for floor protection. It has a top handle for carrying and has a rust and corrosion-resistant e-coat finish.
In Short:
Can house extra small dogs
Made out of wire
Has rubber feet on the bottom
Comes with a plastic cleaning tray
Features a double sliding door and a regular front door
Has an e-coat finish
Can be folded down and features a top carrying handle
BEST 24 INCH TRAVEL DOG CRATE
Precision Pet Snoozzy Baby
Build And Extras
24-inch crates are standard small-sized crates. It's no wonder that this crate is made out of wire either. It features a looped wire build that makes its construction 25% stronger. It features 2 entrances and comes with a divider for potty training puppies. The travel pet crate is colored in a light blue color which makes it a cute dog crate.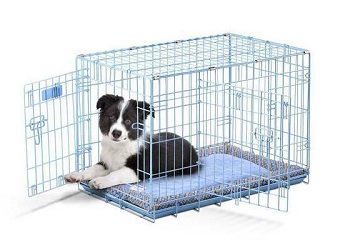 Finish And Doors
The doors lock from 5 different points. This also includes the single sliding bolt lock on each door and the finish makes it rust and corrosion-resistant. You can fold it down and that's what makes it a 24-inch dog carrier. For more 24-inch dog crates, read our article about them.
In Short:
Has a looped wire build
Comes with a divider
Can be folded down
It's 24-in long
Has a light blue e-coat finish
The 2 doors lock from 5 different points
How To Pick A Dog Travel Crate
There's a lot to unpack with pet carriers and crates. There's a lot of them and we decided to make it easier for you to pick one by giving out all of the information needed for you to pick the right one. We'll talk about their size, build, specific crate types and their pros and cons, and more.
Travel Crate Size For Dogs – The size of the crate you're looking at really depends on the type but there is an easy way to figure out what size you should get unless the crate manufacturer states otherwise and has a special sizing chart. It's important to get familiar with standard crate sizes first which are 24-in long small, 30-in long medium, 42-in long large, and 48-in long extra large crates. We reviewed a couple of intermediate dog crates as well which can house dogs that don't quite fit in the large nor the medium category.
Dog Measuring For Crate Size – As we said, unless the crate manufacturer states otherwise, you should take your dogs' length and height, add at least 3-4 inches to those proportions, and look for a crate in the size range of the numbers you have. Dogs are measured from the floor to the top of their head and front the tip of the nose to the beginning of their tail.
Indoor And Travel Crate Types – Fully wire crates can both be excellent indoor crates as well as travel crates. They're indoor crates because you'll get to crate train your dog inside them and even potty train puppies if they come with a divider. They're mostly lightweight, depending on their size, and are easy to transport because of their folding design.
Airline Crates – Airline crates, if they're made to travel as cargo, are made out of plastic. They have 2 plastic shells, a wire door, and come with basic air travel accessories fairly common. This is one crate type that will have a custom sizing chart and you should follow it. Travel crates made to come aboard an airplane with you are very small and should fit under the seats of airplanes.
Specialty Car Dog Crates – We reviewed a few crash-tested dog crates as well and we can't pinpoint a type since they can be made out of durable metals or even durable plastic. They are very expensive and you'll rarely find one that costs under 600 dollars.
Soft Crates – Soft crates are the typical way to go when traveling. They're light, easy to fold down and they're also cheaper. The problem with the being that they should only house crate trained dogs and can't be used in indoor applications due to their fabric covers that are unreliable in keeping your dog contained inside without supervision.
To Sum Up
If you're here, you realize by now that there's plenty of crates to choose from in this category so we really can't recommend one travel dog crate. Be wary of the size, and their durability and you should do just fine. If you're focused more on indoor dog crates you can read the article about them or wooden dog crate furniture. If you'd like these crates to be included as well as all of the other possible types, read the article about the best-rated dog crates next.