Do you need a 30-inch dog crate, for one reason or another and don't care if it's 30-in long, wide, or tall?
You've come to the right place then and all that's left for you to do now is to continue reading this article where we'll go through reviews of the best ones. There are a plethora of crates to choose from as well like 48 x 30 crates, 30 x 19 x 21 crates, and plenty of more.
The Summary
Best 10 30 Inch Dog Crates
BEST OF BEST 30 IN DOG CRATE
Unipaws Furniture Dog Crate
Build Materials
The main build material of this crate is MDF wood and the sides are made out of wire. This crate is not chew-proof nor resistant so it can house only crate-trained dogs. The benefit is that you can use it as a piece of furniture with the top having a weight limit of 150 lbs.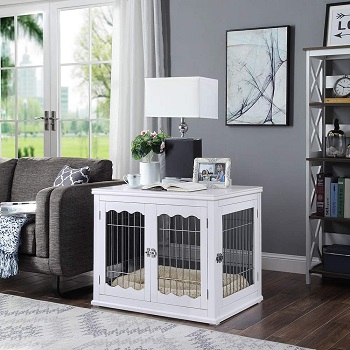 Precise Size
It's 32-in long so it still falls into the medium 30-in dog cage category. You'll get a waterproof bed with it as well and it features 3 entrances. If you'd like a more durable crate or precisely a 30-in one, you can next read the article about medium wire dog crates.
In Short:
Made with MDF wood and wire
Can house crate trained dogs
the top makes it function s furniture
The top weight limit is 150 lbs
Has 3 entrances
Comes with a waterproof bed
BEST 19X21X30 INCH DOG CRATE
MidWest Homes For Pets iCrate
Entries And Size
You'll get only one entrance on this full wire crate but it's versatile and able to house puppies and adult dogs. It comes with a divider and features safe, rounded corner clips. It's easy to fold down as well either for transport or for traveling. It's 30-in long, 19-in wide, and 21-in tall.

Standard Sizing
It's the most standard 30-in size you can find and it's optimal to house medium-sized dogs. It even features roller feet to protect floors. To learn more about this 30x19x21 dog crate and others similar to it you can read the medium wire dog crate article next.
In Short:
Fully made out of wire
Has one entrance
Features bottom roller feet
Comes with a puppy divider
Has safe, rounded corners
Can be folded down
BEST 48X30 IN DOG CRATE
Petmate Navigator Pet Carrier
Extra Large Size
When talking about 30 in crates, it's most likely that it's going to be a medium crate if but this crate is 30-in wide and 48-in long which makes it an extra-large crate. If you have an extra-large dog, the article about xl wire dog crates might interest so read it next.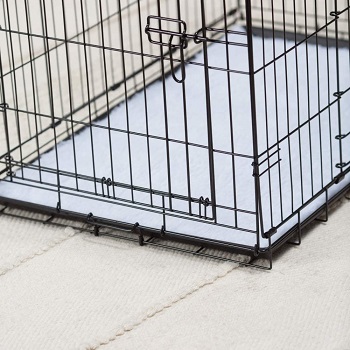 Plastic Pieces
The top of this 48X30 dog crate features a carrying handle and the bottom features a slide-out cleaning tray. Both are made out of plastic while the rest is wire. It has 2 doors and each locks from 5 different points. You can fold it and it can house puppies due to the adjustable divider it comes with.
In Short:
It's 48-in long and 30-in wide
Can house extra large dogs
Comes with an adjustable puppy divider
It's easy to fold down and carry with the provided handle
Features a plastic cleaning tray
The 2 doors lock from 5 points each
BEST 19X30 INCH DOG CRATE
Extreme Consumer Products Crate
Lightweight Metal
This is a fully metal crate but surprisingly enough, it only weighs 30 lbs. Paired with the fact that you can fold it down and carry it like a briefcase, it's an amazing travel crate. It's around 30-in long, 19-in wide, and 23-in tall so you'll get to house medium dogs inside.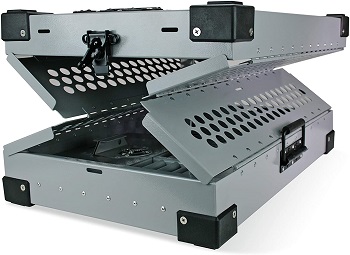 Crate Corners
The corners feature plastic clips that protect the corners from suffering damage but also allow you to stack more crates on top. It won't heat in the sun and keep your dog cool at all times as well. Although this 30 x 19 dog crate is unique, you can read about other medium metal dog crates next to find an even better one.
In Short:
Made out of metal
Doesn't heat in the sun
it's around 30-in long, 19-in wide, and 23-in tall
Can be folded down and carried like a briefcase
Has corner protectors
You can stack more crates on top
BEST DIVIDER 30 IN DOG CRATE
BestPet 30 Inch Crate
Door Locks
Apart from having 2 entrances, it has 2 locks that are 2-step locks for more security. It's made with wire and it's easy to unfold and fold down for storing away when it's not in use. You can use it for crate and potty training puppies because of the divider it features.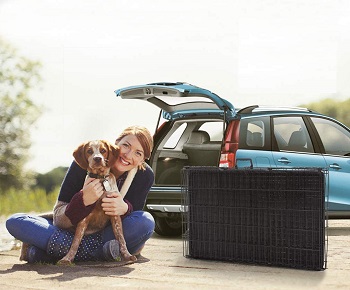 Crate Travels
It's precisely 30-in long which makes it a standard medium-sized crate. It features a handle on top which allows you to transport it and travel with it. If you'd prefer this 30 in dog cage with divider that didn't come with one and had a different main purpose, read the article about other medium wire dog crates next.
In Short:
It's 30-in long
Can house medium dogs
Features a divider
You can easily unfold it and fold it down
Comes with a carrying handle
Has 2 doors that lock with 2 2-step locks
BEST DOUBLE DOOR 30 INCH DOG CRATE
Furuisen Heavy Duty Dog Crate
Metal Tube Build
Instead of wire, this is a fully metal tube crate. This makes it more durable as well. It's made out of reinforced steel and has a rust and corrosion-resistant finish. The bottom floor does feature a wire grid that will let through dog excrements onto the slide-out cleaning tray.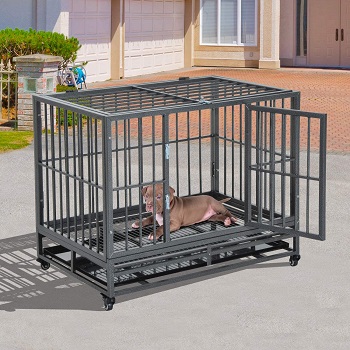 Weight And Doors
It has a front, 2 locks entrance, and a top dog interaction entrance. It also sits on wheels since this 30 double-door dog crate weighs around 77 lbs. If you'd prefer more portable options, you can read the medium metal dog crate article next.
In Short:
Made with reinforced steel tubes
Has a top and front entrance
Sits on wheels
Has a wire grid floor
Features a slide-out cleaning tray below the bottom
Weighs around 77 lbs
BEST CARRIER 30 INCH DOG CRATE
EliteField 3-Door Folding Crate
Washable Bits
The fabric used to make the crate is 600D oxford fabric. You can, along with the soft mat you can place inside, easily remove it and wash it. It holds its shape well due to the steel tube frame that you can easily fold down to store it as well. it comes in 16 different colors.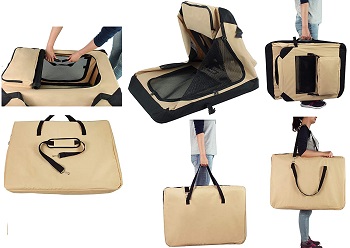 Pockets, Windows, And Doors
It has 3 entrances that double as ventilation windows along with the 2 other mesh fabric windows. The top features a built-in while the back features a removable accessory pocket. If you'd prefer this 30-inch dog carrier modeled differently, read the article about other soft dog crates medium models.
In Short:
Built out of 600D oxford fabric
HAs a folding steel tube frame
Comes with 2 accessory pockets
It's 2-in wider and 4-in taller than most
Has 3 entrances and 5 ventilation windows
Comes in 16 different colors
BEST METAL 30 IN DOG CRATE
Diggs Revol Dog Crate
Frame And Sides
Although the frame is plastic, it's reinforced plastic and the wire sides are made with aluminum metal which means it won't rust or corrode. It features built-in wheels so that you can drag it when collapsed so if you'd prefer a crate that you can push to move, you can read about other dog crates on wheels next.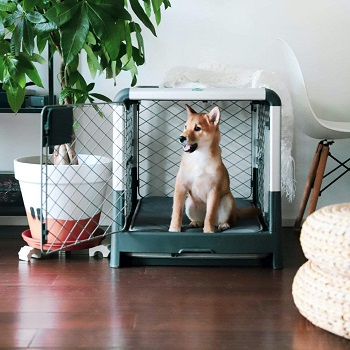 Puppy Safety And Indoor Use
Rest assured it's safe for both puppies and adult dogs since it's made with baby industry standards. It even comes with a divider and will save space when placed indoors, due to the 3 entrances, the side one slides open upwards to save space. The exterior is 32-in long, 20-in wide, and 22-in tall.
In Short:
Has a reinforced plastic frame
Has aluminum wire sides
It's safe for puppies
Comes with a puppy divider
It features 3 entrances
Can be collapsed and dragged with built-in wheels
BEST PINK 30 INCH DOG CRATE
Iris Wire Dog Crate
Corners And Sides
It would be a full wire crate if not for the pink plastic corners that actually make it a 30-inch pink dog crate. The wire is white epoxy coated and if you'd prefer a fully pink crate or a larger model, you can find more in the large pink dog crate article linked below.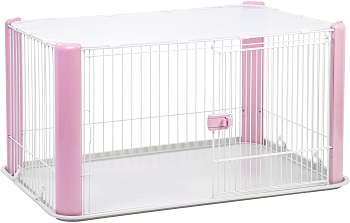 Bottom And Top
The top is removable and it's made out of mesh fabric. The bottom is a molded plastic tray that has bottom rubber grips to prevent it from sliding. It has a single sliding door entrance and it's 31-in wide, 44.5-in long, and 23.5-in tall. Although it's as long as it is, we'd still recommend you house medium dogs inside it.
In Short:
Has pink plastic corners
The rest is made with white epoxy coated wire
It's 44.5-in long, 31-in wide, and 23.5-in tall
Can house medium dogs
Has a molded, rubber feet cleaning tray
The top is a removable mesh fabric
BEST 42 X 30 INCH DOG CRATE
Lucky Dog 42 Inch Crate
Plastic Parts And Transport
The plastic bits this 42 x 30 dog crate features are the corners, carrying top handle, and cleaning tray. The carrying handle can help you transport it and the rust and corrosion-resistant finish will keep it long living even when transporting it. It does come with a divider so if you'd wanna learn more about those and check out other ones, read the 42-inch dog crate with divider article next.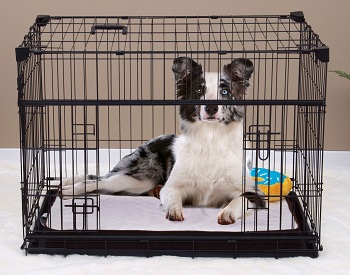 Quiet And Stable
Fully wire crates can be quite loud but the plastic corner stabilizers on this one will minimize it and make the whole thing more stable. You can remove them to fold the crate down and it saves space by having a double sliding entrance along with the regular front one.
In Short:
Made with wire
HAs plastic corner stabilizers
Can be folded down
Features a carrying handle and cleaning tray
Comes with a puppy divider
Can house large dogs
How To Pick A 30 Inch Dog Crate
There are plenty of 30-inch dog crates out there for everyone and everyone's dog. Of course, there is a limit to their size and abilities and we'll go through all of the information needed for you to pick the one that's just right both for you and your dog.
Proportion Marker – When talking about standard sizing, when you say you have a 30-in dog crate the proportion featured is usually the crate's length since it's the most reliable marker of size and is one of the proportions that go into determining dog crate size.
Dimensions Mentioned – We reviewed 30-in long, wide, and tall crates. If the crate is 30-in wide, it's more likely to be an extra-large crate with a length of 48-in. If it's a 30-in tall crate, it's more likely to be a large dog crate that's 42-in long. This is true when talking about wire dog crates.
Sizing The Crate Tailored To Your Dog – If you'd like to figure out on your own, what crate your dog will fit in, all you have to do is take your dog's length and height and add at least 3-4 inches to both dimensions. After that, the numbers you get should be a great starting point for the crate size you need to look for.
Precise Proportions – The only time you'll get a precisely 30 in crate is if the crate is fully wire and 30-in long. Other than that, you'll be looking at a difference of up to 2 inches but it's a menial size difference. With some crates, the exterior dimensions likely are what they say they are, but the interior dimensions are smaller and closer to the 30-in you're looking for.
Crate Types  – Fully wire crates are going to do a great job at crate training your dog and even potty training puppies if they come with a divider and they commonly do. Furniture crates are as described, great furniture pieces but they can only house crate trained dogs. Same with soft crates, they're amazing for traveling but can also only house crate trained dogs.
Price Points – The price is going to be determined by crate function and crate size. The bigger the crate the more likely it is to be expensive. If you don't know already, the best size marker is length so you'll be paying more for a 48-in long crate than you will be paying for a 42-in or 30-in long crate. Overall, wire crates still aren't expensive and won't go over 150 dollars but dog crate furniture is since you're paying for design as well.
To Sum Up
As you've seen for yourself, there's still a lot of variation in size and type when picking out a 30-inch dog crate and that's why we can't really recommend one. Make sure you measure your dog and check out whether the crate can house uncrate trained dogs and you'll easily find one suitable for your dog. If you don't care about dimensions but want a medium crate, you can read the medium dog crate article, or if you'd like to go extremely bigger, read the 54 in dog crate article. For all sizes and crate types included in one article, you can read the dog crates article next.