Do you have a giant dog or just want to get your dog a safe but large enough space to play around so you sought out to find a 54-inch dog crate?
You'll find all that you thought you needed and all that you need in this article if you continue reading it. There are a plethora of different crate types reviewed here with different functions like divider crates, heavy-duty crates, and more than just the two mentioned.
The Summary
7 Best 54 In Dog Crates
BEST OF BEST 54 INCH DOG CRATE
Midwest Homes For Pets Ginormous Crate
Giant Crate Problems
This crate is fully made out of wire and it is the most common 54-inch crate type. It's so large you'll need to people to assemble it and because it's also 45-in tall. It has L-shaped hooks on top to prevent the sides from bending in. On the corners, you can place the drop pins to make the crate more stable.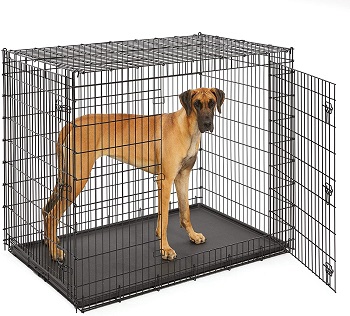 Door Position
It has a front and side entrance that both lock with 3 sliding bolt locks each. The bottom is equipped with a slide-out cleaning tray and to prevent it from accidentally sliding out, you'll get a pan stopper on the bottom. If you love this crate but want to review all of your options, we suggest you read the xl wire dog crate article next.
In Short:
Made out of wire
Has L shaped hooks on top
Features a drop pin stable construction
Requires two people for assembly
It's 54-in long and 45-in tall
Has a front and side entrance
Comes with a bottom cleaning tray
BEST HEAVY DUTY 54 IN DOG CRATE
Smonter 48 Inch Heavy Duty Crate
Crate Height
The crate is 48-in long but it's taller than what you'd expect from an extra-large dog crate. Thanks to the house rooftop, it's stable but also 51-in tall. This height still allows you to use it as a 54-inch heavy-duty dog crate able to house giant dog breeds. If you like its shape, check out other dog house crates in the article linked.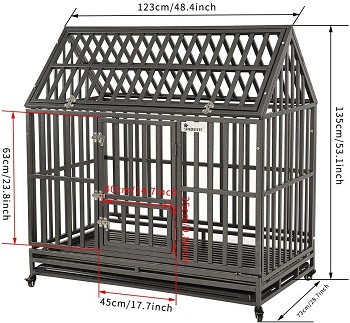 Doors And Locks
The house rooftop features an interaction entrance and you'll also find one entrance in the front. The locks are anti escaping and the whole crate is made with heavy-duty steel tubes. The cleaning tray is located below the wire grid floors and there's a built-in feeding entrance on the front door.
In Short:
Has a house rooftop
It's 48-in long and 51-in tall
Has a top and front entrance
Features a built-in feeding entrance
Made with heavy-duty steel tubes
BEST DIVIDER 54 INCH DOG CRATE
Lucky Dog 54 Double-Door Crate
2 Or 1 Dog Housing
Due to its length of 54-in, the width of 37-in, height of 40-in, and the divider it comes with, this crate can uniquely house either one giant dog or two medium-sized dogs separately. It has a front and side entrance, the side one being a double sliding door.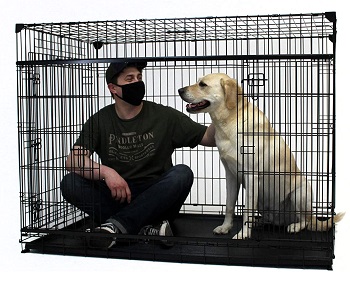 Stability And Noise
To ensure that it won't collapse accidentally and to reduce the rattling noise any wire 54 dog crate with divider would produce, it has corner stabilizers on top. By removing them, you can fold the crate down to store it or transport it elsewhere. To learn more about dividers and their different functions, you can check out the adjustable dog crate article next.
In Short:
It's 54-in long, 37-in wide, and 40-in tall
Features a puppy divider
Can house one or two dogs
Has a front door and a double sliding side door
Has corner stabilizers on top
Can be folded down
Features a carrying handle
BEST COLLAPSIBLE 54 IN DOG CRATE
Go Pet Club 54 Dog Crate
Crate Size
The crate is 40-in wide which will give your dog a chance to comfortably turn around inside it. It's 54-in long and 45-in tall so it's considered a crate for giant breed dogs. If that's what you're generally after and you're reading this article because of them, check out others in the linked article below.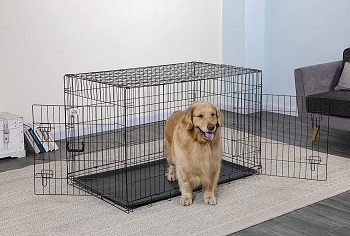 Doors And Finish
The coating finish of this 54-inch collapsible dog crate is a black epoxy finish that makes it resist corrosion and rusting. It features a plastic handle and a plastic cleaning tray and has 2 doors that lock ith sliding bolt locks, the front and side door.
In Short:
Made out of wire
Has black epoxy rust and corrosion-resistant finish
It's 54-in log, 40-in wide, and 45-in tall
Has 2 entrances that lock with sliding bolt locks
Can be folded down and carried with a plastic handle
BEST TALL 54 INCH DOG CRATE
Kelixu Heavy Duty Dog Crate
Shape And Precise Dimensions
This crate is shaped like a house and for a good reason, the house roof-shaped top makes it taller but more stable even though it's an extra tall dog crate. It's 48-in long and is missing 3 inches to be considered truly a 54-in dog crate. Nonetheless, it can house giant breed dogs.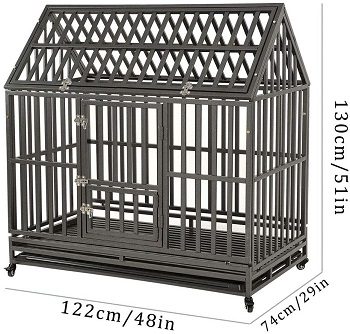 How It's Built
Each crate part is made out of steel tubes that are all welded together. It has a top and front entrance with a built-in feeding entrance as well. It's quite heavy so it's no wonder that it sits on 4 lockable wheels. If you want to check out more durable crates like this that can house aggressive and anxious dogs, read the heavy-duty large dog crate article next.
In Short:
Made with heavy-duty steel tubes
All parts are welded together
Has a house rooftop
It's 51-in tall and 48-in long
Sits on 4 lockable wheels
Has a top, front, and built-in feeding entrance
BEST EXPANDABLE 54 IN DOG CRATE
Richell Expandable Pet Crate
Expandable Length
Generally, this crate is 35.4-in long but can expand to be up to 60.6-in long. It can be expanded to 11 different sizes so it will surely fit, in some way at least, the 54-in proportion requirement. If you'd like to learn more about these crates and what they're for, check out the expandable dog crate article next.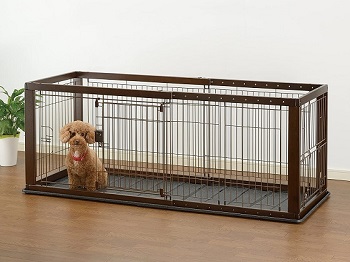 Dogs It's For
For the frame, it uses rubberwood while the sides are made out of wire. It doesn't feature a wire top so you'll have to buy it separately but it has an expandable cleaning tray on the bottom. since it's 28-in tall, it should only house small and medium-sized dogs. The single front entrance is a sliding door.
In Short:
Has a rubberwood frame
Features wire sides
The top has to be bought separately
HAs an expandable cleaning tray
Can expand from 35.4-in to 60.6-in
Has 11 adjustable lengths
BEST OUTDOOR 54 INCH DOG CRATE
PawHut Large Outdoor Kennel
How It's Made
It features a hard metal welded frame and wire sides. It's made up of panels and you can take more of the same model to expand it. It weighs around 52 lbs so it can still be moved and transported and features a UV resistant and waterproof cover on top for outdoor use.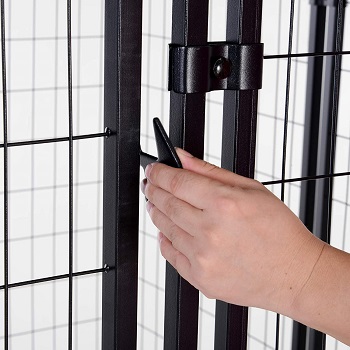 Indoor Use
Due to its fairly smaller size than what you'd expect from a regular kennel and its fairly lightweight build, you can move it indoors as well. It's 47.25-in long and wide and 54.25-in tall. If you'd prefer a bigger outdoor crate kennel, we advise you to read the 72-inch dog crate article.
In Short:
Made with heavy-duty welded metal
Consists of panels and you can buy more to expand it
Made for outdoor use but can be used indoors
It's 53 lbs
Has a top UV and water-resistant cover
It's around 47-in long, wide, and 54-in tall
How To Pick A 54 Inch Dog Crate
There isn't much to choose from when it comes to a 54-inch dog crate but still, if you look hard enough you're guaranteed to find them. That's why you're reading this article. The problem is that these crates are fairly different from one another and we have some explaining to do concerning size, function, and more.
Indoor Problem – The main problem with these crates is that they're so large that they'll rarely if ever fit well inside homes. Add to that the fact that they're all made out of wire and heavy-duty metal tubes, and you've got yourself an impossible to blend indoor crate.
54 Inch Dog Crate Cover – One thing you can do to make these blend better indoors is to buy a crate cover for them. Apart from the visual benefit, it will give your dog a bit more privacy if that's what your dog needs and wants. For dogs with separation anxiety, we wouldn't recommend you get a cover before you train them out of the behavior.
54 Inch Dog Crate Pan – A crate pan is an essential part of every wire and metal crate because they protect your floors from getting into contact with liquids and make clean up a lot easier. Which pan you'll get depends on the brand of crate you're getting and the length and width of the crate. The pan should be a snug fit so no more than 1-in smaller in both proportions. With heavier dogs, it becomes easier for them to break the pan by accident so maybe you could opt for a metal dog crate pan.
Giant Dog Crates – A crate is going to be considered a giant dog crate if its' 48-in or 54-in long and freakishly tall from 40-in up to 51-in in height, the best way to know if your dog fits inside one is to check if it's at least 3-4 inches smaller in height and length than the crate you're looking at.
Precise Proportions – The only real 54-in long dog crates you'll find are almost always going to be wire crates that can help crate train dogs, are fairly light, pretty durable, and they can even potty train puppies if they come with a divider. The rest of the crates are going to be at least 3 inches smaller than the actual sought-out 54-in proportions. Don't worry though, most can still house giant dogs but check the dimension and your dog's proportions to know for sure.
Pricing Charts  – The more durable the crate, the more expensive it is. The same logic is applied to size and since these are the biggest of dog crates, you can expect them to cost at least 200 dollars and for heavy-duty models, you'll be paying up to 200 dollars more.
To Sum Up
You've seen it yourself, there's plenty of differences between each 54-inch dog crate so we can't recall recommending just one. Make sure you get the size right according to your dog's and the crate's length and height and you should get the very best with just that. If you'd prefer to read about smaller dog crates, we advise you to read the article about 36-inch dog crates or about 30-inch dog crates. If you'd prefer to read about all of the possible crate sizes and types available all in one place, we suggest you read the dog crates article next.