Do you want to have the option to adjust your dog's crate size for one reason or another so you came here looking for an adjustable dog crate?
You're in the right place so all you need to do now is keep reading this article where you'll find we reviewed only the best crates we could find that fit the description. You'll even get to choose which crate suits you most by checking out their categories like small, medium, large, and even XL. If a crate exists that fits your needs, this is the place you'll find one.
The Summary
Best 6 Adjustable Dog Crates
BEST OF BEST ADJUSTABLE DOG CRATE
Diggs Revol Dog Crate
Not So Common Build
Although it might not seem all that impressive that this crate is partially made out of plastic and partially out of steel wire you might rethink that. This is due to the fact that the plastic in question is reinforced and the steel wire is actually high-grade aluminum steel wire so you can be sure it's a durable dog crate.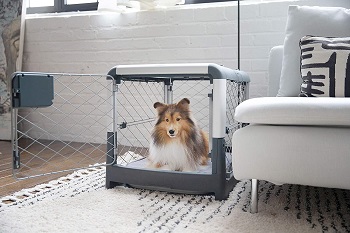 Safety First
It's got great features to be considered a safe dog crate. One of these features, and probably the main one, is that it's made to comply with set baby industry standards. This means that your puppy or dog won't get to harm himself and pinch his paws while inside this adjustable dog crate.
Access Doors And Types
There are three doors for access to this crate. The top door will help you interact with your dog, while the front and side one will allow your dog to enter and exit it. The side door opens kind of like a garage door in an upwards direction so it won't get in your way if you leave it open.
Crate Travels
After you're done with potty and crate training your dog using the adjustable crate divider that the crate comes with you can get to travel. With built-in wheels and a handle and a collapsible construction, transporting this crate will be a piece of cake.
In Short:
Has a high-grade aluminum wire and reinforced plastic build
Comes with an adjustable divider
Completely safe for both puppies and dogs
Has 3 access doors
Has built-in wheels and a handle
Easily folds down
BEST SMALL ADJUSTABLE SIZE DOG CRATE
Precision Pet Snoozzy Baby Crate
Wire Coat And Color
If you want to add a little bit more life into your standard dog crate you'll probably want to get this one since it's a blue dog crate. It's made out of steel wire and features an e-coat finish. The electro coat makes the crate more durable since it gives it rust-resistant properties.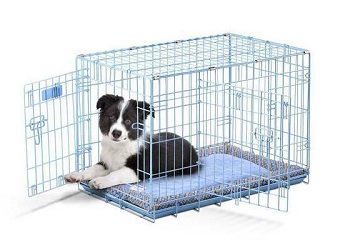 Interesting Wire Build
What's interesting about this wire is that it's looped in some places. What this does is provide a stronger construction of around 25 percent. Each panel gets attaches this way. Although it might not seem like it, you can also fold down and store or carry this adjustable size dog crate.
2-Door Design Details
There are two doors that will allow your dog to access this small wire dog crate. They are located in the front and on the side and what's interesting about both of them is that they don't just lock with a single sliding bolt lock but from 4 other points as well. You'll also get to fold away the side door so that the door doesn't bother you or take up precious space.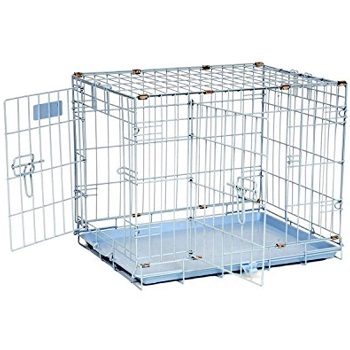 Things Included
The two things that you'll get with this crate that can only house small dogs are the adjustable divider for housing and potty training puppies and a polypropylene pan. The pan is colored blue and you'll find it on the bottom. It's here to catch and dog dirt and excrements so that you can easily clean it afterward.
In Short:
Has a blue steel wire build
Has a looped wire build for more construction strength
Has 2 entrances, the side door being a fold away door
Comes with a divider and a cleaning pan
The doors lock from 5 different points
Can be folded down
BEST MEDIUM ADJUSTABLE DOG CRATE
Richell Expandable Pet Crate
Different Approach To Adjustable Size
This crate is a bit different when it comes to how it has an adjustable size. instead of using a divider to enlarge or shrink the interior, the whole crate has an adjustable size. It can expand from the lowest point of 35.4-in in width to a maximum of 60.6-in in width.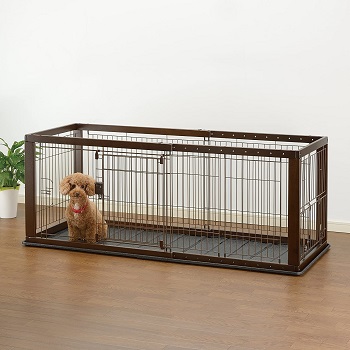 Construction Materials
It's actually a medium wood dog crate but only partially. The wood is used for the frame while everything else, that means the sides, is made out of steel wire. There's also a plastic tray on the bottom for cleaning that can expand just like this adjustable dog crate can.
Door Functions
There's only one access door to this crate and it's found on the lengthier side that expands. It's a sliding door which means that you won't have trouble with hitting the door with your shins if you leave the door open for free entry and exit for your dog. There's an additional side door that will help you provide access to food and water for your dog.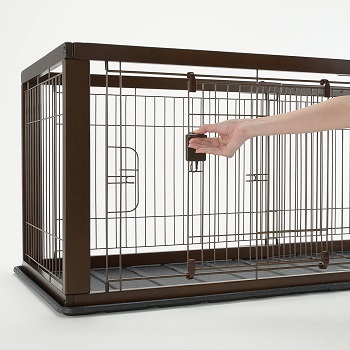 Top And Size
We didn't mention it before but what might be a setback to this crate is that it doesn't feature a top. Luckily for you, you'll get to buy it separately if you really want it or need it. Although the crate can expand in size and can easily be considered large, we advise you to use it with dogs that weigh up to 44 lbs meaning that a medium dog can be inside.
In Short:
Has an expandable width
Can expand from 35.4-in to 60.6-in
Can be used to house medium dogs
Has a sliding door and a door for access to dog supplies
Hasn't got a top but one can be bought separately
The plastic cleaning tray also expands in size
BEST FOLDING ADJUSTABLE DOG CRATE
MidWest iCrate Starter Kit
Safety And Durability
Pretty much any crate can house puppies, all you need to do is get a divider but it's not always that simple. It's important that you're also getting a durable enough crate and a safe one as well. This crate has it all, it's made with durable steel wire and features rounded corners for safety.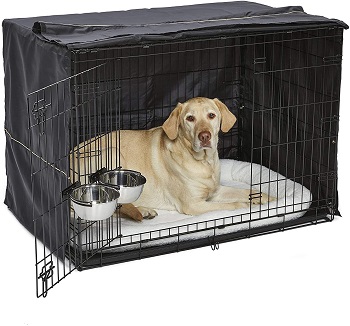 Accessories Included
The reason why we're reviewing it as the best adjustable dog crate with a divider is that it comes with everything needed to ensure that your puppy feels comfortable inside. These things are a crate cover for privacy, a comfortable fleece bed, and even 2 food and water bowls that you'll get to attach to the steel wire.
Door Placement And Use
It's a standard large 2-door dog crate. The doors can be found on the side and in the front of this dog crate with an adjustable divider and what they will help you with is position the crate inside your home without blocking out all the entrances if you were to place it in a corner for example.

Choosing The Right Size
You should watch out for what size you're going to get. If by any chance you're getting it for a puppy make sure you check your dog's approximate adult size and get that size. When it comes to the size of a dog that can fit inside, it can be a large dog that weighs up to 90 lbs, meaning it's made for large dog breeds.
In Short:
The interior has rounded corners for safety
Made out of steel wire
Comes with a cover, a bed, and food and water bowls
Made to house large dogs
Adjusts in size with a divider for puppies
Has a side and front entrance
BEST OUTDOOR ADJUSTABLE CRATE
BestPet 48 Inch Dog Crate
Dogs It Can House
If you're wondering what dogs are perfect for this size of crate that would definitely have to be a rottweiler. Dog crates for rottweilers should be 48-in long in most cases and this one is. Other dogs that can fit inside this crate size should be extra large dog breeds but not giant dog breeds.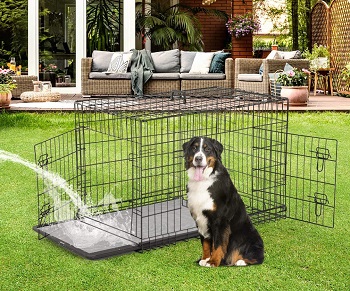 Wire Toughness
Normally, to ensure that the crate is built strong, you would get a heavy gauge steel wire crate. This one doesn't rely on that for strength but rather, it uses high tensile wire to ensure that it's a tough dog crate. High tensile wire has a lower carbon content and that's what makes it more durable.
Locking Away The Doors
Like many other wire crates, this one also features a double door design. They're located in the front and on the side and you'll get to lock these doors using two sliding bolt locks for each door. What's great about the locks on this adjustable puppy crate is that you'll lock them in 2 steps.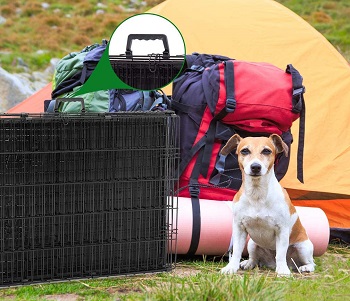 Cleaning And Transport
The crate's cleaning pan is made out of ABS plastic. What this means that it will be tougher to wear it down since it doesn't absorb odors, stain, warp, or even corrode. The adjustable size dog crate can be folded down as well and you'll get to carry it like a briefcase because of the provided handle.
In Short:
Has a high tensile wire build
Has 2 doors that lock with 2 sliding bolt locks
Can house extra large dog breeds like rottweilers
Easily folds down flat and can be carried with a handle
The cleaning tray is made out of ABS plastic
BEST XXL DOG CRATE WITH ADJUSTABLE DIVIDER
Lucky Dog Giant Dog Crate
Versatile Divider Use
This crate is definitely more versatile when you consider what you can do with the adjustable divider you'll get with it. Because it's so large and because of its door, you'll even get to place the divider right in the middle to use it as a multi-dog crate. It can easily house 2 large dogs with their own separate spaces.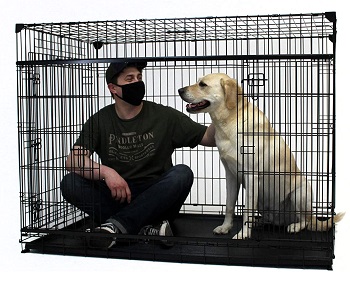 Crate Size
If you're using the divider just like with any other dog crate with an adjustable divider, you'll get to house a giant dog breed puppy inside since it's a 54-in long dog crate. These dogs are typically great Danes, Doggas, and other similar-sized dog breeds.
Stable And Low Noise Producing
It's made out of steel wire and while there's nothing special about it, what is special about that is that it won't produce as much of the rattling noise that wire crates tend to. This is true because the corners can be equipped with corner stabilizers that also help ensure that the crate is stable.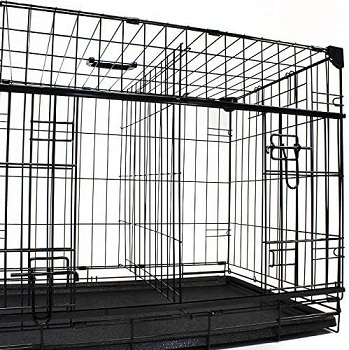 Indoor Use Reasoning
It's perfect for use indoors because it's a sliding dog crate. The sliding door in question is a double door that slides open to the side. It has an additional door in the front that opens like a regular door. It's made for indoor use because it also comes with rubber feet and a cleaning pan that will protect your floors, either from urine or scratches.
In Short:
Has a double sliding and a regular access door
Can house giant dog breeds
The divider can split the crate for housing 2 dogs
The corner stabilizers reduce rattling noise
Comes with rubber feet and a cleaning pan for floor protection
How To Pick An Adjustable Dog Crate
If you're unsure about what an adjustable dog crate does and what its differences are so that you could pick out the best one for your dog and yourself make sure you continue reading this useful buying guide. Here, we will go through these differences and you might learn something new about these dog crates.
Types Of Adjustability – There are two types of adjustable dog crates. One type is the one that comes with an adjustable divider. This is the most common and usually the cheapest route on how to expand a dog crate. The other type is the one that adjusts on its own. The crate's whole construction is expandable and you won't find a divider on them. These crates are typically referred to as expandable dog crates.
Divider Use – Adjustable dividers normally serve the purpose of adjusting the crate's size to a growing puppy. You'll have use of it because dogs don't tend to litter where they sleep so you'll potty train the puppy while also training him to live inside a crate. Another use that these dividers sometimes have is that they can split one crate into two so that you can house two dogs.
Correct Crate Sizing – Since dividers are the general tool for making these crates, you'll probably get one for a puppy and if that's so you'll ned to pick out the right size. You should choose the size according to your dog's approximated adult dimensions. The crate should at least be 4 inches taller and longer than your dog.
Typical Divider Crate Type – The most common crate that you'll find have puppy crate dividers are wire crates. With other crate types, it's possible that they don't even have one or you'll have to buy one separately. Just be careful that the divider in question is adjustable, You'll typically find non-adjustable dividers on heavy-duty metal dog crates.
To Sum Up
Which adjustable dog crate you'll choose really mostly depends on what size you're going to get, but the one that definitely stands out and that we recommend is the Diggs Revol Dog Crate. It has a durable aluminum wire and reinforced plastic build that can be used for traveling and indoor use just as well. If you're looking for large dog crates with dividers you might want to read the article about 42 dog crates with divider or if you're looking for a smaller crate version but not medium check out the article about intermediate dog crates.