Are you having difficulties finding a proper expandable dog crate that can adjust to your dog's size and make his living space roomier and spacious?
We might just have what you're looking for in this article where we found and reviewed what we find to be the best ones out there. So continue reading if you wish to get a great crate as soon as possible. Don't worry, we made sure to include all sorts of dog crates ranging from crates for puppies, soft ones, and more.
The Summary
Best 5 Expandable Dog Crates
BEST OF BEST EXPANDABLE DOG CRATE
Richell Expandable Pet Crate
No Top Crate
The crate is more of a dog crate playpen than it is an actual expandable dog crate since it doesn't feature a top. You can purchase the top separately that will expand just like the crate does. The choice whether or not you'll get it is up to your but keep in mind that this crate is 28-in tall so your dog might jump out of the crate eventually.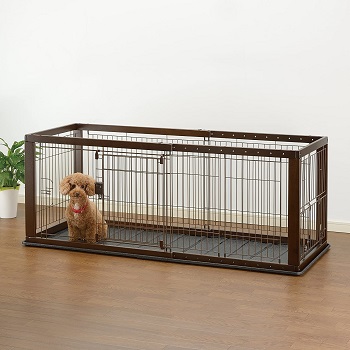 Preferred Dog Behavior
We would suggest you get this crate for a puppy that needs to be crate trained and that is yet to grow into his full size but the wire on each panel might not endure excessive abuse coming from an aggressive dog. The same goes for the spring lock made out of plastic on the single sliding door.
Food And Water Door
In addition to the sliding door and its spring lock, the crate features another door located on the side. This door is mainly there for reasons that have to do with food and water. You'll get to replace these things along with a pee pad if you choose to get the crate for a puppy through the door without your dog escaping.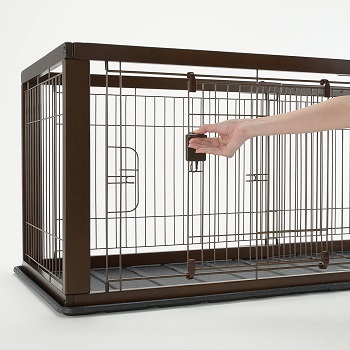 How It Works
On to the size of this crate. Its size can be adjusted from 35.4-in up to 60.6-in in width. There are 11 different width modes altogether and the cleaning tray on the bottom will expand with the crate as well so that your floors are kept protected no matter what width you choose to have. Keep in mind that the expandable size does not mean that you can house extra large dogs inside. The dogs that you'll get to house are either small or medium-sized dogs up to 44 lb.
In Short:
Initially, it's 35.4-in wide
Can expand to 60.6-in in width
Can be used to house small or medium dogs up to 44 lbs
Doesn't have a top but you can purchase one separately
The floor tray expands with the crate as well
Features a single sliding door for access
Has a side door for retrieving food and water
BEST SOFT EXPANDABLE CRATE FOR DOGS
Siivton Airline Approved Pet Carrier
Reason For Expandability
While the function of the crate prior to this one is to contain your dog and even potty train him with this one it's completely different. The only thing you're doing when you expand the crate is giving your dog more room to be comfortable and so that he has less anxiety over being confined.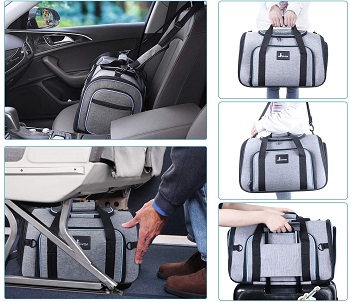 Air Travel Approved
The anxiety-reducing bit we mentioned is actually perfect for getting your dog used to air travel since the dog should be calm when you travel by air. The crate complies with TSA and even IATA regulations and standards and it's small enough to fit under the seats of most airplanes.
Bottom Strength And Carrying Options
There's more than one way to carry this extra small dog crate. You can do it either by carrying it with handles, with a padded shoulder strap or you can use the back strap to attach it to your luggage. The bottom on the inside will hold up nicely and will allow your dog to stand up because it's equipped with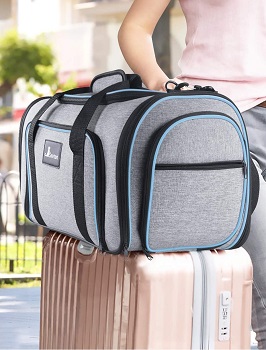 How It Expands
The expandable dog crate can be expanded from all sides like an accordion. The expanded bits are made out of mesh fabric. When the sides are not expanded the crate is 18-in long and 11-in wide and tall. This makes it so that it can house extra small dog breeds. When it is expanded it is 38-in long, 30-in wide, and 11-in tall.
Doors And Vents
The crate features 3 mesh fabric windows for ventilation when it's in its regular form and has 4 access doors. The expandable bits are also made out of mesh fabric so that this dog crate gets ventilated even better. Please keep in mind that this is a crate intended to house crate-trained dogs.
In Short:
Made out of fabric
Comes with a hard insert for the bottom
Expands from all sides like an accordion
Can house extra small dog breeds
Features 4 access doors
Get ventilated through mesh fabric windows
Can be carried with handles, a strap or by attaching it to your luggage
Complies with most TSA and IATA guidelines
Fits under most airplane seats
BEST AIRLINE APPROVED EXPANDABLE DOG CRATE
Maskeyon Airline Approved Pet Carrier
Extended Comfort Mat
Just like the crate before it, this soft travel dog crate can expand to provide your pet with more comfort while inside. 2 of the 4 accordion opening extensions feature a bed mat that is extended to the center of the crate as well. You can set it into place using a piece of velcro fabric and you can easily take it out and machine wash it when you need to.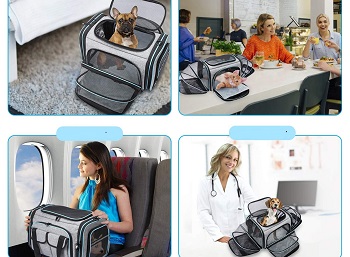 No Sagging Or Collapse
It's mainly made out of fabric but to give it more stability and make it stand tall, the frame has steel strands that will mimic a steel tube frame that you typically find on soft dog crates. The vents are located on all sides and are made out of mesh fabric that supposedly won't take damage if your dog chews on it but we wouldn't rely on that information too much because it's still fabric.
Different Scenario Mesh Windows Amount
Although it does feature mesh fabric windows on all sides this isn't true if it isn't expanded. The extensions are all made out of it but if you close it down you'll get three ventilation points located on the top, in the front, and the back. In that case, one of the sides features 2 accessory pockets.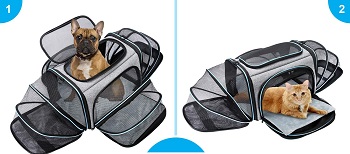 Trips And Night Time Accessory
It can be taken aboard an airplane with you because it's small and able to house only dogs up to 20 lbs and because it's made to comply with IATA and TSA regulations and requirements just like the expandable dog crate before it. During trips, if it goes dark, the crate will be visible since it has reflective tape on 2 sides.
In Short:
Mainly made out of fabric
Has steel strands in the frame for more stability
Meets IATA and TSA Requirements
Can be extended from all sides
Made to house small dogs up to 20 lbs
The comfort mat extends to the side accordion extensions
Has reflective tapes for night time visibility
Has 2 accessory pockets
BEST FOR PUPPIES EXPANDABLE CRATE FOR DOGS
Life Stages Folding Dog Crate
Interior Expansion
This crate and the one we will review after it are definitely expandable dog crates but the way they expand is somewhat different. You won't get to shrink and expand the whole crate but only the interior and it's thanks to the adjustable puppy crate divider that it comes with that it's made possible.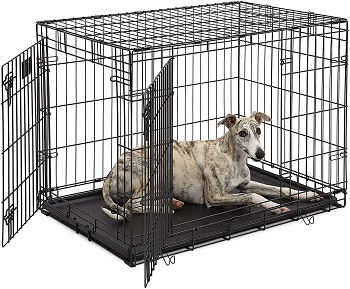 Safety Points
It is made out of steel wire that's coated with a satin black electro coat finish that conveniently makes it corrosion resistant. Each panel of the crate has rounded corners so that it's much safer for your dog or puppy. For extra security, the two doors on the crate feature 2 sliding bolt locks.
A Note On Proper Sizing
As we've mentioned, the crate won't adjust as a whole to your growing dog but instead, the interior will. For that reason, it's important that you size the crate according to your dog's approximate adult size. It is 36-in long, 24-in wide, and 27-in tall which means that it should be able to house intermediate-sized dogs.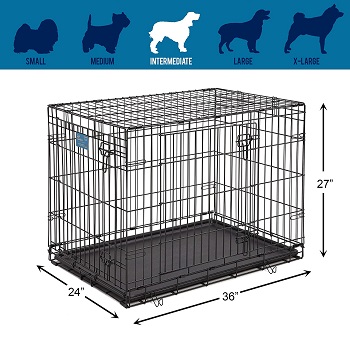 Potty Train Help Tools
If you need assistance with potty training this crate will help not just with the divider but also with the cleaning pan that you get with it. You'll place the pan on the inside of the crate and you can block it from accidentally sliding out using the pan stopper on the bottom.
In Short:
Made out of durable steel wire
Has a black satin e coat finish that's resistant to corrosion
Can be used to potty train puppies
Comes with an adjustable divider
The interior is expandable not the whole crate
Features rounded corners and safe sliding bolt door locks
BEST INDOOR EXPANDABLE DOG CAGE
Precision Pet Two-Door Great Crate
Typical Wire Build
A we've said before, this crate is similar to the one prior to it. it's made out of steel wire that has a heavy gauge so you'd know it's durable and it is also coated with an e-coat finish that's black and that makes it resistant to rust. It is made in such a way that you can easily fold it down to store or use for traveling as well.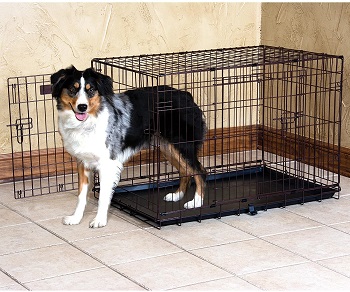 Safe Door Locking
We dare say that the doors are completely safe meaning that your dog won't won't be able to escape this large wire dog crate on his own. It's because the side and fron door feature 5 point locks. What this means is that each door locks from 5 different point instead of just one or two.
Crate Divider Expansion
Of course, this expandable dog crate features an adjustable divider panel. Otherwise, it wouldn't be expandable but just like the crate before it, you can expand only the interior. The divider will assist you with potty training your dog because it will adjusts to the dog's size until he grow into his full size.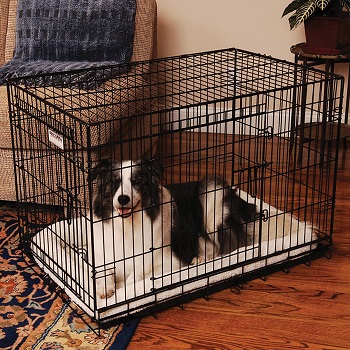 Bottom Pan Features
The pan on the bottom for cleaning is resistant to breaking so that you don't have to replace it for a very long time. You can pull it out by removing that pan stopper and clean it without too much hassle. The edges of the pan are raised so that more liquids can be contained inside of it before you're ready to clean it
In Short:
Made with black e-coated steel wire
The crate is corrosion resistant
Comes with an adjustable crate divider for puppies
Features a break-resistant cleaning pan
Has 2 access doors
The door lock from 5 different points each
Can be folded down for storage and traveling.
How To Pick An Expandable Dog Crate
Even we had some difficulties finding the proper expandable dog crate to review. We wouldn't have these problems if we were to review only one kind but we know that there's much more to these than just one common type. For that reason we just had to make a guide on how to buy one so that you'd know what you're getting from each crate and if you need one at all. We've noticed that there are some issues with these crates as well so make sure you continue reading so that you don't miss out on any underlying issues that might occur.
Size To Look At When Buying – In most cases, you'll have to choose which size to look at when you're getting these crates since there are two dimensions to each one. The first one is the regular size and the extended size. You should only buy the crates according to their regular size but there are some exceptions to that rule as well.
Rule Exceptions – As we've said, there's more to these crates since they vary greatly in type and how they are able to expand. If you're getting a soft dog crate the expansion will most likely be there to provide your dog with more comfort so you should be looking at its normal size to decide on one for your dog. All other crates should be bought according to their fully extended size.
Looking At Width – Since all of the expandable dog crate expand only in width and not length and height, If your dog is not at least 4-in shorter in length and height than the crate you're not looking at the correct crate size. No matter how spacious the crate might be because of it's expandable size. You should always buy one according to the length and height of the crate and the dog.
Divider Crates As Expandable Ones – You can easily look at training cages for dogs or puppy crates as ones that expand in size and this is true for the most part. The only issue with these is that they don't really expand on the outside. What you see is what you get is the general rule to follow when looking at the dimensions of these crates. We should note that you should size these crates according to your dog's adult size.
To Sum Up
Since Richell Expandable Pet Crate is truly an expandable dog crate that can double in size we had to recommend it. The only issue with it is that it doesn't feature a top but you can get one separately. As far as expansion goes, even the tray on the bottom for cleaning expands in size. If you found that you won't have much use of these crates and need a bigger one we suggest you take a look into the article about XL wire dog crates and for another different type of crate look into the one about XL dog crate furniture.