Have you been looking far and wide in hopes to find an extra tall dog crate but had no luck so far?
As of now, things are about to change. Of course, that is only true if you continue reading this article where we selected and reviewed our top picks for this category of crates. We even went as far as to place each crate we reviewed into a category that most suits it like plastic and metal for example.
The Summary
Best 6 Extra Tall Dog Crates
BEST OF BEST EXTRA TALL DOG CRATE
Midwest Double Door Dog Crate
Height, Length, And Width
Probably the only reason why this wire dog crate has a staggering height of around 45-in is that it's an tall dog crate made to house giant dog breeds. It's 54-in long and 37-in wide and it's so big that 2 people need to assemble just because of its ungraspable size.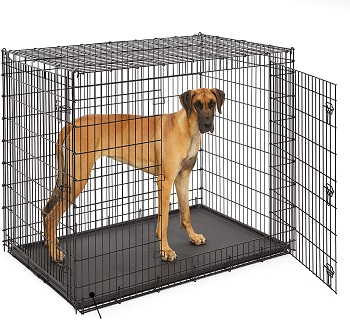 Top Corners And Panel Features
The top corners of the crate feature something that we're not used to seeing. They are dropping pins that will ensure that the crate is well balanced upon assembly and you'll also find L hooks that will prevent the side of it from bending inward because they are too tall.
Triple Locking Door
Large models of Midwest crates feature 2 sliding bolt locks but this one goes over that because each door, the one in the front, and the one on the sides of this extra tall dog crate have 3 sliding bolt locks. They are heavy-duty locks and are made to be secure and safe.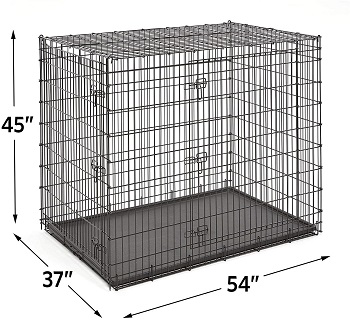 Cleaning And Size
This side door dog crate has a cleaning pan located on the bottom with raised outer edges that will ensure that urine is kept inside the pan and not on your floors. You can easily house the largest of dog breeds inside it that go over 90 lbs like great Danes, Tibetan mastiffs, and so on.
In Short:
Made with steel wire
The crate is 45-in tall and 54-in long
Can house dog breeds over 90 lbs
The corners feature dropping pins for more stability
The top panel has L hooks to prevent the sides from bending in
Comes with a plastic cleaning pan
BEST EXTRA LARGE TALLEST DOG CRATE
Go Pet Club Dog Wire Cage
Generally Extra Large
This is yet another example of an extra tall dog crate that's made this way just because it is an XL wire dog crate in general. It's 54-in long and 45-in tall. It is a bit wider than the model we reviewed before since it's 40-in wide. This means that the width difference between the two is 3-in.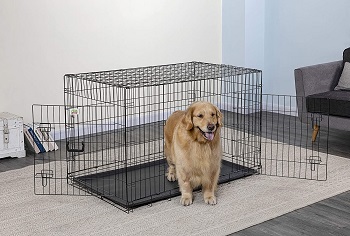 Doors And Coating Finish
The steel wire that makes the whole crate is coated with a black epoxy finish that gives the care anti.-rusting abilities. There are 2 doors on the crate so if you were worried about how you're going to place it inside your home this will make you worry a little bit less since you can easily place it in the corners of your home.
Traveling Tools
The crate might not be as convenient of a traveling tool as some others because of its size but it's quite easy to transport or store when you're not using it because it can be folded down. Another thing about it is that it comes with a carrying handle that will enable you to carry it like a briefcase when you're transporting it.

Thinking About Proper Sizing
What we would also like you to think about before you go on and buy this extra tall crate is if your dog is large enough to fit inside. Since it's so long and tall it's hard for a dog to be larger than that but it's no good if your dog is too small either. Generally speaking, this is a crate made to house dogs that are considered to be giant dog breeds.
In Short:
The steel wire is coated with a black epoxy finish
The finish makes it anti-rusting
It is 45-in tall and 54-in long
Feature a door in the front and on the side
Can be folded down and carried with a handle
Made to house giant dog breeds
BEST FOR TRAVEL EXTRA TALL DOG CRATE
SportPet Designs Plastic Kennels
Size Difference
If there was a moment where we had to talk about the importance of checking the crate's dimensions to figure out its size and what dogs they can house it's definitely this one. It is said to be an XXXL dog crate but it is in fact only an extra-large one because it's 48-in long and 36-in tall.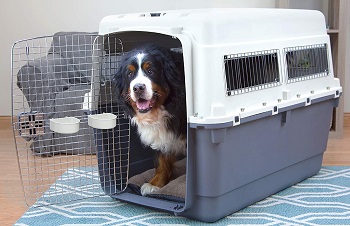 Travel Options
If you wanted to travel with your dog, this is truly the crate to pick out because it can be used to travel by car but it is also a large dog airline crate which means that it can be used to travel by air because it meets most of the requirements by airlines for a crate to travel as cargo in an airplane.
Airline Requirements
Some of the things the crate has that make it comply with airline regulations for crates are detachable water and food bowls, nuts and bolts, holes for tying the crate down with bungees, and "live animal" stickers. You'll also get 4 wheels that you can easily put on it for simpler and far easier transport.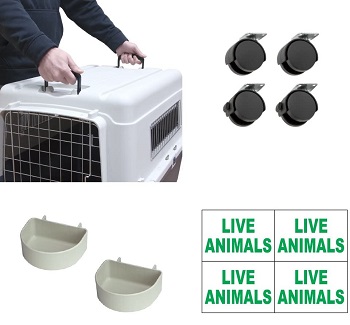 General Build
As a whole, this extra tall dog crate is made out of 2 durable plastic pieces, the top and bottom that can either be connected together with plastic clips or securely connected with the nuts and bolts. It features a single steel wire door for access and has steel wire air vents on all sides.
In Short:
Made out of 2 plastic shells
The shells connect with plastic lips or nuts and bolts
Meets most airline equipment requirements
Comes with water bowls, bungee tie-down holes, and stickers
Made to house extra large dog breeds
Has a single door for access made out of steel wire
Has steel wire vents on all sides
Comes with 4 wheels
BEST PLASTIC EXTRA TALL DOG CRATE
Iris Usa Wire Open Pet Pen
Large But Taller
All of the crates that we reviewed so far have been extra tall dog crates just because they are generally extra large dog crates but this one is a bit different. the crate is intentionally made to be taller since you can find a large model of this crate that's not as tall as well.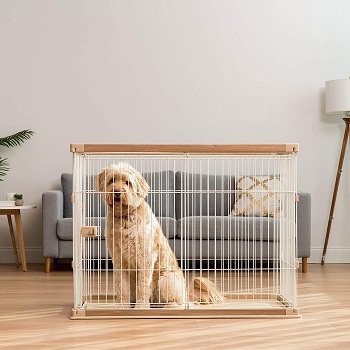 No-Top Feature
You're better off using this crate as a dog crate playpen since it has an open-top. The open-top will allow you to access your dog without him trying to it the crate through the single door that's located on one of the sides. The door slides open to the right and can be locked with a single positive lock.
The Looks Of It
Although the crate's frame is made out of plastic and the sides are made out of steel wire that's coated with epoxy, the crate still manages to look incredibly nice because the plastic is made to look like wood while the steel wire epoxy coating has a white color.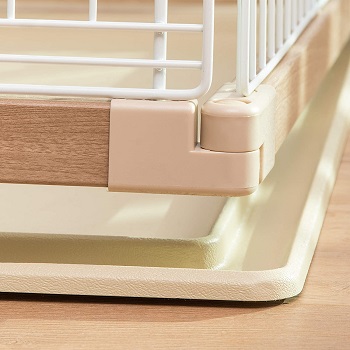 Cleaning Tray Description
The bottom tray that's used for cleaning the crate is actually molded into the bottom edges of the crate so that it doesn't move around as much or accidentally slides out. The raised edges that make that possible are also will also help keep liquids inside the pan and not on your floors.
In Short:
Made out of plastic and steel wire
The plastic is made to look like wood
Has an open top
The single door on the side slides open to the right
The door lock is a positive lock
The cleaning tray on the bottom is molded into the edges
BEST HEAVY DUTY EXTRA TALL DOG CRATE
Homey Pet Open Top Cage
Almost As Tall As It Is Long
The crate is only 4-in shorter in height compared to its length which is really impressive. You can use it as a dog crate for rottweiler. It's made out of heavy-duty steel tubes and bars and it is coated with a hammer spray finish that gives it anti-rusting properties as well.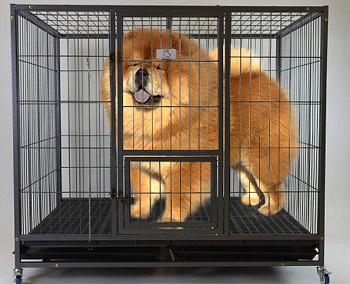 Doors And Their Position
You won't see a lot of open-top heavy-duty metal crates but luckily, this one has it. With the top access door, you'll also get a front access door that has a feeding door built into it. The feeding door and the front door have locks that you can double secure with a chain and hook attached to them.
Plastic Bits
The floor of the crate is made out of plastic but it can endure a heavy-weight dog still. It's gridded because there are two plastic slide-out trays located below it. Through the grids, dog excrements will fall through onto the tray so you can clean it easily and without having to let your dog out of the crate.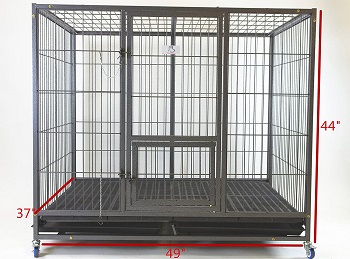 Heavy Weight Solutions
This extra tall dog crate weighs 85.2 lbs so it's not only extra tall but extra heavy as well. It isn't really a portable dog crate but to make it easier for you to move it from room to room, you'll get heavy-duty casters that you can attach to it. All of the casters are also lockable.
In Short:
It is 49-in long and 44-in tall
Made out of heavy-duty steel tubes
Has an anti-rusting hammer spray finish
Has a plastic gridded floor
The slide-out cleaning pans are located below
Can house extra large dogs up to 150 lbs
Weighs 85.2 lbs
Comes with 4 lockable caster wheels for easier moving
BEST METAL TALLEST DOG CRATE
ProSelect Stainless Steel Dog Cage
Stainless Steel Construction
This is a modular dog cage that can be a part of cage banks. You'll typically find these crates at dog shelters as they're often used by dog care professionals. it is a stainless steel dog crate and it's said that the crate can be rust-free for up to 10 years. It has an all-steel wire build.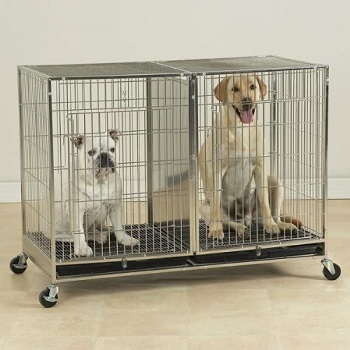 Housing 1 Or 2 Dogs
You'll get to house either a large dog inside or two smaller dogs. The extra height will help with keeping your dog more comfortable inside and you'll have to worry less about whether or not the crate is tall enough for your dog to be inside. As a single crate, you'll get to house an extra-large dog inside it.
Door Position Reasoning
There are two doors on this extra tall dog crate locate on the same side. The reason why they're positioned like that is so that each dog can have his own entrance if you choose to use it as a multi-dog crate. Both doors can be locked with double locks for even more security.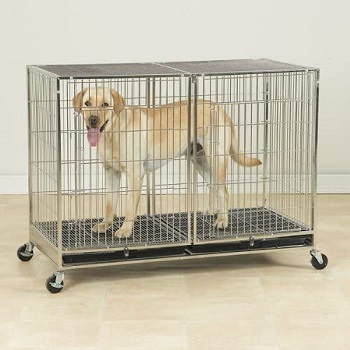 Pairs Of Two
In pairs of two, you'll get floor grates and cleaning pans. The cleaning pans are located below the floor grates so dog dirt can fall through them and onto the trays. The trays slide out but in order to block them from accidentally sliding out, you'll get two pan stoppers.
In Short:
Made out of stainless steel wire
Comes with a divider for housing two dogs
Features 2 front access doors
The doors have double locks
The floor is grated
The bottom holds 2 slide-out trays
Can house an extra-large dog or 2 smaller dogs
How To Pick An Extra Tall Dog Crate
There's a bunch of crates that can easily be considered extra tall dog crates but you're after the best so we decided to point out some of the differences between them like their size and general crate type that might just interest you because these are the things that separate a good one from a bad one.
Length Differences – If you're after an etra tall dog crate chances are that you're going to stumble upon an XL dog crate of any type. these crates are definitely tall but they are lengthy as well which means that they might take up a lot of unnecessary space and even be rendered useless if you have a smaller dog than a giant dog breed. You should look for crates that are typically 5-10-in shorter in height compared to the length so that they could be considered extra tall crates. Of course, this doesn't stand true for crates that are above 50-in long since they are extra tall as it is.
Appropriate Sizing Technique – If the crate that you're buying has a weight limit you shouldn't focus on that. What you should actually look at is the crate's dimensions and whether or not the manufacturer speaks of the appropriate height and length of the dog for him to fit inside nicely
Traveling Option – Technically speaking, you could travel with the extra tall dog crates except for the open-top one but the problem that might occur is that you won't have enough cargo space to store them. The exception to that is the XL plastic dog crate we reviewed that's airline approved. The main reason why you could travel with the rest is that they have a foldable design.
Crate Durability Categorization – We can easily categorize these crates into the most durable and least durable categories. The durable ones are definitely wire crates that can be excellent training cages for dogs while the plastic ones will require you to crate train your dog first.
To Sum Up
The extra tall dog crate that we see as the best one that we just have to recommend you get is definitely the Midwest Double Door Dog Crate. It's truly a tall dog crate with the height of 45-in and since it's so big it has l hooks and drop pins that make it safe to use because they prevent accidental collapse and the sides from bending inwards. If you found that what you want it a travel dog crate that's large we suggest you look into the article about xl dog travel crates and if you want a n indoor dog crate that looks nice even though it's large what might interest you is the article about xl dog crate furniture.