Are you in desperate need of a durable and strong dog cage that will keep you happy for years to come because it's just that durable?
Are you having difficulties finding one?
You're lucky to be reading this article then so continue if you want to read reviews of our top picks that fit this description. You might even find it great that we categorized the crates into categories like plastic and heavy-duty so that there's less repetition and so that the choice is more versatile.
The Summary
Best 5 Strong Dog Cages
BEST OF BEST STRONG DOG CAGE
Cardinal Gates Sliding Door Pet Crate
Wire Gauge
Although large wire dog crates are durable as it is we found this one to be the one to do the job better. The reason is that the steel wire that makes it has a 10 gauge while the doors are even stronger with a 6 gauge wire. Wire gauge determines how thick the wire is and the lower the number the thicker the wire.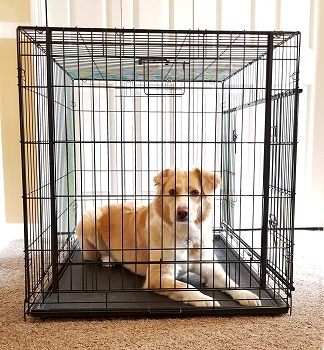 Space Saving Door
Not only is this a great extra strong dog cage but it is also one that will fit perfectly inside your home because it's a sliding door dog crate. The sliding door will save you some space around the crate when you choose to leave it open from time to time. There's also a door that opens upwards and can sit on top.
Cleaning And Traveling Options
It definitely won't limit you when it comes to traveling because you can do that with it as well. This is mainly due to its fold-down design and the carrying handle that will make transport a breeze. Cleaning the crate also won't pose a problem because of the slide-out cleaning tray that's located on the bottom.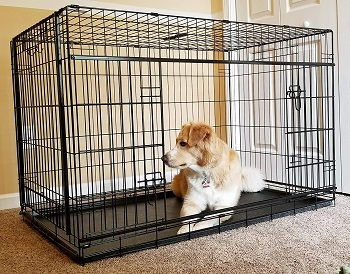 Explaining The Size
This is a large model which means you can house large dog breeds inside it. TO be more specific we need to look at the crate's dimensions. Your dog shouldn't be 38-in long and 27-in tall to fit comfortably inside. this is exactly how we were able to determine that it's a large dog crate.
In Short:
Made with 10 gauge and 6 gauge steel wire
It's big enough to house large dog breeds
Has a double sliding door and a door that opens upwards
Can be folded down and carried with a handle
Features a cleaning tray on the bottom
BEST HEAVY DUTY STRONG DOG CRATE
Homey Pet Heavy Duty Metal Cage
Stacking Feature
We're not used to seeing a dog crate that has a door on top but is also a stacking dog crate. This is mostly due to the fact that a top door with the stacking design could make the crate less stable when you're stacking another crate on top but this is truly an extra heavy-duty metal crate that can be stacked up to three tiers without compromising safety.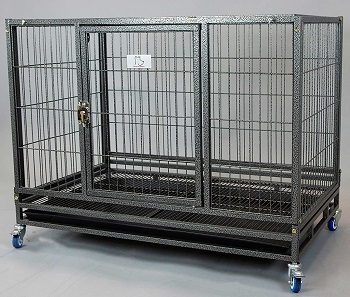 Safe Door Lock
You'll find another door located on the lengthier side of this stron dog crate. The lock on the door is a safe and secure auto-lock that even if it were opened by your dog will prevent him from escaping because there's a chain that double locks the door to ensure you of that.
Steel Tube And Wire Parts
The strong dog cage is made up of steel tubes that make the frame while the rest is made out of wire. Don't worry though, both are heavy duty and quite strong. The floor also features a gridded wire that will let dog excrements fall onto the ABS plastic cleaning tray below it that you can pull out easily to clean without having to let your dog out to do so.

Crate Weight
As a whole, each metal part of the crate is sprayed down with a hammer tone finish that makes it Anti-rusting. Because of the heavy duty design the crate weighs around 45 lbs. This might make it harder to move the crate around but lucky for you it comes equipped with lockable caster wheels. You can put them on the bottom to move the crate easily from room to room.
In Short:
Made out of hevay duty steel tubes and wire
You can stack multiple crates on top
Features a top door and a front door
The door locks with an auto-lock and a chain
Weighs 45 lbs and can be moved with caster wheels
Feature an ABS plastic tray below the bottom for cleaning
BEST FOR TRAVEL SUPER STRONG DOG CAGE
Lucky Duck – Lucky Kennel
Plastic But Strong
We're here to proove that plastic crates can be just as strong as strong metal dog crates so that's why we choose this one to review. The main reason why it's so strong is because it's made with plastic that's roto-molded. What this means is that it features a single plastic piece that's shaped into the strong dog cage.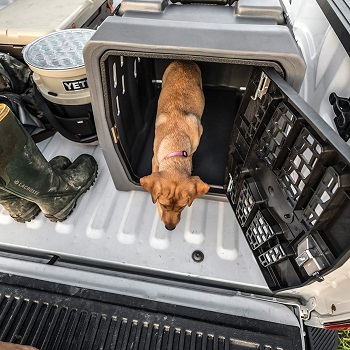 Travel Safe Features
Another indication of its toughness is the fact that it is a crash tested dog crate so you can safely use it to travel with your dog. the inside of the crate has deep drain channels on the side that will make dog urine go inside it and stay there to keep your dgo as clean and dry as possible until you're ready to release the liquids out by plugging out the drain hole.
Door And Lock Description
If you have a lot of stuff in your car that might block the entrance you can actually reverse the single door so that it opens on the other side as well. the lock on the door requires you to unlock it with a key and it also has pins for locking to really ensure you that your dgo won't open the door by himself and escape.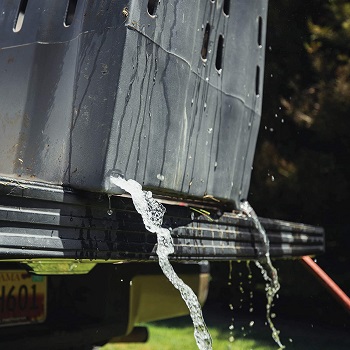 Additional Supplies
The vent holes are made in such a way so that they keep your dog cool during warm weather. It features handles that are heavy duty and you'll have no problems carrying the crate since it's lightweight with only 38 lbs. The crate also won't slip or slide in any way because it has non-slip rubber feet on the bottom and you can even tie it down because it has tie-down holes on top.
In Short:
Made out of a single piece of roto-molded plastic
The crate is crash tested
Vent positioning will keep your dog cool during warm weather
Features a single reversible door
The lock requires you to unlock it with a key
The door has additional safety locking pins
The inside features drain channels for liquids to go to
Weighs 38 lbs and can be carried with heavy-duty handles
BEST MEDIUM STRONG DOG CRATE
Go Pet Club Stackable Dog Crate
Two Dog Housing
This is yet another crate that can stack multiple dog crates of the same model on top but the main difference is that this dog kennel, on its own, is a multi-dog crate meaning that it can house more than one dog. This is made possible because it features a divider that's non-adjustable.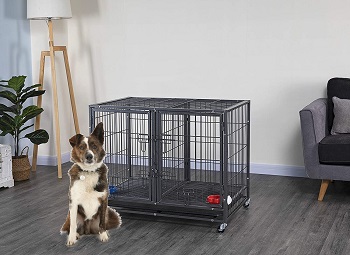 Multi Crate Features
You can use it to house one dog but it's built around the fact that it can house multiple dogs. For example, it features two doors for each part of the crate, 2 locks, and it even has two feeding doors and comes with two detachable water and food bowls. If you were two use it for 2 dogs, keep in mind that you can then house smaller dogs inside it.
Weight Issue Solution
As with most heavy-duty dog crates, this super-strong dog crate is quite heavy as well and not as easy to grasp so for that exact reason it features caster wheels on the bottom for you to move it more easily. Cleaning will also be quite easy since it has a slide-out tray below the bottom that will catch urine and other dog dirt.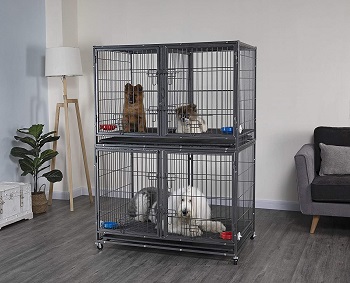 Single And Multi Dog Size
If you were to get it to house a single dog, this is a dog cage for big dogs and medium dogs since it's 37-in long and 30.5-in tall but if you were to use it to house multiple dogs then the crate's length is halved meaning that you can use it to house smaller dogs and some medium ones.
In Short:
Comes with a non-adjustable divider
Able to house one dog or 2 dogs
Has 2 front access doors and 2 feeding doors
Comes with 2 detachable food and water bowls
Sits on wheels
Can be stacked up to three crates of the same model
Can house large and medium-sized dogs
BEST LARGE SUPER STRONG DOG CAGE
Pro Select Empire Cage
How It's Built
This dog crate for large dogs is made out of steel tubes. The steel has a 20 gauge and the steel tubes that have a 0.5-in diameter reinforce it so that it is even more durable. Each crate has stress points so the manufacturer chose to weld the steel tubes together at the recognized stress points to make it even more durable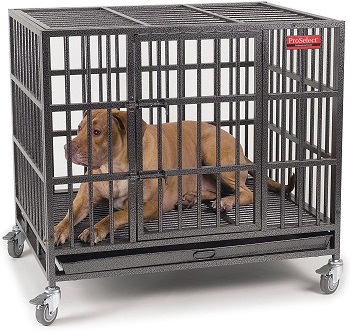 Safe Locking Single Door
There's a single door located in the front on the crate's lengthy side that will allow your dog to enter and exit the strong dog cage. The door can be locked using 2 stout sliding bolt door locks o that it's almost impossible for your dog to manage to unlock the crate and make his way out of it so it's definitely a safely locking dog crate.
Effortless Cleaning
The floor on the bottom of it actually grated so that dog urine and other dirt particles leave the crate clean for your dog to live in. They will fall onto the slide-out tray located outside the crate that you can then easily take out to clean. The tray is pretty deep so it can hold a lot of liquids before overspilling.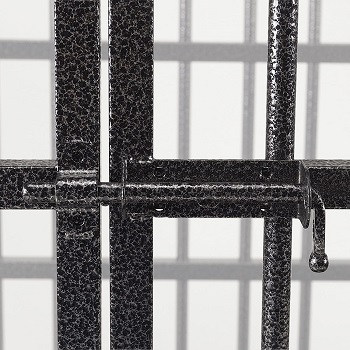 Crate's Size
You can either choose to put wheels on it to move this heavy crate easily or remove them so that the crate is more stable. as we've mentioned before, this is a crate that can house large dogs typically around 41 up to 70 lbs. It would be able to contain even heavier dogs but it is limited because of the crate's dimensions.
In Short:
Made with 20 gauge steel tubes that have a 0.5-in diameter
Able to house large dogs up to 70 lbs
Can be moved using the wheels it comes with
Features a deep plastic tray for cleaning below the bottom
Has a single access door
The door can be locked with 2 stout sliding bolt locks
How To Pick A Strong Dog Crate
Safety isn't always measured in durability so we wanted to focus on the differences in these extra strong dog crates' safety to figure out what makes them so strong. Other things we will look into are crate materials and the way they are built and what for. The answers to these will easily determine which dog crate is the best one for you.
Dogs To House – This might go without saying but we'll say it anyway. There's no need for you to get a strong cage for your dog if your dog is calm and not aggressive. Aggressive dog behavior can easily be unlearned with some effort and proper crate training but in order to do that, you might just need one of these crates.
Durability That Shows – We mostly reviewed heavy-duty metal dog crates and it's for a reason. They are readily available and can truly stand up to abuse coming from a dog. Of course, that doesn't exclude the fact that the medium plastic dog crate we reviewed is as durable as the others but since it's a crate made mostly for traveling you should crate train your dog rist before doing so foor your own and your dog's safety.
Weight Issues – If the crate is strong and made out of metal, chances are that it's quite heavy. There are two solutions to this problem depending on the crate type. Large wire dog crates will typically have a folding design while medium metal dog crates and metal dog crates in general will typically come with wheels that you can attach to the bottom for more easier movement.
Sizing A Crate – We didn't focus on the size of most of these crates becuase either way, you'd have to figure that out on your own so what we will provide you with is the way in which you can size almost any crate. You'll have to take your dog's height and length and see if both measures are at least 4 inches smaller than the crate's. If they are, you've got yourself a crate.
Strong Dog Crate VS Kennel – Although these are durable, most of the time the durability of a kennel is unmatched. To start with, kennels are made to endure outdoor weather conditions while crates are made to be used indoors primarily. The biggest difference though it's their size. Kennels are so large that you can easily put even an XL dog crate inside one.
To Sum Up
We just had to recommend the Lucky Duck – Lucky Kennel as the one strong dog crate that we recommend because it avoids all the issues that might occur with getting one since it's light and portable and also incredibly safe because it is crash tested so you can safely travel with it. If you're looking to read about more of durable crates you can find more in the article about tough dog crates and if you don't really need that strong of a dog crate and want to travel with your dog you might want to look into the article about soft travel dog crates.