Do you want your and your dog to be as safe as possible while traveling so you're looking for a crash-tested dog crate?
Keep reading this article to read about reviews of our top picks for these safe crates. We tried to include a large variety of crates so that there's a crate for everyone. These include metal crates and even plastic ones. One thing is for certain, each will make your travel experience worry-free.
The Summary
Best 4 Crash Tested Dog Crates
BEST OF BEST CRASH TESTED DOG CRATE
North America MIM Safe VarioCage
Material Used
We don't want to talk about the crate's build too much since that's the least important feature of this amazingly safe crate. All we'll mention is that it's made out of durable metal and it is quite heavy with its weight of 75 lbs so it might not be as easy to transfer to your car but it will be worth it in the end.
Door Features
There's a single door located in the front of this crate that has some amazing features. Firstly, you'll only get to unlock and lock it with a key. The way you'll open the door is by pushing on a quick-release button. The door can easily stay open because it's loaded with springs filled with gas.
How It Works
The way this crash tested dog crate keeps your dog safe is that it mimics a cars' crumple zone. In cars, crumple zones are made to keep you safe in the event of a car crash. This crate is crash tested for roll-over, rear and frontal crashes and in each scenario, it prevents the crate from turning into a safety hazard while it also keeps your dog safe.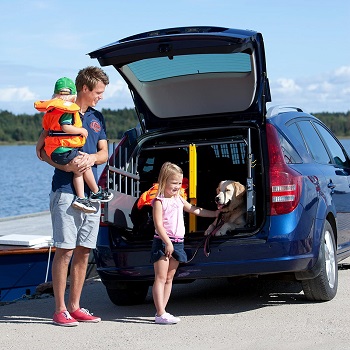 Length Adjustments
The crumple zones on this crash-safe dog crate are located on the side. There, you'll also find metal bars that have an adjustable length. Not only will this allow you to house a larger dog inside but these bars will also absorb the energy in the event of a car crash by shrinking down. You'll still have to pick the correct size though since it comes in 14 different ones and the correct size will be of great help when trying to keep your dog safe in the event of a crash.
Multi Dog Housing
We saved the best for last. You'll get to house 2 dogs inside this Variocage dog crate because of the divider located in the center. Each part of this multi-dog crate will have its' own access door as well. You can also use it to house a single dog inside by removing the divider. The back is equipped with an escape door for additional safety.
In Short:
Made out of metal
Weighs 75 lbs
Can house a single dog or two dogs
Crash tested for rollover, rear, and frontal crashes
Mimics cars' crumple zones
Has an adjustable length
Features two access doors for each part of the crate
The doors lock with a key
Features and escape door in the back
BEST METAL CRASH SAFE DOG CRATE
4pets ProLine Crash Tested Crate
Place Of Design
This crate was designed in Switzerland by dog experts like professional dog trainers that consulted the swiss engineers who made it. The result of this collaboration is an incredibly safe dog crate that's made mainly out of aluminum metal. Probably the most unique feature of the crate is that it's maintenance-free.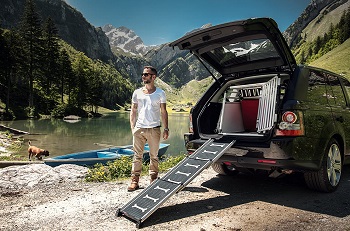 Primary Construction
Like we've mentioned, it is a crash-tested dog crate primarily made out of aluminum metal. It features an aluminum frame, aluminum metal bars, and a back that's made out of reinforced metal. it has connectors in its corners that are made out of fiberglass and reinforced with plastic.
Easy Maintenance Crate
We've already mentioned that this is a crate that requires little to no maintenance so it's time to explain how this is true. For starters, the bottom in the inside is equipped with a floor mat that can easily be removed as well as cleaned. Next up are the hinges that are made with a plastic and graphite alloy that self-lubricate which means you won't have to oil them yourself.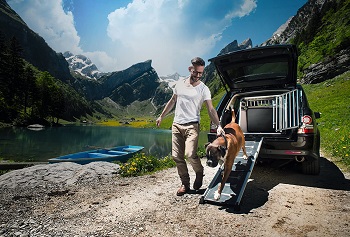 Size Advice And Door Details
The lock on the single door is cast out of aluminum. It's an incredibly safe lock while the handle for opening the same door is an ergonomic one. The crate ca house dogs that are of similar size as a German shepherd. For details about how you should size this crate, we suggest you look into the size charts of the 4Pets proline dog crate manufacturer.
In Short:
Primarily made out of aluminum
The back is reinforced
The hinges self-lubricate
Comes with an easy-clean floor mat
The connector is made out of reinforced fiberglass plastic
Can house dogs like german shepherds
The single door lock is made out of cast aluminum
Features an ergonomic door handle
BEST FOLDING CRASH SAFE DOG CRATE
Impact Collapsible, Durable Dog Crate
Crash Safe, Not Proof
Although this crate is not officially crash tested, there have been reports of car crashes with dogs contained in these crates that survived most likely due to the fact that they've been contained inside one of these. It's not for certain but you can definitely rely on the fact that it is one of the toughest dog crates.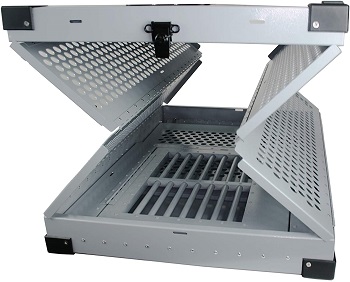 Durable Build Proof
Each Impact dog crate crash test is made entirely out of reinforced aluminum. It has a powder-coated finish that makes it resistant to rusting and it has corners that are crushproof. The door lock is made out of stainless steel that has a marine-grade quality so your dog can try to escape all he wants but it's not likely that he will manage to do it.
Surprising Features
Contrary to what seems only logical, this crash-tested dog crate is extremely light even though it's made out of reinforced metal. It weighs only 33 lbs. Another surprising feature is that you can easily fold it down to roughly 8-in and carry it with ease like a briefcase. It folds down on the sides.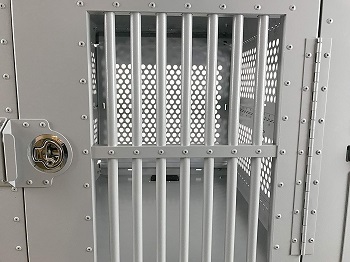 Corner Caps
Thanks to the corners that have caps on them, the possible sharp corners on the outside are removed as safety hazards. These will also allow you to stack multiple crates on top of one another. this comes as no surprise since the crate is designed to be used by dog professionals.
In Short:
Entirely made out of reinforced aluminum
Has a stainless steel lock on the single door
The powder coating finish makes it rust-resistant
It only weighs 33 lbs
Can be folded down for easier transport or storage
You can stack multiple crates on top
Has crush-proof corners
BEST PLASTIC CRASH TESTED DOG CRATE
Gunner Kennels G1 Dog Crate
Crash And Weather Safe
This crate is not only made to keep your dog safe in the event of a car crash. It's also made to keep your dog safe from different weather conditions This is mainly due to how the air vents are placed on the crate. The vents will easily repel water from going inside the crate while the extra wall will better protect your dog from UV rays, the cold, and humidity.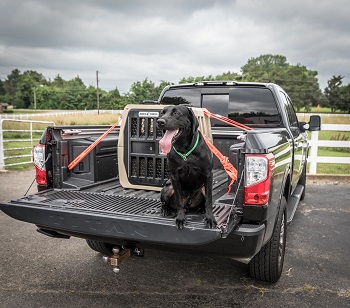 Main Purpose
You're probably wondering why this crate has exceptional protection from different weather conditions. It's because this is primarily a hunting dog crate for trucks. That's precisely the reason why it's also elevated. It's so that there's less heat transition from truck to crate.
Plastic Build
All the other crash-tested dog crates we reviewed so far were made out of metal but that doesn't necessarily mean that these are only dog crates that can be crash-safe. It's made with a double-wall plastic that's been roto-molded to make it. This means that it's made out of a single piece of plastic.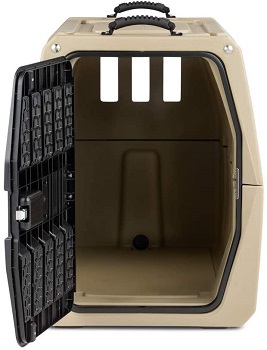 Metal Pieces
Each metal part of this crate is made out of stainless steel. This includes the door lock and a piano hinge. The or locks with a key and there are additional locks on top and on the bottom of the door that make the door even more escape-proof. The door is also reinforced with an aluminum frame.
Easy Clean
Because the dog car crate crash proof is elevated, this allows it to have deep channels on the interior sides. These will allow dog urine to stay there and keep your dog as clean and dry as possible until you're ready to release the liquids out by unplugging the outside drain hole. From that point on, cleaning is just about wiping down the inside.
In Short:
Built out of roto-molded double wall plastic
The double-wall protects your dog from UV rays and the cold
Has air vents that  repel water because of their positioning
The single door locks with a key and has extra top and bottom locks
The door is reinforced with an aluminum frame
Every metal bit is made out of stainless steel
elevated to minimize heat transmission from truck to car
Has drain channels where liquids will go until you clean the inside
How To Pick A Crash Tested Dog Crate
We didn't want to review just about any crash-tested dog crate because we realize the importance of safety for you and your dog. You can be sure each and every one of these crates is safe but we're here to talk about some details that you might have missed so you'd know what you have to focus on when choosing a crate like size materials and weight.
Number One Concern – Your top priority when choosing one of these crates is to pick the right size. Since they vary so greatly in size and each come with their own sizing technique, we advise you to go to the official manufacturer's site and get yourself acquainted with how you should measure your dog and how you're going to determine the correct size.
Car Size – Some of these crash-tested dog crates are incredibly large so you should not only worry about picking the right size for your dog but also your car. These can all be considered SUV dog crates but again, we advise you to check out the crate's size and compare it to the size of your car trunk just to be sure.
Doh Behavior Traveling Hazard – Although most of these crates are escape-proof and can be considered heavy-duty dog crates for separation anxiety, what you should always do even with the most durable crate is to crate train your dog because a dog that's not might easily distract you.
Weight Problems – Another concern you might have is how you're going to transfer the crate to your car. Not every metal crate is going to be heavyweight though. If you have problems with carrying heavy things, try and opt for a crate that's a bit lighter. Lighter crates of this type are typically under 40 lbs while heavier ones can easily be over 60 lbs. Surprisingly enough, even plastic crash-tested crates can weigh that much.
To Sum Up
It was hard to decide which of these crash-tested dog crates we'd recommend but in the end, we decided to go with Gunner Kennels G1 Dog Crate as the unusual choice since it's made out of plastic but a safe one nonetheless. Not only is it crash-safe but it will also protect your dog from the cold, heat, UV rays, and rain. If you're looking for safe crates that are not exclusively made crash-safe you might want to read the article about safe dog crates and if you want to travel with your dog inside a motorhome you might want o check out the article about RV dog crates.