Are you finding it hard to find a crate for giant dog breed?
Need help picking one out?
Continue reading this article if you want to easily find and finally decide on one that will last you for years to come. You'll be reading through reviews of different crate types like soft ones, airline-approved ones, and even heavy-duty ones. We realise that it can be confusing to decide on a crate when there's so much to choose from so we've even provided you with a useful guide on how to decide on one.
The Summary
Best 6 Crates For Giant Dog Breed
BEST OF BEST GIANT DOG CAGE
MidWest Homes For Pets XXL Crate
Assembly And Steel Wire Properties
This crate might be easy to assemble but that only goes if you assemble it with another person. Since it's so large and ungraspable, you won't get to assemble it on your own although it might be simple otherwise. It's made with different types of steel wire gauges that go from 3 to 12.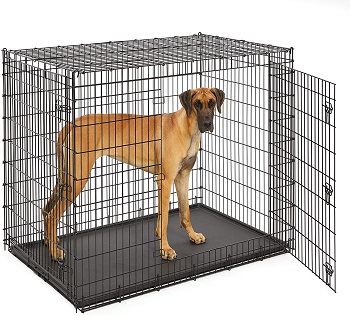 Appropriate Giant Dog Crate Things
The giant size dog crate features two things that you won't find on crates of more regular sizes. The first on the list are the dropping pins that you'll have to place on the corners of this giant dog cage and the other thing are the L-shaped hooks located on top that will prevent the sides from bending in an inward direction.
Door Number Advantage
You'll get a side door dog crate if you get this one but that's not the only door that you'll get for access to the crate. There's also a door in the front and both lock with 3 sliding bolt locks. It's really important for crates of this size to have multiple doors since it will make positioning the crate inside your home a bit easier.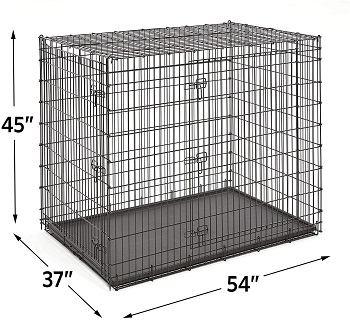 Safe Floors Assistance
Like most Midwest's crates, this Midwest ginormous crate comes with rubber feet for the bottom that will help keep your floor scratch-free. Another assistance that you'll get with keeping your floors safe and clean is the plastic pan that's there for you to slide it out and clean it when you need to.
In Short:
Made with different sturdy gauged wire
Has a side and a front access door
Bot doors lock with 3 slide bolt locks
The rubber feet will keep your floors safe without a scratch
Comes with a cleaning plastic pan on the bottom
Requires two people for assembly
Holds its shape well because of the corner drop pins
The sides won't bend inward because of the L shaped hooks
BEST INDOOR GIANT DOG CRATE
Go Pet Club 54-Inch Folding Metal Cage
Wire Finish
The crate might be made with steel wire that has nothing going for it in terms of specialty but what it does feature that makes it slightly more special is the black epoxy coating finish that makes the entire crate anti-rusting so that it can serve you well for years of use.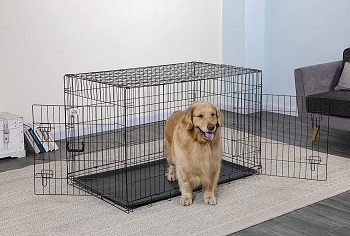 Help With Potty Training
It's very common for a wire crate such as this one to come with a puppy crate divider. The divider is adjustable so that if you were to first house a puppy inside this ginormous crate, the crate's size could adjust to your puppy's size. This helps you potty train your puppy and you simultaneously help him control his bladder better.
Traveling Assistance
You might get to use this as a giant dog travel crate as well. This is mainly due to the fact that you can easily fold it down and carry it to your car with a provided handle. You will have to make sure that the crate and your dog can fit inside your car though and what you should also make sure of before traveling is that your dog is crate trained.

Metal Cleaning Pan
Instead of having a plastic cleaning tray, this crate for giant breed dog has a metal one instead. You might think it's more durable than a plastic one but the problem that arises with this is that the pan might rust eventually which is not something you want to happen. There are a side and front access door and they both lock with 3 slide bolt locks each.
In Short:
MAde out of steel wire
Coated with an anti-rust epoxy finish
Comes with a divider for puppies
Feature a cleaning pan made out of metal
Can be easily folded down and carried it a handle
Has a side and front access door
BEST OUTDOOR CRATE FOR GIANT BREED DOG
Lucky Dog 54-in Giant Dog Crate
Single Or Multi-Dog Housing
Although this crate comes with a divider for puppies that might not be its only use. Thanks to its door number and types you'll get to use this as a multi-dog crate as well since every dog will get to have a separate entrance to it. You will get to house 2 large dogs inside if you choose to use it that way.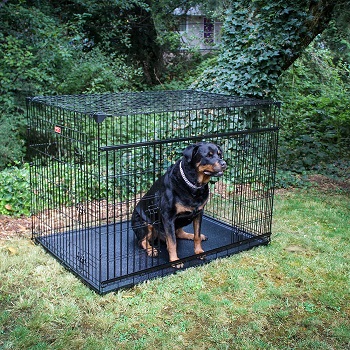 Special Doors
As for the doors themselves, there's a total of three on this giant dog cage but there are only 2 entrance points. This is due to the double door located on the side that can slide open like a barn door. the front door, on the other hand, opens just like a regular swing-through door.
Quiet Operation
To make the crate more firm and stable, the corners are reinforced with snap-on corner stabilizers. Not only does this make the entire giant size dog crate more durable, but it will also reduce the rattling noise coming from it. The doors are made in such a way to reduce rattling as well.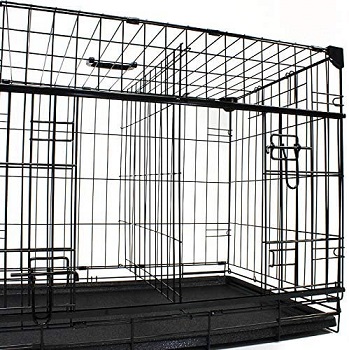 Crate Bonuses
It wouldn't be an indoor dog crate if it didn't protect you floors. It's all thanks to the rubber feet that you'll get to attach to the bottom. Additionally, you'll get a cleaning pan that slides out for the bottom. Another bonus of this crate is that it comes with a handle for easy carrying.
In Short:
Comes with a divider for puppies
The divider can be used to split the crate in two crates
Features a sliding barn-style double door ad a single front door
The rubber feet on the bottom protect your floors
The bottom on the inside holds a plastic cleaning pan
Corner stabilizers reduce noise and make the crate more stable
It has a carrying handle on top
BEST HEAVY DUTY GIANT DOG CAGE
Homey Pet Stacking Heavy Duty Cage
Important Size Info
We haven't really talked about the size of these crates since all the other ones before this one were 54-in long. This size is the largest one you'll find, everything else is smaller and so is this one that's 49-in long, 37-in wide, and 44-in tall. it's enough to house a giant dog but you should still measure your dog just to be sure.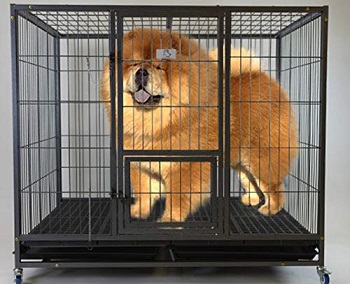 Doors And Their Sort
There are three doors on this crate for giant breed dog that will hardly go unnoticed. The first two are the large front entrance door and the feeding door that's built into it and the last but not least is the top doors. The front and feeding door can be double secured with a provided chain and hook.
Metal Bits And Coating
It features a heavy-duty metal build because it's made with steel tubes and bars instead of just having a wire build. The crate, as a whole, is coated with a hammer spray coating finish that makes it anti-rusting. Not the entirety of this dog cage is made out of metal because the floor is made with plastic. The thing that speaks the most of its durability is the fact that it's stacking dog crate.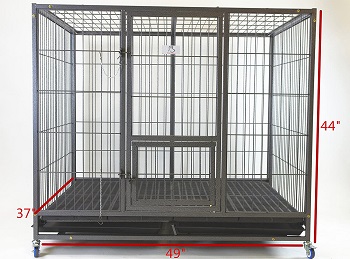 Plastic Bits And Their Design
Like we've said, the floor is made out of plastic. It's a gridded floor for the sole purpose of allowing dog dirt and excrements to fall through and onto the plastic cleaning tray below. It's an elevated crate because it sits on 4 lockable caster wheels that will allow you to move it with more ease.
In Short:
Built with heavy-duty metal
Coated with an anti-rusting hammer spray finish
you can stack multiple crates together
Has a feeding door, front access door, and a top door
The doors lock with a lock and chain
It is 49-in long
Sits on lockable wheels for easier movement
The floor grid and the slide-out cleaning tray are made with plastic
BEST AIRLINE APPROVED GIANT DOG CRATE
SportPet Designs Plastic Kennel
Sizing It Right
Although this crate is listed as an XXXL crate you'll only get to house an extra large dog inside it. To be more specific, the dog shouldn't be over 44-in long and 33-in tall. It's easy to come to this conclusion since all you need to do is take away 3-4 inches from the crate's height and length to figure that out. The dogs should be crate trained before you travel with him.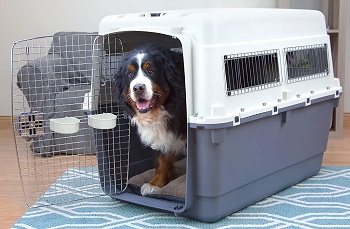 Connecting The Two Frames
It's made out of plastic but not entirely. It consists of two plastic shells that you can connect together either with plastic locking clips or with the nuts and bolts that come with this giant dog crate airline approved. The nuts and bolts are one fo the requirements by airlines that a crate should have.
Wheels And Handles
This giant dog crate airline approved sits on wheels that you can easily take off as well. This will allow you to move it more easily when you're transporting it. To help with transport you'll also get 2 carrying handles that are located on top if you ever need to lift the crate up for some reason.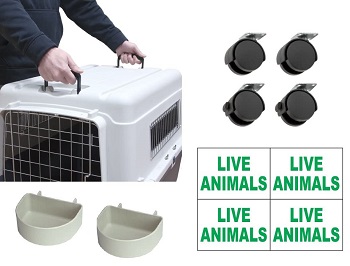 Other Air Travel Requirements
Other things that a crate that you'll use to travel by air should have and this crate for giant breed dog does are the "live animal stickers, holes for tying down the crate with bungees, and detachable food and water bowls. These are all the basic things needed for it so you should check with your specific airline about any additional requirements.
Access To The Inside
When you want to let your dog inside, you'll do it through the single door that's made out of steel wire. The door locks with a type of lock that won't slide open when traveling. The inside edges are made so that they have drain channels where dog urine will go to until you're ready to clean it.
In Short:
The inside has drain channels for easy cleaning
Made with two plastic shells
The shells connect with plastic clips and/or nuts and bolts
Comes with "live animal stickers and food and water bowls
Can house a dog that's 44-in long and 33-in tall
Has a single wire door for access
Has tie-down holes for bungees
You should only use it for crate trained dogs
BEST SOFT DOG CRATE FOR GIANT BREED DOG
Zeus Deluxe Soft Crate
Ready Set Travel
It is a ready to go soft travel dog crate. Not only will it be easy to transfer to your car, but you won't even have to make extra room for dog accessories that you might have. It comes with a water bottle holder and extra accessory pockets for treats and dog toys even.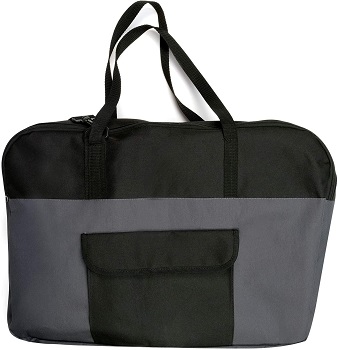 Frame And Fabric Abilities
It has a frame that's covered with a fabric that's resistant to water. The cover can easily be cleaned because of it. it wouldn't be a giant dog soft dog crate made for travel if you couldn't fold it down easily. you can also use this foldable feature to store the crate away when you're not using it. You'll also get a carrying bag for it.
Double Door Function
The doors on this crate are made out of mesh fabric for a reason. It's so that the crate for giant breed dog gets ventilated better all around. You'll find these doors in the front, on the side, and one on top. you can also roll them up if you ever decide that you want to leave the crate open. The only place where you'll not find a window is in the back.
Dog Training Is A Must
This might be a durable giant dog kennel but you will have to crate train your dog if you want to contain one in this crate. The main reason for that is that the crate won't survive a chewing dog since it's primarily made out of fabric and the second reason for that is that you should always have a crate-trained dog when traveling because of safety reasons. The inside is equipped with a removable and washable soft pad
In Short:
Has a water-resistant fabric cover
Comes equipped with a washable soft pad
Features three access doors
Use mesh fabric windows for ventilation
Should only be used to contain crate trained dogs
Can be folded down
Comes with its own carrying case
Features a water bottle holder and toy and treats pockets
How To Pick A Crate For Giant Breed Dog
You should pay extra attention to some of the differences between crates for giant breed dog and it's for a good reason. Since they're made to house ginormous dogs they should not only be automatically more durable, but extremely larger as well and since it's so rare, they differ largely in size as well so make sure you read through this simple guide on how to pick the correct crate right from the start.
Average Size – Normally, we would only review crates that are 54-in tall but since even giant dogs differ in size largely, their length can vary anywhere from 48-in to 54-in. You'd want to have this large variety between crate lengths because not every dog can fit inside every crate.
Correct Sizing Method – If it's not stated otherwise, generally you'll want any crate to be at least 3 or 4 inches longer and taller than your dog so he can fit inside comfortably. You should measure your dog when he's standing up and you'll get his length by measuring from the tip of his nose to his rear and his height from the top of his head, to the floor.
Toughness According To Dog Size And Strength – Since these dogs are so large, they will automatically be stronger and harder to handle if you don't crate train them properly. If you want to crate train your dog, you'll want to get an XL wire dog crate, if the dog in question is a puppy, you'll want to get a wire crate with a divider. If, on the other hand, your dog is extremely aggressive, try and get a heavy-duty metal dog crate.
Travel Crates Warning – There are some crates we reviewed here that are made for traveling so it's only right we mention that you should only get these crates if the dog has been crate trained. This is not just because they're too flimsy to endure a dog that tends to chew, scratch, and bite on things but it's also because it's much safer to travel with a crate-trained dog that won't be distracting you while you're on the road.
Giant Dog Cage VS Kennel – There are some similar qualities between giant dog crates and kennels and their similarity is that they are huge but even with that, kennels are still much larger than crates in general. Typically, you'll find them being used by dog professionals and you'll normally see them placed outside because one, they can't fit indoors and two, they are made so that they can endure different weather conditions like rain, harsh winds, sun, and snow.
To Sum Up
We mainly focused on the size of the Lucky Dog 54-in Giant Dog Crate when we decided that we should recommend it as the best crate for giant breed dog. Other things we took into account when making this decision were if it can house puppies and the answer is that it can and we really like the fact that the doors slide open. if you're looking for a crate that a bit smaller than these but extremely durable definitely check out the article about heavy-duty large dog crates and if travel crates piqued your interest, we suggest you read more about them in the article about the safest dog crates for car.