Looking for designer dog crates of multiple types but can't decide on one?
We'll help you to pick one by getting you familiar with each dog crate type and what they bring. We did that in two following ways. Firstly, we reviewed our top pick for these crates and then we made a buying guide so you'd know what you're getting with each crate and crate type like wooden and metal dog crates.
The Summary
Best 6 Designer Dog Crates
BEST OF BEST DESIGNER DOG CRATE
MidWest Homes for Pets Dog Crate
Crate Design And Color
This would be just an ordinary black small wire dog crate but luckily it's not because instead of using black as its chosen finish coating color, this crate uses a lovely light blue for it. Combine the color with the small structure and you get a very cute dog crate that will definitely get noticed.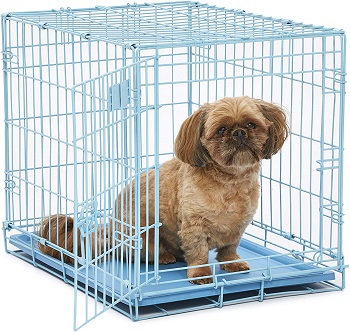 Exception To The Steel Build
The designer dog crate is made out of steel wire and the finish is actually an electro coat one. The coat helps keep corrosion away from the crate meaning it will last you longer. The single bit of this design dog cage that's not metal is the bottom cleaning pan that's made out of plastic. You'll get to easily slide it out for cleaning when you need to.
Accident Prevention
The cleaning pan will definitely help with cleaning when accidents happen inside the crate but what will help prevent the accident from happening is the divider panel it comes with. Divider panels help potty train dogs that are new to crate living and are still puppies. The crate is also very safe on the inside because it features rounded corners.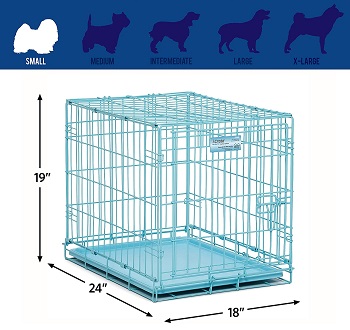 Fold And Unfold Easiness
If you're either someone that doesn't particularly like assembling things or if you're someone that wants to travel with their dog you won't have to go through any trouble to make that happen. This dog steel cage design can easily be unfolded and folded down for quick and easy transport. You can even carry it with a provided carrying handle
In Short:
Constructed out of steel wire
Has a plastic cleaning an on the bottom
It's colored blue
Comes with a divider for puppies
Features rounded corners for safety
Can be folded down easily for traveling and storage
The electro coat makes it corrosion-resistant
BEST METAL DESIGNER DOG CAGE
ProSelect Steel Modular Pet Cage
Where You'll See Them
Typically you'll find this type of cage being used by dog care professionals because it's not only a stackable dog cage but a modular one as well. it's made so that you can customize it easily and almost endlessly because there is no limit to how big of a cage bank you'll create if you want to buy more than one cage.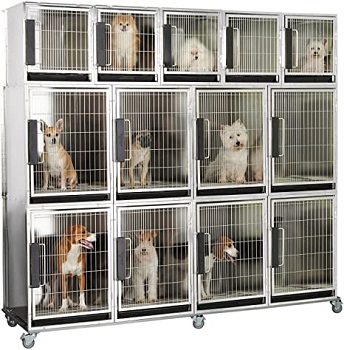 Stacking And Lining Up A Cage Bank
Like we've said you can either use it as a single design dog cage or you can buy multiple other models and use them to house more dogs. They line up and stack nicely. it features a single steel wire door while the rest of the sides are made out of metal panels. This means that it'll get ventilated from only one side.
Coats And General Construction
To be more specific about the material of this designer dog crate, it has a 20 gauge steel build. The whole steel construction is zinc plated and coated with a hammer tone powder coating finish. When a zinc coat is applied to steel, it's galvanized steel meaning it's far more durable.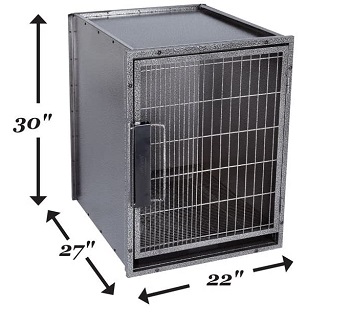 Simple And Fast Cleaning
Since they are primarily made for use by dog care professionals, the crate is easy to clean because it has a slide-out tray that can be stopped from accidentally sliding out with a stopper. It is located below the gridded floor so that you don't have to let your dog out of this simple dog cage design to clean it. This is a tall dog crate so your medium dog will have extra room while he's inside.
In Short:
Made out of 20 gauge steel
It has a zinc coating
Has a powder coat hammer tone finish
Features a single steel wire door for entry
You can either stack or line multiple crates to create a cage bank
Can house medium-sized dogs
It is taller than most
Features a slide-out cleaning pan below the floor
BEST ALUMINUM DOG CAGE DESIGN
Diggs Revol Dog Crate
Durable Build
Although the crate features a plastic frame this definitely does not mean that the crate is not made to be durable. The plastic used is a reinforced type of plastic and to not leave you with a full plastic build, the manufacturer made sure to include durable aluminum steel wire sides for even more durability.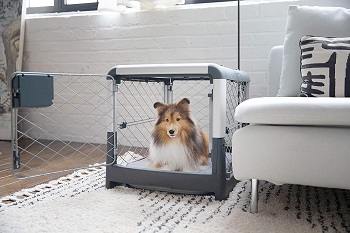 Safety Features
If you look at it, you'll notice that it has rounded corners on the outside. This is also true for the inside of this aluminum dog cage design. The reason why it's made this way is that this will keep your dog and puppy safe. There's probably more to it since it's completely made with baby industry standards.
Advantage Of Housing Puppies
We mentioned that the designer dog crate is safe for puppies because you can easily house puppies inside thanks to the divider panel it comes with. If you're going to use it to house a puppy, make sure that you size the crate correctly to fit your dog's adult size. The dog should be a medium-sized dog breed.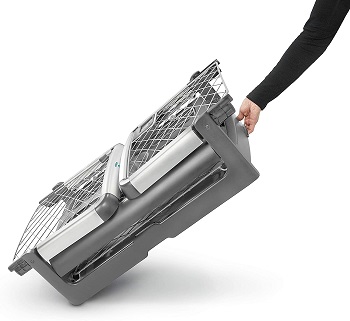 Easy Travel Features
If by any chance you'd like to travel with your dog after he's been crate trained, you won't have to buy another crate for it. The features that make it a medium travel dog crate are the collapsible design and built-in wheels and carrying handle. As a bonus, you'll get three access doors located in the front, on the side, and on top.
In Short:
Built with plastic and aluminum steel wire
Can house puppies because of the divider panel
It's completely safe for puppies and grown-up dogs as well
Has built-in wheels and a handle for transport
Can be collapsed
Features three access doors
Can house medium-sized grown-up dogs
BEST BIG DOG CAGE DESIGN
Cardinal Gates Sliding Door Crate
Surface Level Build Details
Now's your chance to decide on a sturdier crate that can be used as a training cage for dogs because this is the last one in this article that we will review that you can use like that. Primarily it's because it's made out of steel wire that can endure a lot of abuse coming from a dog that's not been crate trained yet.
Expanded Build Details
To be more specific about the way this designer dog crate is built, the steel wire used is a 10 gauge ad a 6 gauge one. This means that it's thicker since the smaller the gauge, the thicker the wire. The 6 gauge wire s used for the doors while the 10 gauge wire makes up the rest of this big dog cage design for a large breed of dog.
Doors Description
We wouldn't categorize it as an indoor dog crate if it didn't have a 3 door design. Not only that but each door is a sliding door. What this will do is save you space surrounding the crate if you choose to leave the doors open for your dog to freely enter and exit. The side double door slides to the side while the front door slides upwards and can rest on top of the crate.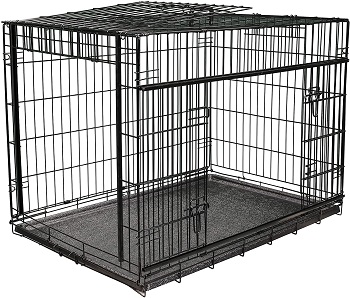 How You'll Clean It
You can even use this sliding door dog crate as a travel crate thanks to the folding design. Just like any other wire dog crate, it can be cleaned easily because of the slide-out pan that rests on the bottom. The pan is made out of plastic and has raised edges so that liquids don't overflow and end up on your floors that easily.
In Short:
Has a 10 and 6 gauge steel wire build
Features 3 slide open doors
Can be used to house large dogs
Can easily be folded and unfolded
Made to save you space in the surrounding crate area
Features a pan for cleaning made out of plastic that slides out
BEST FURNITURE DESIGNER DOG CRATE
Unipaws Pet Crate End Table
A Combination Of Materials
The combination of a wood and metal bar construction makes this crate far more durable than it would be if the manufacturer of the Unipaws end table dog crate used just wood to make it. The wood used is MDF and it is not chew-proof while the metal bar sides are and can survive a chewing dog or puppy.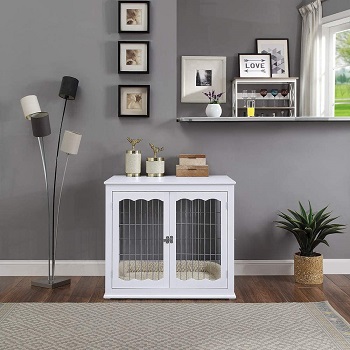 Convenient For Indoor Use
There are two things that make this dog crate more convenient to use indoor. The first one that's more obvious to notice is the 3 access doors that will allow you to place it more freely inside your home and even in corners. You can also choose to place these door panels in multiple ways when you're assembling the crate. You'll get 3 locks for each entry point.
Top Specifications
The second bit as to why this and many other designer dog crates furniture will save you space inside your home is because the wider wooden top makes them, and specifically this one, function as a white dog crate end table or a side table and even a nightstand or credenza in some cases. This one specifically has 200 lbs weight limit for the top alone.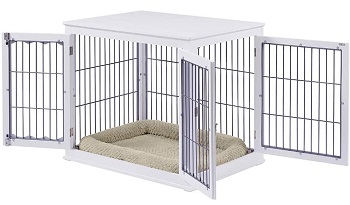 Comfort Bonus
If you think your dog won't be that comfortable laying around on the wooden bottom, you'll definitely like that this dog crate comes with a bed that can be cleaned easily and is even waterproof. The waterproof bit might even save the bottom of this crate from getting into contact with dog urine. This shouldn't happen too often though because you should house a crate-trained dog inside it.
In Short:
Has steel bar sides that are chew-proof
The MDF wooden frame is not chew-proof
Has a wide furniture style top with a 200 lbs weight limit
Cna house large dogs
Feature a double door and a single door for access
The door panels are interchangeable
The doors lock with 3 different locks
Comes with a waterproof and washable bed
BEST SOFT DESIGNER DOG CRATE
EliteField Folding Soft Dog Crate
Main Build Material
The main material used in the making of this crate is fabric To be more specific, it's 600d oxford fabric that is quite a durable material often used in making travel bags. To make it hold its shape well, the fabric covers the steel tube frame that you can fold down to either store the crate away or transport it elsewhere.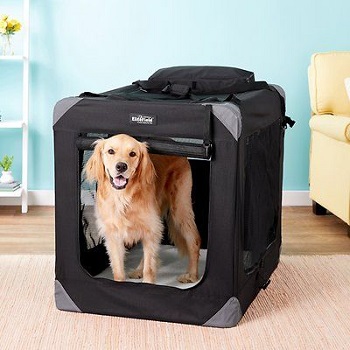 Crate-Trained Dog Warning
Almost all the other designer dog crates we reviewed here are durable enough to survive a dog that has not yet been crate trained but this one will require you to crate train your dog before getting him inside it. This is a must not only because the crate will easily break otherwise but also because it's much safer to travel with a crate-trained dog.
Entrances And Vents
This soft travel dog crate has top, side, and front access doors. They are all made out of mesh fabric and serve as air vents as well. Each side of the crate features these windows as well so you'll get full 360-degree ventilation. The back also holds a removable accessory pocket while the top features a built-in one.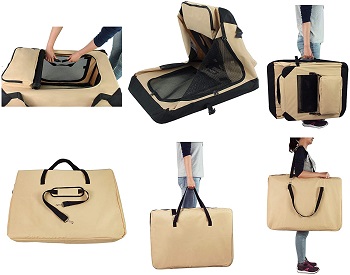 Carry Options
Like we've mentioned before, you'll get to fold down the crate because of its frame but what we didn't mention is that you'll get to store it inside its own carry bag that has a shoulder strap. The crate itself has 2 carrying handles on top. The inside is equipped with a removable and washable comfort pad.
In Short:
Has a 600d oxford fabric cover
Features a steel tube frame
Can be folded down
Comes with a carry bag with a shoulder strap
Has 3 doors for access
Feature ventilation mesh fabric windows on all sides
Comes with a removable and  built-in accessory pocket
Can only house crate trained dogs
How To Pick A Designer Dog Crate
We focused on a wide range of designer dog crates so you could find one that matches your needs perfectly but in order to figure which one is that one you'll need to learn a little bit more about these crates and each separate type of crate that can be found in this article. we'll mainly talk about their differences, like durability, materials, size, and purpose.
Size Matters – We want to point out the importance of getting the right crate size for your dog because you don't want to spend more money on a new dog crate just because it's smaller or bigger than your dog. The way you'll pick the right size is simple, you'll just take your dog's height and length and add at least 4 inches to it. Then, you'll compare these proportions to the crate, and if they are the same or close you can safely say that you've got the right size.
Crate Durability Differences – There's a lot of og crate of different types and they all differ in one thing and that's how durable they are. Their durability will determine what dog you can house inside one. What we mean by this is how your dog behaves. If the dog is an aggressive one, You'll want to get a metal dog crate or a heavy-duty metal dog crate. If your dog just needs crate training you can opt for a wire dog crate and if your dog is crate trained you can easily get an indoor dog crate furniture or a soft collapsible dog crate for traveling.
Design That Stands Out – The most stand-out designer dog crates that actually stand out because they don't stand out are furniture-style crates. They're made to look like furniture and they will blend well into your home. You do need to make sure you get one for a crate-trained dog and you should also know that they are not really portable.
Finding The Right Crate – If you're looking for a crate that has a specific design like an aluminum dog cage design what might help you find one is narrowing down your search. There are 4 main categories of crates: wooden, wire, metal, and soft ones so if you're looking for something specific you might want to try and start with a category that the specific crate might be in.
To Sum Up
We've had to decide ad recommend the Diggs Revol Dog Crate as the best designer dog crate since it has such a versatile design. It's extremely durable, can house puppies and medium-sized dogs and you can even easily travel with it if you want to. If you still can't decide on the right dog crate for you, you might want to read the article about the crates we didn't review here like dog house crates or the article about multi-dog crates.