Want to travel fast and internationally with your dog alongside so you'd put a dog crate for flying to good use?
If that's the case you might want to stick around and continue reading this article because we brought you our top picks for these crates. we reviewed them all and even categorized them into small, medium, and large categories that are just some you'll find here. We can almost guarantee you'll find the right crate for your dog.
The Summary
Best 5 Dog Crates For Flying
BEST OF BEST DOG CRATE FOR FLYING
SportPet Designs Plastic Kennel
Easy Shell Connection
If you don't intend to travel by air all that often and would much rather do the traveling with a car, this crate might help make it easier since you won't have to rely on just the metal nuts and bolts to connect the two plastic shells it's made out of. You'll get to do it with just the locking clips that are already integrated into the edges.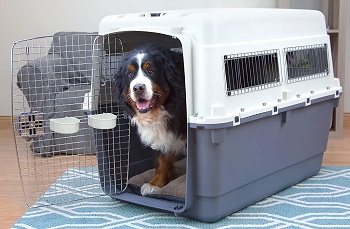 Required Connecting Pieces
Since this XL plastic dog crate is made for flying, the way you'll also have to connect the shells before it is with nuts and bolts that are just one of the requirements from airlines for crates to have. This is to secure the crate and you'll get to secure the door with bungees where there are holes for it. Two more things that you'll get and need are detachable water and food bowls and "live
Metal Bits
It's not entirely made out of plastic though. This dog cage for flight features a steel wire door and has steel wire on a portion of the sides as well. All of them will help ventilate the crate properly. One the door you'll find a secure lock that won't' slide or slip so that the door gets opened during the flight.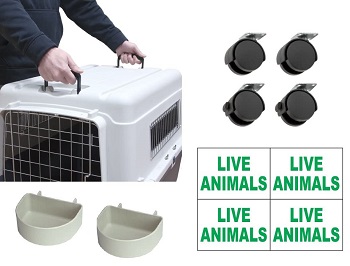 Extra Large Crate Features
The dog crate for flying can only house crate trained dogs that are up to 44-in long and 33-in tall. In conclusion, you can use it house extra large dogs like rottweilers. The crate would be rather heavy with the dog inside so it also comes with wheels on the bottom and 2 handles on top.
In Short:
Made out of plastic
Has a steel wire door and vents
The plastic shells connect with plastic clips
Additionally, the shells connect with nuts and bolts
The door can be secured with bungees through holes for them
Can house crate trained extra large dogs
BEST SMALL DOG FLIGHT CRATE
X-Zone Pet Soft-Sided Carrier
Soft Material Construction
This is a somewhat different crate for traveling by air. To start, it is a soft travel dog crate meaning it's made out of fabric materials. The material, in this case, is oxford fabric and for some bits, it has mesh fabric windows. Whether or not you're traveling with this crate, your dog should be crate trained if you want it not to get destroyed.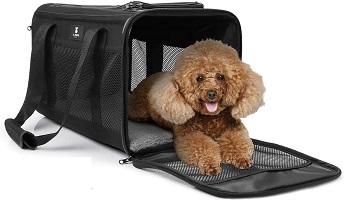 Crate Stability
It holds its shape well thanks to the steel frame it has. The inside, on the other hand, features a hard insert that will allow your dog to stand inside the crate and overall be more comfortable. For even more comfort, the dog will get to lie on a fleece bed that you can easily remove and wash.
Small Size Benefits
Although it's said to be a medium-sized crate, this dog crate for flying can't contain medium-sized dogs but rather only extra small dogs that weigh up to 16 lbs. Because it's so small, you'll get to take your dog aboard an airplane with you and place it below the airplane seat since it can fit below most.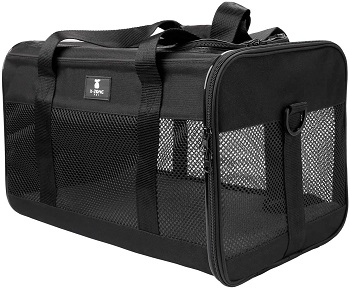 Transport Via Car And Airplane
You can carry this dog crate flight approved with the provided carrying handle or shoulder strap. you can even attach it to your luggage while you're getting to the airport because of the belt loop. If you want to use it to travel by car, you should secure it to a seatbelt for added safety. Before traveling by air, make sure you check with your specific airline about any other regulations for crates.
In Short:
Made with oxford fabric and mesh fabric
Holds its shape thanks to the steel frame
The bottom holds a base insert and a fleece bed
Can house extra small dogs up to 16 lbs
Fits under the seats of most airplanes
Can be carried with handles or shoulder straps
The shoulder strap allows for a connection to a seatbelt
You can attach it to your luggage via the belt loop
BEST MEDIUM DOG CAGE FOR FLYING
Midwest Skudo Plastic Carrier
Air Travel Construction
Crates that are made for flying by air tend to look a certain way and it's because everything that you see on them, from the way they're made to accessories they come with, are all requirements for airline-approved crates. This crate is built for air travel but is missing some accessories that are requirements for air travel.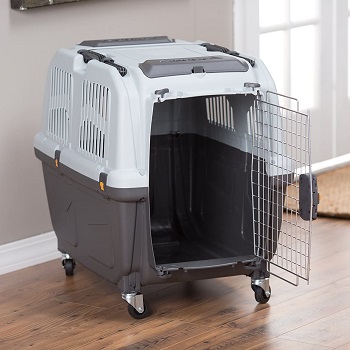 Missing Requirements
The requirements it's missing are stickers that say "live animal", attachable food and water bowls, and nuts and bolts for connecting the two plastic shells. You can get all these things as an airline kit though that is sold separately. Before buying the kit, you should definitely check with your airline about other requirements and regulations for dog crate flight-approved models.
Unique Top
The top does feature some unique things that you won't see on a lot of dog flight crates. It has a swivel handle that you can use to drag the carry with the addition of wheels that are sold separately, and you'll get a compartment for storing accessories like a leash or treats as well.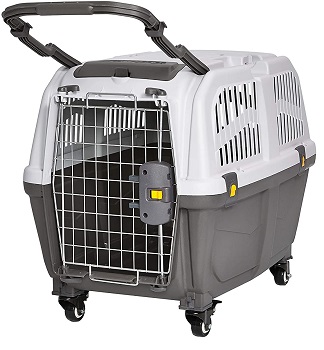 The Rest Of Features And Size
The dog crate for flying has a single steel wire door that locks with a secure lock. The side ventilation windows are simply holes in the top shell. You'll find them on all sides including the back. You will get holes for the nuts and bolts though. Otherwise, you'll get to connect the crate with snap-on locking buckles. It can house medium-sized dogs since it's a medium plastic dog crate.
In Short:
Made out of durable plastic
Can house medium-sized dogs
You'll have to buy an airline kit separately for air travel
Comes with a swivel handle for dragging the crate when on wheels
The wheels have to be bought separately
Comes with an accessory compartment on top
Has a single steel wire door
Can be connected using snap-on buckles
BEST LARGE DOG CRATE FOR FLYING
Petmate Sky Kennel Pet Carrier
Plastic Durability
We didn't really talk all that much about how these crates are made and how durable they are since should all be durable if they're made for air travel and are airline approved. This dog crate for flying is made out of heavy-duty and quite durable plastic but even so, it should only be used for traveling with crate-trained dogs but large ones.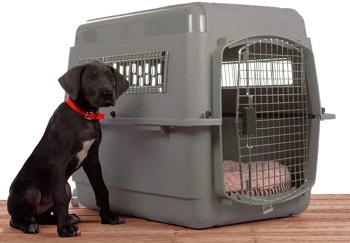 Nuts And Bolts Properties
The nuts and bolts that you'll get to connect the two plastic shells of this heavy-duty plastic dog crate are non-corrodible so you won't have to go through the trouble of barely unscrewing and/or replacing them after prolonged use. What it doesn't come with are plastic locking clips so you'll have to rely on them ar the only connective thing.
The door, Its Locks And Vents
The steel wire is a construction material of the single door located in the front for access and the windows for ventilation. The lock on the door of this large dog flight crate is a vault-type lock that prides itself with being one that won't accidentally open the crate because it won't slip or slide during flights.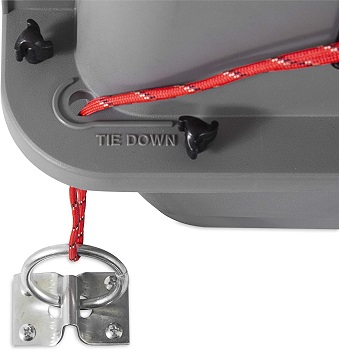 Basic Travel Necessities
Like we've mentioned before, you should always check with your airline about any other specific regulations and requirements for crates but as far as this crate goes, it has all the basic necessities for air travel like " live animal" stickers, ID stickers and detachable water bowls.
In Short:
Made with heavy-duty plastic
The nuts and bolts are corrosion-proof
Comes with basic necessities for air travel
Made for large dog containments
Features a steel wire door that locks with a vault lock
Has steel wire windows for proper ventilation
BEST SOFT DOG CAGE FOR FLYING
Katziela Pet Carrier
Materials Used
This is definitely one of the more unique small soft dog crates we reviewed in general. It is made out of fabric ad mesh fabric. the mesh fabric will help ventilate the crate and you'll find this material in the front, sides, and the entire top. What's so special about it are the contents of the bottom.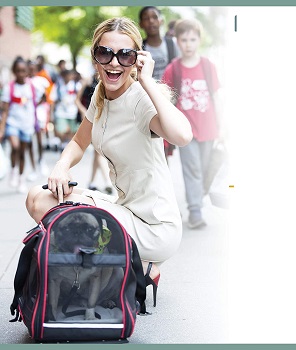 Bottom Contents
The bottom holds a wheelbase that you can attach and detach from the crate. it's a firm base that's comprised of 6 screwed-in wheels and a pullout handle for dragging the crate when you want to. You can easily detach each wheel without unscrewing them by pressing an orange button located on them.
Interior Contents
The inside of this dog crate for flying also holds a firm board that will allow your dog to stand up and overall feel stable inside. You'll also get a little mattress for the inside so that your dog can be cozy while you're on those long flights or long travels. There's also a safety leash on the inside as well.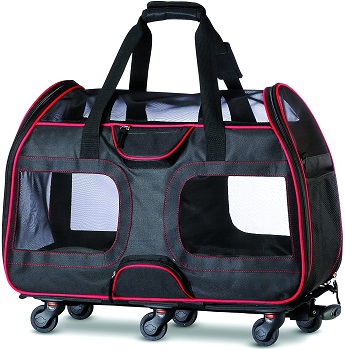 Size Benefit
Since it's soft-sided you can take it aboard an airplane with you. It can fit below airplane sits and since it's so small, you will only get to house a small dog up to 22 lbs in it. Make sure you contact your airline about whether or not the crate can be brought with you on an airplane since it's slightly bigger than the recommended size of crate for that.
In Short:
Made out of fabric and mesh fabric
HAs a wheels base with 6 wheels and a pullout handle
The wheelbase can be taken off the crate
Each wheel can be snapped on or off easily
Can house dogs up to 22 lbs
Comes with a little mattress
Has a base insert that's hard
Features a safety leash on the inside
It's important you check with your airline about regulations
How To Pick A Dog Crate For Flying
Choosing the right and appropriate dog crate for flying is tough work because there are so many regulations that you need to follow and learn about. Crate size is one of the first things that come to mind and other things are the necessary basic air travel kits and how the crate is built.
First Things First – The number one thing to do before even getting to what you'll need to do with the crate is to crate train your dog before traveling. Before buying, you'll also need to make sure you get the appropriate size of the crate. Don't focus on weight limits too much but instead, focus on the fact that your dog should at least 3 to 4 inches shorter in both height and length when comparing him to the crate.
Basic Travel Necessities – The basic travel necessities for air travel are the nuts and bolts, tie-down holes for bungees, detachable food, and water bowls, and stickers with "live animal" written on them. most crates do come with these and if they don't, you can buy the kit separately.
Large And Small Crate Difference – large dog crate for flying needs to travel as cargo whereas you can take small dog airline crates aboard an airplane with you. Small crates need to be made out of soft fabric materials and have a soft top, they can usually fit below the seat on airplanes and you'll normally only get to travel with your dog like that if the dog in question is an extra small dog breed.
International Travel Complications – A dog crate for international travel has to have different things when it comes to size, windows number, materials ad so much more. The list is long so it's advised you check with IATA about these regulations or you can go online and check for yourself. Remember, each country you're traveling to has different regulations so the country you're traveling to can be a good starting point for getting information.
Cargo Crates – Cargo crates need to be made out of rigid materials and can't have an openable top. You can rely on a crate to have the basic build for air travel but again you should check with your specific airline about other regulations.
To Sum Up
We really meant it when we categorized the SportPet Designs Plastic Kennel as the best of best dog crate for flying. It's IATA approved, comes with the basic travel necessities and the two plastic shells can be connected with plastic clips as well. if you're looking for a travel crate in general but want it to be safe you can read the article about the safest dog crates for car and if you want a crate that's easily portable and light, check out the article about soft collapsible dog crates.