Would you put a credenza dog crate to good use but can't seem to find one?
We've done the research for you, found the best, and reviewed them so you'd know what you're getting with each crate. All you need to do is keep reading to find the crate that will suit you best in the end. We've included a variety of different crates like medium and extra-large ones so everyone can read about a crate that they need the most.
The Summary
Best 4 Credenza Dog Crates
BEST OF BEST CREDENZA DOG CRATE
Unipaws Large Wood Pet Crate
Wood And Metal Combo
This crate uses a combination of wood and metal for its primary build materials. The metal bars will help ventilated the crate properly and even make some proportions of the crate chew-proof. Specifically, we're talking about the sides. The rest of the crate, including the top and bottom, is wooden and won't survive chewing.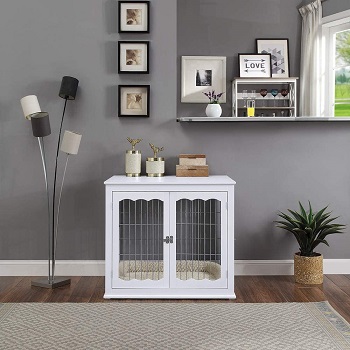 Door Placement Options
To actually make it a credenza dog crate, there are three access doors and the double door for access is placed on the side of it. This will allow you to place the lengthier side of the crate next to the wall. Each door can be locked with three different types of locks. You can even choose to place the door panels differently when you're assembling them.
Bottom Bonus And Top Feature
Thanks to its top that's slightly wider it functions as a furniture piece as well. You'll get to put a lot of stuff on top or just rather heavy things since its weight limit is 200 lbs. You'll get a bonus for the interior bottom and that is a removable and washable waterproof bed.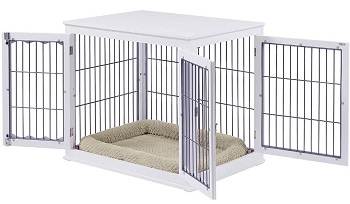 Not For All Dogs
The crate is 36-in long which means it can be used to house large dogs that weigh anywhere from 40-90 lbs. You will still need to measure your dog to see if he can fit inside because large dogs differ largely in height and length and this is not a one size fits all
In Short:
Made with wood that's not chew-proof
Has metal bar sides that are chew-proof
Can house large dogs
Has a wide furniture style top with a 200 lbs weight limit
Has three access doors
The door lock with three different types of locks
BEST MEDIUM DOG CRATE CREDENZA
Zoovilla Merry Products Medium Dog Crate
Material Details
The wood material used to make this crate is MDF wood. MDF wood or medium-density fiberboard is a material made by combining wooden fibers with some sort of glue, typically resin or epoxy. It is a durable crate but like the rest of them, it won't survive a chewing dog.
Door Opening
The double door located on the lengthier side is a swing open door but you can open each door full to the side. If you'd like to leave the crate open, this will definitely prove to be a useful feature since it will save you some space in the surrounding credenza dog crate area. There's a single door located in the front as well.
Hidden Cleaning Tray
You won't typically find a plastic cleaning tray on medium wood dog crates but you will find it on this one. Don't worry though, the tray won't disrupt the visual appearance of this crate since it's hidden behind a cover that's magnetized so that it easily pops open when you need to.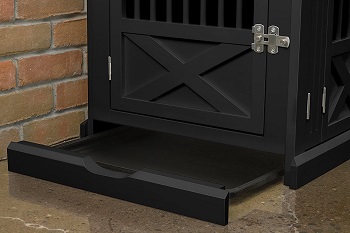 Top And Crate Size
The top is wider than the rest of the crat so that you'll have more room to place your things on it. it doesn't have a weight limit so make sure you don't overload it with weight. You can easily use it to house medium-sized dogs but make sure the dog is crate trained and calm.
In Short:
Made with MDF wood
the crate is not chew-proof
Can be used to house medium crate trained dogs
Has 3 access doors
The double doors open fully to the side
Has a wide furniture style top
Features a hidden cleaning tray on the bottom
BEST EXTRA LARGE CREDENZA DOG CRATE
New Age Pet Ecoflex Homestead Crate
Material Details
There's something really special about this crate and it's actually its build material. The material used is eco flex which is a plastic and wood polymer composite material. Thanks to it, this crate is durable and won't crack, split or even warp like some crate made out of wood might.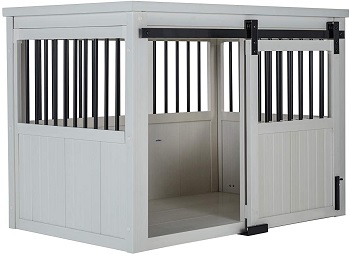 Dog Behavior Warnings
Although it's a durable dog crate, we wouldn't recommend you to house a dog inside that hasn't been crate trained cause he'll destroy or damage the crate if you do. This is especially true because it's an extra-large crate that can house large dogs that have more strength and power.
Barn Style Door
It features only one door for access that's located on the side of this dog crate credenza. On top of it, you'll get metal hardware and rollers so that you can slide the door to the side. The door can be locked using a sliding bolt lock located on the bottom of this barn-style door.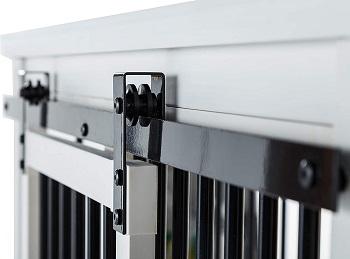 Cleaning Ease
Another really important feature of eco flex material is that it doesn't absorb moisture so the crate as a whole won't stain or absorb any nasty odors. the whole cleaning the crate experience will be much easier and you'll get to access the crate through the barn style door for clean-ups.
In Short:
Made with eco flex materials
Ecoflex doesn't warp, crack or split
The material doesn't absorb moisture or odors
It's made to house large dogs
Has a single barn style door that slides open
The sliding bolt door lock is located on the bottom
BEST METAL DOG CRATE CREDENZA
Feandrea Wooden Dog Crate
Steel Wire Build Benefit
If you happen to have a dog that feels much safer and calmer in a crate when he's got eyes on you the whole time this might be the crate you'll want to get because three of the sides feature steel wire. The frame, backside ad top are made out of wood that's stained with a rustic finish.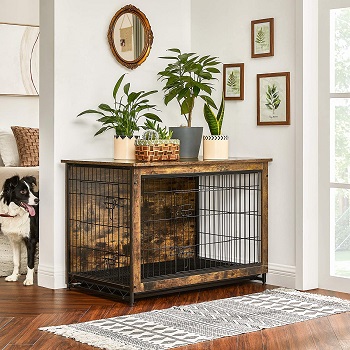 Top Function
The wood used is particleboard and since the top is made out of it as well, you can place your things on top of this dog crate credenza. You'll get to put a lot of stuff on top since it has a weight limit of 154 lbs. It's made so that it's wider to really give it that furniture look and feel.
Housing Non-Crate Trained Dogs
It has an access door in the front and one on the side. The 2 sliding bolt locks that you'll typically found are used in making large wire dog crates. Since it has steel wire sides, you might even use the crate to crate train your dog, but you should be careful with that decision since it's not entirely made out of steel wire. The crate can house large dogs
Bottom Floor And Cleaning Tray
The bottom of this crate features a gridded floor that we are used to seeing on heavy-duty dog crates. The floor is gridded because there's a slide-out tray on the bottom. The floor will allow dog excrements to fall onto the tray so you won't have to let your dog out of the crate to clean it.
In Short:
Has a steel wire and wood build
Features a gridded floor
Below the floor, there is a cleaning tray
Can house large dog breeds
The weight limit for the top is 154 lbs
Has a side door and a front door
The doors lock with 2 sliding bolt locks each
Provides visibility and ventilation just like a wire crate
How To Pick A Credenza Dog Crate
We had to find a workaround to actually get to review credenza dog crates but not to worry, these are all exactly that. We want to walk you through what a credenza crate for dogs actually is by providing you with details on how they're built, what they are made out of, and many other things.
Door Placement – You'll want the doors on the crate to be placed on the lengthiest side so that it can truly look like a credenza crate and not an end or side table crate. Typically, you'll get a double door on the lengthier side and a single door on the side that determines the width of the crate.
Top Ability – For the crate to actually work as a credenza, the top must be a furniture-style one. It should be wider than the crate so that there's more room for storing things on top. You'll also want to know what the weight limit for the top is so you don't overdo it by placing things on top. Typically, a large wood dog crate will have a higher weight limit fo the top than a medium wood dog crate and small wooden dog crate.
Material Advice – You want these crates to blend in with your home decor and for that to happen, you'll need to make sure you get a wooden dog crate since wood is the connecting point for furniture pieces and these dog crates. Make sure you focus on the color choice as well, because you wouldn't want a black dog crate if you have all white furniture.
Dog Behavior – You won't have much success if you buy a crate like this for a dog that's not crate trained. Training cages for dogs are typically wire crates that can handle chewing and other similar dog behavior. Even though some of these crates are chew-proof, they are still made out of wood and visible damage will be seen on them. You want to rely on a crate that will keep your dog contained even when you're not looking.
Credenza Dog Crate VS Kennel – We don't have to go through too much trouble when explaining the differences between the two. Kennels are made to be used outdoor. They can survive many different weather conditions. They are large and when we say large we mean so large that they probably won't even fit inside your home and so large that they can easily hold a dog crate inside.
To Sum Up
We can't miss out on the opportunity to recommend the Feandrea Wooden Dog Crate as the credenza dog crate we think you should get. it's made with wood and steel wire so it's definitely more durable than a crate made entirely out of wood and the weight limit for the top is 154 lbs. If you're interested in getting a crate that functions as a nightstand check out the article about dog crate nightstands and if you don't really care about the type of furniture dog crate you'll get you might want to read the article about indoor dog crate furniture.