Is your wish to take your dog with you when you're traveling but you want to get him the safest dog crate for car?
We know how much fun it can be so we've collected and reviewed the safest and best ones because we know how important it is to make your dog safe when he's inside the car. We also know that not every crate is for everyone so we've placed them into categories like large, small, and more for you to surely find what you need and want.
The Summary
Best 5 Safest Dog Crates For Car
BEST OF BEST SAFEST DOG CRATE FOR CAR
Diggs Revol Travel Dog Crate
How Much It Weighs
You would think that this crate would be lighter since it's made out of reinforced plastic and aluminum wire for the sides but it is not. It weighs 31 lbs which is far more than any other plastic dog crate. Keep in mind the crate's weight when you're traveling because you might have to carry it from time to time.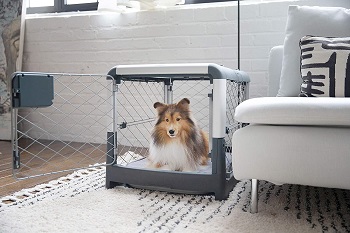 Transports With Ease
The crate does come with wheels on the bottom and a carry handle on top. It also has a collapsible construction so transporting it to your car or elsewhere might be much easier with these features
Safety Inside The Crate
The crate is incredibly safe for your dog or puppy since, during its making, baby industry standards were kept in mind. this means that your dog won't get hurt while he's inside. Another thing it comes with that makes it excellent for puppies is the puppy crate divider.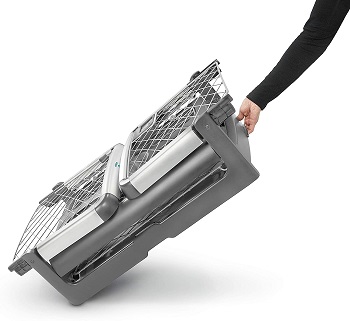 Price Point
This safest dog crate for car is a bit pricey but it stands by its price point because of how safe it is and how well it's built. The crate will easily house medium-sized dogs when they're all grown up so keep this in mind before you accidentally buy a crate too small for your puppy that will grow up eventually.
In Short:
Made with aluminum wire and reinforced plastic
Has a puppy divider
Has built-in wheels and a carry handle
Can house medium-sized dogs
Incredibly safe inside
BEST SOFT SAFEST DOG CRATE FOR CAR TRAVEL
A4Pet Soft Collapsible Dog Crate
Important Soft Crate Facts
The important thing to know about soft dog crates like this one is that it's not exactly a sturdy dog crate. They can last you a long time but keep in mind that it will not work well with dogs that are like to chew on things so it's best to get it if your dog is a calm one.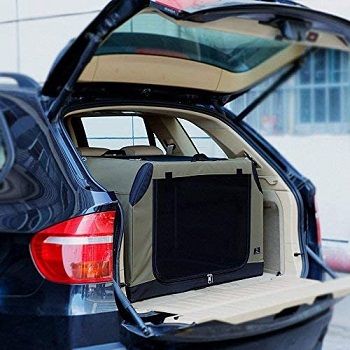 Leak Proof Crate, Clean Car
The crates' bottom will perform just perfectly inside a car because it is water and leak proof. You can easily clean the bottom and it will prevent any litter from going onto your car floors which could be troublesome otherwise because cleaning your car can be expensive.
How It Looks
The frame of this safest crate for car uses foldable steel for it and the crate cover is made out of oxford fabric. There are mesh fabric ventilation windows on each side except for the back where there is a pocket for storing dog accessories if you need it.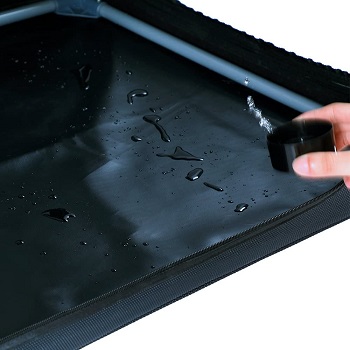 Crate And Dog Size Info
As we've already mentioned, your dog should be crate trained for this crate to serve you well and they can weigh up to 70 lbs to fit inside comfortably. For safety measures, you should measure your dog and compare them to the crate's dimensions as well.
In Short:
Has a foldable steel frame
The bottom of the crate i leak and water proof
Can fit inside 70 lbs dogs
Made for calm and crate trained dogs
uses mesh fabric for the ventilation windows
BEST HEAVY DUTY SAFEST DOG CRATE FOR CAR
SportPet Designs Plastic Kennel
Approved By IATA
You can use it for more than just your car travel because this safest crate for car travel is also an IATA approved dog crate. What this means is that it complies with guidelines provided by most airlines but you should always check with your specific airline to see if the crate has everything needed.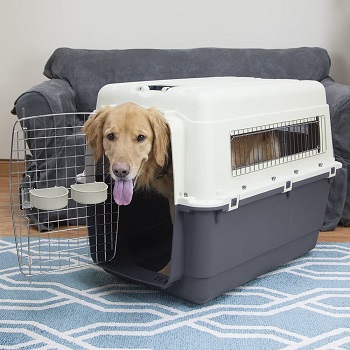 Necessities For Air Travel
The crate wouldn't be IATA approved if it didn't have some accessories needed for it to be and they are: 2 detachable water bowls, 4 "live animal" stickers, holes for it to be tied down with bungees and it comes with nuts and bolts needed to double secure that the crate won't open.
Strudiness And Safety
The crate is made out of sturdy plastic so it is the safest dog crate for car travels as well. It has only one entry point that locks with a lock that you have to pinch to unlock so there's no fear of the lock sliding out and accidentally unlocking itself during travel.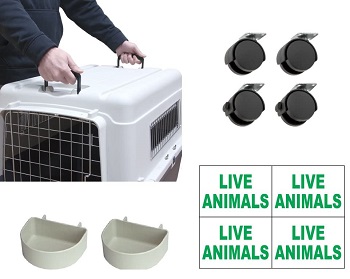 Large Dog Crate
This is a crate made for crate trained dogs so make sure you've done the training before considering taking your dog for travels. Your dog shouldn't be longer that 32-in and taller than 24-in. If your dog's to heavy for you to carry the crate, you can easily attach wheels on the bottom to move it like that.
In Short:
Made out of sturdy plastic
Has accessories needed for air travel
IATA approved crate
Can fit inside large dog breeds
Comes with wheels that you can attach to it
BEST LARGE SAFEST DOG CRATE FOR CAR TRAVEL
Midwest Side-by-Side SUV Crate
Vehicles That It's Made For
This crate is not limited to cars only, it can be used for traveling with a van and it's even an SUV dog crate. The crate is built out of steel wire that is coated with a black e-coat. The e-coating makes this safest dog crate for car travel rust-resistant.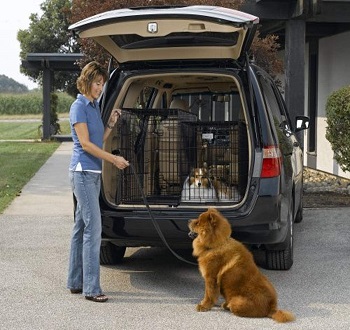 Front And Back Entrances
The crate has a front door and a back door which makes traveling easier. The doors lock safely with sliding bolt locks. The locks are really important because you don't want a distraction while driving so knowing that your car will stay inside his crate at all times is useful.
Narrower Than Most
The crate features a bit narrower design that other crates of this type. the reason for it is so that the crate doesn't take up as much cargo space or so that the crate can be placed in the back seat of your car with ease.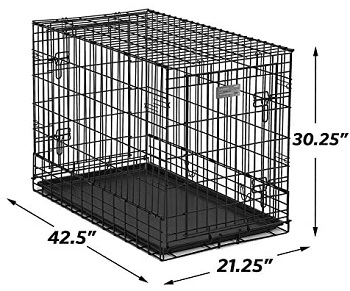 The Right Dog Size
There's a leak-proof plastic tray on the bottom so that any accidents that might happen stay inside the crate and not on your car seat or floor. It can house dogs up to 90 lbs. this means it is best suited for large dog breeds like german shepherds and other dogs of similar size.
In Short:
Uses steel wire as a building material
Coated with a black e-coat that makes it rust proof
Features a narrow design
Can house dogs up to 90 lbs
Has a leak-proof plastic pan on the bottom
There's a front and back door for access
BEST SMALL CRASH SAFE DOG CRATE
MIM Safe VarioCage Travel Crate
Crash Tested Crate
This is arguably one of the best crash-tested dog crates that passed tests from different crash scenarios like roll-over, front, and rear crash scenarios. it's made out of durable metal but it is still light to carry around because of its weight of 37.5 lbs. It can easily be the safest dog crate. The only con is that it's extremely expensive.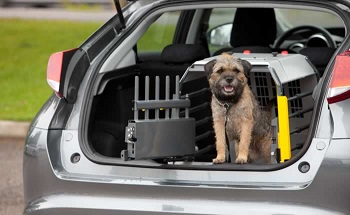 Car Crumple Zone Mimicking
This safest dog crate for cars mimics the car's crumple zones that are usually there to save you to save your dog as well. It has a front access door that has hydraulic gas motion springs and a back escape door
Adjustable Size
The crate even has an adjustable size because the steel rods on the side can be extended to give the crate more length but that's not the only thing that it's for. It will lessen the impact on the crate in a car crash because the rods will act as shock absorbers.
Choosing The Right Size
There are two things to take into consideration when choosing the size of this crate. Your dogs height and length and the car's dimensions. You can use the chart that the manufacturer provides to see how to measure your dog and car although the car dimensions will be less of a problem since the crate has an adjustable size.
In Short:
Made out of sturdy metal
Passed the roll-over, rear, and front crash scenarios
Has an adjustable size
Has a front access door and an escape back door
Adjustable in size
How To Pick The Safest Dog Crate For Car
There's more to the safest dog crate for a car than just its durability. You have to think about the inside safety, how the doors lock, the crates' build materials and even their size so make sure you read these tips so you'd what really makes a crate for car travel a safe one.
Inside Safety – What inside safety stands for is how the crate will protect your dog while he's inside. You should look for rounded corners and edges that don't have exposed sharp materials. These will protect your dogs' paws and other parts of his body
Outside Safety – You should think about why the crate locks and how difficult it will be for your dog to unlock it or if the locks on the crate can slide open due to vibrations when traveling by car. this is important because you don't want your dog to exit his crate while your driving because this can easily distract you and your dog can become rowdy and keep you from focusing on the road.
Crate Training Your Dog – Even if you found the toughest dog crate that won't allow your dog to escape the crate, it is of utmost importance that you properly crate train your dog before traveling. The reason is simple, a troubled and anxiety-ridden dog will distract you and make it unsafe for you to travel.
Choosing The Appropriate Size – Different types of safest dog crate for car will require you to choose a different crate size. For example, an XL plastic dog crate won't be able to house an extra-large dog so the safest way to determine your crates' size is to measure your dogs height and length, add 3-4 inches to both, and see if it matches the crates' dimensions.
To Sum Up
You don't want to save money when it comes to your dog's safety so the safest dog crate for cars that we'd recommend is definitely the MIM Safe VarioCage Travel Crate. It passes the test made from different crash scenarios and mimics cars crumple zones to keep your dog safe and you as well. If you still want to travel with your dog but need a large one the article about XL dog travel crates should be useful for you to read and if you have a small dog that only needs a soft carrier for you to travel with him, then the article about small soft dog crates is the one you should read.