Have you been hoping to find a 40-inch dog crate here that you've been unsuccessfully searching for a decent amount of time?
Make your search a success and get the best. All you need to do si continue reading this article where we'll go through reviews of our top picks for these crates. We've even included a variety of crates to ensure that everyone can find a crate for themselves like wooden, plastic, and even travel.
The Summary
6 Best 40 Inch Dog Crates
BEST OF BEST 40 IN DOG CRATE
New Age Pet ecoFLEX Pet Crate
Interior And Exterior Size
When you first look at the crate's dimensions you'll notice that it is actually 42-in long but if you look at its interior dimensions you'll quickly realize that it is in fact 40-in long. The fact that it's this big makes us conclude that you can easily house a large dog inside.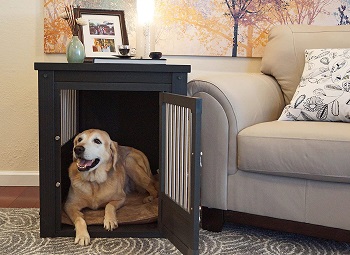 Ecoflex Explanation
The material used to make this 40-inch dog crate is ecoflex. This is a material that's made as wood and plastic polymer composite material. What composite means is that the material that was created is much more durable than the two materials when separated. That is why ecoflex doesn't warp, crack, or even split
Stainless Steel Parts
It's not entirely made out of ecoflex though. You'll find that each side except for the back one has metal tubes placed on top. These sides are made out of stainless steel and will allow the crate to get properly ventilated at all times. The 2 locks on the single door are also made out of stainless steel.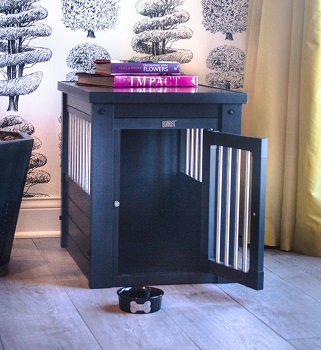 Best Function Part
We haven't even gotten to the best part yet. This black dog crate looks like furniture but that's not all there is to it. It also functions as indoor dog crate furniture because of its top where you'll get to put your belongings. You can remove the top to clean the crate easily because ecoflex is a type of material that doesn't absorb moisture or odors.
In Short:
Made with ecoflex that doesn't split, crack, or warp
Ecoflex doesn't absorb moisture or odors
The top makes it function as furniture
Able to house large dogs
Has stainless steel tubes and locks
BEST WIRE 40 INCH DOG CRATE
Lucky Dog Giant Dog Crate
Two Functions Divider
It's not that the puppy crate divider has 2 functions itself but rather it helps create them. The first function of this adjustable divider is that you can use it to adjust the crate's size to a puppy to potty train him. The other function is that you can use it to split the crate into two separate ones to make it a multi-dog crate.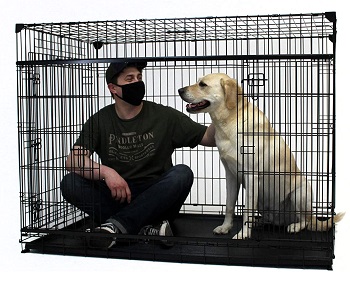 Dogs It Can House
Generally, you'll get to house giant dogs inside this 40 in dog crate. If you're confused about how and why that's because it's a 40-inch tall dog crate and not long. Because it's this tall and has a 54-in length, it's easy to conclude what size of dog can fit inside of the divider is not being used.
Stable And Quiet
You can be sure that this crate has a stable build not just because it's made out of durable steel wire. It's because the corner stabilizers that can be placed on top ensure that it's more stable but also they help reduce the rattling noise. Another reduced rattling feature of this crate is one of its doors.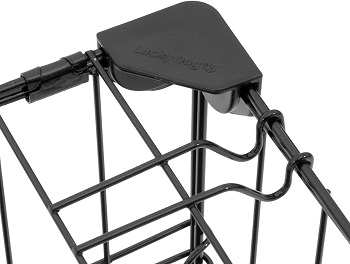 Saving You Some Space
You really don't need this crate to take up any more space than it already would with just its size. That's why the side door makes this crate a double sliding door dog crate. The two doors slide open to the side but you will also get a regular entrance to the crate in front.
In Short:
Made with steel wire
Able to house giant dog breeds
The divider can help house a puppy or two dogs
Has a double sliding door on the side and a regular front
The corner stabilizers reduce the rattling noise
BEST SOFT 40 INCH DOG CRATE
Go Pet Club Soft Crate
Your Dog's Comfort
If there's one thing that we're sure of it is that this soft collapsible dog crate and any other crate of this type are the perfect traveling tool in terms of how easy it is to do it. Safety is another thing but comfort for you and your dog is what makes them stand out. For starters, the inside is equipped with a comfortable and washable mat.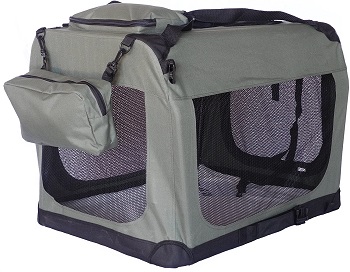 Fabric Cover And Frame
You won't have to worry about your dog getting wet if it ever rains while you're transporting him to your car because the fabric cover is a water-resistant nylon cover. Thanks to the steel tube frame, you'll easily get to fold the crate down to store it when you're done using it.
No Floor Damage
The floor of this crate is waterproof which means that if your dog ever urinates inside this 40 in dog crate, you won't have to worry about your floors getting into contact with it. You'll get to access the crate for cleaning through the top or front door. Both of these doors are ventilation windows and there are 3 more.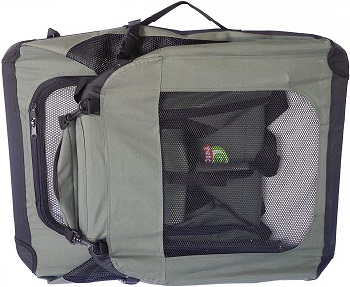 Dog Behavior Warning
The cover also comes with back and top accessory pockets. Your dog can be a large one to fit inside this crate comfortably but it comes with a warning. You should have a crate-trained dog before letting him inside this crate because otherwise, he might easily tear it apart.
In Short:
Made with water-resistant nylon
The steel tube frame can be folded down
The bottom is waterproof and comes with a comfy pad
Should only house crate trained dogs
Has a top and front access door
Features two accessory pockets
Perfect for traveling
BEST TRAVEL 40 IN DOG CRATE
X-Zone Pet Soft Dog Crate
Zipper Locking Safety
If you wanted to get a soft crate that is in a way a safely locking dog crate everything would probably lead you to this one. That's because the zippers on the 3 doors are self-locking. This means that your dog won't get to zip open the doors and escape.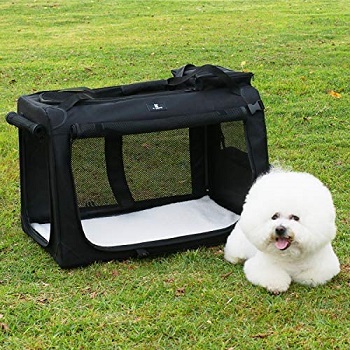 Materials Used And Their Cleaning
The fabric used to make the cover of this 40-inch dog crate is a 600D fabric and it also features a steel tube frame. You can easily fold down the crate because of the frame and even remove the fabric to clean it when it's needed. The sleeping pad that you'll get for the interior can be as well.
Abundant Cover Contents
On the cover you'll find velcros to which you can attach the rolled-up doors if you choose to leave them open. It also has an accessory pocket on top while the back features a removable one. We've mentioned that there are three doors but what we didn't is that all three of them, with the addition of two more, are ventilation windows.

Durability Warnings
You should only ever use this crate as a soft travel crate because nobody can guarantee that an unattended dog won't rip it apart when home. For this exact reason, you should only house crate trained dogs inside it that can be medium dogs and weigh up to 40 lbs.
In Short:
Made with 600d fabric and a steel tube frame
The cover and bed mat can be washed
The 3 doors are self-locking for more safety
Comes equipped with 2 accessory pockets
Should only house crate trained dogs up to 40 lbs
BEST PLASTIC 40 INCH DOG CRATE
Petmate Sky Kennel
Reason For Crate Training
The main reason why you should house a crate-trained dog inside this crate is that it's made for traveling by air. This is one of the more important requirements for safe travel both by air and by any other vehicle like a car. Your dog can be a large dog breed to fit inside this 40 in dog crate comfortably.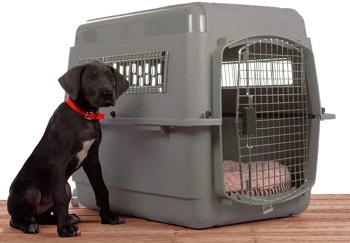 How It's Made
This is actually a heavy-duty plastic dog crate. It's made up of 2 plastic pieces, the top, and bottom, that you'll get to connect with winged nuts that are non-corrodible. If you think this would be a hassle, think again because it's just another requirement by airlines for large dog airline crates.
Things Required By Airlines
We've mentioned a few of the requirements that airlines request if you want to travel by air with your dog in the Petmate sky kennel 40-inch model. There are more and all of them make up the basic travel kit accessories. They are "live anima" stickers and ID stickers, tie-down holes for bungees, and detachable water and food bowls.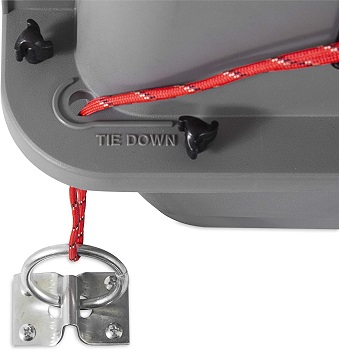 Metal Crate Bits
It's not entirely made out of plastic though. You'll find that this 40-inch tall dog crate has a single steel wire door and 2 steel wire windows. The door can be locked with a lock that won' slip or slide open because it's a vault type of lock.
In Short:
Made out of 2 heavy-duty plastic shells
The shells connect with non-corrodible nuts
Comes with basic things needed for air traveling
Has tie-down holes for bungees
Can house crate trained dogs
BEST AIRLINE APPROVED 40 IN DOG CRATE
SportPet Designs Plastic Dog Crate
Dog Size And Behavior
This crate is sized as an extra XL travel dog crate but it can only house dogs that are up to 36-in long and 27-in tall. With this information, it's easy to conclude that these dogs should be large dogs to fit inside comfortably. Another thing to worry about when buying this crate is to have a crate-trained dog because it's yet another air travel crate.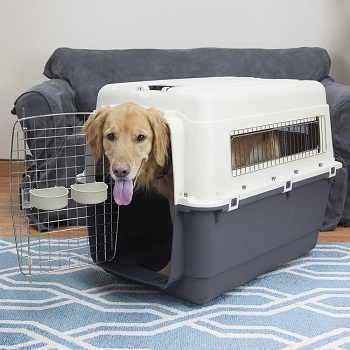 Easier Shell Connection Bonus
It's made out of sturdy plastic shells that can be connected with plastic locking clips but also with nuts and bolts that you'll get with this 40 in long dog crate. The fact that they can be connected with nuts and bolts is a typical requirement by airlines so the bonus here is that they connect with plastic clips.
Travel Kit Supplies
Additional things that this 40 in dog crate comes with are stickers with "live animal" written on them and food and water bowls that you can attach to the steel wire door. It also has tie-down holes for bungees that will allow the crate to be even more securely connected.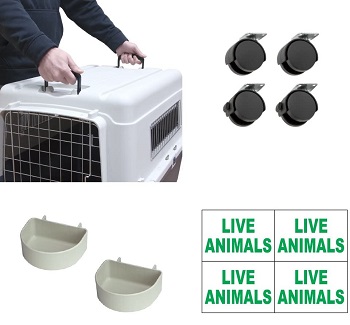 Easier Movement
Since it's big, you might have found it difficult to move if there weren't for the wheels on the bottom and 2 handles for lifting it on top. The wheels won't be hard to assemble to it and they also won't be hard to take off when you need to. Apart from getting to travel by air, you can also use it as a car crate.
In Short:
Able to house dogs that are 36-in long and 27-in tall
Made out of durable plastic shells
The 2 shells connect with plastic locking clips
Comes with the basic travel kit accessories
Can be tied down with bungees
Made for air travel
How To Pick A 40 In Dog Crate
If you generally know what kind of 40 in dog crate you want but are still a bit unsure about what each of these crates is best for, general size information, and other differences and similarities you might want to continue reading this useful guide where we will talk a little bit more into detail about these things.
What 40 Usually Means – When you go and pick a dog crate you'll rarely see a crate that's sized as 40. This is the length measurement and more typically you'll find 42-in long dog crates and 36-in long dog crates. This is the size of crate mainly used for specialized crates that have a lot of size options for example if you're traveling by air and you need a crate that's just right.
How To Get The Size Right – If you have a large dog that needs a crate but you don't know how to decide on size it's really easy to do so. You'll only need to take our dog's height and length and make sure that the crate is at least 4-in longer and 4-in taller than your dog.
Crate Types Functions – We won't talk about specialized crates like the airline-approved one but we will talk about the other crate types found here. These types are wire crates, wooden crates, and soft crates. Wire crates are the most durable crat type here. They're typically used as training cages for dogs and puppies if they come with a divider. Wooden dog crates and soft dog crates can only house crate trained dogs though. Soft crates are great for traveling while wooden ones are usually furniture pieces as well.
40-In Height – There are 40-inch dog crates that are 40 inches tall. These are large measurements for height and typically these are crates for giant breed dogs. Typically, crate heights are around 10 or more inches shorter than their length and these crates go up to 54-in in length.
To Sum Up
There's no doubt about it, we would definitely recommend the Petmate Sky Kennel as the best 40-inch dog crate. It's the perfect travel crate either for plane or car rides and it is quite durable because it's made with heavy-duty plastic. If you need to find a bigger crate and make it wire we would either recommend you check out the article about 42-inch dog crates with divider or about Xl wire dog crates