Would a black dog crate really fit into your home and match your sense of style but want to explore your options?
Explore them in this article where we tried our best to review all sorts of different varieties of these crates. By continuing to read you're signing yourself up for almost guaranteed success picking a crate. We've got wooden, metal, large, and medium ones and that's just the beginning.
The Summary
Best 6 Black Dog Cages
BEST OF BEST BLACK DOG CAGE
Cardinal Gates Sliding Door Dog Crate
Most Common Crate Type
When we get the chance to review all sorts of different dog crates we make sure to include a lot of options. One type of crate always stands out though and it's more frequently reviewed and those are large wire dog crates like this one. It's because they have the perfect amount of durability yet lightness.
Thick Wire Build
We have a good reason for reviewing this black dog cage under this category. it's because it's incredibly sturdy with its 10 gauge and 6 gauge steel wire build. The thicker, 6 gauge wire can be found on its doors while the 10 gauge wire can be found on the rest of the crate.
Indoor Use Benefit
There's nothing better than using this crate as a large indoor dog crate and it's mainly because of its doors. The doors in question are the front and side door. The side one is actually a double door and what's so special about it is that it slides open. The front one does too but upwards. this is an incredible space-saving feature.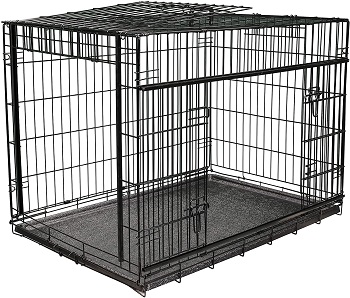 Use Of The Easy Fold Design
Typically, wire crates are made to be folded and unfolded easily so it's true for this crate as well. The good thing about this feature is that you+ll have no problems transporting this black cage for dogs nor will you have problems with space if you choose to store it away.
In Short:
Has a 10 and 6 gauge wire build
Both the side and front door slide open
Has an easy fold-down design
Sized as a large dog crate
BEST SMALL BLACK DOG CRATE
Lucky Dog Small Dog Crate
Dog And Puppy Housing
Not only can this crate house small dogs but it can also house small puppies. This is true because of the fact that you'll get a puppy crate divider with this crate. This will help with potty training your dog. Just make sure you pick out the size that fits your dog's approximate adult dimensions.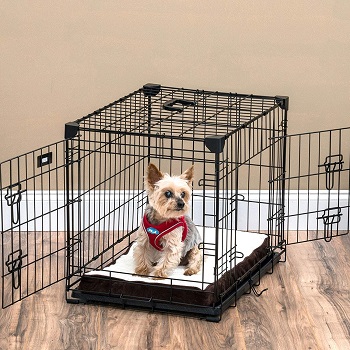 Top Corners
The top corners of this dog crate have plastic corner caps that act as corner stabilizers. The first thing they'll do is reduce the rattling noise that typically comes from these crates and the second thing they do is secure a stable build that is exceptionally safe.
Bottom Contents
Not exactly on the bottom corners, but on the bottom for sure, you'll find a piece of steel wire that can hold rubber feet that come with this small black dog crate. They will help prevent sliding or slipping and will minimize the chance of your floors getting scratched.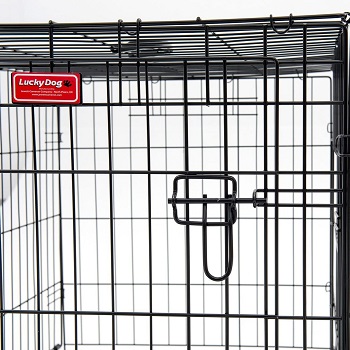 Doors, Size, And Cleaning
There are two doors on this crate that lock with sliding bolt locks. The inside will be easy to clean since dog dirt will fall onto the removable tray on the bottom that you'll then clean. It's designed as a 24-in long dog crate which means that it's suitable for smaller dogs.
In Short:
Features a divider for puppies
Has low rattling noise thanks to the corner stabilizers
Has 2 access doors
Can house small dog breeds
The bottom hold rubber feet and a cleaning pan
BEST LARGE BLACK DOG CAGE
MidWest Ultima Pro Series Crate
In All Senses Heavy Duty
There's more to the color of this crate than just the fact that it's black. It's a satin-black color that's extremely durable and is also an e-coat. What this means is that the whole crate is rust-resistant. It's a heavy-duty metal dog crate that features narrower wire spacing and a heavy gauge wire build.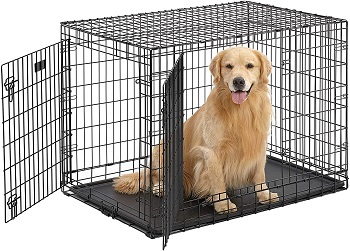 Training Crate Properties
It's not even missing a divider. The divider is adjustable so that the crate can get larger in size as our puppy does. This and the fact that it's amazingly durable make it a great training cage for dogs. The wire itself will provide the black dg cage with ample airflow and good enough visibility.
Vehicle And Home Position
For convenient and easy placement inside your home or even car, you'll get two doors for it. One can be found on the side and one i the front of this black dog cage large. With this door placement, you'll even get to position the crate in a corner without blocking any entrances.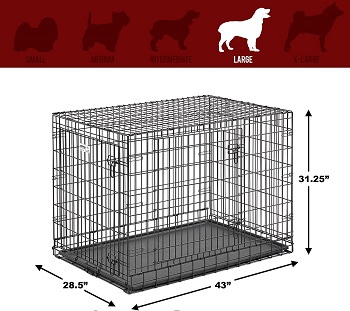 Indoor/Outdoor Use Features
To adapt the crate to more home use, the manufacturer provides roller feet on the bottom with this crate. The crate can also be folded down either for storing when you're not using it at home or for easier transport with the provided carrying handle. The crate can contain large dogs up to 90 lbs inside
In Short:
Can be folded down flat and carried
Has a heavy gauge wire build
Comes with 2 entrances
Able to house large dogs up to 90 lbs
Its black e-coat makes it rust-resistant
Comes with a divider for puppies
BEST MEDIUM BLACK DOG CRATE
ProSelect Easy Dog Crate
Decent Price
Wire crates are the most typically black colored crates, that's why this is the fourth that we are reviewing. In comparison to the other ones, this one costs less which means that it's a large dog crate cheap. You'll be spending around $80 dollars for this crate.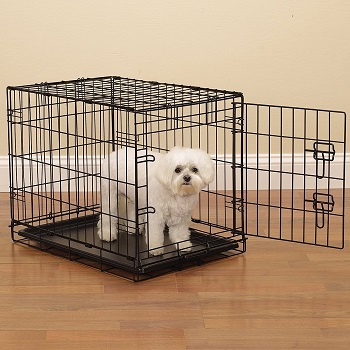 Light And Safe
Each panel made out of wire on this medium black dog crate has rounded corners so that the crate is much safer for your dog. This means that your dog won't pinch his paws so easily if ever. As a whole, this dog cage is incredibly light and that's the reason why it's easily transportable.
Size Specification
It's not that you can get a cheaper dog crate but seeing as its size is medium/large and crate prices go up when the size goes up, it's easy to stick to the conclusion that it really is cheap. To be more specific about its size, it's an intermediate dog crate able to house dogs that are not medium nor large.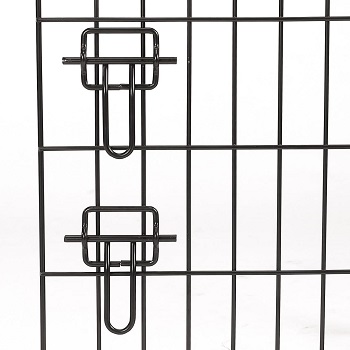 Other Common Features
You'll only get a single front access door that locks with a double sliding bolt lock. You can easily fold it down to store it away or to transport it by carrying it with the attached handle. Cleaning won't be a problem as well because the Proselect easy dog crate has a cleaning pan on the bottom.
In Short:
It can house dogs that are between medium and large
It only costs around 80 dollars
Has a single access door that locks with 2 locks
Easily folds down flat for storage or for traveling
The bottom is equipped with a cleaning pan
BEST WOODEN BLACK DOG CRATE
Casual Home End Table Pet Crate
Typical Colors
Wooden dog crates such as this medium wood dog crate are typically colored with neutral colors or colors that fit the color of your furniture. You'll rarely if ever, find a crate like this that's colored with some sort of wild color like red, pink, or purple.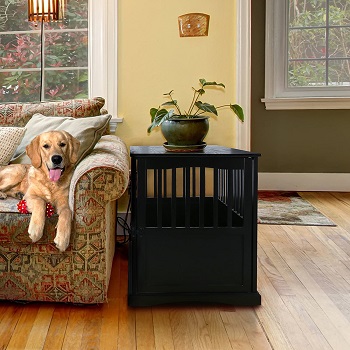 Adjusting To Furniture
This crate is black to blend in with your black furniture. We say furniture because that's what this black wooden dog crate is. The wooden build makes it look like one while the wider wooden top makes it function as one. You'll get to place your things on top as long as the weight doesn't go over 120 lbs.
Wood Durability
What's so great about this dog crate is that it's made out of solid wood that is chew-resistant so it guarantees the quality. You won't usually find a crate like this that's chew-resistant. even though the wood can survive chewing, you should tread carefully because the wood might still take some visible damage.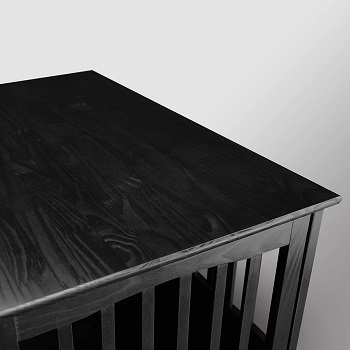 Wooden Build Exception
It's entirely made out of wood and the only exception is the lock on the single door in the front that's made out of metal. The black dog cage even has wooden bars placed all around it to provide the crate with good airflow and give your dog great visibility while he's inside.
In Short:
Entirely made out of solid wood
The crate is chew-resistant
Features a single access door in the front
The top makes it function as furniture
The weight limit for the top is 200 lbs
It's advised you use it to contain crate-trained dogs
BEST METAL BLACK DOG CAGE
Itori Heavy Duty Metal Dog
Purchase Reasoning
The only time you should ever get a heavy-duty metal dog crate like this one is if your dog is extremely aggressive or breaks all of his crates so you have no choice. This is probably their only benefit because they don't look good inside your home and are difficult to move as well.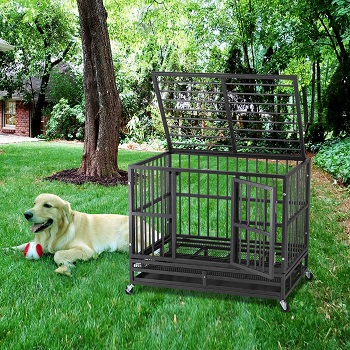 Parts Of Its Construction
It's made with steel that has a 20 gauge. To be specific, it uses 0.5-in diameter tubes as its frame material. the whole crate is reinforced and each part of it is welded together to create an even more durable dog crate. It even has rust and corrosion-resistant finish.
Door Styles
It does have a front and top access door. The front one will allow your dog to enter and exit this metal black crate while the top door will help you interact with your dog securely while he's inside. Both doors lock with two locks that can only be opened from the outside.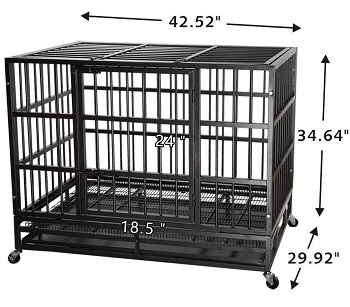 Movement Solution
We've already mentioned that this black dog cage is hard to move but we didn't mention that it's because it weighs around 84 lbs. To move it more easily you'll get 4 caster wheels that you can attach to its bottom. Two out of 4 wheels can be locked to set it into place.
In Short:
Made with 20 gauge steel
Each part is welded together
Has rust and corrosion-resistant finish
Sits on wheels for easier movement
Has a front and top access door with safe locks
How To Pick A Black Dog Cage
If you're after a black dog crate or cage you'll find that there's nothing easier to find one. Since there are a lot of crates to choose from it's easy to mess up and get it wrong. To make sure that doesn't happen we compiled a list of all their differences like size and primary function to help you get it right.
Most Common Crate Type –  A bulletproof way to easily find a crate that's colored black is to search for a steel wire one. They are the most common black crates and luckily for you, they're amazing potty train crates if they come with a divider, and they commonly do. if not, they are generally good crate training tools.
Other Ends Of The Spectrum – The two other crate types that are most easily found in black are wooden dog crates and metal black dog crates. They are completely different from one another because wooden ones will only contain crate trained dogs while metal ones will get to contain extremely aggressive ones.
Color Details – If you want to get the most out of the black color, try and look for e-coat finishes, spray paint finishes, or any other fish that makes the crate rust and corrosion resistant as well. that way you'll be getting the most out of the color in terms of both functionality and looks.
Sizes To Choose From – Since black is the most common color of these crates, they come in versatile sizes as well. To determine what the right size for your dog is you'll want to measure your dog's height and length and check if the crate is at least 4 inches bigger than your dog.
To Sum Up
We chose to go with the MidWest Ultima Pro Series Crate as the black dog crate we'd recommend. It features a heavy gauge steel wire build, comes with a divider and its black e-coat makes it rust-resistant. if you want to check out crates that come in a variety of colors we advise you to look into the article about colored dog crates and if you're looking for something specific your best bet is to check out the article about specific colored crates like purple dog crates.