Are you looking for a GPS tracker for hunting dogs?
Check out the best of best, small, location, training, activity, and puppy models. Don't forget to read our buying guide as well. You will find it at the end of the article. Keep on reading to find out everything you need to know about these special hunting dog gadgets.
The Summary
6 Best Dog GPS Tracker For Hunting
BEST OF BEST HUNTING DOG GPS
Garmin Astro 220 GPS For Hunting Dogs
About Garmin GPS Tracker
The Garmin Astro 220 tracking device for your hunting dog is here to make you feel safe and relaxed. Your dog will know get to do all the job, and you will get to easily locate it. This is a tracking collar that is exclusively made for hunting.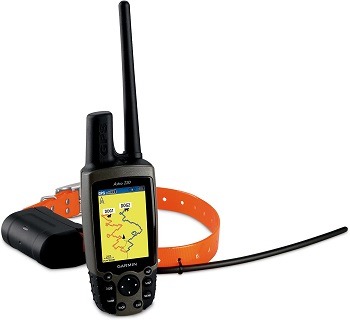 Highly-Sensitive Tracker
This is one of the rare models that is capable of finding your dog in the densest environments. The Astro 200 includes a high-sensitivity GPS tracking system. It will show you your dog's exact location even when you don't see it or hear it.
What Is Included
The Astro 220 package includes a handheld device, a GPS tracking collar, a carrying case, an AC adapter, and a charging USB cable. Then, there are the wrist strap, a belt clip, and an owner and start manual. This a high-quality tracking system for any hunting dog.
Useful Details
The collar tracker includes a 2.2" display. The overall collar size is 12.5 x 4.5 x 12.25 inches. The weight of the collar is 5.2 pounds. This tracking collar is waterproof. It allows you to download the TOPO maps. The price of the package is relatively high.
In Short:
high-quality collar tracker
features a small 2.2" display
the size is 12.5 x 4.5 x 12.25 inches
it is highly-accurate in locating
comes from a reliable manufacturer
BEST SMALL GPS TRACKER FOR HUNTING DOGS
Tracki GPS For Dogs
Worldwide Coverage
Unlike many other hunting dog GPS tracking systems, Tracki is here to provide you a full USA and all other countries coverage. There is an international SIM card included. It is very small dog GPS tracker, thin, lightweight, and very accurate.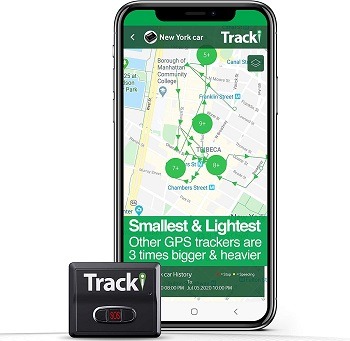 The Smartphone App
Download the free app to your smartphone (iPhone, Android) and locate your hunting dog anywhere. Even if it is hidden in the densest woods, you will be able to locate it easily. Don't let your dog get lost and take the Tracki anywhere with you.
Best Features
The Tracki GPS locator is a small tracking device that easily attaches to a magnet, collar, or other. You can use it to locate more dogs at the same time. It has a long-lasting battery (rechargeable). It sends you important alerts to your app.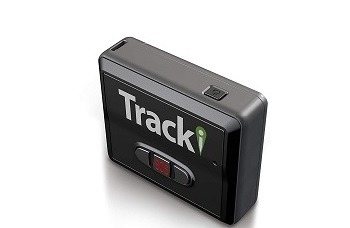 Important To Know
You should know that this tracking system comes with monthly fees. Once you pay the subscription, there are no additional fees such as roaming, etc. The price of this tracking system is very affordable for anyone. Check it out online to find out more.
In Short:
includes a worldwide coverage
monthly subscription is required
there are no hidden fees
very small and lightweight
easily attaches to a dog collar
ideal for hunting dogs
BEST LOCATION HUNTING DOG TRACKER
Black+Decker Dog Collar
Remote Communication
How many times have you tried to call your dog to come back to you while hunting, but it probably couldn't have heard you? This hunting dog tracking system by Black+Decker comes with a 2-way audio and you can easily call your dog.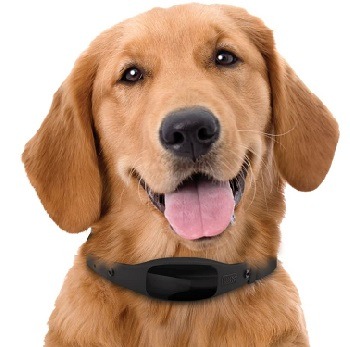 The Info Tag
Even though this is a tracking GPS collar for your dog, there is a small display on the collar that contains your contact information. Your dog may get lost and you don't notice it. In that case, the person who finds it will be able to contact you.
Hunting Dog Tracking System
The Black+Decker locator collar includes the GPS and locates your dog easily via the app. You will get to download the app to your smartphone and check its exact location. Moreover, this is an activity tracker as well and lets you know your dog's most visited places.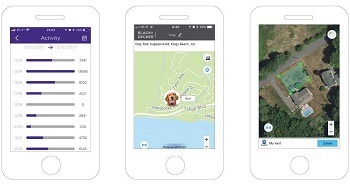 Why Is This Collar Great For Hunting? 
This is a GPS collar that will make you feel very safe. First, there is the 2-way audio that allows you to call your dog and tell it to come back. Then, there is the small display with your contact information, and lastly, it features a GPS location tracker.
In Short:
it makes you feel very safe
includes a display with the owner's contact
tracks your dog accurately via GPS
it simply pairs with the smart app
it features a two-way audio
BEST TRAINING HUNTING DOG TRACKING SYSTEM
Dogtra Tracking System
Tracks Multiple Dogs
If you have more than one hunting dog, get more Dogtra Pathfinder hunting dog trackers and locate them all at the same time. This device has a 9-mile range. It locates your dog or more dogs via GPS. It is simple to set up and use.
Waterproof And Accurate
The collar is water-resistant. You can easily go to the woods at any moment. No matter the weather. Your dog can go hunting on a rainy day. It can also roll in the mud or go swimming. The device is accurate, reliable, and long-lasting.
Train Your Dog
This is a 2 in 1 collar. It not only locates your dog via GPS, but it also serves as a training collar. If your dog behaves inappropriate, use this collar as a correction tool. Please, make sure you read the user manual before starting with the training.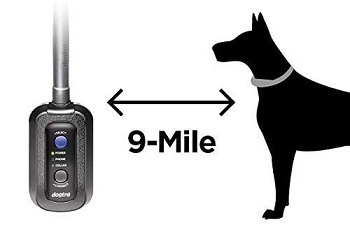 No Monthly Fees
Unlike many GPS tracking locators, the Dogtra Pathfinder dog collar doesn't require any monthly fees. You don't need to subscribe to use this collar tracker. The price of this collar is relatively high, but it is of high-quality and it comes from a reliable manufacturer.
In Short:
no monthly fees or subscriptions
the device is waterproof and durable
it locates accurately and is reliable
this is both training and tracking collar
can be used for multiple dogs
BEST ACTIVITY HUNTING DOG GPS
PetBiz G1 Hunting Dogs GPS
Use It Nationwide
The PetBiz GPS tracking device can be used only in the US. This tracker uses the NB-IoT technology. The manufacturer guarantees that this tracker provides you with 20% to 30% more coverage across the country than other trackers.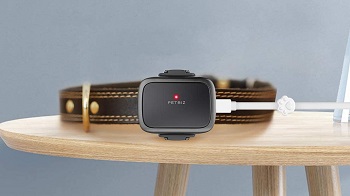 Long-Lasting Battery Performance
Getting a tracking system for hunting dogs that includes a durable battery is of utmost importance. The PetBiz's battery lasts for about one month. The battery will send you the low-battery alert via the app when the power is low.
Activity Tracker
There is an activity tracking feature included as well. This GPS tracker for hunting dogs will track your fur buddy's active minutes, the traveled distance, and burnt calories. It will sent you the feeding recommendations as well. Enter your dog's details in the app.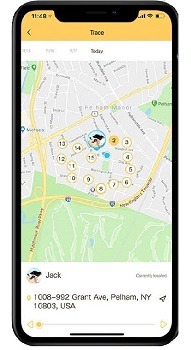 Zone Alert And Fees
This a tracking device that requires a subscription. No SIM card is necessary. The app will make you feel safe and allow you to set the safe zone. If your crosses the set zone, it will send you an instant alert to your app.
In Short:
it requires monthly subscription
no SIM card is needed
use the device only in the US
features a durable battery
alerts you to charge the battery
lets you set the safe zone
BEST WATERPROOF GPS TRACKER FOR HUNTING DOGS
Tractive GPS System For Dogs
Waterproof And Long-Lasting
The Tractive 3G hunting dog tracking system is a waterproof and durable device. Go hunting with your dog even on a rainy day. The device won't stop working even if your dog enters a river or a lake. It is made of good quality.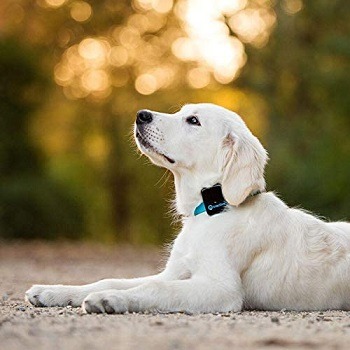 Real-Time Tracking
You don't have to worry that you will lose your dog. The Tractive 3G device provides accurate GPS tracking in real-time. You will know the exact location of your dog no matter where it is. Also, when at home, set the safe zone, and get alerted if it leaves the zone.
Worldwide Tracking
The Tractive GPS tracking device functions everywhere in the world. Even if you leave the US, you will get to track your dog's location when going hunting. However, you should know that the subscription plan is needed. No additional fees will be charges.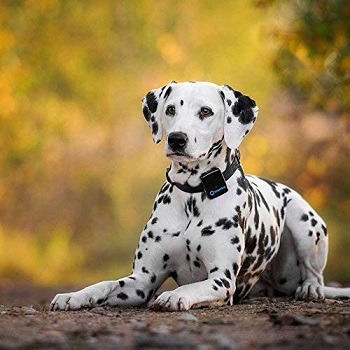 The Rechargeable Battery
One built-in rechargeable battery is included. The charging time is about 2 hours, and the battery life is 2-5 days, which in our opinion is great. You will get a low-battery alert as well. Don't ever leave without having a fully charged battery.
In Short:
this is a water-resistant device
uses a durable and rechargeable battery
the charging time is 2h
the battery life is 2-5 days
it is made of good quality
How To Pick: GPS Tracker For Hunting Dogs
How to know which model is the best dog GPS tracker for hunting? Simply make sure it comes with the features that we have talked about in the following paragraphs. Make sure it is reliable, waterproof, durable, and comes with a good battery. Read on to find out more about each important feature.
How To Attach It– Since not all the GPS trackers come with a dog collar included, keep in mind your dog collar matched the tracker's size. If not, check if the tracker's manufacturer has a matching collar that is separately sold. This is very important because you will want your tracker to stay in one place, right?
The Accurate Location Tracking– Let's agree that the cheapest tracker is not always of the best quality. When it comes to buying the best hunting dog GPS, we always suggest you buy from the most reliable manufacturers. Only a high-quality GPS tracker will provide you with the most accurate dog location.
The Battery Performance – Another reason why it is important to buy such a device from a quality manufacturer. Some of the built-in batteries don't last long. We suppose you wouldn't want your tracker to run out of battery when you need to go look for your dog.
Water And Weather-Resistant– You will definitely need to go out in the woods during cold or rainy days from time to time. Moreover, your dog will likely want to roll in the mud or swim. This is why you need to get a waterproof tracker that withstands all temperatures.
Extra Functions– Some models have the possibility of pairing with your smartphone and you can locate them via the app. Also, another great feature is the LED light that will help you locate your dog in the dark more easily. Don't forget about the multiple-dog tracking feature too.