Have you been looking for the best GPS dog collar no monthly fee?
In this case, read our article. We have prepared the six best dog GPS trackers without monthly fee and divided them into different categories. Check them all out and find every important detail about the best of best, activity, location, cheap, collar, and training model. Our buying here is here to help you choose as well.
The Summary
6 Best GPS Dog Trackers No Subscription
BEST OF BEST GPS DOG COLLAR NO MONTHLY FEE
PetFone GPS Dog Tracker
Free To Use
The PetFon dog tracker is free of any service fee. It includes a GPS tracking feature and allows you to track your dog easily. You can pinpoint your dog's location in real-time. This dog tracker without a monthly fee combines GPS, Bluetooth, and WiFi.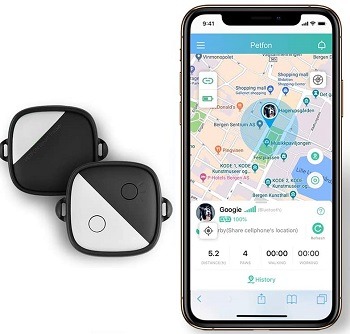 Accurate And Reliable
The PetFon GPS dog collar no monthly fee tracks your dog in real-time. It features a so-called, Rada Searching that will help you find the right direction of your lost dog. The tracker is accurate and tracking ranges are from 0.65 to 3.5. miles.
Geofencing Feature
Download the free app and operate the tracker from your smartphone. Define the safe area and get instant alerts in case your dog leaves it. Also, you can record voice commands on the tracker. Use the app to press play and the tracker will play them.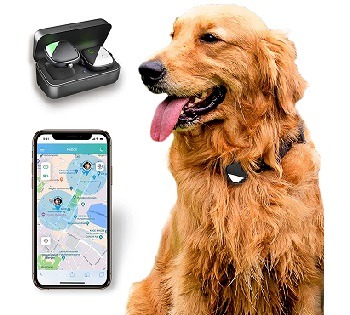 Durable Battery And Design
The PetFon GPS tracker has a long-lasting battery with a long standby. The battery is rechargeable and comes with a charging station. This dog GPS tracker is a small and lightweight device. It is rainproof and durable.
In Short:
download the free app
tracks your dog in real-time
record voice commands
durable battery
long standby time
it is rainproof
BEST ACTIVITY GPS DOG COLLAR NO MONTHLY FEE
Findster Duo+ No Fee Dog Tracker
Locates Your Dog
The Findster tracking device is an ideal dog tracker. It uses the Global Positioning System to help you find your dog more easily. We all know how cats and dogs like to explore and sometimes cannot find their way back. This is when Findster can help.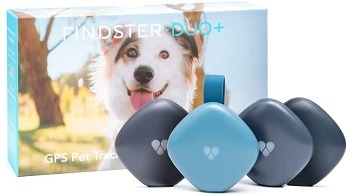 Tracks Your Dog's Activity
This is actually a two in one device. Not only will it track your dog's location, but also activity. You will be able to check out how much your dog has done during the day. Check out your dog's daily physical activity with this dog step tracker, set goals and try to reach them each day.
The Best Features
The reason why this device is called Findster Duo+ is because it comes with two modules (one for you, and one for your dog). Moreover, it includes a virtual leash feature. Use the app and share access to your friends and family. The device also has a night mode included.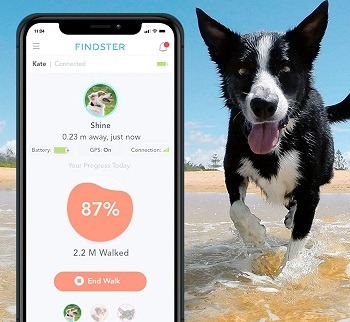 Free To Use
Download the Findster free app to your iOS or Android. Connect the device to your smartphone via Bluetooth. There are no subscriptions to the app, so this Bluetooth dog tracker is one of the best GPS dog tracker no subscription. The device is easy to use and the battery lasts long.
In Short:
GPS dog collar no monthly fee
comes with two modules
includes great features
download the free app to iOS or Android
tracks your dog's activity and location
BEST LOCATION GPS DOG COLLAR NO MONTHLY FEE
Garmin GPS Dog Collar
Use It In The Dark
This is a dog GPS without monthly fee that you can use during the day and night. There is LED light on the collar that allows you to take your dog hunting, hiking, or walking during the night. It will lighten your dog and you will get to see it even in the dark.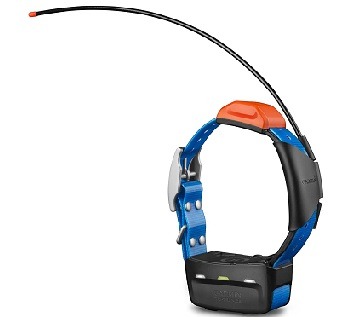 Real-Time Tracking
Use the Garmin T5 on almost all dog sizes. It will track your dog via GPS and locate it easily if it gets lost. The tracker is accurate and reliable. Even if you are going to an unknown territory, you will feel safe and won't lose your dog.
Good Battery
A long-lasting battery is very important. The Garmin dog tracker without monthly fee will last you from 20 to 40 hours. Ensure your device has a fully-charged battery before you go anywhere. This is how you will feel safer about finding your dog more easily.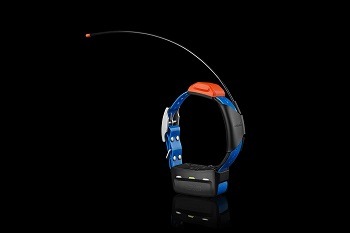 Water-Resistant And Durable
This is a tracking device that can be worn every day and no matter the weather. The device is waterproof and it won't stop working if your dog suddenly enters the ocean or the lake. Even you are out during the rainy weather, your little collar tracker will be here to keep your dog safe.
In Short:
features an LED light
durable and sturdy device
it is waterproof
long-lasting battery
accurate GPS tracker
BEST CHEAP GPS DOG COLLAR NO MONTHLY FEE
LINK AKC No Monthly Fee
Tracks Location And Activity
The Link AKC is another tracker collar that will track your dog's activity status and located it if it gets lost. This is an accurate collar and one of the best GPS dog tracker no subscription. Let your dog stay healthy. Set activity goals and try to reach them every day.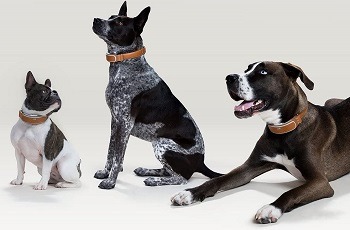 How To Use
Just like with the previous models, you will need to download the free app to your smartphone. The app will help you use all the features. The GPS network will help you locate your dog and you will get to see its location through the app. The app records the visited places.
The Collar Design 
The LINK AKC collar tracker is a durable collar that is made of high-quality Italian leather. It is long-lasting. You can pick the right collar depending on your dog's size. There are all kinds of sizes available, so you can have a GPS dog collar for small dog, medium or large one.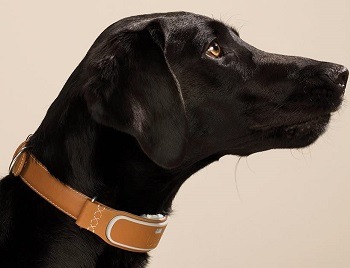 LED Light And More
The collar has a LED light included. You can turn it on remotely and find your dog in the dark more easily. There is a function that measures the temperature of your dog's environment. Also, the collar allows you to store veterinarian's records.
In Short:
activity and location tracker
use the free app
LED light included
measures environment temperature
made of Italian leather
durable and comes in all sizes
BEST COLLAR GPS DOG COLLAR NO MONTHLY FEE
Gibi 2nd Generation Dog Locator
New Technology
The Gibi 2nd generation collar locater is a small and compact collar. It comes with updated electronics and provides more accurate tracking. It will now work in almost all wooded and urban environments and locate your dog via GPS network.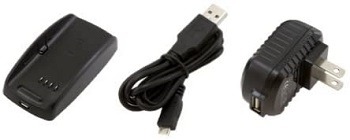 The App
Download the app to your smartphone and set the comfort zone. If your dog leaves the zone you find safe, you will get an alert to the app and check out where your dog is. Also, if the collar's battery is getting low, the app will notify you to recharge it.
About The Gibi Collar
This collar is water-resistant and allows you to take out your dog whenever you want. You can go walking, playing, running on the sunniest or rainiest day. This device will work accurately and you won't have to worry if you lose your dog's sight.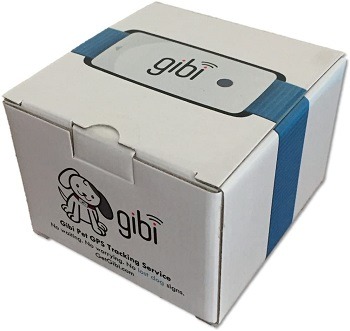 What Is Included
The package includes one dog GPS tracker no monthly fee, one charger kit (USB charger cable, A/C power adapter, and a cradle), and a user manual. The price of the package is medium and there are no subscriptions to use this dog collar tracker.
In Short:
small and compact collar
water-resistant collar
works accurately
no monthly fees
medium price
BEST TRAINING GPS DOG COLLAR NO MONTHLY FEE
Dogtra No Subscription Collar
The GPS Locating
Use this GPS hunting collar to locate your dog via GPS and Google Maps. Never again feel worried about losing your dog. The device is accurate and located your fur buddy in real-time. Use the app on your phone to help you locate your dog or more dogs.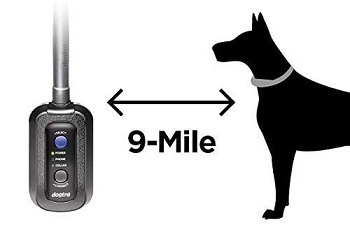 The Dogtra Design
The Dogtra collar is designed to be simple to use. It includes two buttons for operating the device. It is ideal for medium to large-sized dogs. The ideal size of the dog is 36 lbs and up. Use more Dogtra collars and keep track of multiple dogs at the same time.
Train Your Dog
The Dogtra collar is a 2 in 1 collar that tracks your dog's location and helps you teach your dog to behave well. If you have an active or mischievous dog, use the Dogtra collar to teach it good manners. Stop your dog's unwanted behavior.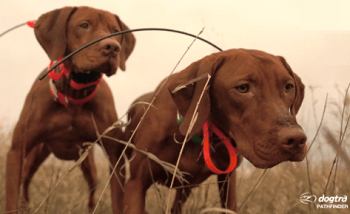 More General Details
The Dogtra GPS dog collar no monthly fee has a 9-mile range. It uses a correction and audible tone to train your dog. It has one hundred correction levels. It sends the correction through the receiver and help you track your dog during hiking, hunting, or more.
In Short:
tracks your dog via GPS and Google maps
teaches your dog to behave properly
has 100 correction levels
ideal for larger dogs
helps you feel safe about your dog's location
How To Pick: GPS Dog Collar No Monthly Fee
It is not an easy job to find the best dog GPS tracker without a monthly fee. Most of the dogs collars require subscription. Thankfully, the listed models of this article have an app that you can pair with your collar for free. Before buying, check out our guide and read the features we suggest you look for in a GPS dog collar.
Quality And Size – Some of you have puppies or small dogs, while the rest of you have medium-sized to large dogs. The first thing to consider is the collar's size. Also, it goes without saying that it should be made of high-quality and preferably waterproof material.
Real-Time GPS Tracking– Read all the important details about the device you are looking to get. It should come from a reliable manufacturer. It should be 100% accurate and guarantee that you will find your best fur companion if it gets lost.
The Battery Quality – Some models come with a rechargeable or replaceable battery. Don't buy a device whose battery is not of good quality or it doesn't last long. Think, what if you need to locate your dog, and the collar has ran out of battery? Make sure the app alerts you about the low battery status.
The Free App – Most of the dog GPS without a monthly fee have a free app that you download to your smartphone and pair with the collar. It allows you to use customize the safe area and get altered if your dog leaves it. Also, it should notify you to recharge/replace the battery when needed.
Where To Get? – Check the availability of the above-listed GPS dog trackers without a monthly fee online. Buy from a reliable online retailer. Make sure you read the customer reviews and check if there are special discounts or free shipping available.
To Sum Up
In our opinion, the best GPS dog collar no monthly fee is the LINK AKC No Monthly Fee. We liked this collar because of its good quality and accuracy. When buying a dog location tracker always make sure it comes from a reliable manufacturer. If you liked this model as well, read our article about the dog activity trackers and check out more interesting collars.