Are you a small dog owner and you want to get it a small dog GPS tracker?
Then great! We have prepared six reviews about the best GPS trackers for small dogs. In the following paragraphs, you will find out all you need to know about the best of best, collar, waterproof, or more models. Don't forget to read our buying guide as well. It will help you bring the right decision.
The Summary
6 Best GPS Trackers For Small Dogs
BEST OF BEST SMALL DOG GPS TRACKER
Link AKC Tracker Collar
Subscribe To Use
Using the Link AKC GPS collar for small dogs allows you to download the app to your smartphone for free. However, you will need to make a service plan. Check out more about the subscription and the features that you can use with this GPS tracking collar.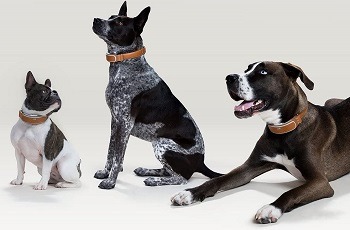 Size And Weight
There are many sizes of this collar. The one we are presenting to you in this review is for the small dogs. However, if you have more dogs, you can use two or more collars at the same size. The collar is made of Italian leather and it is lightweight and long-lasting.
Nationwide Tracking
The Link AKC small dog tracker can be used only in the USA. It allows you to check on the exact location of your dog. Don't worry if your dog gets out of your sight. You will be able to locate it in no time. Use the app and find it quickly and easily.
Special Features
This collar will record the walks or hikes you find special. Moreover, it comes with LED light and allows you to see your dog even in the dark. There is a temperature alert that lets you know if your dog is in a too hot or cold environment, and many more.
In Short:
download the free app to your smartphone
subscribe and make a service plan
use the collar only in the US
easily locate your dog
record your special walks and hikes
BEST COLLAR SMALL DOG GPS TRACKER
Jiobit Small Dog Tracker
Requires Subscription
The Jiobit tracker is here to find your dog if it gets lost. It comes with a specially-designed app that you can download for free on your iPhone or Android. You will need to subscribe to use all the features. It is an accurate small dog GPS tracker.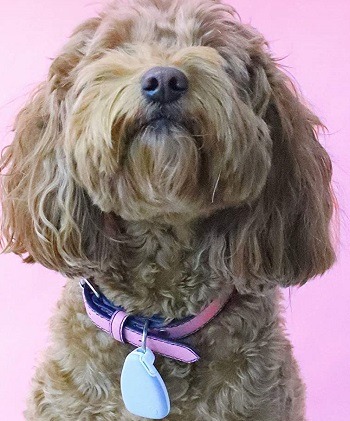 Safe And Helpful
The app will store all the important details about your small dog's present and past locations. Don't worry, the Jiobit comes with a TrustChip. This means that it safely stores your data and protects you from hackers.
Durable And Small
This tracking device is very small and lightweight. You can easily install it on your dog's collar. It is ideal for puppies or smaller-sized dogs. However, it can also be used on your larger-sized dogs. It measures only 4.17 x 3.58 x 1.77 inches and weighs 5.78 ounces.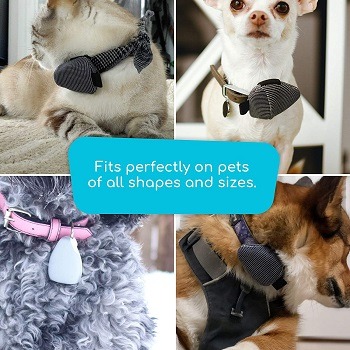 Accurate Real-Time Tracking
This device can be used indoors and outdoors. It is reliable and provides you with a real-time location. It tracks at any distance. You will easily and quickly learn your dog's location. The device meets all the government standards and it is here to help.
In Short:
subscribe to use all the features
download the free app
perfect for small-sized dogs
it is very easy to use
shows you the accurate location
Best BEST NO MONTLY FEE SMALL DOG GPS TRACKER
Petfon GPS Dog Tracker
Safe And Free To Use
Use the PetFon small dog GPS. Attach it to your dog's collar and start locating it. It is completely free to use. There are no additional charges. Feel safe about your dog and set the Geo-Fence safety zone. Get alerts to your app if your dog gets out of the zone.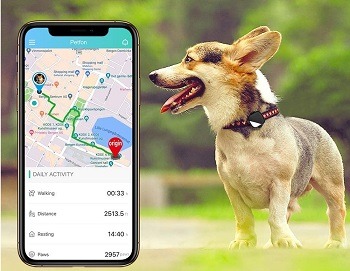 The Battery Life
Once fully charged, the battery will run the device for 8 to 16 hours if used constantly. When on standby, the battery lasts even longer. The package includes the charger. The app that you need to download to your smartphone will notify you about the battery level.
Activity And Location Tracker
This is not just a regular GPS dog collar no monthly fee for small dogs. It is a 2 in 1 device that will track your dog's activity status too. Know how much your dog has traveled, walked, and ran. Get information about your small dog's favorite routes and locations.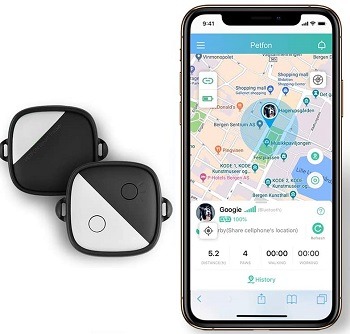 Small And Lightweight Device
This device measures only 1.67 x 1.67 x 0.7 inches and it weighs 1.1 pounds. It is ideal for smaller-sized dogs. It is simple to use and comes with a user manual. Read it before starting using it for the first time.
In Short:
ready to use out of the package
comes with a user manual
it is very lightweight
perfect small dog GPS tracker
this is a 2 in 1 device
activity and location tracker
BEST WATERPROOF SMALL DOG GPS TRACKER
Bartun Dog GPS
Smart GPS For Small Dogs
The Bartun dog tracker for small dogs is here to help you find your little dog easily. This is a quick and reliable device. The device requires a SIM card (it is included). It tracks your dog via the Global Positioning System. This is a durable and small tracking device.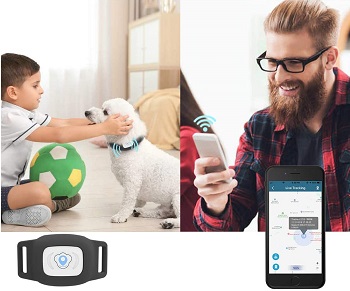 Makes You Feel Safe
Download the Bartun smart app to your Android or iPhone. Set the safe zone and get an immediate alert to your app if your dog leaves it. Use the app for other features as well – to locate your dog and to get the battery-level alerts.
It Is Waterproof
You can go for a walk with your dog even if it rains. Moreover, your dog will get to play in the lake, river, or ocean if it wants. The Barun small tracking device for dogs is waterproof and resists all temperatures. It is durable and long-lasting.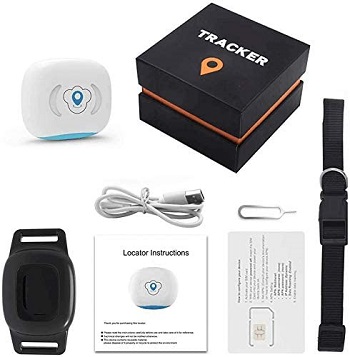 Use It Anywhere In The World
Unlike many other GPS locators, the Bartun can be used worldwide. So even if you leave the US, you can take this device with you and stay safe no matter where you are. If you lose the sight of your dog, open the app and locate it instantly.
In Short:
a smart GPS for small dogs
it will make you feel safe
use the app on your smartphne
the locator is waterproof
it is weather-resistant as well
BEST CHEAP SMALL DOG GPS TRACKER
Spy See Tracker GPS
Uses GPS To Locate
This is a small GPS locator for dogs and cats of all sizes. It can easily be attached to your dog's collar. In case you lose your dog out of the sight, use the app and locate your dog. You can track up to 8 dogs at the same time. It is ideal for small dogs.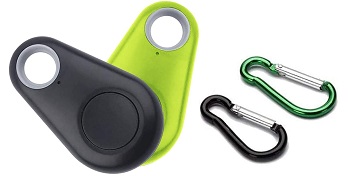 Get Alerted
Download the app to your iOS or Android and get alerted if the device notices your dog is too far away from you. It has the anti-alarm feature that will protect your dog from getting lost. The app is free and it is easy to use.
Long-Lasting Battery
It is important that your small dog GPS tracker comes with a durable battery. The Spy See locator comes with one CR2032 battery. The battery lasts a long time. You will get to use the device for 6 months of use. Replace it when necessary.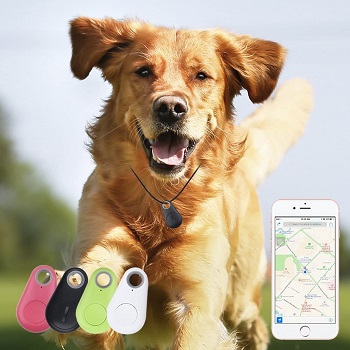 Budget-Friendly
The Spy See tracker for small dogs comes at an affordable price. It is small and of good quality. The device will last you a long time and its cheap price is only a plus. The general customer satisfaction is very high. Check it out online to find out more.
In Short:
locates your dog via GPS
download the free app to your phone
supported by iPhone and Android
comes with a built-in battery
the battery lasts long
BEST PUPPY SMALL DOG GPS TRACKER
Cambilno Small GPS For Dogs
The New Technology
The Cambilno GPS tracking device for small dogs uses the BT 4.0 technology. It pairs with your smartphone (iOS or Android), iPad, or other smartphones. It is accurate and small enough that even a puppy can wear it. It is almost unnoticeable.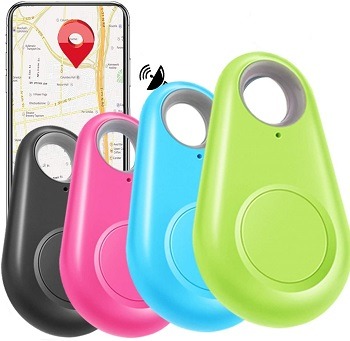 Operate It Remotely
Download the free app to your smartphone and use it to pair the devices. You can easily locate your puppy if it gets lost. Use the virtual remote through the app. The receiver sounds beeps and you will be able to locate your puppy within 75 feet.
Lightweight And Mini
This Cambilno is one of the best GPS trackers for small dogs and puppies. It is very small and lightweight. Your puppy won't even know it is wearing it. This is a 4 pack. The devices come in more colors black, green, blue, pink, and white.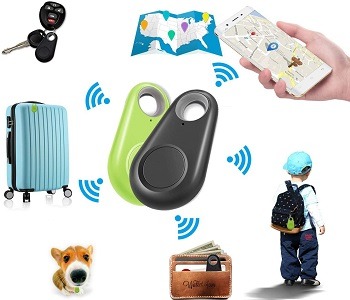 Multiple Purposes
Apart from using this device for tracking your puppy or a small dog, you can easily attach it to your personal belongings (phone, key, etc). Also, you can use this device as a remote shutter for selfies. It is a great multi-function GPS device.
In Short:
uses the new BT 4.0 technology
pairs with your smartphone
download the app for free
this is a 4-devices pack
it is a multi-function device
How To Pick: Small Dog GPS Tracker
Dogs are curious explorers. They notice attractive smells or an interesting animal and decide to follow. This is how they get lost and sometimes it is difficult for them to find their way back home. Getting a GPS tracker may help. Before buying your small dog tracker or puppy tracker, make sure it is of good quality and its battery lasts long. Read our suggestions on other features that you need to look for.
Tracker's Dimensions – If you own a small dog, it is necessary that its GPS tracker is not very heavy or too big. Also, have in mind that some of the trackers don't already include the collar so they need to be attached to it. Get a small and lightweight GPS tracker.
Are The Cheap Devices That Bad? – Many times we think that the expensive products must be of great quality. But it is not always that way. Some devices are pretty affordable but accurate and long-lasting. The important thing is that you buy from a known and reliable manufacturer.
Should It Be Water-Resistant?– We suggest that your new GPS tracker is waterproof. You will surely go walking with your dog on a rainy day. Also, your small dog will probably want to enter the ocean, lake, river, or simply roll in the mud. Better get a device that will resist all of its fun activities.
The Battery – The better the battery, the higher the overall device's quality. Of course, your tracker needs to be accurate, but if it comes with a battery that you have to recharge all the time and worry if you will be able to find your dog until it runs low, what is the point?
The Range – If you want your dog walk and run freely around your house or in nature, consider getting a GPS tracker with a long range. On the other hand, if your dog is with you all of the time, you might not need a long-ranged GPS tracker, but a shorter one. Choose accordingly.