Is your dog the prettiest one in the world to you so you're looking to get a pretty dog crate to match it.
Don't settle just for pretty when you can settle for the best if you continue reading this article. We've even categorized so you can find wooden dog crates, metal ones and so much more and trust us, we made it diverse so you are sure to find something.
The Summary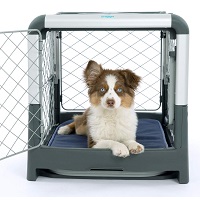 Best Of Best:
Diggs Revol Dog Crate
The crate is as sturdy as it is pretty since it's made with reinforced plastic and aluminum steel wire and it's quite heavy for a plastic crate.
Jump To Review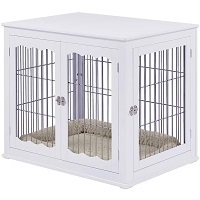 Best Wooden:
Unipaws Pet Crate End Table
The crate has 3 doors that will make positioning easier and more versatile and they lock securely with 3 different types of locks.
Jump To Review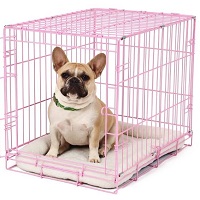 Best Small:
Carlson Pink Dog Crate
This cute pink crate is made out of wire and is certified to JPMA standards which mean that it's safe to be used by owners who have puppies.
Jump To Review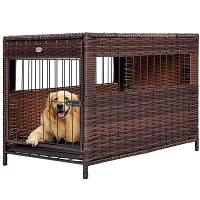 Best Large:
DEStar PE Rattan Wicker Dog Cage
The woven PE rattan wicker makes it look like outdoor furniture and you can use it outdoor especially because of it water proof polyester cover.
Jump To Review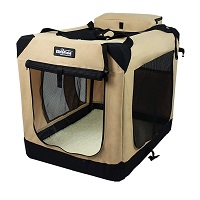 Best Soft:
EliteField Soft Dog Crate
You don't have to settle for only one color to make it look pretty and fit you because you can choose to get it in 16 different colors and color varieties.
Jump To Review
Best 5 Pretty Dog Crates
Best Of Best: Diggs Revol Dog Crate
Adjusting Its Size With A Divider
If you want you can choose to use it as a puppy crate for cars because of the divider it comes with that will adjust to your growing puppy. You do need to make sure that you've already crate trained the dog though or that it's going to be a short ride if not.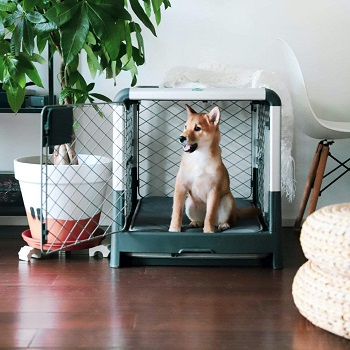 Pretty But Strong
This pretty dog crate is made with reinforced plastic and with aluminum steel wire that the manufacturer used to make the sides of the crate to give you, the owner, and your dog the visibility of a wire dog crate and proper airflow just for your dog. The crate is colored gray and has none of those boring old black color features.
Importance Of Safety
The crate is designed for puppies since it keeps up with the baby industry standards. Your dog won't pinch his paws or hurt himself in any other way while inside. the bottom of the crate hols a slide-out plastic pan that you can take out for cleaning when there's a need for it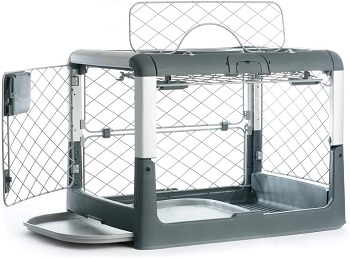 Portability And Size
It's highly portable because of the wheels that are built into it, the top handle that you can use to carry it, and the collapsible construction. Before buying it make sure that the dog's adult dimensions are a bit smaller than the crate but overall you can fit inside medium dogs.
In Short:
Has a divider for puppies
Made for medium dogs
Built out of reinforced plastic and aluminum wire
Completely safe for puppies and dogs to be inside
Has a gray color
Best Wooden: Unipaws Pet Crate End Table
Parts That Are Chew-Proof
The wood that' used to make the crate's frame, bottom, and the top isn't chew-proof but you'll be pleased to know that the sides of it are steel wire and if you have a chewing dog, the wire can easily take it. It is colored in white so it will blend in well inside your home.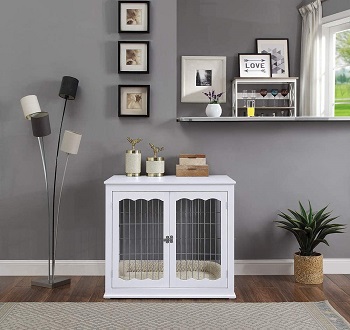 More Than One Function
Apart from being a pretty dog crate, the crate is also triple dog crate furniture which means that it has three doors and can be used as a piece of furniture if you'd like. The triple door design will make positioning easier and the furniture feature will save you space and make it look even nicer.
3 Doors With 3 Locks Each
The front door and the double door of the crate will ensure you that your dog won't be able to escape his crate since they all lock with three different types of locks. When you're assembling the crate you can choose to place the panels in different positions.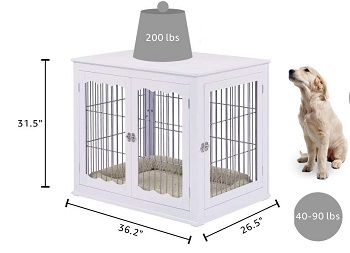 2 Weight Limits
The bed that the crate comes with is waterproof and can easily be washed when needed. The crate is quite large and can hold the weight of a large dog weighing up to 90 lbs. The top also has an impressive weight limit of 200 lbs for you to place you brown stuff on top of it.
In Short:
Made out of wood and wire
the wire sides of the crate are chew-proof
The top makes it an end-table
Max weight limit for the bottom is 90 lbs
The max weight limit fo the top is 200 lbs
Comes with a waterproof bed
Has a three-door design and 3 locks for each
Best Small: Carlson Pink Dog Crate
Color Design
The pretty dog crate is made out of steel wire that is colored pink which is a breath of fresh air when you're used to small wire dog crates being black. It does make the crate look a bit roomier and not so boxed in like black ones.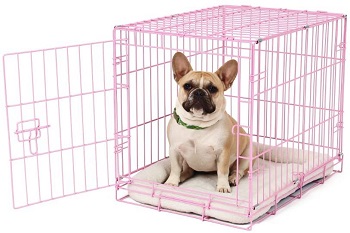 Puppy Safety Certainty
The crate is made so that it is certified to JPMA standards which are juvenile products manufacturers association and to ASTM standards. This means that if you buy this crate for a puppy, he will be safe while he's inside.
One Way In And Out
There's only one door to access the crate but you can lock it securely with the slide bolt lock that locks from multiple points so you can be sure that your dog won't successfully unlock the crate and escape. The crate can house small dog breeds.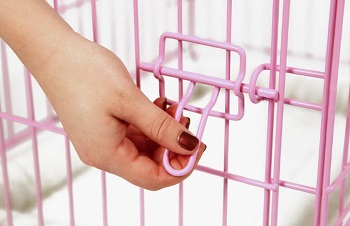 Plastic Bottom Pan Purpose
Even though this pretty dog cage only has one access point that doesn't mean that it will be hard to clean. The crate features a pink plastic pan on the bottom that will collect dog dirt and excrements until you are ready to take out and clean the pan.
In Short:
Made out of steel wire that's colored pink
The pink pan on the bottom is used for cleaning
Made for small dogs
Safe for puppies
Has one access door
The door locks from multiple points
Best Large: DEStar PE Rattan Wicker Dog Cage
Metal And PE Rattan Wicker Build
This pretty dog crate is made to resemble outdoor furniture and this is part of the reason why it's an outdoor dog crate. Another reason is that the metal frame has PE rattan wicker woven around it. This is the typical material used in making outdoor furniture.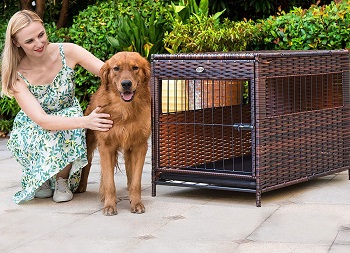 Access To The Crate And Cleaning It
There's a single access door located in the front and it locks with a sliding bolt lock. It is elevated because it stands on feet and the bottom also features a plastic bottom pan that you can pullout to clean the crate as a whole.
All-Around Good Airflow
The access door and windows with steel tubes are not the only thing that provides good airflow to the inside of the crate. The entirety of the crate is well ventilated because the woven rattan wicker allow for air to go through it as well. The material can also handle chewing and it is environmentally friendly.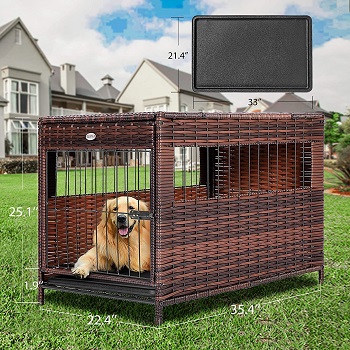 Outdoor Polyester Cover
To really ensure you that you can use it outdoor as well the crate comes with a polyester cover that's waterproof. Assembly will also be easy because all parts are included and all you need to do is screw them together. The crate is made to house dogs under 66 lbs which are typically medium dog breeds.
In Short:
Has a metal frame
The PE rattan wicker is woven onto the frame
The whole crate give good enough airflow
HAs one access door
Can be used outside
Comes with a waterproof polyester cover
Can be used by medium dogs up to 66 lbs
Has a pullout tray on the bottom for cleaning
Best Soft: EliteField Soft Dog Crate
Color Options
Although the beige color might not exactly make it a pretty dog crate the fact that you can choose from 15 other color and color pattern varieties just might. This makes it a versatile large soft-sided dog crate at least when it comes to fashion and design terms.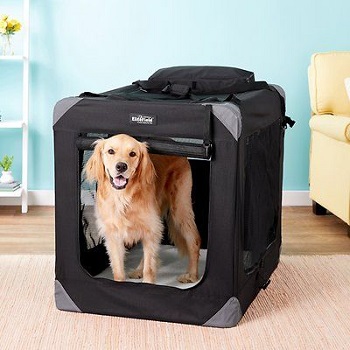 Crate Build
The crate is made out of a steel frame that also gives it a foldable ability and for the cover, it used the 600D oxford fabric. Although the crate is durable we must add that soft crates in general lack the durability to handle chewing and uncalm dogs.
Crate Extras
You will get a fleece bed with the crate and a carrying bag. The crate can be carried in more than one way. You ca either carry it with the provided handles on the crate or with the padded shoulder straps that you are gonna find on the crate's carry bag when you fold it down and pack it up.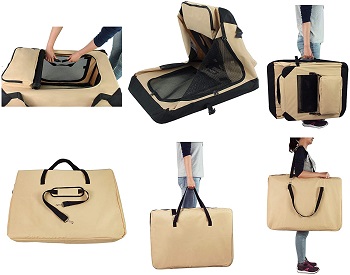 Access, Size And Accessories
You will get three doors for access to the crate and even 2 accessory pocket ith one of them being removable. The crate is made to be a bit wider and taller than other crates of this type so it will be easier to get the correct size. This crate can usually house large dogs.
In Short:
The frame is made out of foldable steel tubes
The cover is made out of oxford fabric
Can house large dogs
Comes with a carry bag and fleece bed
Has 2 accessory pockets
Has three doors for access
How To Pick A Pretty Dog Crate
No matter the beautiful design, there is no excuse to make a pretty moodels bad and to make it blind you and not see that it should first be a dog crate and after that pretty so to determine whether or not a dog crate is not only pretty but highly functional you wanna make check the quality of different materials, how durable they are, what they are for, how big they are and that's just the start.
The Toughness – You can find tough dog crates while still making them look pretty you're just gonna have to try a bit harder to find one since usually, tough dog crates are made heavy-duty which is not a sight for sore eyes. If you want a pretty but durable crate make sure that it has some wire or metal parts and it should be accentuated that the crate is chew-proof. If it's not you will have to try and find another one.
How They Blend Into Your Household – Usually, the crates that will most definitely blend well into your household are furniture style crates like white dog crate furniture. You can, of course, find them in a variety of different colors, shapes, and sizes and they will save you a lot of space because of the en-table design.
Sizing Matters  – Crate sizing will always matter because you don't want to get a crate that's too small or too big because this automatically defeats the purpose of a crate altogether. The way you'd want to size the crate is to check its length and height and see if it's about 3-4 inches above your dog's height and length.
Training Your Dog For Crate Living – Since pretty dog crates are not that tough like heavy-duty dog crates like heavy-duty metal dog crates are, if you want the crate to last a long time you want to make sure that you crate train your dog. The best pretty dog cages for crate training can be wire crates.
To Sum Up
The most pretty dog crate that we'd recommend that also durable enough and has 3 locks for each of the 3 doors while also being able to function as an end-table to save you space is the Unipaws Pet Crate End Table. If you decided that you want a wire dog crate but want to make it look a bit refreshing you can read the article about white wire dog crates and if you like our recommendation for the best one in this category and want to explore more similar options then definitely head to the article about white wooden dog crates.