Are you a fan of rustic dog crates so you're looking to get one but can't seem to find one?
We've found them for you and made your job a lot easier so do continue reading this article if you want to be guaranteed to find one for yourself. In the article, you'll find wooden and metal ones and that's just the beginning so make sure you read our reviews for the guarantee of purchase.
The Summary
Best 6 Rustic Dog Crates
BEST OF BEST RUSTIC DOG CRATE
Casual Home Wooden Pet Crate
Wood Type Capabilities
The crate is entirely made out of solid wood. The exception is only the door lock. This crate is the closest you'll get to a wooden dog training cage. The reason why is that the solid wood can handle chewing while most other wooden crates use some kind of wood polymer for their construction and won't handle it well.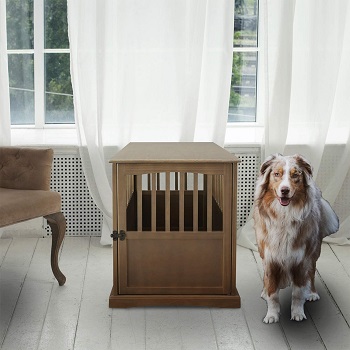 Good Enough Airflow
The flat wooden rods on the sides of the crate will give your dog enough visibility and airflow that he needs to live comfortably in this rustic dog crate. He'll also be able to see you quite clearly from the inside and observe his surroundings which is also a thing you should look for especially if you have a dog that suffers from separation anxiety.
Home Positioning Ability
There's a single door to access the crate that locks with a hasp latch lock so you'll have limited positioning options but this problem is solved because the crate can also function as a piece of furniture because of the top that will allow you to place your belonging on it with the maximum weight capacity of 120 lbs.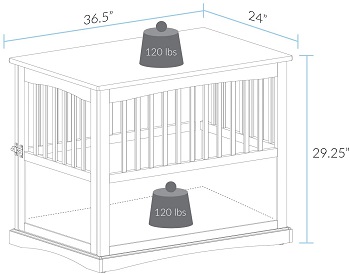 Bottom Weight Limit
Although the inside can endure the weight of a 120 lbs dog you can't really them inside because of how small the crate is. The crate can house larger dog breeds though. You can use it for dogs like German boxers and rottweillers.
In Short:
Built out of solid wood
Can house large dog breed up to 26-in of height
Can serve you as a piece of furniture
Will survive chewing
Has single door access
BEST INDOOR RUSTIC DOG CRATE FURNITURE
BarkWood Large Pet Crate
Indoor Placement Benefits
You will benefit the most from this crate by choosing to use it inside your home. There are two reasons for it. One is the fact the bottom of the crate features rubber feet so that Your floors go undamaged and there's also the fact that you can use this crate as a piece of furniture as well because of its top and overall looks.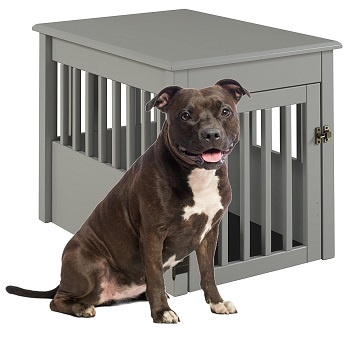 Color And Build Material
The manufacturer chose solid wood as its build material and it'll be the best one for you because solid wood can typically endure chewing without getting damaged. It has a light grey color so if you want it to blend in with your home decor it will do so with ease since grey is a particularly neutral color.
Space-Saving Design
The rustic dog crate will save you space in more than one way. The first one is the already mentioned furniture function and the second one is the single access door that you can open completely and wrap it around the side of the crate so that it doesn't get in your way when you choose to leave the crate fully opened.
Urine Problem Solution
If you wanted even more durability from this crate, you can get it since the panels of the crate are connected with mortise and tenon joints that are considered to be the strongest ones in the wood industry. The inside of the crate is coated with a rubberized one so that the absorption of liquids is minimized. If you have a puppy that's just getting crate trained, You can use a puppy crate pad to maximize the efficiency of the crate's inside.
In Short:
Made out of solid wood
Has a door that can be opened fully and connected to the side
HAS minimized inside liquid absorption
Can be used as an end table
Rubber feet on the bottom prevent damage to floors
BEST FOR SMALL DOGS RUSTIC WOOD DOG CRATE
SIMPLY + Wood & Wire Dog Crate
Open Top Option
You can choose to use this rustic dog crate as a dog crate playpen as well since you can easily remove the top of the crate. This will also be useful for you to access your dog without him wiggling out the access door and trying to escape.
Wire And Wood Parts
The majority of the crate is made out of steel wire so it is a small wire dog crate but the bottom and top frames are constructed out of solid wood which gives it that rustic wood dog crate feels. You will get a top cover that's made out of breathable fabric and is mildew proof and it's really easy to clean.
Elevated Design
The crate has legs that it stands on so it is a bit elevated. On the bottom, you'll also find an ABS pull out tray that will make cleaning the crate a lot easier and the dog bone-shaped stopper will prevent the tray from sliding out by accident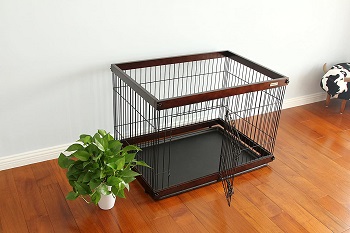 Extra Small Dog Crate
The single door located on the side of the crate will lock with 2 simple slide bolt locks. You don't have to worry about your dog unlocking it since it's a crate made for dogs weighing under 10 lbs like Yorkies, toy poodles, and papillons. You'll be pleased to know that the crews for the crate are shaped like dog paws so that the crate can match the cuteness of your dog.
In Short:
Built out of wood and wire
The top can be covered with a fabric cover
Stands on legs
Has a cleaning tray on the bottom
Features a bone-shaped tray stopper
The crews are shaped like dog paws
Made for dogs under 10 lbs
BEST METAL RUSTIC DOG CRATE
LUCKUP Heavy Duty Dog Crate
Materials And Their Benefits
The whole crate is made out of corrosion-resistant metal and it is coated with a finish that's no-toxic. This is really important for these heavy-duty large dog crates since they are typically made for the most aggressive of dogs that tend to chew through any weaker crates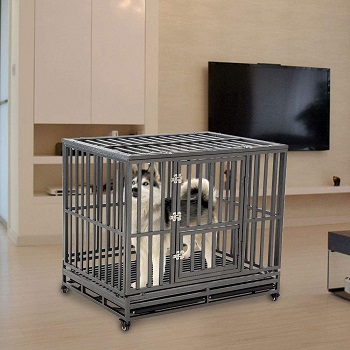 2 Access Doors, 1 Feeding Door
These crates typically feature only one access door but this one will allow you to access your dog from the top as well. Both doors can be locked with hasp latch locks that have safety buckles as well. There's also a small door that is connected to the large front door that you might want to use for feeding purposes.
Highly Accessible For Cleaning
The crate will be very easy to clean not only because of the top access dor but also because there's a plastic tray below the bottom where any dirt or dog excrements will fall onto. This means that you don't have to access the crate itself to clean it.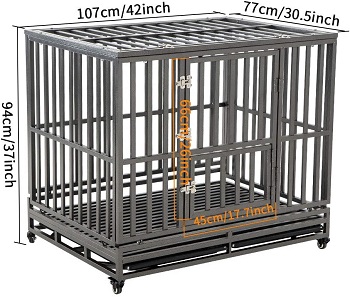 Movability Of The Crate
This 42-in rustic dog crate will easily house large dog breeds. You will have little to no problem moving the crate around since even though it's heavy and weighs 81 lbs, you can choose to attach caster wheels on the bottom that you can also lock for the crate to stay in its desired position.
In Short:
Made with corrosion-resistant steel tubes
Can house large dogs breeds
Has a top and front access door and also a small feeding door
Stand on lockable caster wheels
Cleaning the crate is easy because of the tray below the bottom
BEST EXTRA LARGE RUSTIC DOG CRATE END TABLE
Polar Bear's Pet Shop Wooden Crate
Large Calm Dog Crate
If you have a large dog you don't have to worry about not being able to find XL dog crate furniture because this rustic dog crate end table is exactly that. All you need to do to make this crate last you a long time is that your dog is a calm dog type since the crate is made out of MDF wood and won't handle chewing.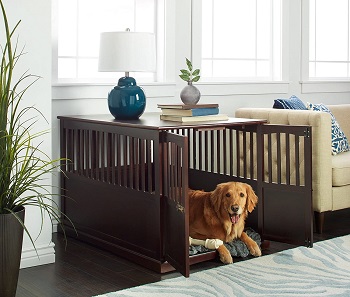 Well Ventilated
The MDF wooden slats will provide the crate with enough and proper airflow that's highly sought after. Not only that but it will allow your dog to see clearly outside of the crate which might make him calmer if you have an anxiety-ridden dog.
Double Door Acces
Your dog will be able to access his crate through the large double door located in the front. The doors can be locked using a simple sliding bolt lock. Through the door, you'll also be able to access the crate to clean it with a damp cloth when you need to.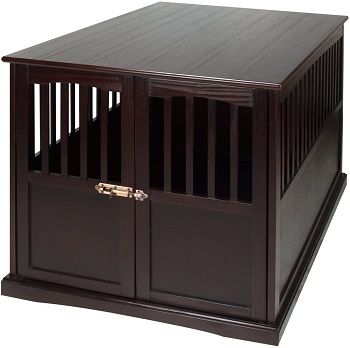 End-Table Feature
If the beautiful espresso brown color isn't already enough proof that the crate blends in really well then you'll definitely be pleased to know that the top of the crate will allow you to put your personal belongings on top of it just like with a  piece of furniture.
In Short:
Made with MDF wood
Made for large and calm dogs
Has a double door entrance
The door locks with a sliding bolt lock
Can be used as an end table
BEST FURNITURE STYLE RUSTIC DOG CRATE
PawHut Natural Diagonal Dog Cage
Slanted Design
The reason why this rustic dog crate stands out from the rest is its unique design. Unlike your typical small dog crate furniture that has vertical bars on the sides to provide ventilation, the crate uses slanted wooden bars to give it a unique and refreshing look.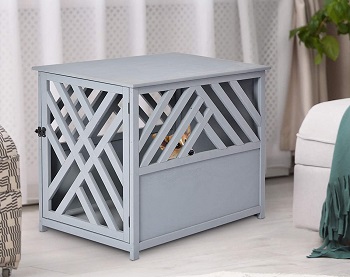 Crate Materials
The crate is made with natural fir wood and all the materials are environmentally friendly. Although the fir wood makes it durable and stable, the crate won't handle well a dog that is not crate trained so make sure that you got that solved before deciding to buy it
Large Front Door Access
The slanted wooden rods form the shape of an X and you'll find them located on all sides of the crate except for the back. The front door is a large one and locks with a hasp latch lock. Since the door is large it will allow you to access the crate easily so that you can clean it.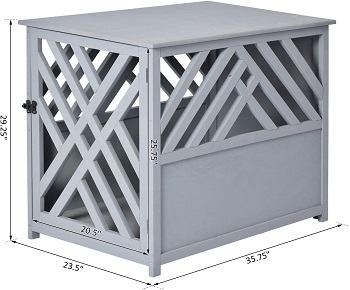 Fits Small And Medium Dogs
The crate has a wider design. It's 23.5-in long and 29.25-in long and it's 35-in wide. This will give your small or medium-sized dog more space to move around. You can use the top as a table and place your stuff on top of it with ease.
In Short:
Has slanted wood rods
Has a large door access
Available for use by small and medium dogs
Made with natural fir wood
It isn't the proof
The top can be used as a table
How To Pick A Rustic Dog Crate
You don't want your rustic dog crate to just look pretty. You also want to make sure it's functional and durable. These differences are highly noticeable but you need to know what to look out for. You have to think about the crate's size, materials, and other additional features that the crate offers you for you to really know which one to pick.
Correct Sizing – No matter if it's wooden furniture or a metal one, a medium wire dog crate, or a large one, what's important is to know how to measure your dog to choose the correct size of the crate. To do this you'll have to measure your dog's length and height and compare it to the crate. If the crate is a bit large than the dog you've found yourself a perfect size of the crate.
Can They House Puppies – Not all crates are made to house puppies and these are no exception. If you're after one that is the best crate for puppy training, you might want to look into the crate's build materials. If the crate is made out of solid wood or metal it will survive a chewing puppy. The only thing you want to worry about next is how well the crate will handle liquids getting onto it. Wooden crates will rarely be made to not absorb the liquid so getting a metal one with a tray for cleaning might be a better option.
Aggressive Dogs Solution – If you're after looks but have an aggressive dog, wooden dog crates are definitely out of the question so the best thing to do in this situation is to get a metal version of a rustic dog crate that will endure their aggressive behavior and won't hurt them.
How They Blend Into your Home – Of course a dog crate in rustic style will blend well into your home but why settle for just that when you can make them blend even better. All you need to make sure of is that the crate has an additional purpose to serve as an end table, coffee table, or a piece of furniture which is what a lof these crates can offer you.
To Sum Up
Without hesitation, the rustic dog crate that we'd recommend you get is definitely the BarkWood Large Pet Crate. It's designed to function as an end table, can endure chewing because of its solid wood construction and if any accident happens inside the crate, the absorption will be minimal. If industrial is more your style don't worry we have an article for you to read about industrial dog crates and if you found yourself wishing for a crate in the color of pink the article about small pink dog crates will thrill you.