Are you the person that travels a lot and practically lives inside a motorhome so you're looking to find an RV dog crate for your furry friend?
We know what's important when you're choosing the right one so we focused on that and did our research to bring you this article where we reviewed only the best. We've even categorized them into the wooden category, best overall, and that's just to warm you up.
The Summary
Best 5 RV Dog Crates
BEST OF BEST RV DOG CRATE
Casual Home Wooden Crate
Wood Type
The entire crate except for the lock for the door is made out of solid wood. What this means is that the crate is extremely durable and will handle a chewing dog if you have one, unlike those wooden polymer crates that can't.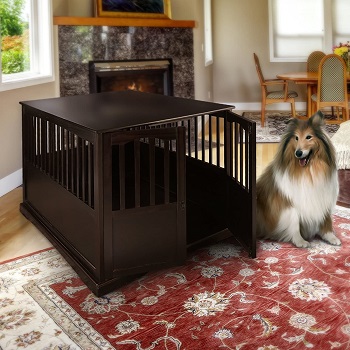 Size And Color Options
The crate comes colored in espresso but if you're not particularly fond of this color or if it just doesn't fit your RV interior you can choose to get it in 4 different colors and they are black, gray, walnut, and even white. The same applies to different crate sizes.
One Entry Point Double Door
This RV dog crate has only one entry point but it does have a double door. The door can be locked with a single hasp latch lock. The crate will promote good airflow using all the sides of this XL wooden dog crate that have wooden bars surrounding them.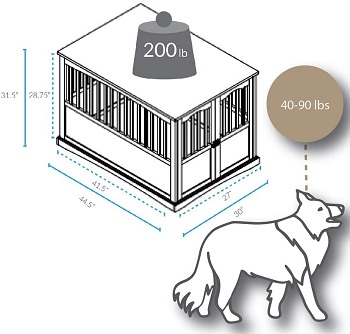 Saves Space
The main reason why this crate is in this category is that it will save you a lot of space because the top can be used as a piece of furniture like an end-table for example. The maximum weight the top can handle is 200 lbs. It can house large dogs weighing between 40 up to 90 lbs.
In Short:
Made out of solid wood
The crate can handle chewing
Made for large dogs up to 90 lbs
Functions as a piece of furniture as well
Max weight the top can handle is 200 lbs
It's espresso colored.
Has a double door in the front for access
BEST FURNITURE STYLE RV DOG CRATE
New Age Pet ecoFLEX Pet Crate
Composite EcoFlex Build
The material used to make this crate is a composite material which means that more than one material is used to make a different material that is stronger and better than the two separate materials. The combined materials here are plastic and wood polymers and the material is called Ecoflex.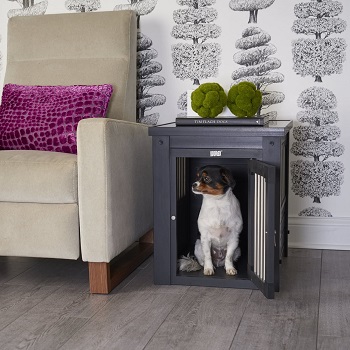 Durability And Wood Color
The crate won't crack or split, that much is true but it won't handle a dog that tends to chew on his crate so if you're buying it make sure your dog is crate trained and rather calm. The crate comes in 4 colors, the one we chose to review is a white wooden dog crate.
Stainless Steel Parts
The lock on the single door for access is made out of stainless steel. This RV dog crate also has stainless steel tubes located on all sides of the crate except for the back that will prove to be useful since they will ensure that the crate has a constant and proper airflow.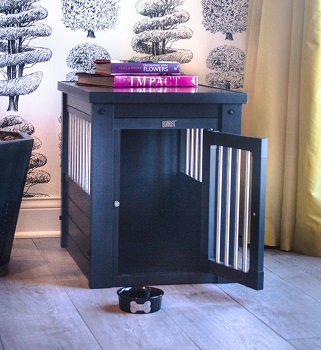 Double Role
It can be a crate while also functioning as an end-table or a piece of furniture in general. The crate is small so it can only house small dog breeds that weigh up to 20 lbs like pugs and jack Russell terriers.
In Short:
Made out of plastic and wood-polymer called ecoflex
Has a single door access
The ventilation windows are covered with stainless steel tubes
Made for small dogs up to 20 lbs
Won't handle chewing
Can be used as a piece of furniture
BEST PLASTIC DOG CAGE FOR MOTORHOME
Pet Gear 4 Door Steel Crate
Plastic And Wire Build
The entirety of the crate is made up of two materials, plastic and wire. The plastic is used for the frame and it is a heavy-duty blow-molded plastic while the wire is used to make the sides of the crate that will give you the same amount of ventilation as a regular medium wire dog crate.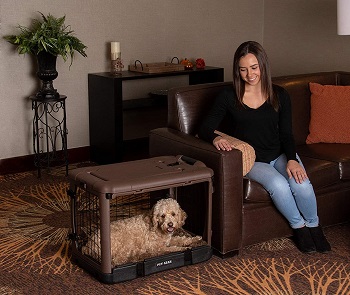 Base And Base Extras
The crate's base won't crack when subjected to cold temperatures since it is insulated and you'll also get a plush bed for it that you can machine wash or simply wash by hand. This will keep your dog comfy during those long rides.
Door Quantity And Inside Safety
You don't have to worry about your dog's safety while he's inside since the corners of the crate are rounded and you won't find steel edges that are exposed. The crate has 4 doors in total and what makes it a great RV dog crate is the fact that the front door slides up to open so it will save you space if you decide to keep the crate open.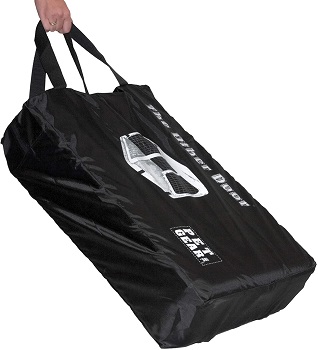 Crate Transfer
The crate can be collapsed so you can store it when you're not using it and to transport it with ease you can use its built-in wheels and handle on top for that. You will also get a travel bag to store it when you're on the road and need a place for it. The crate can house medium-sized dogs.
In Short:
Made out of plastic and wire
Has 4 doors and one slides open
made for medium-sized dogs
Can be collapsed
Has built-in wheels and a top handle for transport
Comes with a plush bed
You can store it inside the travel bag it comes with
BEST METAL DOG CAGE FOR MOTORHOME
Midwest Side-by-Side SUV Crate
Narrow Design
Although this is an SUV dog crate we had just had to place it in the RV dog cage category since it has a narrower design. This feature will make it easier for you to place the crate inside your motorhome and it won't take up as much space.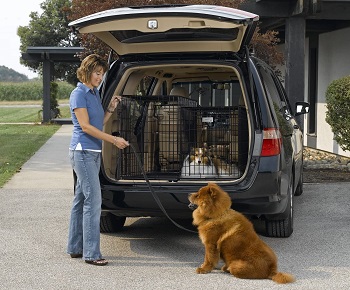 Crate's Build Materials
The rv dog crate is made out of steel wire but what makes it great is the e-coat finish that makes the crate rust-resistant. The bottom of the crate holds a plastic pan that's leak-proof and quite durable that will make cleaning the crate easy and will keep accidents inside the crate rather than on your floors
Door Location And Locks
It has two doors for access and they are located in the front and in the back. Both doors have 2 slide bolt locks for you to lock the door without having to worry if your dog will try and escape successfully and with it endangering you both.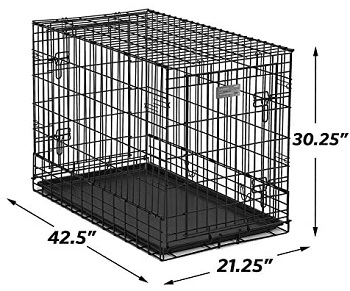 Crate Size And Moving It
You can easily carry the crate away from your motorhome since it can be collapsed and carried like a briefcase using the provided top handle. The crate is 42-in long which means that it can house large dog breeds like german shepherds.
In Short:
Made with steel wire
Has an e-coating finish that makes it rust-resistant
Features a leak-proof pan on the bottom for easy cleaning
Made to house large dog breeds
Has a narrow design
Has a front and rear access door
BEST SOFT RV DOG CRATE
A4Pet Soft Dog Crate
Bottom That Saves From Accidents
You'll benefit a lot from the bottom of the crate that's leakproof. What this will do is keep any liquids inside the crate until you're ready and available to clean it. The rounded corners of the crate usually protect your car interior from damage but maybe they can still be useful to you even though it's an RV dog crate.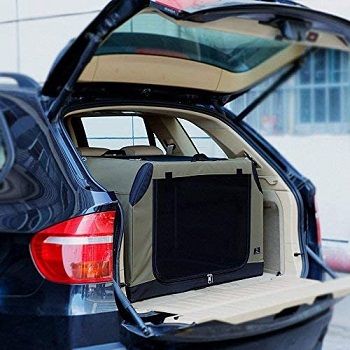 Crate's Support And Cover
It has a steel tube frame that also happens to fold down easily for you to store the crate when you want or need to. The cover of the crate is made out of oxford fabric. This is a soft dog travel crate which means that your dog should be calm while he's inside the crate if you want the crate to be long lasting.
Sides Features
The crate has large ventilation mesh fabric windows on all sides except for the back where you'll find located an accessory pocket for storing dog treats, leashes, or anything you can think of and fit inside. Three of the windows are also doors that are located in the front, side, and on top.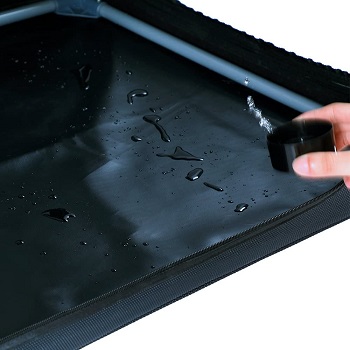 As Clean As Possible
To keep the crate as clean as possible, you can always take the cover off and wash it when you need to. This crate can house small dogs but you can choose to get a medium or large version of the crate if you really like it but have a bigger dog.
In Short:
Has a steel tube frame
The oxford fabric cover can be taken off and washed
The bottom of the crate is leakproof
It can be folded down for storage
Can house small dogs
Has three access doors
Features an accessory pocket in the back
How To Pick An RV Dog Crate
When choosing a dog crate for your motorhome, you really want to make sure that you're getting the best since motorhomes don't have a lot of room to spare the crate's size, ability to function as more than just a crate, and how portable a crate is are some of the more important things you should focus on when buying.
Crate Portability – First thing that makes the crate portable is its weight. Usually, small, medium and large soft sided dog crates will be the lightest to carry and the hardest to carry will definitely be wooden ones. Another thing that speaks of the crate's portability is how you can carry it, can you carry it with a handle on top or not.
Choosing The Right Size – Sizing is, and always will be important especially when it comes to the limited space of motorhomes so to choose the correct crate size, you want to measure your dog's height and length and compare it to the crate. If your dog is a few inches smaller than the crate, you're good to go.
Multipurpose Design – You can find a lot of multipurpose dog crates on the market and we would advise that you get them as XL dog crate furniture if you have a large dog since they are large enough to function as a regular table as well. The weight they can hold on top is usually somewhere between 150 and 200 lbs but
The Ability To Fold It – The ability to fold the RV dog crate down has never been more important than now. Since you want to save space inside your motorhome you want to be able to store it away when your dog is not using the crate and that where the foldable design will come in handy.
To Sum Up
There's no doubt about it, you can definitely use the Casual Home Wooden Crate to the best of its ability and that's why we recommend it. It will save you a lot of space since it can function as an end-table and it's strongly built because of the solid wood construction that allows your dog to chew on it without it taking damage. If you like the portability of these crates then you'll love the article about soft portable dog crates and if generally you just ant a good travel crate that's incredibly safe ad sturdy we recommend you read the article about the safest dog crates for cars.