Need a crate that will stand up to your dog's anxious and highly destructive behavior so you sought out to find the best anxiety dog crate?
We'll tell you now that you're on the right path and all you have to do is continue reading this article and you're certain to find one almost tailored to your dog. We reviewed the best but we also made sure to review a plethora of different types like large, medium, metal, and even plastic ones.
The Summary
Best 12 Anxiety Dog Crates
BEST OF BEST HIGH ANXIETY DOG CRATE
Gunner Kennels G1 Crate
Frame And Door
Many things are taken into account that makes this crate great for a high anxiety dog. To start, it has a rotomolded double wall plastic build. This protects the dog from different weather conditions. The custom welded door with a reinforced aluminum frame and 3 secure locks is sure to keep any dog safe inside as well.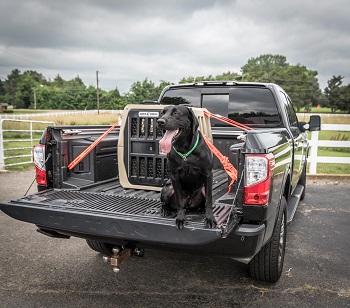 Car Safety
It's an intermediate dog crate crash-tested for dogs up to 75 lbs so it's a car safe crate as well. You'll get to lift it with 2 top handles and clean it with the interior drainage system. If you'd prefer a metal heavy-duty dog crate for separation anxiety, you can read the article about more models than just this one next.
In Short:
Made with double-wall roto-molded plastic
Has a custom welded metal door
The door is reinforced with an aluminum frame
Locks from 3 different points
It's crash-tested for dogs up to 75 lbs
BEST HEAVY DUTY ANXIETY DOG CRATE
ProSelect Empire Dog Cage
Crate Weight
Because of its build, it makes sense that this crate weighs around 75 lbs. You'll still get to move it easily using the provided 4 wheels that you can remove and lock. It's a medium dog crate so in case you're after a bigger model, you can read the heavy-duty dog crate for separation anxiety article next.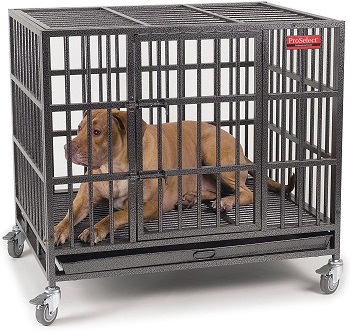 Metal And Cleaning
It's a fully metal tube crate made with 20 gauge steel and 0.5-in diameter steel tubes. It features two sliding bolt locks and a single door in the front. On the bottom, there is a metal floor grid that will let dog excrements fall onto the slide-out cleaning metal tray.
In Short:
Made with 20 gauge steel
The steel tubes have a 0.5-in diameter
Features a metal grid floor
Comes with a metal cleaning tray
Weighs around 75 lbs
sits on removable and lockable wheels
Made to house medium dogs
BEST PUPPY HIGH ANXIETY DOG CRATE
Midwest Ultima Pro Dog Crate
Transport And Indoor Use
Rest assured that this crate can handle an anxious dog due to its 3, 7, 9, and 11 gauge wire build. The lower the gauge the thicker the wire is. It can be easily folded and comes with a carry handle for ease of transport. It features 2 doors so it will be easier to position inside homes.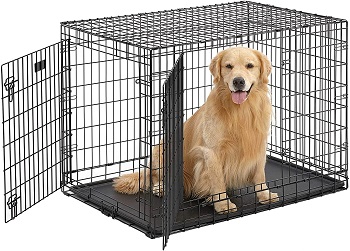 Bottom And Accessories
On the bottom of this 42-in dog crate, there's a slide-out cleaning pan and roller feet that protect floors from scratches. It wouldn't be a puppy crate anxiety model if it weren't for the adjustable puppy divider it comes with so check out other best crates for puppy training to learn more about them.
In Short:
Made with 3, 7, 9, and 11 gauge wire
Has 2 entrances
Features roller feet and a bottom cleaning pan
It's 42-in long
Comes with a divider for puppies
Can be folded and carried with the provided handle
BEST LARGE ANXIETY DOG CRATE
Itori 48 Inch Heavy Duty Dog Crate
Reinforced Build
It does require some assembly, but in the end, it's definitely worth it due to the reinforced steel build and all-welded construction. Many heavy-duty large dog crates are additionally secured to handle the strength of large dogs so check other best crates for large dogs with separation anxiety out if you need one.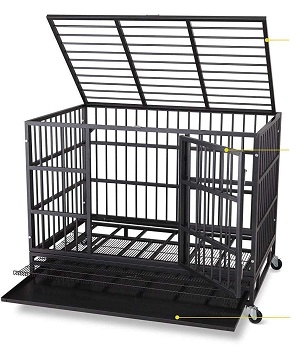 Door Functions And Size
The front door of this crate for separation anxiety is where your dog will access this crate and the top door serves as an interaction door. it weighs around 88 lbs so it does sit on wheels for you to move it easily. It's 48-in long so it can house extra large dogs and it has a wire grid for the easy tray and crate cleaning when excrements fall onto the bottom tray.
In Short:
Made with reinforced steel tubes
Each part is welded together
Has a top and front entrance
It's 48-in long
Weighs around 88 lbs
Sits on 4 wheels
The bottom holds a wire grid and cleaning tray
BEST 36 HIGH ANXIETY DOG CRATE
Furuisen Strong Dog Crate
Doors And Finish
If you don't want your dog to try and escape the crate when you interact with them, you can open up just the top entrance instead of the front one. This crate for separation anxiety features a carbon steel build that's rust and corrosion resistant mainly due to the finish that has a silver color.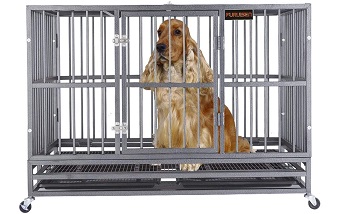 Locks And Other Features
Apart from the 2 locks on the front door and one on the top door, you'll get climbing buckles with it to make sure your intermediate dog can't escape on its own. It has 2 cleaning trays, 1-floor grid, and 4 wheels for moving it. It's not completely medium, so if you'd prefer a 30-in model, read the medium metal dog crate article next.
In Short:
Made to house intermediate dogs
Made with reinforced carbon steel
It's corrosion and rust-resistant
Features a silver color
Has 2 cleaning trays and 1-floor grid
Sits on 4 wheels
Comes with climbing buckles for locking safety
BEST MEDIUM ANXIETY DOG CRATE
Extreme Consumer Products Crate
Lightweight But Metal
Although it's completely metal, it still only weighs 30 lbs so it will be a great travel companion to you and your dog. If you're looking for heavier crates since that's how you view durability, you can read the article about medium metal dog crates next where we reviewed plenty of different crates.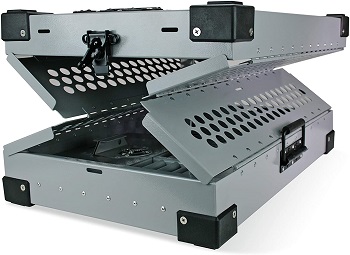 Folding Design
Surprisingly enough, this fully metal dog separation anxiety crate can be folded down by being the sides. Then, it forms the shape of a briefcase and can be easily carried that way. It's 30-in long, 19-in wide, and 23-in tall so it can house medium-sized dogs. The corner caps on the top corners protect the corners and allow you to stack more crates on top.
In Short:
made out of metal
HAs plastic corner protection caps
You can stack multiple crates on top
It's 30-in long, 19-in wide, and 23-in tall
Can be folded down
It's easy to transport by carrying it like a briefcase
It weighs 30 lbs
BEST XL HIGH ANXIETY DOG CRATE
Homey Pet 49 Dog Crate
Secure Locking
The two build materials of this crate are metal tubes and wire. The whole thing is also coated with a hammertone finish which makes it resistant to rusting and corrosion. It features 2 front doors, one is a built-in feeding door, and they both lock with locks but also a chain hook for security.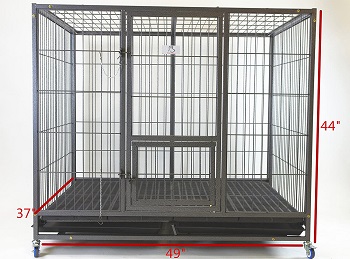 Size And Plastic
This dog separation anxiety crate is 49-in long, 37-in wide, and 44-in tall so it can house both giant dogs and extra-large dogs. The only plastic bits on it are the floor grid and bottom cleaning trays. If you'd prefer an all-metal and metal tube crate, check out other 48-inch heavy-duty dog crates.
In Short:
Made with metal tubes ad wire
Has rust and corrosion-resistant hammer tone finish
It's 49-in long, 37-in wide, and 44-in tall
Has one entrance and a built-in feeding entrance
Has a plastic floor grid and cleaning trays
Sits on 4 lockable wheels
The locks secure with chain hooks
BEST METAL ANXIETY DOG CRATE
Uws 2 Door Dog Box
Visual Stimulation
There will be rarely any visual stimulation that makes your dog anxious with this crate due to the aluminum metal sheet build with no holes except for on the doors. We said doors because it features a non-removable divider that lets you house 2 dogs inside. It's 48-in long, wide, and 31-in tall.
Build, Storage, And Locking
This dog separation anxiety crate is made out of aluminum metal so it won't rust or corrode and its top rails allow you to tie it down and give you the option of storing things on top or inside the lockable top. The key lock mechanism is made out of stainless steel. Finally, this is a great hunting dog crate for trucks so in case you're interested in learning more about them, you can read the article linked below.
In Short:
Made out of aluminum metal
Features a non-removable divider
It's 48-in long, wide, and 31-in tall
Can house 2 dogs separately
Features top rails and lockable storage compartment
The lock mechanism is stainless steel
BEST PLASTIC ANXIETY DOG CRATE
Diggs Revol Dog Crate
Plastic And Metal
We've already proven that plastic can be durable and this crate features a reinforced plastic frame. Its sides are made out of aluminum so combined, it means it won't rust or corrode. It can be collapsed and features built-in wheels so the only logical conclusion is that it's great for traveling.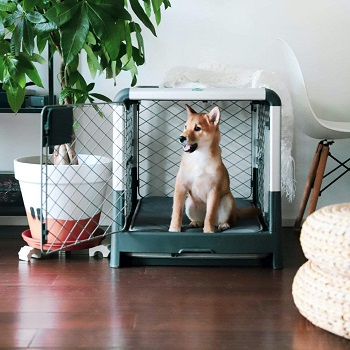 Designed To Be Safe
It's designed to function as a crate training crate as well with its safe baby industry standards build and the adjustable puppy divider. The high anxiety crate has 3 entrances ad one will even save you some space if you keep it open. If you're convinced in plastic durability, check out other heavy-duty plastic dog crates next.
In Short:
Has a reinforced plastic frame
The sides are made out of aluminum wire
Made to be safe for puppies and adult dogs
Can be collapsed
Features built-in wheels
Comes with a puppy divider
Has 3 entrances
BEST 42 HIGH ANXIETY DOG CRATE
Luckup Heavy Duty Metal Cage
Doors And Locking
The triple door build makes it convenient for you to feed or interact with your dog without it trying to escape. You'll also get a regular front door that locks with 2 locks as well as the top door. This is just one out of many durable dog crates so read about others in the linked article below to learn about other types of crate durability.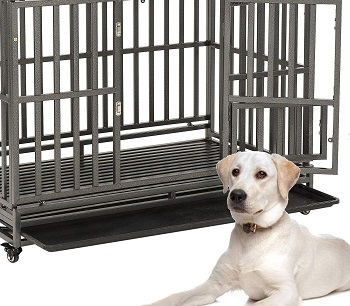 Size And Detailed Features
The steel it's made out of is corrosion resistant. The high anxiety crate uses steel tubes as its build material and they feature a dog-safe finish. The 4 bottom wheels can be locked to give it more stability and its 42-in in length allow you to house large dogs inside it. The 1-in wire grid bottom spacing prevents dog paws from getting hurt.
In Short:
Has top, front, and front feeding door
Made to house large dogs
Built out of corrosion-resistant steel tubes
The bottom wire grid has a 1-in spacing
Sits on four lockable wheels
BEST 48 HIGH ANXIETY DOG CRATE
Kelixu 48 Inch Dog Crate
Extra Tall Build
Although it's 48-in long which means it can house extra large dogs like a rottweiler, it's also an extra tall dog crate due to its house rooftop. This will allow you to house some giant dogs inside as well. It's 48-in long, 29-in wide, and 51-in tall. It's made with steel tubes that are all welded together.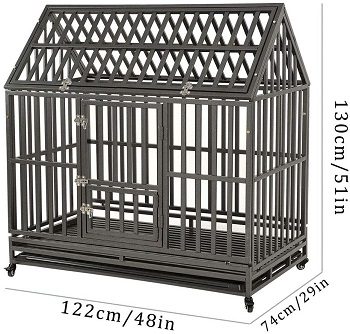 Entry Points And Assembly
The top house roof features an entrance along with the front main entrance and the built-in feeding entrance. For assembly, you'll only need to screw it in with the already provided screws. The high anxiety crate comes with 4 wheels but if you'd prefer a smaller model heavy-duty large dog crate, you can read the article linked to find plenty of them.
In Short:
It's 48-in long, 29-in wide, and 51-in tall
Has a house rooftop
Can house xl dogs and some giant dog breeds
Sits on 4 wheels for easy moving
Has  top, front, and built-in feeding entrance
The screws for assembly come with it
BEST CHEAP ANXIETY DOG CRATE
Polar Aurora Dog Cage
Metal, Plastic, And Finish
This full metal tube crate is coated with a rust and corrosion-resistant finish that's safe for dogs and it's environmentally friendly as well. It's made with heavy-duty steel tubes and it's colored black. The only plastic you'll find it has is the plastic slide-out cleaning tray.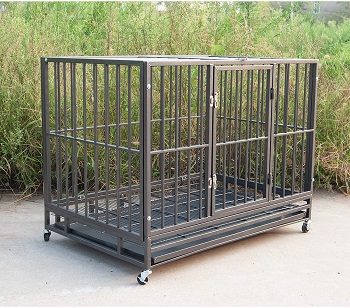 Bottom And Size
On the bottom, you'll find a wire grid for dog excrements to end up on the cleaning tray and two removable poles that make it stronger when they're there. It also features a top interaction and front entry and exit doors. This high anxiety crate is 42-in long so if your dog is large and you're on a budget, check out other cheap large dog crates.
In Short:
Made with heavy-duty steel tubes
Has 2 bottom removable poles for added strength
Features 4 wheels for moving
Has a wire grid and a plastic cleaning tray
It's made to house large dogs
Has a top and front entrance
How To Pick A High Anxiety Dog Crate
Rarely will a high anxiety dog crate be classified as one so it's important to know what you should be looking for when trying to find and choose one. We'll help clear out any confusion about their durability, size, functions, and other pros and cons so you can finally get the one that will stand up to your anxious dog.
Crate Training A Dog With Separation Anxiety – Crate training on its own can be highly beneficial for dogs with separation anxiety but there are a few additional steps to take. When your dog first gets into the crate, it should have something familiar and with your scent on it so that it can feel safer inside the unknown and scary crate. The rest is all about patience and reassuring your dog that you're there and that there's nothing scary about being inside a crate. Treats that reward wanted behavior will also help.
Puppy Crate Anxiety – Teething puppies will tend to chew on their crate more, especially if they're anxious but you should still opt for a wire crate in that case. Try to look for crates with low gauge wire build since the wire is going to be thicker. Another important thing they should have is a divider so that you can automatically potty train your puppy as well.
Crate Types Featured – For the most part, we reviewed heavy-duty dog crates that are primarily made out of steel tubes. The tubes themselves are going to survive chewing but another focus should be door locks. Look for reinforced locking dog crates and ones that have locks positioned in such a way where they'll be unreachable to your dog.
Heavy Duty Crates Cons – There are two problems with heavy-duty metal dog crates and they are that they are quite heavy so they're not very portable and they don't blend in well inside homes. The mobility problem is somewhat solved with them featuring wheels on the bottom.
Plastic Crates – Surprisingly enough, plastic crates can be just as durable, if not more durable than metal dog crates. They're lighter that's for sure and can be used for traveling if that's your intention after you've helped your dog get rid of its anxiety and anxious behavior.
Crate Prices – Unfortunately, it will be hard to find a durable anxiety dog crate that's costs less than at least 150 dollars. Many climb up to cost 300 dollars and it's not surprising to find one that goes over the 500 dollar price range either. In this case, the cheapest crates are going to be wire dog crates but the price of each crat is also determined by size, larger crates being more expensive.
To Sum Up
It's up to you to choose the high anxiety dog crate that will fit your dog's crate needs well. We can't know how anxious your dog is or how it behaves when anxious. We also don't know how big or small your dog is but what we can recommend is for you to read the article about heavy-duty dog crates or steel dog crates next since these are the two most commonly reviewed crate types in this article. If you'd prefer to learn about dog crates in general and all the possible types available. You can read the dog crates article next.