Are you having difficulties finding a collapsible cage for dogs that you can store easily and transport when needed?
If you continue reading this article, you'll discover that there's even more to them than the previously mentioned functions. WE reviewed only the best but also kept in mind their different main functions and design. That's why you'll find travel crates, large crates, soft crates, and that's only the beginning.
The Summary
Best 15 Collapsible Dog Crates
BEST OF BEST COLLAPSIBLE CAGE FOR DOGS
Diggs Revol Dog Crate
Traveling Parts
We'd say that this is a great indoor crate but due to its collapsible design and built-in wheels for ease of transport, it also works as a travel crate. it's made with reinforced plastic and aluminum wire and features 3 doors. The side door saves space by opening upwards.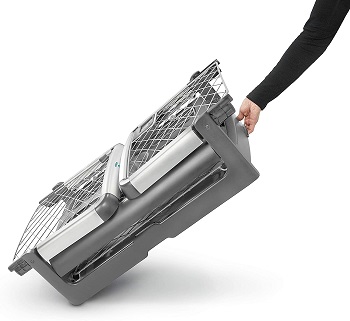 Puppy And Adult Dog Housing
It's 32-in long which is great to house medium-sized dogs but also puppies because it comes with a divider and it's made with baby industry standards. The cage ensures both puppy and adult dog safety. If you'd prefer to keep it only a travel crate, you can read the article about collapsible travel crates next.
In Short:
Has a reinforced plastic frame
Features aluminum wire sides
Comes with a divider
Has 3 entrances
It's safe for puppies and grown-up dogs
Can house medium-sized dogs
Has built-in wheels
BEST CARRIER FOLDABLE DOG CAGE
One for Pets Portable Crate
Car Travels
Thanks to the metal tube frame, this crate will hold its shape nicely and you'll get to collapse it for storage with ease. It's 39-in long overall so it's a great fit for larger cars like SUVs. If you do have an SUV and want a crate for it, you can read the article about SUV dog crates next.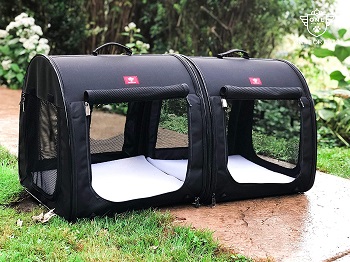 2 Dog Housing
The reason why it's so long is that it's a double dog crate. You can remove the fabric divider and house one small dog inside or leave it on to house two dogs separately. The foldable dog carrier is 20-in wide and tall. You can connect it to a seatbelt, and comes with comfort mats and hammocks that are both removable.
In Short:
Has a folding metal tube frame
Made out of fabric materials
Can house 2 dogs or 1 dog
Comes with a removable fabric divider
It's 39-in long, 20-in wide, and tall
Can only ever house small dogs
Features removable soft mats and hammocks
BEST TRAVEL FOLDABLE CRATE DOG
Midwest Side-by-Side Crate
Space-Saving Design
At first glance, this is just another 36-in dog crate but what it has is a narrow design. The reason for this is so that you can either place it in the backseat or save space in your car trunk. It has a front and back door and both feature 2 sliding bolt locks. When folded you can carry it like a briefcase using the provided top handle.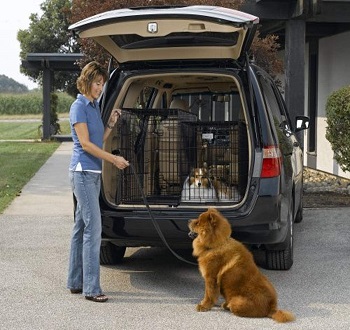 Size And Protection
The dogs it can house can be medium to large dogs that weigh up to 70 lbs total. On the bottom, there is a plastic slide-out cleaning tray and it's coated with rust and corrosion-resistant e-coat finish. For more unique collapsible travel dog crates, read the article about them.
In Short:
Made out of wire
Has a back and front entrance
Has a narrower design
It's 36-in long
Can house intermediate dogs
Has rust and corrosion-resistant finish
BEST METAL COLLAPSIBLE DOG CRATE
Cardinal Gates Sliding Door Dog Crate
Wire Gauge
The durability of this crate is proven by the wire thickness. The whole thing is made with 10 gauge wire while the doors are made with an even thicker, 6 gauge wire. If durability is on your mind, you can read about other folding metal dog crates next to learn even more.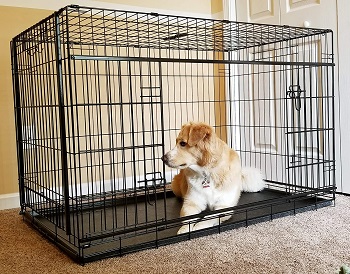 Saving Space
It has a front and side entrance. As it is, they save space by allowing for versatile in-home placement but they also save space by sliding open and opening upwards. It's made to house extra large dogs since it's 48-in long and as expected, it does weigh around 38 lbs.
In Short:
Made with 10 and  gauge wire
Has a front and side entrance
The double side entrance slides open
The front entrance opens upwards
It's 48-in long
Weighs around 38 lbs
BEST SOFT SIDED COLLAPSIBLE CAGE FOR DOGS
A4Pet Soft Collapsible Dog Crate
Sides Contents
The build of this crate is pretty common for a soft crate. It's made with oxford fabric and has a folding steel tube frame. It does feature 4 large windows for proper ventilation and 3 act as entrances. In the back, you'll find a built-in accessory pocket while inside you'll find a leakproof bottom.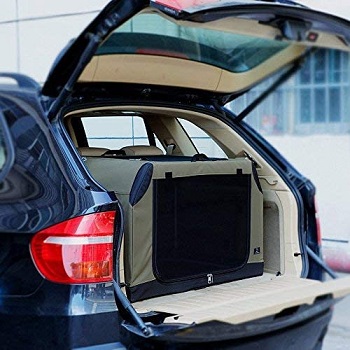 Size And Corners
The top corners are rounded for car interior safety. It's 24-in long so it's only able to house small and crate trained dogs. There's a lot to learn about them and a lot of different models to see so read the soft collapsible dog crate article next to find one even better for your dog.
In Short:
Has an oxford fabric build
The folding frame is made out of steel tubes
Has 4 vent windows and 3 entrances
The back holds an accessory pocket
It's 24-in long
Has a leakproof bottom and rounded corners
BEST 36 X 23 X 25 COLLAPSIBLE CRATE DOG
Precision ProValu Wire Crate
Crate Safety
Although not a standard size, 36-in crates are pretty common since they can house medium to large dogs. It features safe rounded corners and for locking safety, each of the two doors locks from 5 different points. The bottom holds a cleaning pan and it has a protective, rust, and corrosion-resistant finish.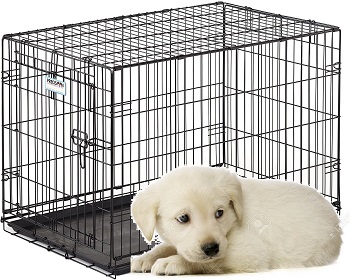 Potty Training
You can safely house and potty train puppies inside since it comes with a divider. It's hard to hard to mention all the important information in such a short review so if you'd like to learn more about this dog crate 36 x 23 x 25 folding model, and others of similar size but different functions, check out the 36-inch dog crate with divider article next.
In Short:
Made out of wire
Has a side and front entrance
The doors lock with 5 locks
Has rounded corners and features a divider
Has a cleaning bottom pan
It's 36-in long, 23-in wide, and 25-in tall
BEST LARGE COLLAPSIBLE CAGE FOR DOGS
Pet Gear The Other Door Crate
Travel Abilities
It's almost as if there's no end in sight to the numerous doors this crate has. it features 4 doors in total and the side door even slides open like a garage door. It is a collapsible crate and comes with built-in wheels, a travel bag, and a handle for dragging it when it's unfolded.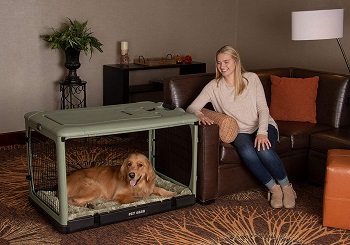 How It's Built
It has a heavy-duty plastic frame and steel wire sides. The interior base is insulated and the whole thing has rounded corners and no exposed sharp edges. It's 42-in long and this is the length of crate you should be looking for if you're interested in checking out more large collapsible dog crates.
In Short:
Has 4 entrances
Features a handle for pulling it unfolded
Comes with built-in wheels and a travel bag
The base is insulated and the interior corners are rounded
Has a heavy-duty plastic frame and steel wire sides
It's 42-in long
BEST LIGHTWEIGHT COLLAPSIBLE DOG CRATE
Petsfit Portable Soft Crate
Crate Frame Assembly
You'll have to screw in the frame on this crate to keep it unfolded and the same but reverse logic goes for when you want to collapse it. The frame is metal and the cover is made out of oxford cloth. It has 3 ventilation windows and 3 access doors that close with zippers.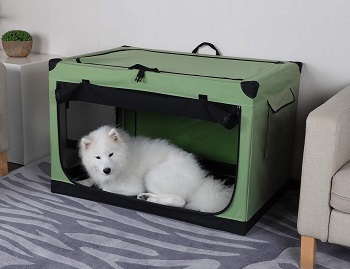 Size And Weight Comparison
Surprisingly enough, even though it's 42-in long, it weighs only 4 lbs so it will be easy to carry, store, or transport. the lightweight collapsible dog crate is surely not the only one made to be a lightweight dog crate so check out other options available in the article below.
In Short:
Made with oxford cloth
HAs a screw-in steel tube frame
Weighs around 4 lbs
It can house large dogs
Has 3 entrances and ventilation windows
BEST MEDIUM FOLDABLE DOG CAGE
Carlson Pet Products Secure Crate
Juvenile Product Safety
There's only one door on this crate so it won't be saving space this way. The door is highly safe with its multiple point locks but the whole thing is certified to ASTM and JMPA standards which concern themselves with baby product safety. It unfolds and folds equally fast and easily.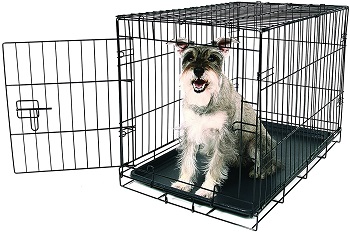 Crate Proportions
Since it's a collapsible medium dog crate, it's a 30-in long, 19-in wide, and 21-in tall crate. It's wire so you can count on it to be lightweight but durable with its 6 lbs. For more crates like this with additional features and intricate designs, read the medium wire dog crate article next.
In Short:
Fully made out of wire
Certified to JMPA and ASTM standards
Has multi-point locks on the single door
It's 30-in long, 19-in wide, and 21-in tall
Weighs around 6 lbs
BEST PLASTIC COLLAPSIBLE DOG CRATE
Pawd Fully Collapsible Dog Crate
Fully Plastic
Every part of this crate is made out of plastic. Nonetheless, it looks amazing with its lovely patterned ventilation holes on all sides and pastel color choices. It's a small collapsible plastic dog crate so in case you need a bigger one, read the article about more of them next.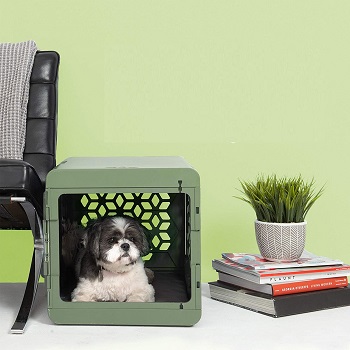 Doors And Corners
The single door in the front can be taken off to save some space when used indoors. It has rounded safety corners and when collapsed, it's shaped like a briefcase and features a built-in handle for carrying. It's 21-in long, 15.75-in wide, 16-in tall, and weighs only 7 lbs.
In Short:
Made entirely out of plastic
The door can be taken off
Has rounded corners
It's 21-in long, 15.75-in wide, and 16-in tall
Has patterned vet holes on all sides
Can be collapsed and carried like a briefcase
BEST SMALL COLLAPSIBLE CAGE FOR DOGS
EliteField 3-Door Folding Crate
Build Materials
The main build material for this crate is 600D oxford fabric. The frame makes it sit upright and also makes it a foldable crate. The cover, along with the soft comfort mat on the inside, can be taken off and washed. The cover has 5 ventilation windows and 3 zippers closed doors.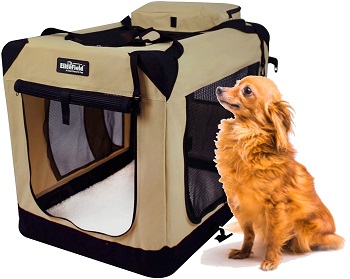 Spacious Interior
It's 24-in long but it's also 2-in wider, and 4-in taller than other soft dog crates so it's more spacious and cozy inside. If you'd prefer a more durable small collapsible dog crate, read the article we linked below next and you might also learn more about them.
In Short:
Made with 600D oxford fabric
Has a folding steel tube frame
Features 5 ventilation windows
Has 3 entrances
It's 2-in wider and 4-in taller than most
The cover and interior mat are removable and washable
BEST XL FOLDABLE CRATE DOG
Zeus Deluxe Soft Crate
The Largest Size
The biggest size for a soft dog crate is 42-in and it rarely gets bigger than that but this one is bigger with its 48-in in length that truly makes it an xl collapsible dog crate. It's fairly cheap considering its size so if you don't want to break your budget, check out other cheap xl dog crates.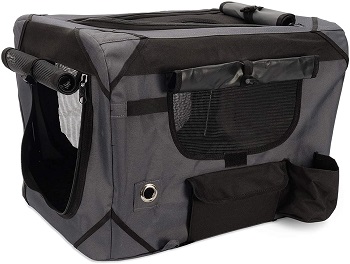 Ventilation, Doors, And Extras
It has a front, top, and side doors that open and close with zippers. All three act as mesh fabric windows and there's another one on the other side. The back and side hold accessory pockets while the side also features a bottle holder. The fabric material that makes this folding dog cage is water-resistant.
In Short:
Made out of fabric materials
The crate cover is water-resistant
Has 4 ventilation windows
Features 3, zipper closed doors
Has 2 accessory pockets and  bottle holder
It's 48-in long
BEST 2 DOOR FOLDABLE DOG CAGE
Petco Brand You&Me Dog Crate
Size, Doors, And Extras
The best way to describe how big it is is to say that it's an intermediate dog crate. It can house medium to large dogs and it's 36-in long. It features a divider panel for potty and crate training puppies and the two doors it has can easily be taken off to keep it open while saving space.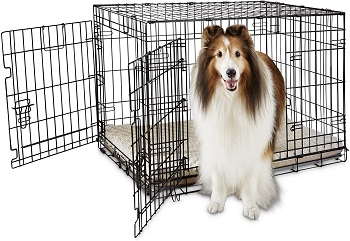 Bottom Design And Features
The bottom edges on the doors aren't that tall so that your dog has no problems with entering and exiting. The pan stopper in the front on the bottom prevents it from accidentally sliding out as well. If you enjoy this folding 2 door dog crate but need a large one, you can read about other large 2-door dog crates here.
In Short:
It's 36-in long
the doors are found in the front and on the side
You can take the doors off to save space
Has a cleaning tray with a pan stopper
Comes with a puppy divider
BEST 24 DOUBLE DOOR FOLDING DOG CAGE
Precision Pet Snoozzy Baby Crate
Color And Build
24-inch dog crates are most likely to get a chance to be cute dog crates. This one for example is colored in a light blue color. It's made out of wire but it's' built with a looped wire that makes it 25% stronger in construction. You're certain to find more like this in the 24-inch dog crate article.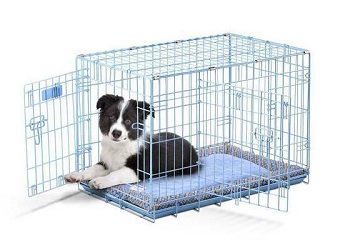 Door Details
The doors that make it a 24 double door folding crate are located in the front and on the side. They lock from 5 different points and are safe in the locking safety department. You'll get to use it to potty and crate train puppies because of the divider it comes with.
In Short:
It's colored light blue
Has a looped wire build
Comes with a puppy divider
The 2 doors lock from 5 different points
It can house small dogs
BEST 54 INCH COLLAPSIBLE DOG CRATE
Lucky Dog 54 Dog Crate
2 Or 1 Dog Housing
Because it's made to house giant dogs, its double side sliding door, and the divider it comes with, this foldable pet crate can also house 2 dogs separately. It's 54-in long, 38-in wide, and 40-in tall so it can house either one giant dog or two medium-sized dogs.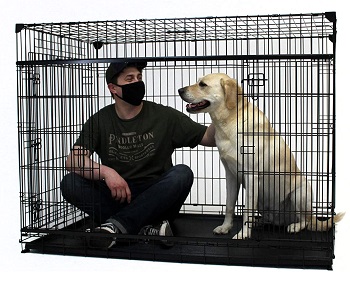 Stable Build
It has an additional door in the front and the plastic corner stabilizers make it more stable and reduce the rattling noise. To fold it, you'll need to take the plastic clips off. If the reason this 54-inch collapsible dog crate intrigues you is the fact that it's an adjustable dog crate, you can read about more of them in the article linked below.
In Short:
It's 54-i long, 38-in wide, and 40-in tall
Comes with a puppy divider
Can house giant dogs or 2 medium-sized dogs
Has corner stabilizers
Features a double sliding door and a front regular door
How To Pick A Collapsible Dog Crate
Choosing a collapsible dog cage is more than just about the folding abilities of each crate. To pick out the best, you should learn about what each crate type mentioned does best, which are the most commonly foldable ones, their size, folding function in general, and a lot more so continue reading to learn all about it.
How To Fold Up A Dog Crate – The way each dog crate folds largely depends on the brand but moreover, the type of foldable crate you have. Fully wire crates and soft crates are going to be the easiest to fold down since they can just as easily be unfolded when you get them. With wire dog crates it's all about lifting the sides and hooking them to each other.
Common Folding Crate Types – The crates we can say for certain can almost always be folded down or dare we say, always, are soft dog crates and wire crates. Wire crates are more durable and can be used to crate train dogs while soft crates are more commonly used only for traveling.
Folding Design Purpose – When you can fold a crate down you get to store it away without it taking up too much space or you can transport it for traveling more easily. What you'll use the folding design depends on you but also the crate type you're getting.
Soft Crates Details – Soft crates are great traveling tools because they're lightweight but their folding design is more focused on taking up less storage space than anything else because they can only house crate trained dogs and shouldn't be used for prolonged periods as indoor crates.
Sizing Info – If the crate you're looking at already has instructions on how to measure your dog for that specific crate, that's great but for those that don't, your dog should be at least 3-4 inches shorter in both height and length than the crate. One good way of finding the right size is to add up the numbers and look for a crate in that size range.
Crate Prices – The cheapest crates out there are going to be smaller crates. In terms of type, wire dog crates aren't really expensive as well as soft dog crates. It all depends on the size. For example, you can pay around 70 dollars for a small wire crate but 150 dollars for a large or extra-large version of the same crate.
To Sum Up
If we knew exactly what you're looking for in a collapsible dog crate and if we knew what type of dog you have we would have no problems recommending one but since that's not the case we can't. What you can do is make sure you get the crate type according to your dog's behavior and according to what you need the crate for e.g traveling or indoor housing. If you'd prefer to read only about the two most reviewed crate types in this article we advise you to read the wire dog crates article or the soft-sided dog crates article. If you'd prefer to see all of the options for buying the best-rated dog crates we advise you to read this post.