Are you unable to decide whether your puppy is a large or medium-sized dog so you're looking for a 36-inch dog crate with a divider to settle the debate?
You're in the right place so keep on reading if you want to read only about the best dog crates that fit this description. We didn't just review these crates because we also made sure to provide you with a lot of different types like indoor and folding crates. You're almost guaranteed to find the one you like and need.
The Summary
Best 36 Inch Dog Crates With Divider
BEST OF BEST 36 INCH DOG CRATE WITH DIVIDER
MidWest Ultima Pro Dog crate
Gauged Wire Build
The thing that makes this crate stand out is its construction material. to be precise, we're talking about the steel wire that makes it. What's so special about it is that it's a heavy gauge wire. It has a three, seven, nine, and eleven gauged wire. The lower the gauge is the thicker the wire.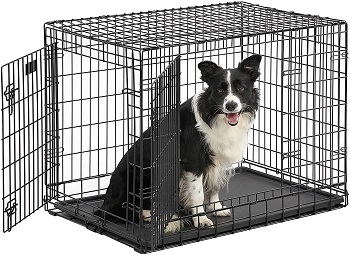 Divider Purpose
The divider that comes with this crate is an adjustable one. What this means in terms of use is that this 36-inch dog crate with a divider can adjust its size to your growing puppy. The use for it is to potty train your puppy because a dog won't litter where he sleeps but will do it if the crate is too big for him.
Transport Specs
The black satin e-coat that covers each steel wire part of this crate makes it resistant to rusting. This will come in handy if you ever want to transport the crate by folding it down and carrying it with a handle to your car for traveling. It's a 37.5 lbs crate so a bit heavier than what would be optimal for easy carrying.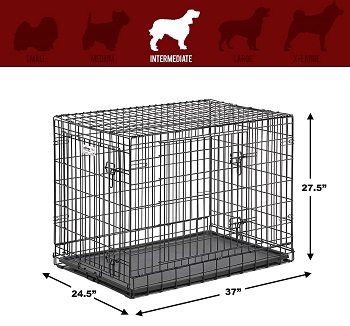 Indoor Use Benefits
You will benefit from using it as a large indoor dog crate as well mainly because of its two-door design for versatile in-home placement and roller feet that will protect your floors. The thing that will make cleaning the crate much easier is the slide-out cleaning pan on the bottom.
In Short:
The divider panel is adjustable
Made with heavy gauged steel wire
Has a 2-door design
Can be folded down and carried with a handle
Has roller feet and a cleaning pan that protect floors
BEST INDOOR 36 INCH DOG CRATE WITH DIVIDER
Lucky Dog Sliding Door Dog Crate
Door Opening Types
We wanted to offer you a variety of different dog crates that have different features. With this crate, the different feature is its door design. It's a sliding door dog crate whose side double door is the one to function like that. This is a space-saving door while the front door opens like any other door.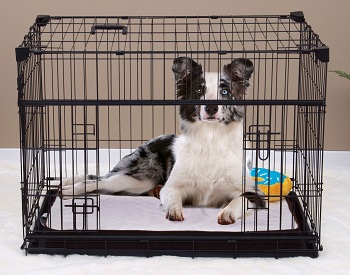 Corner Feature And Divider
Wire crates tend to produce a lot of noise in the form of rattling but this crate reduces it. it's both thanks to the sliding door and to the corner stabilizers on top. Not only do they reduce rattling but make this crate's construction stronger and more stable. It also comes with an adjustable divider for housing puppies.
Top And Bottom  Plastic Things
This 36 inch dog crate with divider has only two plastic bits along with the corner stabilizers. They are the top handle that you'll use to carry the crate when you want to transport it and the cleaning pan on the bottom. The pan has raised lip edges so that liquids don't overflow as often and end up on your floors.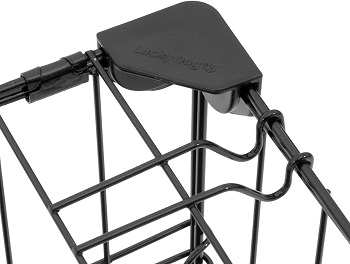 Indoor And Outdoor Use Features
The rubber feet that you can attach to the bottom will both prevent the crate from slipping and sliding as well as protect your floors from possible scratches. You don't have to only use it as an indoor crate though. You can also fold it down and transport it to your car to travel with it.
In Short:
Has a double sliding access door
Features a regular door in the front
The corner stabilizers minimize rattling noise
Can be folded down and carried for transport
The rubber feet protect floors and prevent sliding
The puppy divider is adjustable
BEST FOR PUPPIES 36 INCH CRATE WITH DIVIDER
MidWest iCrate Starter Kit
Beginner Crate
In order to tell you all about this crate, we have to talk both about the crate itself and its features but also the accessories that you'll get with it. These accessories will help you and your dog if you're just starting out on your crate housing journey.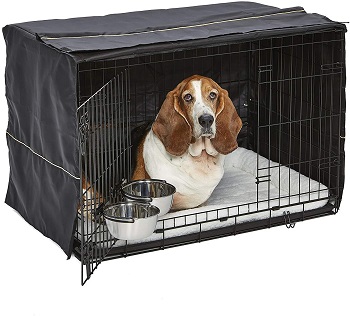 Beginner Kit Contents
The things that come as accessories to this 36-inch dog crate with divider are the crate cover, comfortable fleece bed, and even 2 water and food bowls. The bowls can be snapped onto the wire. The bed might make it easier for your dog to feel comfortable inside while the cover will give him privacy if he needs it.
Crate Safety
The Midwest icrate 36 double door itself is incredibly safe for puppies and dogs in general because of the rounded corners. They will reduce or even fully eliminate the possibility of your dog pinching his paws. The 36-inch crate divider is adjustable just like the ones on other crates.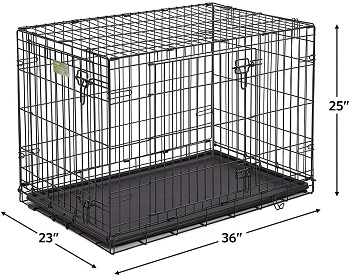 Removable Plastic Features
The carrying handle that will be put to good use when you want to fold down and transport the crate is detachable. The plastic cleaning pan is also removable. It can slide out when you remove the pan stopper for you to easily clean it outside the crate.
In Short:
Comes with a cover, bed, and food and water bowls
The corners of the crate are rounded
Can be used for potty training because of the divider
Great for crate training dogs
The cleaning plastic pan can be slid out
BEST METAL 36 INCH DOG CRATE WITH DIVIDER
Petmate ProValu Wire Dog Crate
Locking Safety
You might think that there's nothing more to add to the standard wire crate but you would be wrong. That's because this is a large 2 door dog crate that doesn't just lock with sliding bolt locks. Each door can also be locked from 4 other points for even more locking security.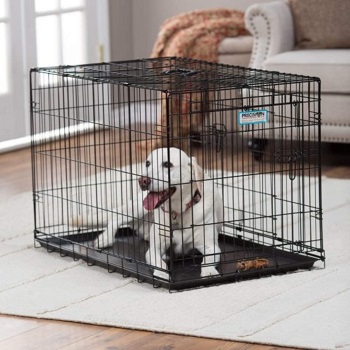 Rust-Resistant Crate
Like all of the other crates, it's made out of steel wire but also has a black e-coat finish that makes it rust-resistant. This feature makes it far more durable and long-lasting. IT even might be useful for when you want to transport it when it's folded down.
Divider Details
The divider in question is an adjustable one and it will help adjust the size of this 36-inch dog crate with a divider to your growing puppy. it will also help if you're planning to potty train your puppy. We would definitely advise you to do so since that is the main purpose of the divider.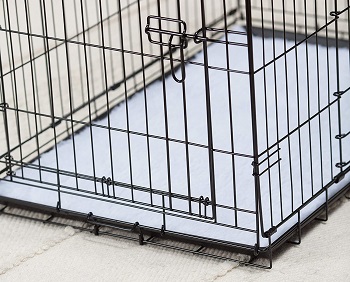 Cleaning And Traveling Ease
It's both an indoor and a travel crate. The travel bit is true because it weighs 12 lbs so it's easy to carry. You'll get to carry it sort of like a briefcase with the provided plastic handle when you've folded it down. The plastic cleaning tray found on the bottom will prevent dog urine from ending up on your floors.
In Short:
Has a rust-resistant black e-coat finish
The divider is adjustable
The 2 doors lock from 5 points
Can be carried like a briefcase when it's folded down
The plastic bottom tray will make cleaning easy
BEST FOLDING 36 INCH CRATE WITH DIVIDER
Vibrant-Life Folding Wire Dog Crate
Double Doors Purpose
Each crate we reviewed so far has been a large double door dog crate and the same applies to this one. What the double door design does is make crate placement inside your home more versatile. You'll even get to place the crate in a corner without blocking both entrances.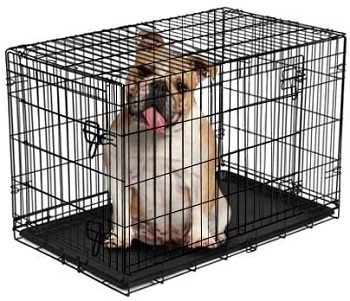 Build And Locking Safety
The steel wire of this Vibrant life 36-inch dog crate is a heavy gauge one and it's also corrosion-proof. This will definitely increase the life span of this 36-inch dog crate with a divider. To make sure that your dog stays inside the crate, you'll get to lock both doors with 2 sliding bolt locks each.
Multiple Divider Uses
There are two ways to use this 36-inch crate divider. You can either use it to house and potty train a growing puppy or you can use it to house 2 dogs. The dogs in question would then have to be much smaller, around 25 lbs but it's still a neat option to be able to count on.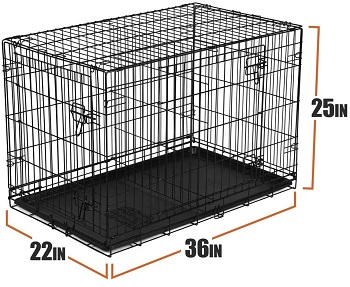 Assembly And Cleaning
Its cleaning pan has raised edges and won't accidentally slide out because there's a pan stopper to prevent it from happening. It's easy to assemble since all you need to do is unfold it. The same applies to when you want to fold it down for storage or even transport.
In Short:
Made with heavy gauge wire
The wire is non-corrodible
Has a 2 door design
Easily folds and unfolds
The pan stopper prevents the cleaning pan from sliding out
With the divider, you can house either a puppy or 2 dogs
BEST HEAVY DUTY 36 INCH CRATE WITH DIVIDER
Go Pet Club Stackable Dog Crate
Heavy-Duty Build
It's different from the other crate we reviewed because it's a heavy-duty metal dog crate. It's not made out of steel wire but out of steel tubes. The thing that might convince you of just how durable it is is the fact that you can stack up to three crates of the same model on top.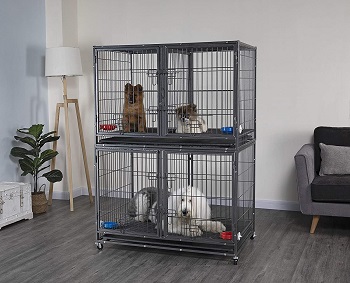 Size Specification
Although this crate is said to be a 37-in crate it still falls into the category of a 36-inch dog crate with a divider because its exterior is 37-in long. The interior is a whole other story so you will get to house an intermediate dog inside it like you would with the other crates.
Different Divider
Another thing that makes it different from the rest is its divider. Unlike the rest, this divider is not adjustable and can't be used for potty training puppies. Its only function is to divide the crate into two separate ones. Each crate part has its own door and you'll get to house 2 smaller dogs inside.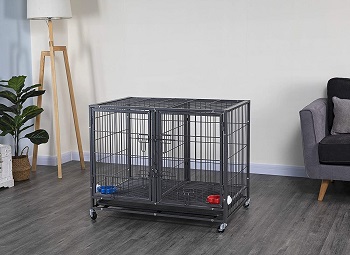 Movement Issues And Cleaning
Since it's heavy-duty it's a lot heavier than the rest. It weighs around 60 lbs so it's going to be hard to move. To take care of that problem, you'll get to attach 4 wheels on the bottom. The bottom also holds a plastic pan outside the crate. This means that you won't have to take your dog out of the crate to clean it.
In Short:
Has a heavy-duty build
The divider is not adjustable
Can house 2 smaller dogs or one larger
Each crate part has its own doors
Sits on wheels for easier movement
Weighs around 60 lbs
You can stack up to 3 crates on top
How To Pick A 36 Inch Dog Crate With Divider
To shed some light on these crates we decided that we should talk about their similarities, differences, and functions. The reason we're doing this is to make things a bit easier for you when you're choosing the crate you want to get. You won't mess up and get the wrong crate after reading this simple buying guide
Size Spectrum Placement – In terms of size all of these are intermediate dog crates. What this means is that they can house both large and medium dogs. Medium dog crates can typically house dogs up to 40 lbs while large ones can house dogs up to 90 lbs so a good starting point in terms of dog weight for these would be 65 lbs.
Figuring Out The Size – Just to make sure you're not looking at the wrong crate size, you should measure your dog's height and length to see if he can really fit inside one of these. The simplest way to do it is to compare both your dog's height and length to the crate's. When comparing the two the crate should be at least 4-in larger in both aspects.
Divider Abilities – The most typical crate type that holds a divider are the wire dog crates. They are excellent training cages for dogs so it's no wonder that they typically have a divider that's there for you to potty train your growing puppy. This is only true if the divider is adjustable and can be placed anywhere in the crate.
Other Divider Types – Other divider types are ones that are non-adjustable. Their purpose is to split the crate into two separate crates. This means that you would get to use these as multi-dog crates. When that's the case, they will usually also feature separate entrances for each dog to get to his own crate.
To Sum Up
We focused on both durability and other functions when we chose to recommend the MidWest Ultima Pro Dog Crate as the best 36-inch dog crate with a divider. Not only does it have a heavy gauge steel wire build but it's also foldable and can be used both for traveling and indoor use. If you're looking for a larger crate that's similar to these you might want to read the article about 42 dog crates with divider and if you're looking for a smaller version read the article about small wire dog crates because they typically do feature a divider.