Do you know that you want to get your lovely dog an attractive dog crate but just don't know where to look and what type to even get?
If you don't it's good you're here and since you already are, you might as well continue reading this article because we reviewed the best in it. We recognized the most attractive crate types and categorized them for you according to their function and properties. You'll easily find folding, wooden, soft, and many more crates.
The Summary
Best 6 Attractive Dog Crates
BEST OF BEST ATTRACTIVE DOG CRATE
Crown Pet Products Pet Crate
Double Function
If you happen to be missing a piece of furniture inside your home to complete how it looks you might want to consider getting this indoor dog crate furniture. it doesn't only look like it with its wooden build and espresso color but also functions as one because of its top.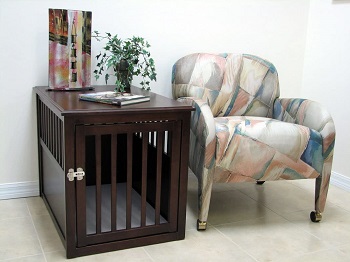 Access Details
Of course, it wouldn't be here if it wasn't a dog crate as well. It features a single door for access to it and although that might not seem like anything special it definitely is. This is because the door can either open like a regular door or swing it on the inside. That way, the door will save you space.
Wood Panel Connection
It's built out of hardwood but actually, it looks like teak to make it a more attractive dog crate. Each panel is connected with mortise and tenon joints which are known in furniture making and are the most renowned and reliable. You can be sure you're getting a durable dog crate.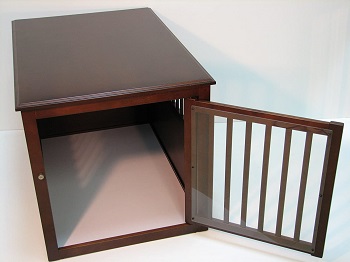 Melamine Covered Bottom Use
Although we did say that it's made out of hardwood, this is not true when it comes to its bottom. The material used there is MDF that's covered with melamine. What the melamine does is eliminate the possibility of liquids and odors getting absorbed by the wood. Although this is a great feature for a training crate, your medium-sized dog should be crate trained before going in.
In Short:
Made with hardwood that looks like teak
Can house medium-sized crate trained dogs
The bottom won't absorb liquids or odors
Each panel is connected with mortise and tenon joints
Can be used as a furniture piece as well
The single door can be rotated to the inside
BEST WOODEN ATTRACTIVE DOG CRATE
Casual Home Wooden Pet Crate
Wood That Stands Out
We categorized this crate as the best wooden because its wood really stands out. The wood in question is solid and what makes it so special is the fact that it's chew-resistant. This is not something you'll normally find as a feature on other large, medium, or small wooden dog crates.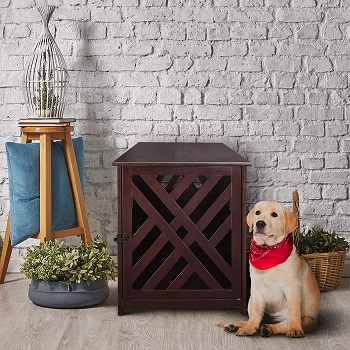 Ventilation Bars Placement
Not only does the wood on this attractive dog crate stand out because of its durability but also because of its looks. Instead of featuring those same old boring vertically placed bars for ventilation, this one has diagonally placed ones. You'll find them on each side including the door.
Bottom And Top Weight Limit
The bottom of the interior has the same weight limit as the top does. It's 150 lbs for both and it might be useless for the interior since its dimensions dictate whether or not your dog can fit inside but it's definitely useful for the top. That's because you can place your things on top.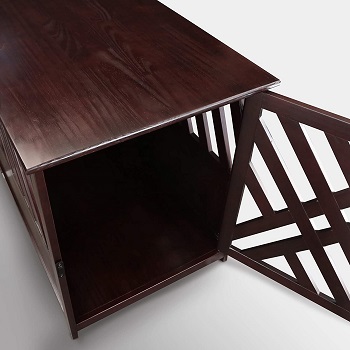 True Size
You might conclude that this is a large wooden dog because it's 36-in long but that's far from the truth. This is its outside dimension while the inside is actually 33-in long which means that it's a crate suitable for housing medium-sized dogs that weigh up to 40 lbs
In Short:
Made with chew-resistant solid wood
Able to house medium-sized dogs
The top can hold things up to 150 lbs
Has diagonally placed ventilation bars
Has a single access door
BEST FURNITURE STYLE ATTRACTIVE DOG CRATE
Unipaws Pet Crate End Table
Crate Color
This is another and the last wooden dog crate we will review that also functions as furniture. It's white dog crate furniture so if you feel like a white crate might blend in well with the rest of your furniture, this might be a great choice for you then.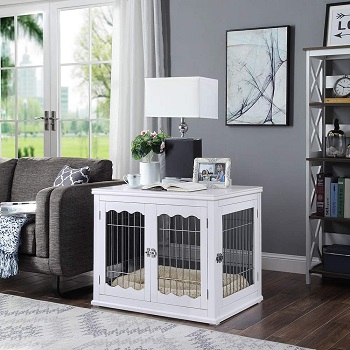 Multiple Door Design Benefit
The furniture-style top isn't the only thing that makes this attractive dog crate fit well into any home. There's also the fact that it has 3 entrance doors that will allow you to place it in more than one way. The door panels can also be assembled in more than one way when you get them.
Materials Besides Wood
It's not entirely made out of wood though. the wood in question is MDF wood and it has metal bar sides. The MDF wood is definitely not chew-proof but the metal sides are. Still, we would advise you to use this crate with a crate-trained dog only.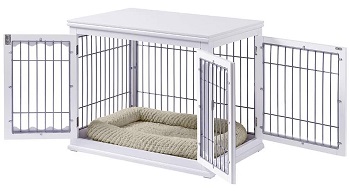 Weight Limits And Bonuses
This is another medium wood dog crate that's able to house medium-sized dogs that weigh up to 40 lbs. Your dog can be comfortable inside because you'll get a waterproof bed with it. The top has a maximum weight limit of 150 lbs so you can really get creative with what you put on top.
In Short:
The metal sides are chew-proof, the wood is not
Can house dogs up to 40 lbs
Has three entrances that can be installed however
Comes with a waterproof bed
The top has a 150 lbs weight limit
BEST SOFT ATTRACTIVE DOG CRATE
Petnation Port-A-Crate
Color And Patterns
The rest of the crates we will review from here are all soft travel dog crates. They are known for their looks because the fabric covers that make them can be of any color. This one specifically is beige and even has mesh fabric windows that are shaped like lovely dog bones.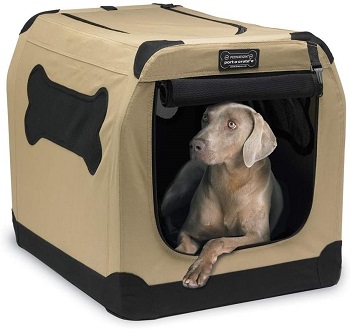 What It Consists Of
As we've mentioned it consists out of a fabric cover and also a steel tube frame. The fabric in question is a heavy-duty fabric because it's a tightly woven one. Thanks to its steel tube frame, this attractive dog crate not only holds its shape well but can also be folded down.
Dog Size According To Crate
Although it's an intermediate dog crate that can house both medium and large dogs, we would advise you to measure your dog to figure out the size. The crate should be 4 to 6 inches longer than your dog and only 1 or 2 inches taller than your dog.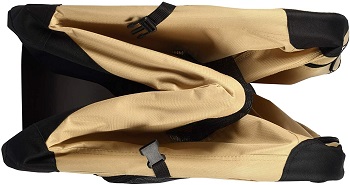 Dog Containment Advice
We would advise that your dog is crate trained before you contain him inside this crate. We recommend it both because this is primarily a travel crate and because the crate might not survive chewing and behavior that's anything but calm.
In Short:
Made with tightly woven fabric that's heavy-duty
The steel tube frame is foldable
Can be used for traveling with a crate-trained dog
Has a beige color and bone-shaped side windows
It can house intermediate dogs
BEST TRAVEL ATTRACTIVE DOG CRATE
A4Pet Soft Collapsible Dog Crate
Safer Traveling
Even though most, if not all, soft collapsible dog crates are designed for traveling with your dog this one is slightly better for it. it's because of its leakproof bottom that will prevent your dog's accidents from ending up on your floor and the rounded corners that protect your car interior.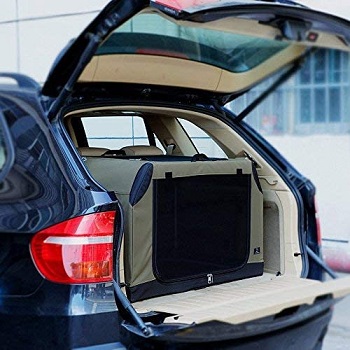 Cover Contents
Its cover is an oxford fabric one and its foldable frame is a steel tube one. The cover has 3 large mesh fabric windows and one smaller one. The three large ones are also access doors that close with zippers. You'll find them on top, in front, and one on the side. In the back, there is an accessory pocket.
Light And Portable
Another reason why it's a great travel crate is that it's a lightweight dog crate. TO be precise, it only weighs 6 lbs. You'll get to carry it with the provided top handles on each side of this attractive dog crate. Its foldable design will make transport and storage when you're not using it easier.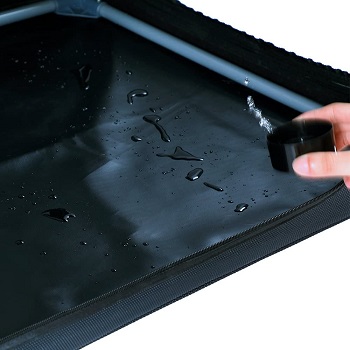 Keeping An Eye On Your Dog
You shouldn't leave your dog unattended in this crate because it's not a reliable indoor housing choice. Your dog might easily break out of it. When traveling, it's preferred that your dog is crate-trained for safety. Your dog should be a small one to fit inside this olive green crate comfortably and safely.
In Short:
Built with oxford fabric and a steel tube frame
can house small and crate trained dogs
The leakproof bottom and rounded corners protect the car interior
Has 3 large entrances and 4 ventilation windows
The back has an accessory pocket
BEST FOLDING ATTRACTIVE DOG CRATE
EliteField Folding Soft Dog Crate
Wide Color Range
You wouldn't really see the full potential of this colored dog crate if we were to only talk about one of its colors. The crate we are reviewing is black but you'll get to choose from a variety of different colors if you want your dog crate to be a fashion statement as well. There are 15 other colors and color combos to choose from.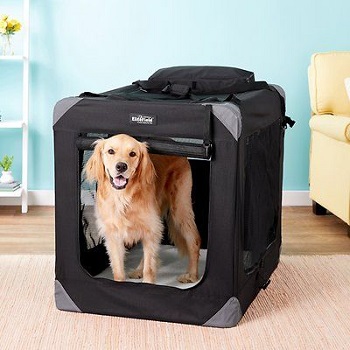 Roomy And Comfy
It's not only an attractive dog crate but also a comfortable one. It's designed to be 2-in wider and 4-in taller than most of its competitors. Your dog will have plenty of room inside and will even get to rest on a comfortable bed that's both removable and washable.
Portability Reasons
This is a soft portable dog crate for plenty of reasons. One is that its steel tube frame is collapsible and the other one is that it only weighs around 18 lbs. There's also a third reason and that's because it comes with its own shoulder strapped carry bag and it even has its own carrying handles on top.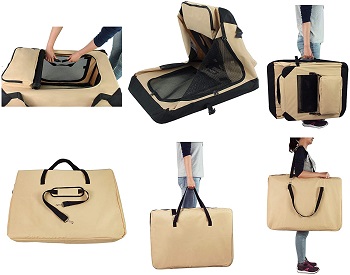 Size And Cover Things
Your dog should be a large one to fit inside comfortably. After all, this is a soft-sided dog crate large. Its oxford fabric cover has three doors and five windows for proper ventilation. It also holds a built-in accessory pocket on top and one in the back that's removable.
In Short:
Made to be 2-in wider and 4-in taller than most
Comes with a washable interior bed
Can house large dogs
Has 3 entrances and 5 ventilation windows
Has 2 accessory pockets
Has its own strapped carry bag
Can be folded down
How To Pick An Attractive Dog Crate
To figure out what the best attractive dog crate is for your needs, we need to break them down into common features and their differences. Their differences are mostly found in how durable they are, primary function, and size. We'll go into detail about every single one in this useful guide on how to buy a great one fast.
Attractive Crate Types – These crates step out from the classic cage-like prison look of most small, medium, and large wire dog crates and of most heavy-duty metal dog crates. If you'd like to use one of these indoors you should go with the wooden ones, the soft ones are not an option in this case.
Attractive Looks – Both soft and wooden crates look amazing but in very different ways. The wooden ones look amazing because they aren't noticeable since they look like just another piece of furniture while the soft ones stand out with their colors. You can really get any type of color with these crates while the wooden ones feature more neutral colors like white and brown.
Not Everything Is About Looks – We couldn't just review nice-looking dog crates without giving their functions some thought. The wooden ones are amazing furniture pieces able to blend into any home while the soft ones are great for traveling because they're incredibly light and easily portable.
Crate Types Simmilaritites – Unfortunately, both of these attractive dog crate types will require you to crate train your dog before getting them. With wooden ones, it's because they might take some visible form of damage or even get destroyed. With soft crates, it's both because your dog should always be crate-trained when traveling and because they won't survive an uncalm dog.
To Sum Up
We've decided to stick with the Crown Pet Products Pet Crate as the attractive dog crate we would recommend. Its furniture function is not the only thing that makes it attractive. there's also the fact that its bottom won't absorb liquids and odors and the fact that it's made out of hardwood but looks like it's teak. If all of these crates are too small for your dog you might want to check out our article about XL dog crate furniture or if you want a more durable option then we advise you to check out the article about XL wire dog crates.