Do you have a dog that's going to grow into a big dog so you're looking to get a large dog crate with divider?
If you are, the best thing to do is that you continue reading this article since we've collected and reviewed ones that fit this description. We made sure to review the best in categories like best for puppies, best indoor, and more so make sure you read through the ones that interest you the most because you are sure to find at least one like that.
The Summary
Best 5 Large Dog Crates With Divider
BEST OF BEST LARGE DOG CRATE WITH DIVIDER
MidWest XXL Giant Dog Crate
2 People Assembly
This is definitely the largest dog crate we will review and it is 54-in long. They are not as easy to find but if you're getting this one, make sure you include two people when assembling it since it's so big and can't be assembled by only one person.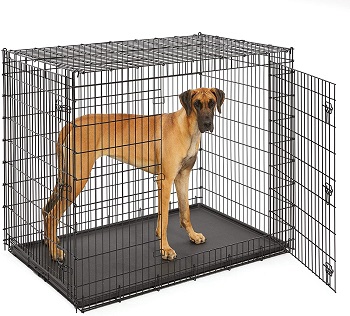 How It Holds Its Shape
Since it is so big the crate has to have some features that make it hold its shape better and that prevent accidental collapse. The two things that will help with that are definitely the drop pins that can be found on each edge of the crate and the hooks in the shape of an L that will prevent the large sides from bending inwards.
Divider Sold Separately
It does not feature a puppy crate divider but you can purchase an XXL dog crate divider to fit this exact crate and it's really easy to find and get one. All in all, with the divider, you'll be looking at a price of around $200 so it's not that expensive seeing as how the price gets bigger with size and you will rarely find a large dog crate divider this big.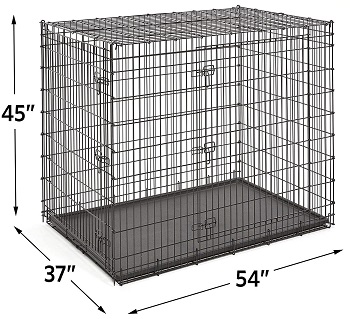 Limited Movement
This is definitely a crate that's not only too heavy to travel with since it weighs 80 lbs but it's also just too big for you to do that so think of it as an indoor dog crate. This large dog crate with divider features two doors that lock with 3 sliding bolt locks each and it features a plastic pan on the bottom for cleaning just like a regular wire dog crate
In Short:
Made for XXL dog breeds like Great Danes
each corner has a dropping pin
Has L shaped hooks to prevent the sides from bending inward
Weighs 80 lbs
The divider can be purchased separately
Requires 2 people for assembly
Has 2 door access
BEST HEAVY DUTY LARGE CRATE DIVIDER
Go Pet Club Dog Crate
Non-Adjustable Divider
This XL dog crate with divider can actually be used for you to house 2 dogs because of the divider it comes with and because of the door positioning amount and positioning. XL dog crate divider is not meant to be used for potty training though since it can't be adjusted.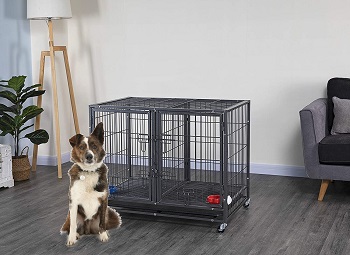 Stacking Option
If you're some kind of a dog professional or if you just have a lot of dogs to house somewhere you'll love that this is a stacking dog crate. You can stack up to 3 crates on top of one another and when you do so, the total height will come at around 92.5-in.
Multi-Dog Housing
As we've said before, the door placement is just another factor that makes housing two dogs available to you. There are two access doors o the side of the crate that both lock with their own door lock and each door contains a feeding door as well. You'll also get detachable plastic bowls with the crate.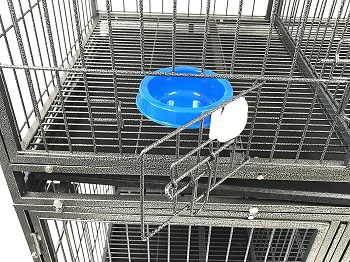 Cleaning, Weight, And Movement
The crate, just like the one prior to this one, can't be folded down which is typical for heavy-duty dog crates. The way you can clean it is with a plastic tray that will collect dirt that falls onto it through the gridded floor on the bottom. Since this large dog crate with divider weighs 66 lbs it comes with lockable wheels to make movement easier.
In Short:
Made out of heavy-duty metal
Has a divider that is non-adjustable
Can be used to house two dogs
Features a door and a feeding door for each crate
For cleaning, you'll get a plastic slide-out pan
Sits on wheels
Weighs 66 lbs
You can stack up to three crates
BEST METAL XLARGE CRATE WITH DIVIDER
Paws & Pals XL Dog Crate
Freer Positioning
This side door dog crate will allow you to position the crate more freely inside your home because it also has a front door. This is really important for an extra large dog crate with divider to have because they are large and often can't even fit inside your home elegantly.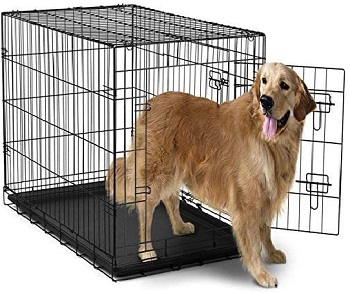 Tucking It Away
It is actually recommended that your dog, especially if he's a puppy, isn't contained for long periods of time inside his crate so you'll find it useful that the crate can be folded down so that you can tuck it away without it taking too much storage space.
Potty Training Supplies
The cleaning pan on the bottom will utilize and enhance the purpose of the adjustable divider it comes with since the divider is here for potty training while the cleaning pan will make cleaning up messes so much easier. This is only true for puppies since dividers are here to make the crate adjust to a growing pup.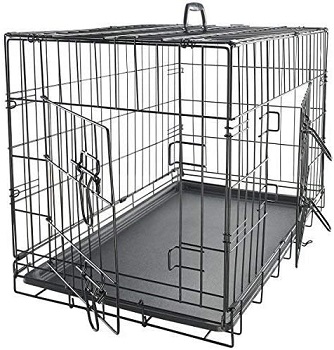 Crate Materials Properties
The steel wire that makes this crate is heavy duty and it is actually high tensile which means that it has a higher carbon content that makes it more durable. The whole crate is coated with an electro finish that makes the entire crate rust and corrosion-resistant.
In Short:
Made with heavy-duty high tensile wire
The electro coat makes it rust and corrosion-resistant
The divider it comes with is adjustable
Can be cleaned using the cleaning pan on the bottom
Has a side and front door access
Can be folded down for you to tuck away
BEST INDOOR LARGE DOG CAGE WITH DIVIDER
Lucky Dog 42-in Whisper Glide Dog Crate
Reduced Noise, Increased Stability
Usually, 42-in dog crates with dividers can be quite noisy and rattle but this crate achieves to prevent that with the stabilizers located o its corners. Another thing that they do is make the crate more stable and not as flimsy as it would be without them.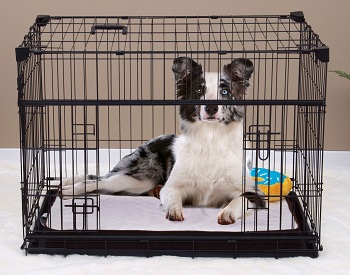 Sliding Side Door
Just like other wire dog crates that we reviewed here, this large dog crate with divider also has a front and side door access but what makes it stand out is that the side door makes it a sliding door dog crate. It's actually a double door and because of the lock positioning, won't allow your dog to push the door out.
Space Saving Door
We've already mentioned the sliding door for access but we haven't mentioned that this will make it perfect for using indoor since the door won't get in your way if you leave the crate open and it will save you space around the perimeter of the crate.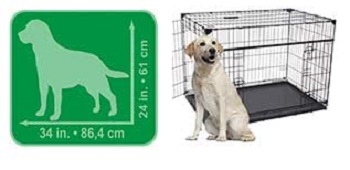 Floor Protection
This crate with divider features a pan with elevated edges that create a deep base. This will prevent accidental liquid overflows and protect your floors. Another way that your floors will be protected and scratch-free is with the rubber feet for the bottom that it comes with.
In Short:
The stabilizers on the corners reduce rattling noise
Has 2 doors for access
The side access door slides open
Has a deep pan on the bottom for cleaning
Comes with rubber feet to prevent scratches on the floor
BEST FOLDING LARGE DOG CRATE WITH DIVIDER PANEL
Precision Pet Great Crate
Multiple Lock Doors
Not only is this 42-in dog crate with divider durable because of its steel wire build that's coated with a rust-resistant coating finish but it is also safe for your dog in the sense that your dog will find it hard to escape the crate since it's a safely locking dog crate that features a multiple point lock.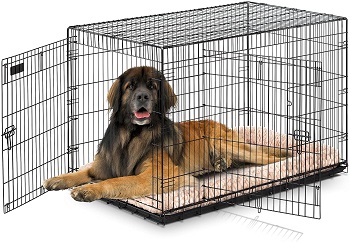 Safety And Storage
Each panel of this dog crate has rounded out corners which means that inside safety is guaranteed. The crate is also built in such a way that you can fold it down whenever you need to store it away or if you want to travel with the crate when you're done with crate training your dog.
Adjustable Sizing
The crate wouldn't be reviewed here if it didn't feature a divider that is best used for potty training. Like all the other wire crate dividers, it is adjustable so that it always adjusts to your dog's size as he grows. Before buying, as with any large dog crate with divider, make sure that you buy the crate according to the approximate grown-up size of your dog.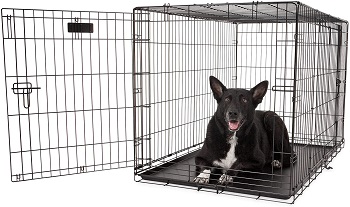 Versatile In-Home Positioning
To allow you versatile positioning inside your home, the crate has a front and a side door so even if you block out one entrance, your dog can still access the crate using the other one. You don't have to worry about how you're going to access the crate to clean it since it has a cleaning pan on the bottom.
In Short:
The coating of the steel wire makes it rust-resistant
Has 2 doors for access
the door locks from 5 different points
Can be folded down
Cleaning is easy because of the removable cleaning pan
Adjustable in size because of the divider
How To Pick A Large Dog Crate With Divider
We've included XL and XXL large dog crate in these reviews so the first thing that comes to mind that you should definitely know is how to differentiate sizes according to your dog, the next one is to know why you need a divider and the third or should definitely be which type of dog crate you need according to your dog's behavior. We will get into that and more in this guide on how to buy the best one.
Positioning Inside Your Home – Since most of these are large wire dog crates, they won't exactly fit nicely inside your home so to make up for that fact, most of them come with multiple doors so that you are freer with positioning the crate inside your home.
Sizing Explanation – We reviewed XXL dog crates, XL wire dog crates and large dog crates it's important that you know the exact length of each when you're searching for one yourself. Large dog crates will be around 42 or 44-in long, XL ones will be 48-in long while XXL dog crates are usually over 50-in long. You want to make sure that your dog is at least 4 inches shorter than that and that is also the rule of thumb for the height.
What The Divider's For – Not everyone needs a divider. Usually, a divider is here to potty train a growing puppy. The way it does this is by adjusting the crate's size to your dog as he grows since dogs won't urinate where they sleep. To assist with that, you can also get puppy pads in crate.
Different Build Materials – The most common dog crates that feature a divider are wire dog crates and for good reason. They can easily be considered the best training cages for dogs since they are durable enough and affordable. They also provide your dog with the best airflow and visibility while your dog is inside and can also be folded down for storage since crate usage time should be limited when you're training your dog or puppy.
What Not To Look For – The keyword for dividers is adjustable. If that's not the case, that usually means that the large dog crate with divider is not good for potty training but rather, it's made to house multiple dogs. Another indicator of that will be the door positioning. This is common practice with heavy-duty metal dog crates and stacking ones.
To Sum Up
What we would definitely recommend as the best large dog crate with divider is the Precision Pet Great Crate since it has all of the features required by a training crate with a divider to have like rounded corners, safety locks, foldable construction, and a cleaning pan for the bottom. If you're looking for a crate that will look better inside your home then we suggest ou either take a look at the article about XL wooden dog crates or the article about XL dog crate furniture.