Do you want to get a large 2 door dog crate but are wondering what are the different crate types can fit into this category?
You don't have to wonder anymore because we will provide an answer to this question in this article where we reviewed only the best we could find. We made sure to focus on more crate types like soft dog crates and heavy-duty ones so there's something for everyone's taste.
The Summary
Best 5 Large 2-Door Dog Crates
BEST OF BEST LARGE 2-DOOR DOG CRATE
MidWest iCrate Large
E-Coat Benefits
While this crate isn't really a nice-looking dog crate, at least when it comes to how it might look inside your home it definitely is nice when it comes to its abilities and functions. For starters, it's made with strong steel wire that's coated with a black e-coat finish that makes it rust-resistant.
Provided Safety On The Inside
You don't have to worry about if your dog will be safely contained inside it and it's because of the rounded corner clips that your worries can be put to rest. The corner clips will eliminate the painful and sharp edges that might otherwise hurt your dog.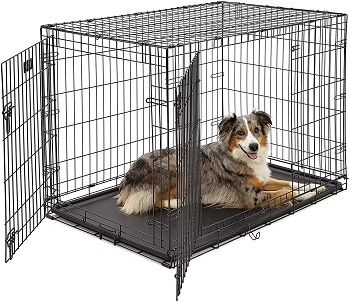 Puppy Housing Crate
It's safe to say that this large 2 door dog crate can be used to house puppies as well. The reason why is that it comes with an adjustable divider panel that will adjust the crate's size to your puppy as he grows into his full size. We have to add that you should buy the crate according to our dog's approximated adult size.
Access For Cleaning
You don't really need to access the crate through the front or side door that locks with 2 sliding bolt locks to clean it. Instead, you can open up the pan stopper and pull out the plastic tray located on the bottom to clean it instead of the crate.
Floor Protection And Storage Ease
The bottom of the crate also holds roller feet that are here to prevent scratching and any other type of damage to your floors. When you're not using the crate you can easily store it without it taking to much of your storage space because it can be folded down.
In Short:
The steel wire is rust-resistant because of the e-coat
Comes with a divider panel for puppies
The two doors lock with 2 slide bolt locks each
The bottom roller feet will prevent damage to floors
The plastic pan can be easily pulled out for you to clean it
The inside has rounded corners for added safety
BEST METAL LARGE 2 DOOR DOG CRATE
You & Me Dog Crate
Why It's A Puppy Crate
The You And Me 2 door folding crate large model might just be the perfect crate for housing puppies. It comes with a puppy crate divider that will assist with potty training by adjusting to your dog's size as he grows into his full size. If you're buying the crate for a puppy please make sure you buy it according to your dog's adult size.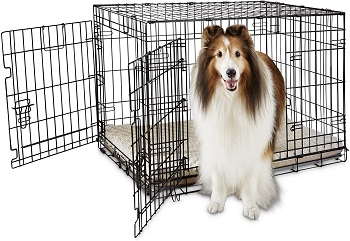 Removable Doors Design
The crate might now have sliding doors or that will save you some space around the crate if you leave it open for free entry and exit but you can actually easily remove both doors to do that. You can lock the doors using a single slide bolt lock per door.
Cleaning Pan Features
The pan on the bottom that is there so that you can clean the crate fast and easy is leakproof. It also has raised edges so that the chance of liquid overflows is minimized. The pan won't accidentally slide out because there is a side stopper on the bottom to prevent that from happening.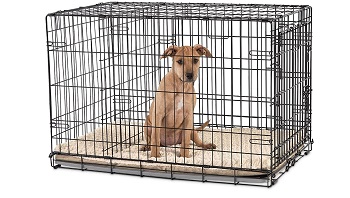 Crate Training Guide
If you don't know where to begin with crate training whether there's a puppy in question or a fully grown dog, you might find it useful that the crate comes with a guide on how to crate train your dog. The large two door dog crate can easily be stored when you're not using it since it can be folded down.
In Short:
The two doors are removable
Both doors lock with a single slide bolt lock
Comes with a crate training guide
Has an adjustable divider panel
There's a pan for cleaning the crate on the bottom
Can easily be folded down
BEST HEAVY-DUTY LARGE 2 DOOR DOG CRATE
Yaheetech Dog Crate
Aggressive Dog Crate
This is definitely the crate that's the most durable one out of all the crates we reviewed. It's made to house aggressive dogs that tend to destroy even large wire dog crates. It's made with strong metal and has a hammered paint finish that helps make the crate anti-rusting.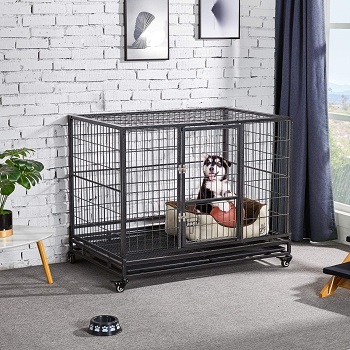 Door Placing And Functions
The crate does have two doors but rather than having 2 on the side of the crate it has one on the side and one on top. There's also an extra feeding door that's built-into the side access door. The side and top door can be locked with a 2-step safe lock while the feeding door can be locked using a sliding bolt lock.
Crate Weight And Movability
The crate weighs 52 lbs so in order for you to move it easily around your home you'll get 4 wheels that you can attach to the bottom and that you can lock to make the crate more stable when it's in its place. The crate can also be folded down which is not something we're used to seeing on heavy-duty dog crates.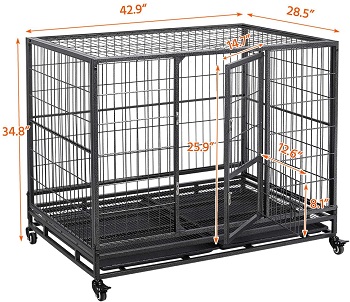 What The Bottom Holds
For the crate to have a higher weight limit, the manufacturer placed crossbars on the bottom to achieve this. The bottom of the crate also holds 2 slide-out pans located below the bottom so that you can leave your dog inside this large 2 door dog crate when you clean it.
In Short:
The metal is coated with an antirusting hammered paint
Can be folded down
Sits on 4 lockable wheels for easy movement
Has a crossbar on the bottom for a higher weight limit
The crate weighs 52 lbs
Has a side and top door for access
Has a feeding door built-into the side door
BEST WOODEN LARGE 2 DOOR DOG CRATE
Unipaws Dog Crate End Table
How It Blends Into Homes
This large wooden dog crate is definitely the best crate when it comes to how it will look inside your home. The reason for that is that it doubles as a furniture piece because it looks like it and you can place things like plants, magazines, and pictures on top. The weight limit for the top is 200 lbs so you can really get creative with what you're gonna put on top.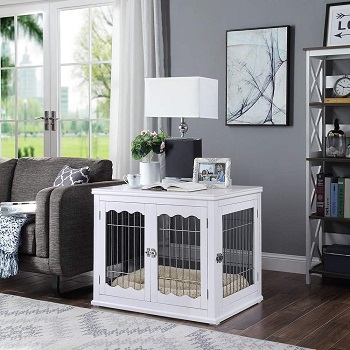 Metal Sides Durability
While the frame of this large 2 door dog crate is made out of wood, for the sides it uses metal wire bars. It is not entirely chew-proof because of the wood but the metal bars are. Still, it's recommended that you use it with crate trained dogs only.
Door Panels And Locks
The crate actually has three doors for access but 2 entry points. The reason for it is that the side holds a double door while the front holds a single door. You can even place the door panels however you'd like when you're assembling the crate for even more placement options. The doors can be locked using 3 different types of locks for extra security.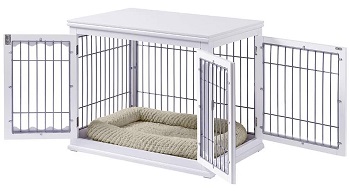 Bonus Bed
What you'll also get if you choose to buy this crate is a highly comfortable bed for it. The bed is waterproof so it might even protect the bottom of the crate from accidents and you can just as easily remove it and wash it when there's a need for it.
In Short:
Has a wooden frame ad metal wire sides
The metal sides are chew-proof
Doubles as a furniture piece
The weight limit for the top is 200 lbs
Has a double side door and a single front door
The doors can be locked with 3 different lock types
Comes with a washable waterproof bed
BEST FOR TRAVEL LARGE 2 DOOR DOG CRATE
Petnation Port-A-Crate
Material Functions And Durability
The two materials that are used to make this crate are steel and fabric. The frame i made out of steel tubes while the crate's cover is made out of durable and tightly woven fabric that ads to its durability. Nonetheless, if you want to get this crate you want to make sure that your dog is calm and crate trained.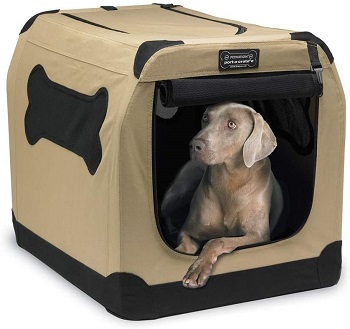 Light And Foldable
You can actually fold down the frame to store the crate away when you don't need it and so that you can transport it with ease. It only weighs 10.9 lbs so carrying the crate will also not be a problem. the fabric cover can be removed and washed or if you want a fast and easy solution, you can spray it down with a stain remover and wipe the dirt off.
Ensuring Proper Ventilation
The crate will get enough airflow through the mesh fabric windows that are located on all sides of this large two door dog crate. Two of the windows help with how the crate looks since they are shaped like dog bones and one ventilation window also functions as a door.

Door Placement And Locking Security
There's a door located in the front of the crate and the other one is located on top. Both can be closed with zippers. Just above the front door, you'll find a plastic locking clip to ensure that the zippers don't get opened accidentally. The rounded corners of the crate on the other hand will keep your car interior safe.
In Short:
Has a tightly woven fabric cover
Holds its shape because of the foldable steel tube frame
Has ventilation windows on all sides, 2 of which are shaped like bones
Has a front and top access door that close with zippers
Can only be used by crate trained dogs
The rounded corners will keep your car interior safe
How To Pick A Large 2 Door Dog Crate
To pick the right large dog crate with double doors you first have to learn about their differences like materials, purpose, and size. The size difference might surprise you but it's real and we're here to explain every bit of it to make it easy for you to get the right crate.
Use Of Two Doors – Not every dog owner needs a two-door dog crate but it surely is quite useful to have one. This is especially true if you have problems with placing the crate inside your home since the two-door design will give you more options on how you're gonna place it.
Durability Gradation – There are many large two-door dog crates out there of different types so it's important you know which crates are more durable than others. The most durable dog crates are going to be heavy-duty metal dog crates since they can house aggressive dogs. Up next, we have wire dog crates and the third place is reserved for wooden ones. Soft collapsible dog crates are definitely last.
Best For Indoor Housing – We narrowed it down to two types of crates that are best as large indoor dog crates. The first is definitely a wire dog crate since it's durable and a great training cage for dogs and the second one is indoor dog crate furniture that is less durable and can only house crate trained dogs but blend incredibly well inside homes.
How Big Are They – The size of these crates greatly depends on their type. wire crates will typically be around 42-in long. heavy duty ones will go up to 43-in in length, large soft-sided dog crates will be 36-in long, and wooden dog crates as well. Remember, they can all house large dogs but to know if they can house your dog you should get your dog's height and length and make sure that the dog is at least 4 inches shorter than the crate.
To Sum Up
We've decided that we should recommend the Unipaws Dog Crate End Table as the best large 2 door dog crate. Although it isn't as durable as a wire dog crate, we just had to recommend because of how well it can fit into any home because of its furniture function. If you're looking for a crate that has one door access your best bet is to have a look at the article about XL plastic dog crates and if you wish to travel with your dog then go check out the article about XL travel dog crates.