Have you been looking for a wire dog crate but got all confused with the sheer number of them offered?
We'll try to keep it short and simple in this article where you're certain to find one if you keep on reading it. We made it so that almost no two crates are alike. That's exactly why you'll find large crates, 54-in crates, small crates, and many others.
The Summary
Best 15 Wire Cages For Dogs
BEST OF BEST WIRE DOG CRATE
Pupzo Heavy Duty Crate
Finish And Construction
Primarily, this crate is made out of steel tubes but on the bottom, you will find a wire grid. It acts as a heavy-duty metal dog crate so check others out for a full-blown wire build. The finish is non-toxic and makes it rust and corrosion-resistant.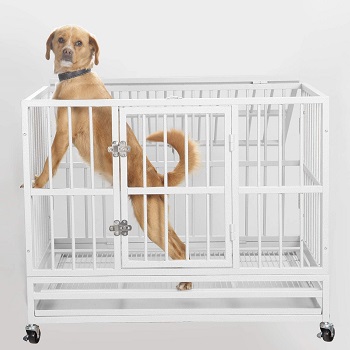 Doors, Weight, And Size
It has a front and top door, the top door serving as a pet interaction entrance. it's 48-in long which allows you to house extra large dogs inside and for locking safety, the front door features 2 hasp latch locks. It weighs 76 lbs so it does have wheels for you to move it easily.
In Short:
Made with steel tubes and wire
Has a white, corrosion, and rust-resistant finish
It's 48-in long and can house xl dogs
Has a front and top entrance
The front door locks with 2 hasp latch locks
Weighs 76 lbs and sits on 4 wheels for easy moving
BEST EXTRA LARGE WIRE CAGE FOR DOGS
MidWest Life Stages Dog Crate
Wire And Storage
The Midwest single door collapsible dog crate has a full wire build and as mentioned, features a single entrance in the front. You can easily fold it down to store it away or to travel with it and it's made with a heavy gauge steel wire that makes it more durable.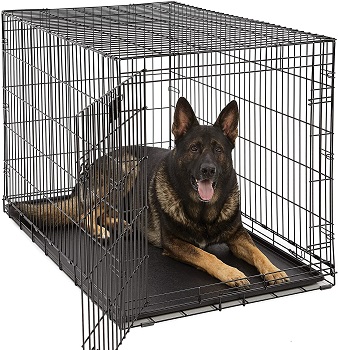 Dog And Floor Safety
The interior corners are rounded because of the side clips for dog safety while the roller feet on the bottom will protect your floors from scratches. It's 48-in long but if you'd like to find an XL wire dog crate that's even bigger, you're sure to find one in the listed article below.
In Short:
Made with heavy gauge wire
Can be folded down for transport or storage
It's 48-in long
Has floor-protecting roller feet
Has rounded corners for dog safety
Features one entrance
BEST MEDIUM WIRE DOG CRATE
Unipaws Furniture Style Crate
Wire And Wood Build
Although it's not fully wire, the wire makes it somewhat chew-resistant while the MDF wooden frame makes it look nice. It acts as a furniture-style crate with a top weight limit of 150 lbs. If you'd like a medium wire dog crate whose build material is only wire, check them all out.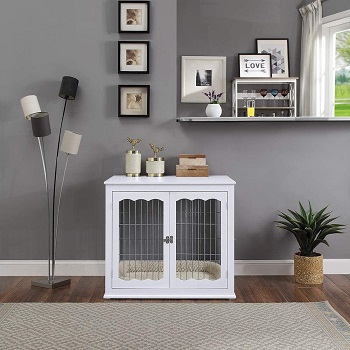 Entries And Interior Comfort
It has 3 doors and 2 entrances. Each entry point locks with a hasp latch lock and will allow you to place the crate in more versatile ways. The interior is equipped with a waterproof bed that you can wash and it can house medium dogs up to 40 lbs.
In Short:
Has an MDF wood and wire sides build
The wire is chew-resistant, the wood is not
Acts like a piece of furniture as well
The top weight limit is 150 lbs
Can house medium dogs
Has a double and a single door entrance
Comes with a waterproof washable bed
BEST RETRIEVER 2 DOOR WIRE DOG CRATE
Pet Gear The Other Door Steel Crate
Door Quantity And Build
You can never go wrong with more entrance and the Pet gear the other door double door collapsible wire dog crate apart from having 2 also has 2 more entrances. The side one slides open to save space. It's primarily made out of plastic but has wire sides.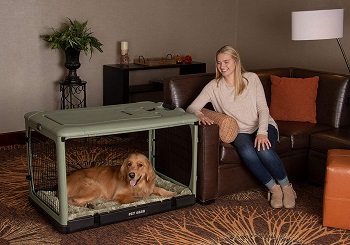 Interior Construction And Traveling
The interior corners of this retriever 2 door wire crate are rounded and there are no sharp wire edges exposes. The base is insulated so that it doesn't crack in cold weather and you can easily collapse it, drag it using the built-in wheels, or carry it inside its travel bag. For more dog crates for golden retrievers with fewer doors, you'll find them all in the article linked below.
In Short:
Made out of plastic and wire
The interior corners are rounded for safety
Has an insulated bottom base
Features 4 entrances in total
Can be collapsed
Has built-in wheels and comes with a travel bag
Can house large dogs
BEST SMALL WIRE CAGE FOR DOGS
Diggs Revol Dog Crate
Puppy Safety
The Diggs Revol double door collapsible dog crate is an excellent choice for puppy owners. It is completely safe for them and comes with a divider for potty training. The doors can only ever be opened by humans and the side door opens upwards to save space if you leave it open.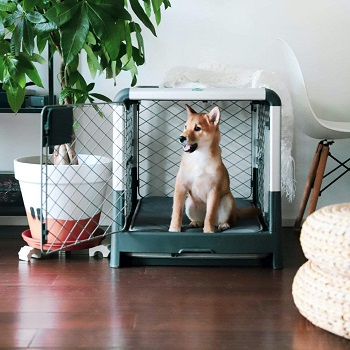 Extra Durable Build
It's extraordinarily built with its reinforced plastic frame and aluminum wire sides that don't rust. It comes with built-in wheels and it can easily be collapsed. it does weigh 25 lbs which is more than expected from a small wire dog crate so make sure you check others out for a lighter version.
In Short:
Has a reinforced plastic frame and aluminum wire sides
Has a top, front, and side entrance
It's completely safe for puppies
Comes with a puppy divider
It's easy to collapse
Has built-in wheels on the bottom
Weighs 25 lbs
BEST WHITE WIRE DOG CRATE
Iris USA Open Top Crate
Size And Dog Size
In terms of length, it's considered to be extra-large since it's almost 48-in long but can only house medium dogs like french bulldogs. The reason why is because it doesn't have a top so it acts like a dog crate playpen. It's a white wire dog crate playpen so make sure you read about actual crates in the next article.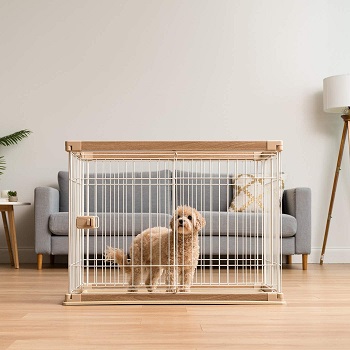 Frame, Coating, And Bottom
The frame is found on the top and bottom. It looks like wood but it's plastic. The wire is coated with a white epoxy finish and it has a sliding door entrance that saves space by being one. The bottom frame fits perfectly into the molded plastic cleaning tray on the bottom
In Short:
It's around 48-in long
Can only house medium dogs
Doesn't feature a top
The frame is plastic but looks like wood
Has a single sliding door entrance
The wire has a white epoxy finish
BEST WITH DIVIDER WIRE DOG CRATE
BestPet 48 Dog Crate With Divider
Puppy Housing
The divider on this crate can adjust to your growing puppy to help potty train them. It has rounded corners for both puppy and adult dog safety and it's made with high tensile wire. What this means is that the low carbon content makes this wire crate with a divider tougher.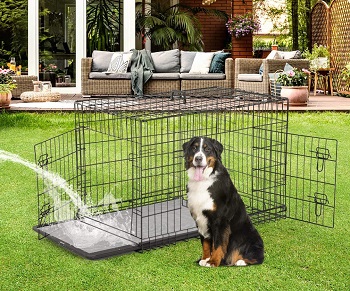 Finish And Size
The black e-coat finish helps with corrosion and rust resistance while the double locking sliding bolt locks help keep dogs inside the crate. When your puppy grows up, he should be an extra-large dog breed to live inside comfortably. If your focus is crate and potty training of large dogs, you'll need a large dog crate with a divider so check them all out.
In Short:
Made with high tensile wire
The e-coat finish makes it rust and corrosion resistant
The puppy divider is adjustable
It's 48-in long and can house extra large dogs
Rounded corners and double locking locks
BEST 2 DOOR WIRE CAGE FOR DOGS
Petco Brand You & Me Dog Crate
Door And Housing Abilities
The front and side door on this 2 door wire pet crate can be taken off to keep the door entry open which is not something most of them do. It comes with a divider for puppies but also a training guide for dogs. It can be used for traveling since it can be folded down and weighs around 30 lbs.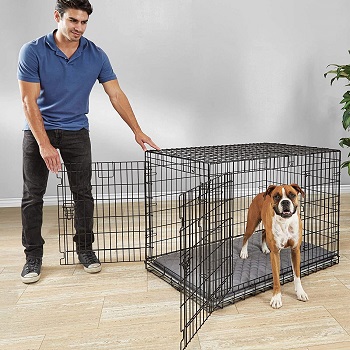 Crate Size
It's considered an intermediate dog crate because it's 36.8-in long. It can house dogs that are not quite medium but aren't large either. If you'd like the door to be positioned differently, you'll find them in the large 2-door dog crate article. On the bottom, there is a slide-out, leakproof cleaning tray as well.
In Short:
Fully made out of wire
Comes with an adjustable puppy divider
The doors are located in the front and on the sides
You can take off the doors to keep the crate open
It's 36.8-in long
Can house medium and large dogs
BEST 24 WIRE DOG CRATE
Precision Pet Snoozzy Baby Crate
Stronger Wire Construction
Although it features a classic fully wire build, it's made with looped wire which makes it more stable. it's coated with an e-coat baby blue finish that helps it fight corrosion and rusting. It even comes with a wire divider for puppies. It's not uncommon for a 24-inch dog crate to be colored so check out others for different colors.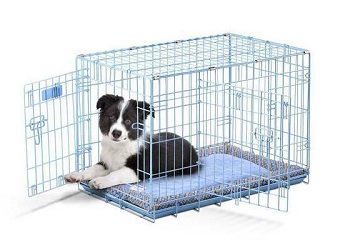 Locking Safety And Cleaning
This wire 24-inch dog crate has 2 entrances. They both lock with a single sliding bolt lock but from 4 different points as well. On the bottom, you'll find located a blue slide-out cleaning tray made out of PP plastic. It's easy to fold down when you want to store it away or transport it.
In Short:
Made out of wire completely
The wire is looped for a more stable construction
Comes with a puppy divider
The cleaning pan is made out of pp plastic
Has 2 doors that lock from 5 points
Can be folded down
It's colored with a baby blue e-coat
BEST 30 INCH WIRE CAGE FOR DOGS
Carlson Pet Products Secure Crate
Dog Safety Features
In its title, it says it's secure and that's because it's certified to both ASTM and JMPA standards. Simply put, it's safe for both puppies and dogs. In terms of entrance locking safety, the single door in the front locks with a sliding bolt lock and also from 4 other points.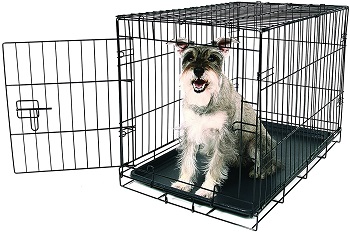 Wire, Color, And Storage
The wire used to make it is steel wire that's colored black which makes this model one of the best medium metal dog crates that we've reviewed here. You can easily fold it and unfold it for transport or storage. The slide-out cleaning tray won't accidentally get to slide out because of the wire pan blocker. Since it's a 30-inch wire dog crate, it's considered to be a medium wire dog crate so for ones with more doors and other features, check out the article linked below.
In Short:
Able to house medium dogs
Made out of steel wire
Certified to ASTM and JMPA standards
It's safe for puppies and adult dogs
Can be folded down easily
Has a slide-out cleaning pan on the bottom
BEST 32 INCH WIRE DOG CRATE
Petmate Sky Kennel
Matching Wire And Plastic Durability
The two plastic shells well fit the durability of the wire door and windows since it's heavy-duty plastic. You can connect the two with winged nuts that won't rust and corrode and you will get a live animal and ID stickers along with bowls to travel by air with it. If you'd like to have an indoor 32-inch dog crate, you'll find one in the article about them.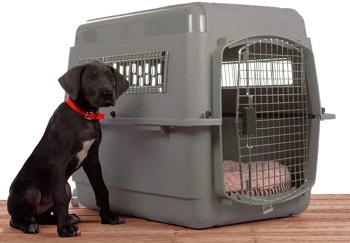 Door And Size
The wire used to make the door and windows are extra strong wire and locks with a safe vault type lock. You won't have to worry about it opening when traveling. Although it is a wire 32-inch dog crate that's 2-in longer than the standard medium dog crate it can still only house medium-sized dogs.
In Short:
Made out of heavy-duty plastic
Has extra strong wire windows and a door
The door locks with a safe vault type lock
It can house medium-sized dogs
Comes with 3 basic air travel accessories
BEST 40 INCH WIRE CAGE FOR DOGS
Lucky Dog Sliding Door Dog Crate
Double Dog Crate
The 40-in size is usually there to represent crate length but this time, it shows its height. It's so tall because it is also 54-in long and can house giant dog breeds. The divider it comes can be used for puppies or it can be used for you to house two dogs inside.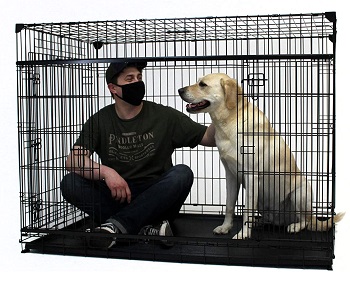 Construction Stability And Door
It has a stable construction due to the corner stabilizers made out of plastic and it produces less rattling noise because of them. It has 2 entry points but one entry point features a double sliding door. If this wire pet crate is too big and you'll want a lengthy 40-inch dog crate, you'll find one in the article linked before and below.
In Short:
It's 40-in tall
It's 54-in long and can house giant dogs
Comes with a puppy or double dog housing divider
Has 2 entry points with one double sliding door
HAs top corner stabilizers
Has reduced rattling noise
BEST 42 INCH WIRE CAGE FOR DOGS
Homey Pet 43 Metal Dog Crate
Build And Divider Type
This crate is made by using a combination of metal tubes and wire. The tubes construct the frame while the sides are wire. It comes with a divider that's not adjustable so if you'd like to check out 42-inch dog crates with divider for puppies, read the post about them.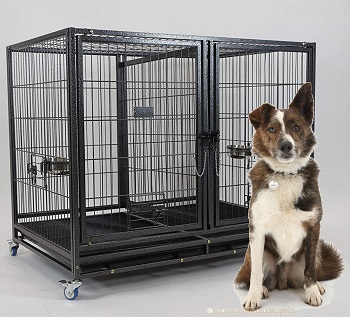 Entrances And Mobility
The divider will allow you to house 2 dogs inside it. Generally, it's 43-in long but the interior makes it a wire 42-inch crate. Each cage part features an entrance and you'll get a top entrance as well. it sits on lockable wheels on the bottom and you can stack multiple crates on top.
In Short:
Has a metal tube frame and wire sides
Comes with a nonadjustable divider
Can house one dog or two dogs
Each cage part has its separate door
Has a door on the top
Sits on lockable wheels and you can stack more crates on top
BEST 54 INCH WIRE DOG CRATE
MidWest Ginormous Dog Crate
Tall Crate Issues
The crate is so big that you'll need people to assemble it. Since it's 45-in tall, there are wire L bars on top so that the sides don't bend down inside. Another stability feature is dropping pins that make it more stable when it's already assembled and you're using it.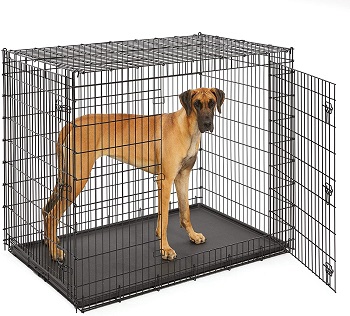 Dogs It Can House
The crate is specially designed to house giant dogs breeds since it is a wire 54-inch dog crate. It does not come with a puppy divider so if you'd like a crate for giant breed dogs with a divider, you're most likely to find one in the article linked below. It has a 2-door design and they both lock with 3 sliding bolt locks.
In Short:
It's 45-in tall
Requires two people to assemble
it's stable with L bar top hooks and a drop pin construction
Designed to house giant breed dogs
Has 2 doors that lock with 3 sliding bolt locks each
Doesn't feature a puppy divider
BEST BLACK WIRE DOG CRATE
Cardinal Gates Sliding Dog Crate
Wire Gauge
Black is the most common wire crate color so if you'd prefer a wooden or soft black dog crate, you can find them all in the article about them. It has a full wire build but the wire it uses has 10 and 6 gauge so it's a lot more durable. The 6 gauge wire is used for the doors.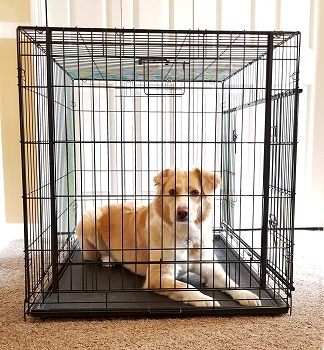 Space Saving Doors
There are 2 entry locations on this black wire crate located in the front and on the side. They're unique because one is a double sliding door and the other one opens upwards so they both save space. It's a standard-sized large dog crate since it's 42-in long.
In Short:
It's 42-in long and can house large dogs
It's made with 10 gauge wire
The doors are made with 6 gauge wire
Has 2 entry points
Double sliding door and upwards opening doors
How To Pick A Wire Dog Crate
It's easy to find a wire dog crate and that's where their problems begin. With so many offered, it's hard to know which one is the right fit for you and your dog. We'll deconstruct them into their main features, size, types, and much more in this buying guide that will help you pick the right one from the very start.
Wire Dog Kennel – The best way to describe wire kennels is large. They are usually also made out of wire and metal tubes but in this case, none of them are kennels. Kennels are so large that they can't fit inside homes and they're made to endure different outdoor weather conditions.
Wire Dog Crate Sizes – Wire crates usually have the most standard sizing and every other crate type size you look at should be based on the wire sizes. In order, they are 24-in, 30-in, 36-in, 42-in, and 48-in long crates. The 36-in crates are much rarer since they're intermediate dog crates made to house dogs that aren't large but aren't medium either. Smaller than 24-in crates are considered extra small while larger than 48-in crates like 54-in long crates are considered to be giant dog breed crates.
Common Uses – A full wire crate is the best tool for crate training a dog. If they have a plastic frame but wire sides, they're still good for that and if they're partially wooden, they should only house crate trained dogs. All of them except for the wooden ones can also serve as travel crates as long as they're light enough and collapsible.
Divider Function – Fully wire cages also often come with adjustable dividers. Nonadjustable dividers allow you to split the cage into two dog crates in one while the adjustable dividers are there to help potty train puppies by adjusting to their size. When buying a crate for a puppy, you should get an estimate on how big your dog is going to get and that's how you'll determine what size of crate you'll need.
Dog Measuring Technique – Unless the manufacturer of the crate you're looking to buy states otherwise, the way to figure out if your dog will fit comfortably inside a crate is to add at least 3-4 inches to his height and length. The number you get is the crate size you should be looking at.
Common Prices –  Branded crates like Midwest that are the most commonly bought aren't going to differ much in price from the lesser-known brands like cardinal gates or lucky dog. The main factor included in determining the price is size so your dog crate can cost as low as 60 dollars or as high as up to 200 dollars if we're talking exclusively about fully wire crates.
To Sum Up
We just can't pinpoint one wire dog crate to recommend for the simple fact that they differ in build quality, durability, size, and many other things and the crate you choose should be tailored to your and your dogs' needs anyways. Remember to measure your dog to figure out the size and to estimate the size of a fully grown dog if your dog is still a puppy. If the wooden crate we reviewed here piqued your interest we advise you to read the large dog crate furniture article next or if you're looking for crates that are a bit more sturdy, you can read the article about steel dog crates. If you'd like to learn about all of the dog crate types out there, be sure to check the article about them too.