Are you in need of a sturdy and reliable primarily steel dog crate?
Have you lost hope trying to find the best?
We've got good news. All you need to do is keep on reading this article to find the best suitable dog crate that fits the above description for yourself. We didn't just review crates that we found out of the blue. We made sure to include a large variety so you'll find small and medium crates or even reinforced or crates made of this high-quality material.
The Summary
Best 10 Steel Dog Crates
BEST OF BEST STEEL DOG CRATE
Pro Select Stainless Steel Crate
Modular And Durable
This is a modular crate which means that you can make a whole bank of crates if you buy more. you stack them on top or to the left and right. It's made out of stainless steel which means it's rust and corrosion-resistant on its own, without a finish.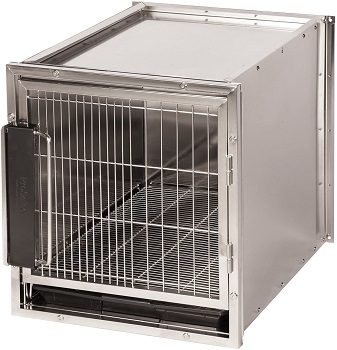 Crate Construction
It has one wire entrance while the sides are made out of metal sheets. It has a wire grid that features a cleaning slide-out tray below. it's made to house small since it's around 24-in long. This is just one stainless steel dog crate and there are plenty of larger so check them out if you need them.
In Short:
You can make a cage bank out of multiple ones
The same model of crates can be stacked
Made out of stainless steel
Has a wire entrance in the front
Features a slide-out tray below the interior wire grid
Made to house small dogs
BEST HEAVY DUTY STEEL DOG CRATE
Smonter Heavy Duty Dog Crate
Build And Finish
Heavy-duty dog crates are usually made out of steel tubes alone. This one is made out of reinforced steel and has all parts welded together. It even features a hammertone finish that helps it fight corrosion and rusting. For certain, this is not the only heavy-duty steel dog crate so check all of them out to find the best match for your dog.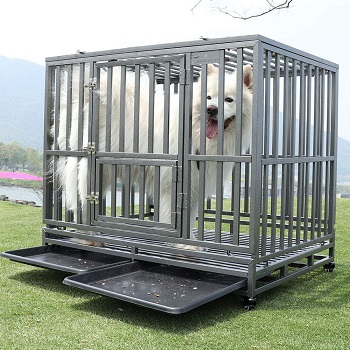 Dog Interactions And Mobility
Your dog doesn't have to leave the crate for you to interact with him or her due to the top entrance. The front entrance has a total of 3 hasp latch lock for added security. it weighs around 80 lbs so it makes sense that it sits on wheels that you can easily lock when you're not moving it.
In Short:
Made out of reinforced steel
All parts are welded
Coated with a rust and corrosion resistant hammertone finish
Sits on 4 lockable wheels
Weighs around 80 lbs
Has a top and front entrance
BEST EXTRA LARGE STEEL DOG CRATE
Itori 48 Dog Crate
The Way It's Made
Since it's a 48-in long dog crate it's made to house extra large dogs. The steel tubes that make it are all welded together for better constructional stability. It also has multiple layers of the hammertone finish that makes it resistant to corrosion and rusting.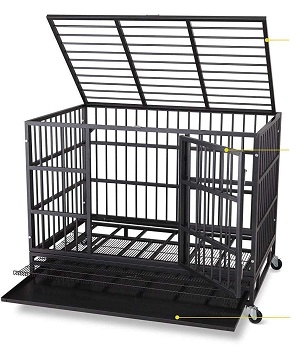 Assembly, Moving, And Locks
Surprisingly enough, it's very easy to assemble and it will only take about 10 minutes to do so. If you're more of a handyman you can have your next project be one extra large steel dog crate that needs assembly. It has 4 wheels for easier moving and anti-escape locks on the front and top door.
In Short:
It's 48-in long
Intended to house extra large dogs
Each part is welded and has a hammertone finish
Requires 10 minutes to assemble
Sits on 4 caster wheels
Has anti escape locks
Has a top and front door
BEST FOLDABLE STEEL DOG CRATE
Midwest Ultima Pro Dog Crate
Durability And Size
You can be sure this steel dog cage is durable since it's made with 3, 7, 9, and 11 gauge wire. The wire is thicker when the gauge goes lower. It's 42-in long so it's able to house large dogs like huskies and golden retrievers. It has 2 entrances that will leave you with more placement options inside your home.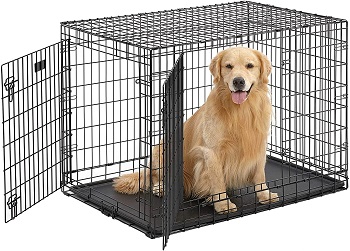 Divider And Folding
It does come with a divider panel for puppies that you can easily remove if you'd like. It's also a foldable dog cage so make sure to check others out if you plan on traveling or just want to easily store your dog crate. The roller feet on the bottom help prevent scratching to floors.
In Short:
Made with 11, 9, 7, and 3 gauge wire
Has 2 entrances
Can be folded for storage or transport
Comes with an adjustable puppy divider
It's 42-in long
Has floor-protecting roller feet
BEST REINFORCED STEEL DOG CRATE
ProSelect Empire Dog Cage
Steel Details
The steel tubes that make it are reinforced and have a 0.5-in diameter. The steel in question is 20 gauge still which means it's thicker than standard. The hammertone finish gives this stainless steel dog cage the ability to easily resist rusting and corrosion and makes it look a certain way.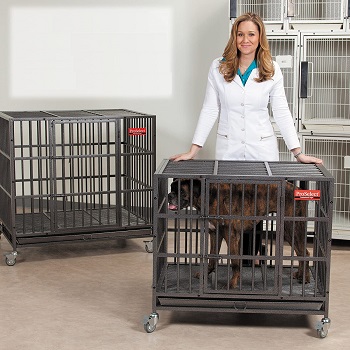 Bottom, Weight, And Size
Even the cleaning tray is made out of metal. It's deep and located below it. On the bottom, you'll also find 4 lockable wheels to easily move this 75 lbs cage. It's a reinforced dog crate that can house medium-sized dogs but there are bigger models from different manufacturers so check them out if you need a bigger one.
In Short:
Made with 0.5-in diameter steel tubes
The steel has a 20 gauge and is reinforced
Has a rust and corrosion resistant hammertone finish
The cleaning tray is made out of metal
The wheels for moving it are lockable
Weighs around 75 lbs
Good for housing medium-sized dogs
BEST SMALL STEEL DOG CRATE
Carlson Blue Secure Dog Crate
Color And Use
The crate is made out of steel wire so it's good for crate training your dog. It has a light blue finish and can house small dogs since it's 24-in long. This is just one small metal dog crate out of many that are visually appealing and if it's not, one is bound to be in the article we recommend you read.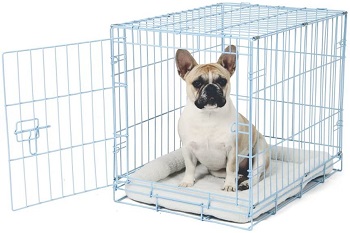 Puppy Safety
The stainless steel dog crate is constructed by JPMA and ASTM standards which makes it completely safe for housing puppies. There's a sliding bolt lock on the single access doors but it features 4 more locking points. Even the slide-out cleaning tray is colored light blue and you can also get the pink version.
In Short:
Can be colored light blue or pink
It's 24-in long
Made out of steel wire
Certified to JMPA and ASTM standards
Has a 5 point locking door
BEST MEDIUM STEEL DOG CRATE
Furuisen Strong Metal Crate
Unstandard Sizing And Cleaning
It doesn't have a standard dog crate size since it's 37-in long. It's an intermediate dog crate and will allow you to house medium, large, and somewhere in between dogs. It has a thick steel grid bottom that won't bend under the weight of a dog standing inside. Below it there is a cleaning tray that will collect your dogs' excrements.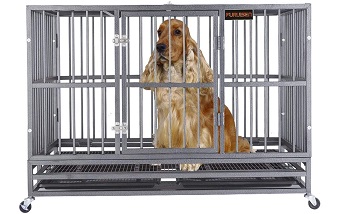 Steel Build And Lock Details
The material that makes this stainless cage for dogs is carbon steel which makes it more durable and resistant to rust and corrosion. It even features anti-escape locks so if your dog is an escape artist, consider getting this or the other medium metal dog crates in the article. It will be easy to move with 4 wheels on the bottom.
In Short:
Made with carbon steel
It's rust and corrosion resistant
Can house intermediate dogs
It's 37-in long
Has a thick wire grid bottom
The below cleaning tray will collect dog excrements
Has anti escape locks
BEST TALL STEEL DOG CRATE
Haige Pet Dog Crate
Tall And Private
Instead of tubes, this crate uses steel sheets with plenty of holes as its primary build material. It's meant to give your dog more privacy. It's much taller than the standard extra large metal dog crate due to the house rooftop. For standard sizes, check out more in the article.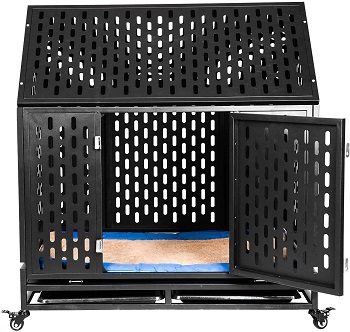 Safety And Cleaning
The finish of this stainless dog cage is safe for dogs and other pets and keeps the steel away from the chance of corroding or rusting. Instead of one, it has 2 plastic leaning trays and features lockable wheels as well. It's 41-in long so it can house dogs like huskies or german shepherds.
In Short:
Uses steel sheets with holes for construction
Has a house rooftop so it's taller
It's 41-in long
The finish is non-toxic and helps fight rust and corrosion
Has 2 plastic cleaning trays on the bottom
Can house dogs like German shepherds and huskies
BEST TRINING STEEL DOG CRATE
BestPet Dog Crate With Divider
The steel wire that makes this crate has a high tensile strength meaning it's more durable because of its low carbon content. The finish of this stainless steel dog cage is a black epoxy finish that helps make the whole crate rust and corrosion-resistant. It's easily foldable and can be carried with a top plastic handle.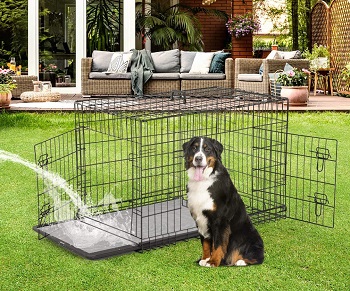 It has 2 entrances, one in the front and one in the back. You can easily house puppies inside it because it comes with an adjustable divider. The puppy can grow up to be an extra-large dog and still fit inside this crate for puppy training. You can check out others in the article we mentioned for smaller or bigger crates.
In Short:
Made with low carbon steel
The wire has a high tensile strength
Has rust and corrosion-resistant black epoxy finish
Comes with a puppy adjustable divider
It's 48-in long and can house xl dog breeds
Features 2 entrances
Can be folded down and carried with a handle
BEST TRAVEL STEEL DOG CRATE
Diggs Revol Dog Crate
Plastic And Steel Build
Instead of stainless steel, this crate has aluminum steel sides which makes them stainless as well. It does have a plastic frame but it's reinforced so it is a heavy-duty plastic dog crate as well as a stainless collapsible dog cage. If you want a fully metal crate, be sure to get a glimpse of the others for travel in the article listed.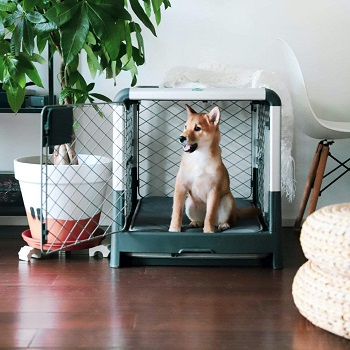 Special Doors And Uses
The front door can only even be opened by people. The stainless dog cage has a top door and a slide up side door. It's made as a safe crate for puppies because it takes into account baby industry standards. It features built-in wheels on the bottom and can easily be collapsed. It's an amazing journey and indoor medium dog housing crate.
In Short:
Safe for housing puppies
Has stainless aluminum steel sides
Features a reinforced plastic frame
Hass 3 entrances
Features built-in wheels on the bottom
Generally good for housing medium dogs
How To Pick A Steel Dog Crate
A stainless dog crate can be made out of numerous steel types. We'll go through them all and provide other important and detailed information that will, when put together, make your next crate shopping experience easier and you won't have to worry about choosing the wrong crate.
Stainless Steel Material – Stainless steel is a great material because it's durable and doesn't rust or corrode so there's no need for a finish. It is pricy and what we'd like to point out is that there are no kennels here, only dog crates but we'll get into detail about it below.
Steel Kennel VS Crate – Often, manufacturers will list their crate as a dog kennel but they're still crates. Stainless steel dog kennels are much larger than any crate. They're so large in fact that they can hold a crate inside. They're made for the outdoors and the materials used to make them can withstand different weather conditions.
Steel Types – You can get aluminum and steel, reinforced steel, carbon steel, and low carbon steel crates. Aluminum steel doesn't rust, reinforced steel is just a more stable version of regular steel. High carbon steel crates also have great rust and corrosion resistance while low carbon steel is more durable.
Heavy Duty VS Wire Crates – Heavy duty crates are mainly made out of steel tubes. They're designed to house dogs that destroyed their crate training crate and you can't really crate train them inside a wire crate. A wire crate is the most standard crate training crate.
Puppy Crates – Puppy crates should be as large as the estimated size of your dog. For that, check out the general adult size of the dog breed you have. These crates always have dividers because a crate that's too big won't teach your dog to not urinate inside the crate while one with a divider will do it. The crates that come with a divider are more commonly wire crates.
Getting The Size Right – A lot of owners make the mistake of getting a crate that's more likely too small for the dog. To get the best crate possible with a safe and comfortable size for your dog. You should take your dog's length and height, add 3-4-in to the measurements and find a crate that's a close fit to the dimensions you got.
Standard And Non-Standard Crate Sizes – Most commonly, crates are going to be sized as 24-in, 30-in, 42-in, and 48-in crates. In order, they can house small, medium, large, and extra-large dogs. there is a nonstandard size for dogs somewhere in between the medium and large sizes. These are 36-in dog crates with a divider or without it or intermediate dog crates.
To Sum Up
Ever had to pick between rainy weather and sunny weather? We like both so that's how we felt when trying to recommend one steel dog crate as the best. They are all so different and each has one benefit that the other one doesn't and vice versa. Just be careful with sizing and the type you're getting according to your dogs' behavior and you'll be fine. If your focus is only on wire dog crates, we advise you to read the article about the best wire dog crates and if the focus turned out to be extra large dog crates, we have an article about them too. To get the full picture of just how many and how many types of crates are out there, you can read the article about dog crates.