Are large wire crates not sturdy enough for your dog so you're trying to find a good large dog metal crate?
We've got what you're searching for so continue reading if you want to find a dog crate like that fast and that is of good quality since we've only reviewed the best we could find. You can also be sure that each crate we reviewed is different so that they can fit into categories like best for puppies, heavy-duty and more.
The Summary
Best 5 Large Dog Metal Crates
BEST OF BEST BIG METAL CRATE
Itori Heavy Duty Metal Dog Cage
Welded And Reinforced Metal Build
This large steel dog crate actually has a reinforced steel construction since all parts of it are welded together. To increase the durability, even more, the crate is sprayed down with multiple layers of hammer tone finish that makes it resistant to corrosion, rust, and scratches.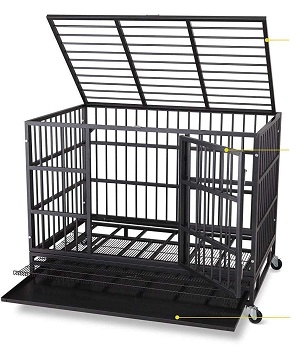 Entrances Use
What's really good about this XL metal dog crate is that it has 2 doors for entry. The first one is, of course, the front entrance while the second one is the top entrance that will allow you to access your pet without him being able to get out.
Safe Locks
The locks that this 48-in metal dog crate features for the door are quite durable and can only be opened from the outside of the crate so if you have a dog that's prone to unlocking the door on his own you won't have to worry about that anymore.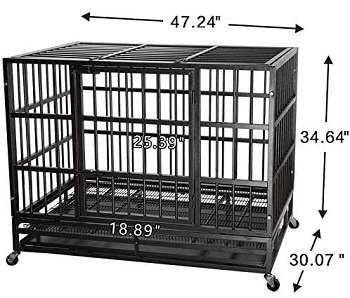 Bottom Extras Explanation
There's a reason why the crate has a gridded floor and it's because, through the holes in it, dog excrements will fall down onto the slide-out pan located below it so that you don't have to access the crate to clean it. The bottom also features 4 wheels that you can remove. 2 of those wheels are lockable.
In Short:
The steel tubes are welded together
The finish makes it corrosion, rust, and scratch-resistant
Can be moved using the 4 wheels, 2 of which are lockable
Dog excrements will fall onto the slide-out pan below
Has a top and front door access
The locks are anti-escape
BEST HEAVY DUTY LARGE METAL CRATE FOR DOGS
Homey Pet 43″ Heavy Duty Cage
Dog Housing Options
You'll get two options when it comes to how you want to use this large dog metal crate. Either you'll use it to house one large dog or you'll use it to house 2 smaller dogs. this is made possible due to the divider that the crate comes with and door positioning and quantity.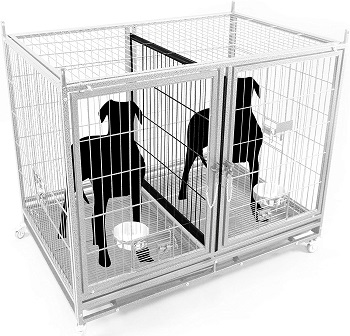 Doors And Locks Description
Even though this is a stacking dog crate, it still has top door access along with the two front doors. Both doors feature an auto-lock that has an additional climbing buckle lock to make the crate escape-proof. The top door will allow you to access both of your dogs at the same time if you choose to use it like that
Crate Parts And Their Materials
The crate is made with durable and strong steel tubes while the hammer tone finish makes the whole crate anti-rusting. Each part of the crate features an ABS plastic tray located below the metal bottom so that the dirt ends up outside the crate and on the pan.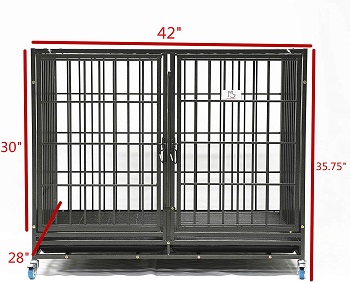 Easier Movement
If you wish to move the crate from time to time, you'll have no problems with that because of the lockable caster wheels that you can put on it if you'd like. You can stack up to three cages of the same model or with the regular cage of the same brand.
In Short:
Can be stacked up to 3 cages
Made with heavy-duty steel tubes
The hammer tone finish makes it anti-rusting
Can be moved using the lockable wheels
Comes with a non-adjustable divider
Can house 2 smaller dogs or 1 large dog
The door locks with anti-escape locks
Can be cleaned by cleaning the ABS plastic trays
BEST FOR PUPPIES METAL DOG CAGE FOR LARGE DOGS
MidWest Homes For Pets Dog iCrate
Metal Type And Coating Finish
The iCrate large is a 42-i metal dog crate. The metal, in this case, is durable steel wire that's coated with a black e-coat that makes the crate resistant to corrosion and rust. It's the perfect training cage for dogs for more than one reason.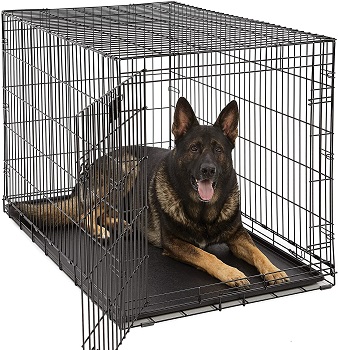 Training Cage Reasons
The first reason that comes to mind as to why it's good for training is the rounded corners that it has. They will provide the inside of the crate with enough safety that your dog doesn't get hurt and another reason is that it comes with a puppy crate divider that makes it good for training puppies.
Bottom Bonuses
Some of the bonus features that initially, almost every good wire large dog metal cage has, are a durable plastic slide-out tray for cleaning that won't slip out because of the pan-stopper and roller feet that will protect your floor from accidental scratches.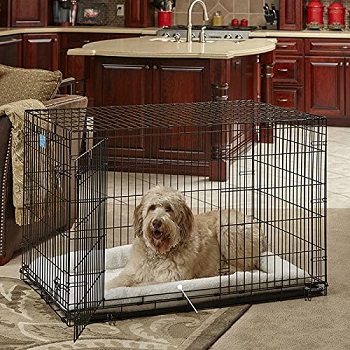 Limited Positioning
The large dog metal crate has a single door for access that will limit it to positioning the crate inside your home to one or two possibilities. The door locks with 2 sliding bolt locks. Please keep in mind that although this is a metal dog crate, it can't compare in durability with heavy-duty metal dog crates.
In Short:
Маde out of steel wires
The black e-coat makes it corrosion-resistant
Has a single door for access
The pan stopper will prevent the slide-out pan from doing it accidentally
Comes with a divider
Good crate for training
Has rounded corners
The roller feet protect the floor from scratches
BEST FOLDING STRONG METAL DOG CRATE
Yaheetech Metal Dog Cage
Crate Motility
It's not every day that you're able to find a strong metal dog cage that's a collapsible large dog crate as well. This will make storing the crate a lot easier when you're not using it and as for movement while it's assembled, you'll get 4 wheels to move it with 2 wheels that are lockable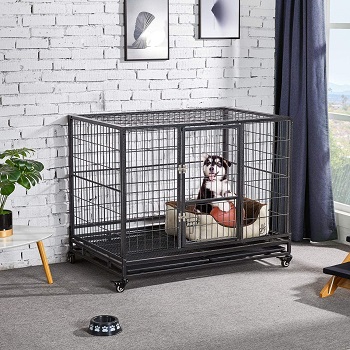 2-Step Locks
The XL metal dog crate features a sliding lock but it requires you to open it following 2 steps so that your dog can't open it on his own. the locks can be found on the top door and the front door while the door that's built-into the front door that serves as a feeding door can be locked with a regular sliding bolt lock.
Paint Finish And Cleaning
The metal frame of the crate is covered with a hammered paint finish that gives the whole crate anti-rusting properties. You will easily avoid accidents from staying inside the crate since they will go through the gridded bottom floor and end up on the 2 slide-out ABS plastic pans.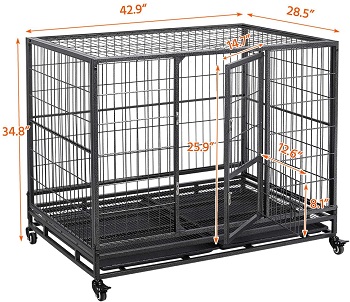 2 Cleaning Trays
The fact that the crate features 2 smaller slide-out plastic pan is a clever move on the manufacturer's part since it would be difficult to handle and grasp if the pan was as long and wide as the crate itself. This makes the pans far more durable.
In Short:
The hammer paint finish makes it corrosion and rust-resistant
Has 2 slide-out ABS plastic pans on the bottom
Can be moved using the wheels on the bottom
Can be folded down to store
Features 2 step locks
Has a built-in feeding door
There are two access door, one in the front and one on top
BEST FOR TRAVEL METAL DOG CAGE LARGE
Extreme Consumer Products Dog Crate
Safe Folding Design
This big metal crate is actually foldable which is not something we're used to seeing with these crates. You don't have to fear that the crate is accidentally going to collapse and hurt your dog since it has 2 metal bars located on the sides of the crate that can be locked so that it holds its shape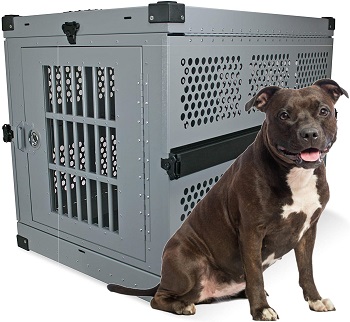 Air Circulation And Door Amount
The crate features a single door for access that can't be opened by your dog since the lock is unreachable to him. The reason for that is that the crate only has small holes and steel tubes for ventilation. DOn't worry, though, the crate will still get proper air circulation.
Stackable Design
What's even more surprising about its collapsible construction is that at the same time you can actually stack multiple crates on top of one another. This feature is available thanks to the padded corners that will also protect either your car or home from damage because there are no painful and sharp edges on it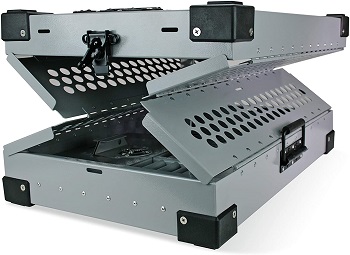 Weight And Transport
The XL metal dog crate does weigh 40 lbs but it's still light enough so that you can use it as a collapsible travel dog crate. Even more so, you won't have to worry about the crate overheating if it gets into contact with the sun. Your dog will be kept cool inside because of the provided shade.
In Short:
Can be folded down
Weighs 40 lbs
Provides shade for your dog
Can be used to travel
You can stack multiple crates on top
The corner pads will protect your home or car from damage
How To Pick Large Dog Metal Crate
What XL metal dog crate you're going to pick heavily depends on what you need it for and what type of behavior your do exudes. They differ largely in materials they're made of, size, and other not so noticeable features that make a big difference so to get the right one continue reading this useful guide on how to do so.
Most Common Sizes – When talking about size, it's not enough to just look at if the crate in question is a large or XL metal dog crate. It's a good reference but it's important to focus on its dimensions. Specifically the height and length. These dog crates will typically go from 42 to 48-in in length while their heights can largely vary. When you go the height and length of the crate, try to get one whose dimensions are around 4-in bigger than your dog's.
Best For Aggressive Dog Behavior – The best large dog metal crates for aggressive dogs will always be ones that are made heavy-duty or the ones that are simply made with metal sheets or metal steel tubes. It's also important that they have anti-escape locks.
Common Issues – If you're getting this type of crate, you have to know that their movement will be limited since they are incredibly heavy and can only be moved with wheels. Most of them can't even be collapsed so storing them will be rather difficult and they will take away a lot of your storage space.
What About Traveling – Generally speaking, you can't really travel with these dog crates unless you find one that is light enough and that can be folded down. This will work fine with metal large wire dog crates while crates like heavy duty dog crates for separation anxiety won't.
To Sum Up
We had to consider the large dog metal crate's main purpose is safe and durable dog containment so we chose and recommend the ITORI Heavy Duty Metal Dog Cage as the best. It has welded steel tubes that make it quite durable, safe locks, and multiple entrances so that placement inside your home is easier. If you need a metal crate that you can store away then your best bet is to check out the article about folding metal dog crates and if you really need a travel crate then you should give the article about XL travel dog crates a read.