Do you often transport your crates so it would be good if you had a large collapsible dog crate?
You should continue reading this article because you've come to the right place. In it, we reviewed some of the best collapsible large and extra-large ones we could find. Here, you'll find anything from plastic to soft dog crates and we purposely did that so that there's something fr everyone's taste.
The Summary
Best 5 Large Collapsible Dog Crates
BEST OF BEST LARGE COLLAPSIBLE DOG CRATE
Life Stages Double Door Folding Crate
Maximized Collapsible Design Use
This crate is definitely the one that will maximize the usefulness of its collapsible design. This is because it's a great crate for housing puppies since it comes with a puppy crate divider and it's known that puppies shouldn't be inside their crate for longer than 3-4 hours so you can store the crate away whenever you're not using it.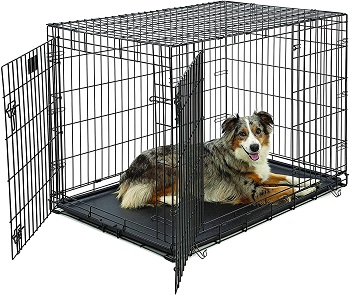 2 Door Advantages
It might have been troubling for you to place this crate inside your home if there weren't for the two-door design. One door is located in the front and one on the side of the crate and they both lock securely with two sliding bolt locks. What the 2 doors do is that you'll have more options on how you're going to place the crate indoor.
Safety Measures
If safety is something you concern yourself with we might as well mention that this large collapsible dog crate has rounded corners so that the possibility of your dog injuring himself doesn't really exist. The roller feet located on the bottom will prevent damage from happening to the floors.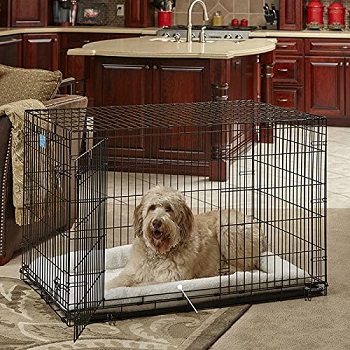 Cleaning The Crate
Another way that your floors will stay clean and protected is with the cleaning pan located on the bottom that's slightly deeper so that if any urine were to get onto the pan it won't overflow and get on your floors as well. The pan also won't slide out accidentally because of the pan stopper.
In Short:
Comes with a puppy divider
Has a cleaning pan on the bottom
The rounded corners will keep your dog safe
Has roller feet that will protect your floors
The pan stopper will prevent the tray from sliding out
Has 2 doors for access
BEST FOR PUPPIES LARGE FOLDABLE DOG CRATE
You & Me Ultra Tough 2-Door Dog Crate
Made To Be Durable
What you won't have to worry about with this crate is definitely whether or not it's durable because it is and that's thanks to the steel wire that has a professional strength. It's a black dog crate so it isn't exactly one that will look nice inside a home but that's typical for wire dog crates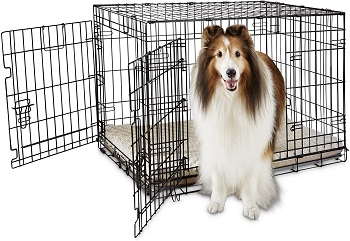 Reinforced Locks And Doors
There are two doors on this large collapsible dog crate from which your dog will be able to access and exit the crate. These doors are reinforced and it's because of the paw block on the sliding bolt locks that your dog won't be able to unlock the doors on his own and escape.
Adjustable In Size
You can also count on this crate to be able to house puppies because of the adjustable puppy divider it comes with. This means that the crate's size will be easily adjusted to your growing puppy so that you can easily potty train him with that.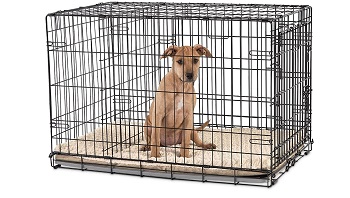 Leakproof Liner Use
It can be cleaned without too much trouble and quickly because of the slide-out pan on the bottom. The pan is leakproof so there's little to no chance that any urine that might have found its way on the pan will leak through onto your floors. The pan can be blocked from sliding out accidentally with a pan stop.
In Short:
Made with professional-strength steel wire
The 2 door locks on each door are reinforced with a paw block
The cleaning pan on the bottom is leakproof
You can block the pan from sliding out with a pan stop
Comes with a divider for puppies
BEST INDOOR EXTRA LARGE FOLDING DOG CRATE
Cardinal Gates Sliding Door Pet Crate
Wire Gauges
We are really impressed with how this crate is built. The steel wire that makes it has a 10 gauge while the doors have a 6 gauge. Metal gauge defines the thickness of steel and the lower the gauge the thicker the steel is so you can be sure that this is quite a durable dog crate.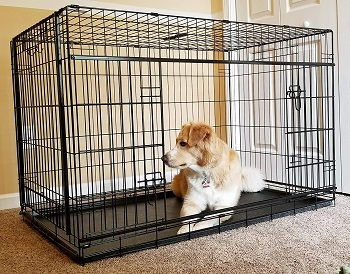 How The Doors Open
There are two types of doors on this sliding door dog crate. The side door is in fact a double door and both slide open to the side and the front door can be opened upwards and rest on top of this large extra-large foldable dog crate. the side door lock with sliding bolt locks.
Simple Folding And Unfolding
You might find it useful that crate has a handle located on top for carrying if you travel with your dog often or are just prone to transporting the crate often. You can carry it with a handle either when it's folded down or when it's assembled. You won't have to struggle with assembly and folding the crate down since both operations don't take long to complete.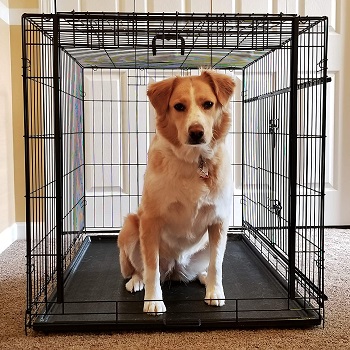 Easy Bottom Pan Cleaning
This sliding door dog crate can also be cleaned quite simply since it has a plastic pan on the bottom. Dog dirt and excrements will fall onto it and all that's left for you to do is to slide out the pan and clean it. The crate is 48-in long so it's best if you measured your dog first to see if he's too small for the crate.
In Short:
Made with 10 gauge steel
The doors are made with 6 gauge steel wire
The 2 doors slide open
Can be carried using a handle either folded or unfolded
The crate is 48-in long
Can be cleaned easily by cleaning the plastic pan on the bottom
BEST PLASTIC LARGE FOLDING CRATE
Pet Gear 4 Door Steel Crate
A Large Amount Of Doors
Out of all the crates we've reviewed so far, this is the one large dog crate that will give you the largest amount of opportunities on how you want to place it inside your home. This is since it has 4 access doors. It has 2 side doors, one top access door, and a large front door that you can slide upwards to open.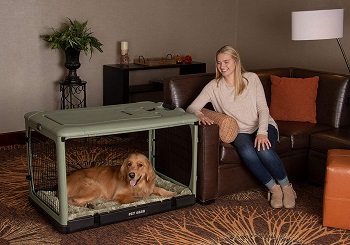 Durable Plastic And Steel Build
The crate is not entirely made out of plastic although the plastic itself is quite durable since it's heavy-duty and blow-molded. The base of the crate is insulated so that it doesn't crack if it's subjected to extreme changes in temperature. The sides of the crate are made with steel wire and the locks for the door are made out of steel as well.
Transport Options
About the folding design of this crate, it comes with a travel bag so that you can store this large folding dog crate inside whenever you collapse it. You'll also be able to drag it while it's inside by utilizing the built-in wheels. You'll also be able to drag the crate around and move it when it's assembled because of the built-in handle and of course the wheels.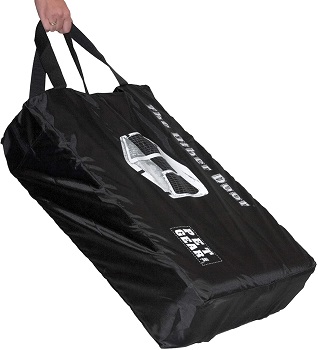 Safety And Comfort
While your dog is inside this crate he'll be comfortable and safe. It comes with a padded bed that you can remove and wash easily and the crate itself is made so that there are no sharp exposed steel edges and the corner are rounded for even more safety.
In Short:
Has a heavy-duty and blow-molded plastic frame
The sides are made with steel wire and the locks with steel
Has 4 doors for access
Can be dragged using the built-in wheels and handle
Comes with a travel bag and  washable padded bed
BEST SOFT LARGE FOLDING DOG CRATE
Petsfit Soft Collapsible Dog Crate
Special Frame Type
There's a slight difference in the way that the frame of this crate is made as opposed to other soft collapsible dog crates. Usually, you'll get a frame that you can simply fold down but this is a screw-in frame. This way, the fabric cover will be held better in place.
Side Contents
Three of the sides of the crate feature mesh fabric windows for ventilation and good visibility. Two of the windows are also access doors that can be closed using zippers. The back doesn't have a window or door but what it does is a dog goods pocket where you can store any of your dog's accessories that you might have.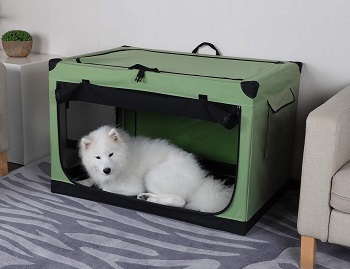 Useful Traveling Features
The bottom also has a rubber mat so that the crate doesn't slip or slide especially when you're traveling while the corners on top have protectors on them so that your car interior doesn't get damaged. It is also incredibly light with only 4 lbs to it so there are plenty of reasons why you can use it to travel with it.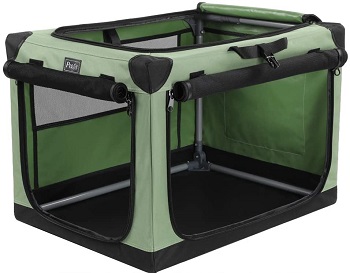 Additional Door Features
The top also holds an access door that closes or opens with a zipper. You can roll up the doors and stick them to a velcro piece on top to leave the crate open for easy in and out. The side and front zippers can be attached to a locking clip to ensure that the zippers don't accidentally open.
Size And Weight Limit
The large folding dog crate is 42-in long and 27-in tall. You can use it to house dogs with a weight up to 100 lbs but you shouldn't rely too much on this information but rather, you should compare its measurements to your dog's to see if he can fit inside comfortably. What's also important is that this crate should only house calm and crate-trained dogs.
In Short:
Made with a screw-in frame that holds the fabric better
Can be used to house calm and crate trained dogs
Holds an accessory pocket in the back
Has ventilation windows on 3 sides
There are three doors for access
The zippers can be locked with a locking clip
Weighs only 4 lbs
Has corner protectors, and a non-slip rubber mat
How To Pick A Large Collapsible Dog Crate
There's more to these dog crates than just their folding design. This is a common feature of most crates so you want to know what crate types usually have this feature and what exactly is each crate type with differences in their material best for. To learn about this and more continue reading this useful guide on how to choose the right crate.
How Often To Use The Collapsible Feature – If you have a puppy you should definitely use its collapsible design more often since puppies can't be contained for longer than 3 or 4 hours at a time inside them so when your dog is not contained inside you can tuck it away.
Other Uses For Th e Collapsible Design – If you have an apartment or house with little storage space to spare you will find that collapsible dog crates will help you with creating more space. Of course, this is only true when you're not using the crate. Large soft-sided dog crate should definitely be stored more often since it's best to only use them for traveling.
Puppy House Training – Training cages for dogs and puppies are definitely the most common crate types to have a folding design. Part of it is because you don't want to contain your dog inside for too long and part of it is because these crates can also come in handy as large dog car crates. They are not as heavy as you'd think which is something to look for in a travel crate.
Common Collapsible Crate Types – Crates that will almost always have a folding design are large wire dog crates and large soft travel dog crates. The difference between the two is that wire crates are much more durable and can be used for crate training while soft crates can only house already crate trained dogs and it's best to use them only for traveling.
Size Range – large folding crates are usually 42-in long while extra-large folding dog crates are typically 48-in long. This might not seem like much of a difference but you must know if your dog is big or small enough for the crate you're getting. You should do that by taking your dog's height and length and compare it to the crates'. The crate should at least be 4-in  bigger in those two aspects. If there is a difference in how you should size the crate, that will be noted.
To Sum Up
The biggest reason why we recommend the Cardinal Gates Sliding Door Pet Crate as the best large folding dog crate is because it's made with 10 and 6 gauge steel and because it has doors that slide open. If you want to get a crate that can't be folded down then the article about extra large dog crate furniture might be worth a read and if your main focus is to travel with your dog then we suggest you look into the article about large dog car crates.