Are you a little low on cash but you still want to buy your pet a good but cheap large dog cage?
If you continue to read this article, you are sure to find a great crate for your dog that won't break the budget. You also don't need to worry about monotony because we made sure to include different types of crates like soft ones and heavy-duty ones so there really is a wide range of dog crates here and one is sure to be for you.
The Summary
Best 5 Large Dog Crates Cheap
Best Of Best Cheap Large Dog Cage
BestPet 48 inch Large Dog Crate
Metal Wire Properties
It's not the coating finish that makes the crate resistant to rust but it's in fact the metal steel wire itself that has that property. Because of this, you can use the crate outdoor as well from time to time. Just make sure it's not that often since this is primarily a large indoor dog crate.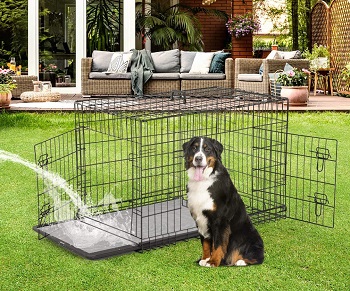 Durable Cleaning Pan
If you're looking for a crate that you can clean easily this cheap extra large dog crate might be the right match for you since the bottom is equipped with an ABS plastic pan that only requires you to take it out to clean it when it collects enough dirt. The pan won't absorb dog odors and it won't corrode, stain, or even warp.
2 Lock Design
The cheap XL dog crate has 2 doors located in the front and on the right side. You can lock them with the typical sliding bolt lock that we are used to seeing on wire dog crates. The locks actually have a 2 lock design to ensure their durability and quality.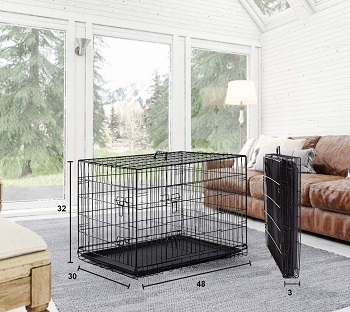 Storage And Travel
You can actually travel with the crate if you want to thanks to its collapsible construction that makes it easily transportable. You'll also get a top handle to do that and you can also use the foldable design to tuck the crate away when you're not using it.
In Short:
Made with rust-resistant metal steel wire
Can be folded down to carry or store
Has an ABS plastic pan on the bottom for cleaning
Has two doors, one in the front and one on the side
The doors lock with two double locks
Best Folding Cheap XL Dog Crate
Pet Trex 42-in Folding Pet Crate
Wire And Coating
This cheap big dog cage has most properties of a regular large wire dog crate. Firstly, the wire has a heavy gauge that makes it more durable and it's coated with a black satin electro coat. The electro coat finish makes the crate corrosion-resistant.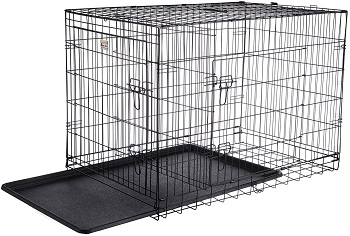 Safe Corners
With all crates, safety should come first and this one manages to ensure you of that with its latches located on the corners that create rounded corners. This will make the crate safe on the inside for your dog and on the outside for your walls and furniture.
Positioning Freedom
It's best for a large dog crate such as this one to have double door access. This one has a door located in the front and one on the side that will give you more choices when it comes to how you're going to position the crate inside your home. The double door will actually allow you to place the crate in the corners of your house.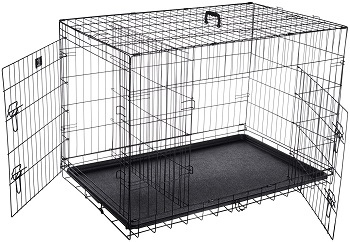 Moving And Washing The Crate
Easy cleaning and storage are also things that you can count on with this cheap large dog cage because of its foldable design and the ABS plastic pan that you can easily take out to clean when it gets cluttered with dirt and liquids. When the crate is folded down you can carry it with the provided handle.
In Short:
Made out of heavy gauge steel
The electro coat finish makes it corrosion resistant
Has rounded corners for inside and outside safety
Can be folded down and carried
Has an ABS plastic pan on the bottom for cleaning
The two doors allow for multiple positioning choices
Best Heavy-Duty Large Dog Crate Cheap
Polar Aurora Pet Dog Cage
Worth The Price
This crate is somewhat more expensive than the other crates that we reviewed but it's still a large dog crate cheap model considering the fact that it's a heavy-duty metal dog crate and these crates usually cost over $200 dollars ad this one cost only around $140.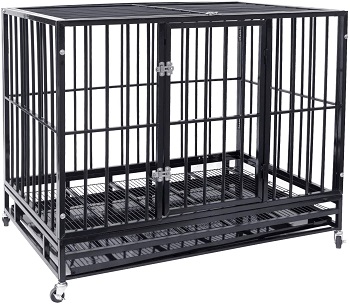 How It's Made
It's made with heavy-duty steel tubes and each tube is welded together so that the whole construction of the crate is more stable. The bottom of the crate actually has a removable metal pole that makes the crate stronger than it already is while the finish makes it corrosion and rust-resistant.
Useful Top Access
While this crate features only one door for your pet to access the crate that's located on the lengthy side, you will get a door for top access so that you can put the dog inside at any time and no matter how you position the crate inside your home. There are two locks on the front door and one on top and they are both double locks.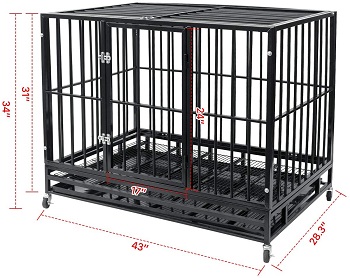 Shifting And Cleaning Made Easy
You won't have to let your dog out of this cheap big dog cage to clean it since the slide-out tray is located on the outside below the gridded floor. It is a heavy crate you might have some movement problems but it will be made easier because of the wheels that it stands on that can be locked.
In Short:
Made with heavy-duty steel tubes
The finish makes it resistant to rust and corrosion
Has a top and front access door
The doors can be locked with double locks
The cleaning pan is located outside the crate
Sits on lockable wheels for easy movement
Best Indoor Cheap Large Dog Cage
MidWest Homes for Pets Dog Crate
Unfolding And Folding
Assembling this crate will be just as easy as folding it down when you want to store it or travel with it. This will become especially useful to you if you have a puppy that shouldn't be contained inside the crate for too long either way when you're just starting to crate train him
Potty Training Assistance
To assist with crate training, you'll get a puppy crate divider for it. Essentially, a divider will help with potty training since it's adjustable and can adapt to your puppy's size as he grows. Puppies and dogs, in general, don't like to sleep where they urinate so this is the main reason why it works.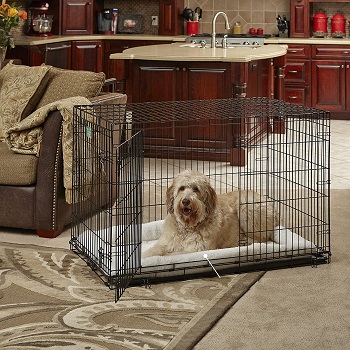 Inside And Outside Safety
You won't find sharp edges on this crate and that is thanks to the corner clips that create rounded edges for the inside and outside of the crate. As for safety on the outside of the crate that will protect your floors from scratches you'll get roller feet for the bottom.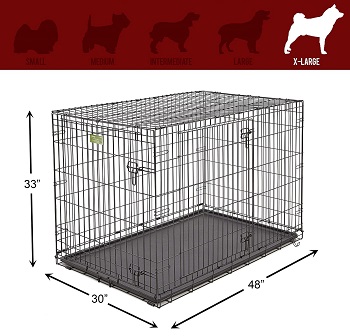 Doors And Coating Finish
The crate has two doors for access that can be found at the front and on the side of the crate. You can lock the doors with slide bolt locks and since it is a cheap large dog cage you'll get two for each door. The whole crate is coated with an e-coat that gives it anti-rusting properties.
Other Crate Training Tools
What will also assist with potty training is the durable slide-out tray that will collect any liquids that might find their way inside the crate. You won't have to worry about the pan accidentally sliding out since there is a pan-stopper on the bottom.
In Short:
The steel wire has an e-coat that makes the crate rust resistant
Comes with a puppy divider
The pan stopper will prevent the tray from sliding out
Has no sharp edges because of the corner clips
The bottom roller feet protect the floors from scratches
Best Soft Cheap XL Dog Crate
Amazon Basics Soft Pet Dog Crate
Crate-Trained Dog Crate
We have to mention that this is an incredibly lightweight dog crate that weighs only 13 lbs. The reason why it's so light is because of the PVC frame that makes it hold its shape well and its polyester fabric cover. You have to know that these are materials that won't endure chewing so make sure your dog is crate trained before you buy this crate.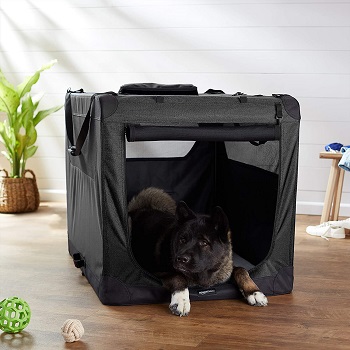 Doors And Windows
This cheap XL dog crate has a top and front access doors that you can close with zippers. The front access door is also a ventilation window made out of mesh fabric and you'll find those on all sides of the crate as well. The front door can be attached to a locking clip so that it doesn't accidentally zip open.
Washable Parts
The crate can, of course, be folded down for you to either store or transport. The fabric cover is removable and you can wash it if it ever gets dirty and the comfortable bed that you can find on the bottom can also be removed for you to wash it when you need to.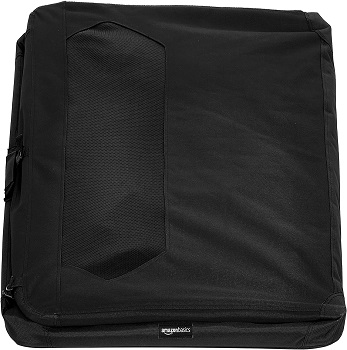 Traveling Bonuses
Some useful travel accessories that are included are the multiple carrying options either with the carrying handles or the shoulder strap and the accessory pockets that you can use to store dog treats or anything you can think of. you will find one of these on top and the other one in the back that's removable.
In Short:
Has a PVC frame and a polyester fabric cover
Can be folded down
Has carrying handle and a shoulder strap
Comes with a comfortable bed for the bottom
The cover and bed are removable and washable
Made for traveling and crate trianed dogs only
How To Pick A Cheap Large Dog Cage
You'll see a lot of differences in the use of these large dog crates cheap just by looking at the materials they're made out of. From it, you'll be able to understand the difference in what dogs they can house, dog size they can house, the differences in their primary function, and more so keep reading if you want to choose the right crate from your first pick.
Best Value For Money Crates – What crate you're going to choose depends largely on your and your dog's needs and want but we have to say that you're gonna get the best value for your money if you choose to get a large or XL wire dog crate. They are sturdy but light enough for you to travel with them and are pretty safe and great training cages for dogs.
Typical Price Increases – You won't find a crate of this size that costs less than $60. The main reason for that is that the price always increases with size which is understandable considering the fact that you have to use more materials to make the crate.
Dog's To House – What crate type you're going to choose depends largely on your dog's behavior. If your dog is a bit aggressive then you'll have to spend a little bit more on an XL metal dog crate and if you're lucky enough to have a well-behaved dog that's already crate trained you can definitely get a large soft dog crate. Soft crates are usually the ones that are the cheapest.
Sizing Is Important -The way you measure the size of the crate is by checking out its length and these crates are usually 42 up to 48-in long. The net measurement you wanna look into is the crate's height. With these two you can easily figure out if your dog can fit inside by taking away at least 4 inches to the crate's height and length and comparing it to your dog's height and length. If the numbers match, you've got yourself the right crate size.
Cheap Large Dog Cage VS Kennel – When it comes to comparing the price between dog kennels naad crates you can't miss the difference since even the cheapest of kennels are gonna cost at least $200 and it's for a good reason. Kennels are made to be used outside which means they can endure different weather conditions. They are usually used by dog professionals and are so large that they could actually house a cheap large dog crate.
To Sum Up
We have to recommend the MidWest Homes for Pets Dog Crate as the best cheap large dog cage since you can use it to travel, house puppies and it's pretty safe and quite sturdy. If you have a little more money to spare and are looking for a crate that will blend well into your house then you simply must check out this article about XL dog crate furniture or the article about large white dog crates.