Have a giant or extra large dog breeds like a Great Dane or rottweiler and need an extra-large dog crate?
You'll definitely enjoy reading this article then because if you do you are guaranteed to find the one you like and need. There are so many different types of dog crates out there and you'll find about them all since we tried to include a large variety of them like furniture crates, wire crates, heavy-duty crates, and even soft crates.
The Summary
Best 15 Extra Large Dog Crates
BEST OF BEST EXTRA LARGE DOG CRATE
Midwest Life Stages Dog Crate
Door And Size
Due to the 48-in in length, this crate falls into the category of XL wire dog crate so be sure to check them all out if you want a 2-door option for example. As said, it has a single door in the front that locks with 2 sliding bolt locks. It's fully made out of wire coated with a black finish.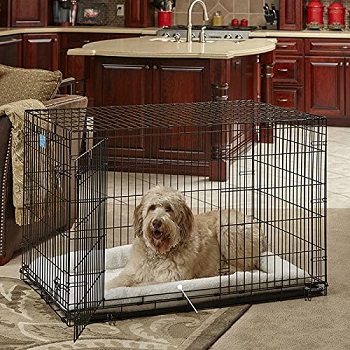 Uses And Safety
The corners of the Life Stages xl dog cage are rounded so that your dog doesn't pinch their paws. You can easily fold it down to store it or to transport it and travel with it as well. It has a higher wire gauge than regular to fit the wire thickness needs of extra large dogs.
In Short:
It's 48-in long
Has single entrance in the front
The door locks with 2 sliding bolt lock
Features rounded corner clips for safety
Has a thicker wire gauge
Can be folded down for storage and travel
BEST CHEAP XL DOG CRATE
EliteField 3-Door Folding Crate
Build And Price
With bigger sizes come bigger prices. This xl cheap dog crate is going to cost you around 100 dollars. A thing worth mentioning is that it's a soft dog crate made out of 600D oxford fabric. It's water-resistant but should only be used to house calm dogs that have been crate trained.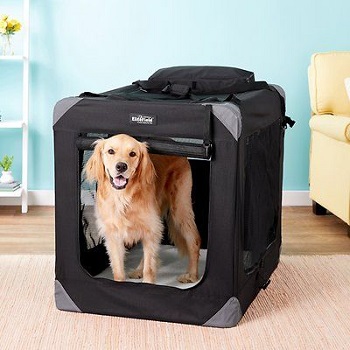 Windows And Doors
It has mesh fabric windows all around for proper air circulation. Three of those are also access doors that close with zippers. It's uniquely 2-in wider and 4-in taller than its competitors for a cozier experience. If you require an indoor cheap xl dog crate, we have those too in the article about many other types.
In Short:
Made with 600D oxford fabric
It' 2-in wider and 4-in taller than most
Costs around 100 dollars
Can only house crate trained dogs
It's water-resistant
Has mesh fabric windows for proper airflow
Has 3 entrances that close with zippers
BEST END TABLE EXTRA LARGE DOG CRATE
Zoovilla Dog Crate
Build Material Combo
A combination of MDF wood and wire was used to make this extra large dog crate end table but if you want a fully wooden experience you can by reading more about them. The wire is used for the sides and helps your dog get better vision and proper airflow inside. It should only house crate trained dogs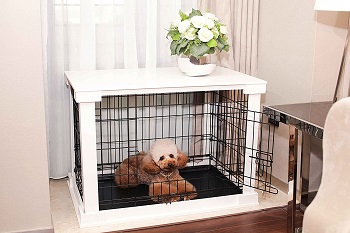 Visuals And Size
The tray is hidden below to not destroy its beauty. It has a front and side entrance that allows you to place it however you want inside. It's 43-in wide so it isn't exactly suitable for all extra large dog breeds but only some. it's also around 29-in long and 30-in tall. You can place stuff on top of it as well.
In Short:
Made with MDF wood and wire
Made for crate trained dogs
It'43-in wide, 29-in long, and 30-in tall
The top can hold your personal items
Has a 2-door entrance
BEST FURNITURE XL DOG CRATE
Ecoflex Dog Crate
Material Specifics
The unique eco flex material makes the crate doesn't crack split or warp. It also won't get damaged if it gets into contact with water because it's a plastic and wood combination material. If you want to stick to typical wood, you can read the article about extra large dog crate furniture to find them.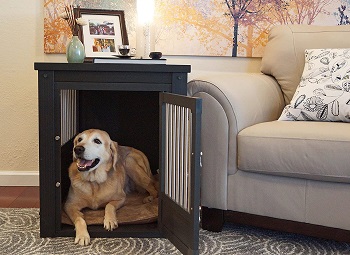 Top And Metal Bits
The tubes on the sides of the Ecoflex dog crate xl and the front door are made out of stainless steel and even the two locks are. It acts as furniture because you can place things on top. Your dog can easily weigh up to 100 lbs and still fit comfortably inside of this modern dog crate furniture.
In Short:
Made with ecoflex
It doesn't warp, bend, or crack
Can get into contact with liquids
Has stainless steel tubes and locks
Has a single door entrance in the front
BEST TRAVEL XXL DOG CRATE
SportPet Designs Plastic Kennel
Traveling Ways
You will get to travel b car or by airplane with this crate. It has an airline-approved build and comes with stickers, nuts and bolts, and water dishes that are all required by airlines. Since it's made for big dogs, it even comes with 4 wheels that you can easily remove after transporting your dog.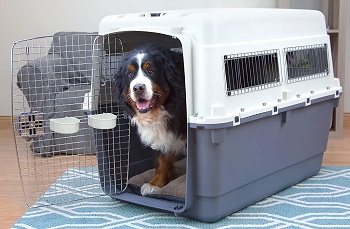 Doors, Size, And More
It has a push-and-turn lock on the single wire door in the front. On the other three sides, it has 3 wire vent windows. it's 48-in long and your dog shouldn't be more than 4-in shorter to fit inside. To learn more about the measuring system and to see other options, check the article about more than just this extra large dog travel crate.
In Short:
Dogs shouldn't be over 44-in long
It is airline approved
Comes with stickers, nuts and bolts, and bowls for air travel
It's is 48-in long
Has a push and turn lock on the wire door
Comes with 4 wheels that you can easily take off
BEST PLASTIC EXTRA LARGE DOG CRATE
Pet Gear 4 Door Crate
Door And Safety Details
Thanks to the blow molding process of making this crate, the inside edges are rounded and there are no exposed wire parts. It features a total of 4 entrances located on the top, in the front and back, and on the side. The side and largest entrance is a slide-up door.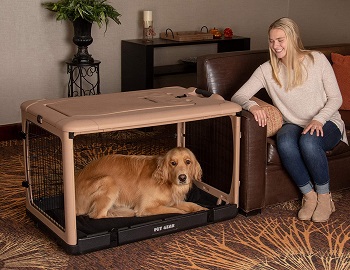 Transport Methods
It's easily collapsible and comes with its own travel bag. When it's assembled, you can drag it elsewhere using the top handle and bottom wheels. It can house dogs up to 90 lbs and if you want it to house lower or higher weight pets, there's certainly one for you in the extra large plastic dog crate article.
In Short:
Has wire sides and a plastic frame
The plastic is blow molded
Has rounded corners and no exposed wire parts
Has back, front, top, and side doors
The side door is a slide up, space-saving door
Can house dogs up to 90 lbs
BEST SOFT XL DOG CRATE
MidWest Portable Tent Crate
Materials, Use, And Transport
The steel frame of this crate allows you to fold it down and keep it straight. Its cover is a material that's water-resistant so it's a great choice for a dog camping crate. An extra large soft dog crate can easily be the lightest you can get so if you want that benefit, make sure you read about them.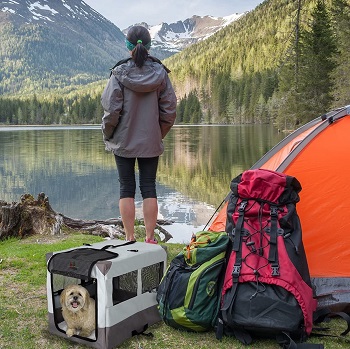 Dog Behavior And Size
It has mesh fabric windows on all 4 sides for ventilation. The front window acts as a door that closes with a zipper. It should only house crate trained dogs that weigh no more than 90 lbs. For inside comfort, it'll come with a faux sheepskin pad.
In Short:
Has a folding metal tube frame
The cover is water-resistant
Has a zipper closing the front door
Features 4 mesh ventilation windows
The dogs allowed inside are crate trained and up to 90 lbs
Comes with a sheepskin pad for inside comfort
BEST WIRE XL DOG CRATE
Petmate Navigator Pet Carrier
General Safety
Due to the 2-door design, you'll get to position place this Precision xl dog crate with more versatility inside your home. Each door has a sliding bolt lock but also locks from 4 other points for extra safety. An xl wire dog crate can range greatly in terms of safety so to get the safest one, you might want to check out others.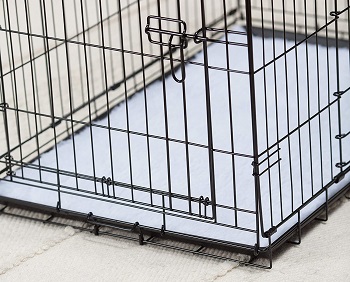 Transport And Puppy Housing
It has a handle on top for easier transport and it can even house puppies as they grow since it comes with an adjustable divider. The range of weight for dogs allowed inside is 90-125 lbs which includes both large and extra-large dogs. You can also collapse it for storage or transport.
In Short:
Has a 2-door design
The doors lock from 5 different points
Able to house dogs raging from 90-125 lbs
Comes with an adjustable puppy housing divider
Can be folded down
Features a carrying handle on top
BEST WOODEN XXL DOG CRATE
Casual Home Wooden Crate
Crate Durability
The crate is fully made out of solid wood which makes it chew-resistant to an extent. This is not the only type of extra large wooden dog crate, others combine materials so you can check them all out in the article. It's made to house medium and large dogs ranging from 40-90 lbs.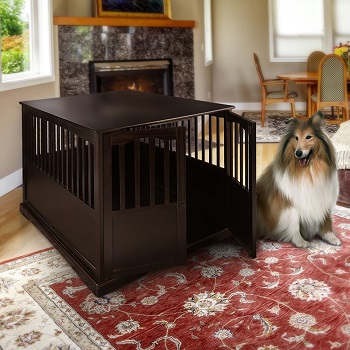 Double Function
It has a double door but a single entrance. The doors lock with a single hasp latch lock. Wooden crates should always only house crate trained dogs because the material is easy to destroy in general. The top makes it acts as furniture and it can hold up to 200 lbs of weight.
In Short:
Made with solid wood
It's chew-resistant
Should house crate trained dogs
The top can hold 200 lbs of weight
Made for medium and large dogs
Has a double door single entrance
BEST HEAVY DUTY EXTRA LARGE DOG CRATE
Itori Heavy Duty Metal Dog Crate
Metal And Finish
If you have a dog prone to aggression, then a heavy duty extra large dog crate is your best bet, and to find the best fit for you, there's an article about them that you can read. It only features metal tubes and all parts are welded to reinforce its construction. The hammer tone finish protects it from rusting and corrosion.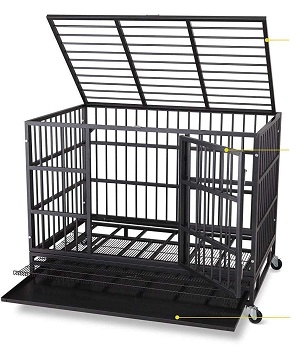 Cage Mobitly And Locking Safety
It has a single main entrance and a top entrance to help you interact with your dog. It weighs around 84 lbs so it's good you can count on the 4 wheels to move it. Each door has 2 heavy-duty sliding bolt locks to ensure your dog won't escape the cage.
In Short:
Made with metal tubes
Every part is welded together
Weighs around 84 lbs
Sits on 4 wheels for easy moving
Made for aggressive dogs
Has rust and corrosion-resistant finish
The top and front doors lock with 2 locks each
BEST COLLAPSIBLE XL DOG CRATE
Cardinal Gates Pet Crate
Space Saving Doors
The 2 entrances will save space because one is a double sliding door and one opens upwards. It's fully made out of wire but does have a plastic tray o the bottom that you can slide out for cleaning. It has an attached plastic handle on top for more efficient transport.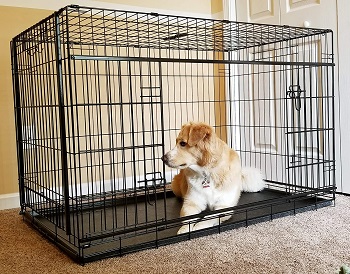 Wire Gauge And Folding
This is one xl collapsible dog crate that's up for the task of housing strong and large dogs and there are more so give them a look. The reason why is that it's made with 10 and 6 gauge wire. This sliding door dog crate doesn't require assembly since you can fold it and unfold it easily.
In Short:
Made with 10 and 6 gauge wire
Has 2 entry points
Has a sliding door and an upwards opening entrance
Easily folds and unfolds
Has a carrying top handle
The handle and cleaning tray are plastic
BEST DIVIDER EXTRA LARGE DOG CRATE
Lucky Dog Sliding Door Dog Crate
Quiet Operation
This is another space-saving crate due to the double sliding door entrance. It also has a front access door that locks with 3 sliding bolt locks. The top corners are covered with caps and serve as stabilizers and they also reduce the rattling noise that these tend to produce.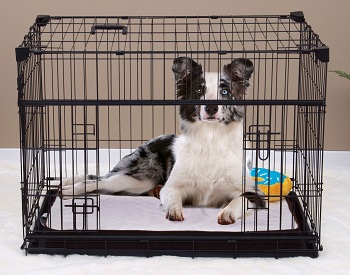 Crate Protection And Puppies
Like an extra large dog crate with divider, it's great for puppies and puppy training so if you're after that, check others out as well. The bottom rubber feet protect floors from scratches while the black e-coat finish protects the crate from rust and corrosion.
In Short:
Has a double sliding door entrance
The front door features 3 locks
Corner stabilizers reduce rattling noise
Comes with a puppy divider
The e-coat finish protects from rust and corrosion
Has rubber feet to protect floors
BEST METAL EXTRA LARGE DOG CRATE
Extreme Consumer Products Crate
Travel Features
Your dog will be the safest in this crate if you use it for traveling. It has an all-metal construction and it doesn't heat in the sun. For extra airflow, it features holes all around it. There are plastic caps on its corners that prevent damage to the corners, your car, and you can even use them to stack crates together.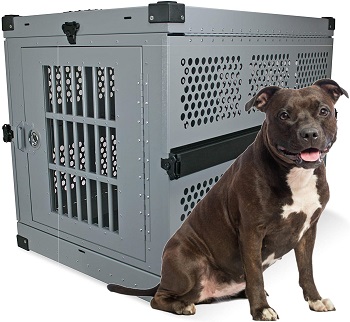 Folding And Weight
Amazingly, you can actually fold this xl metal dog crate. It's rare but it's possible so make sure to check them all out. It weighs 35 lbs which isn't heavy considering its build. It shouldn't house larger than large dogs though even though it's extra-large.
In Short:
Has a metal construction
Features ventilation holes
Doesn't heat in the sun
Can be folded down
Has corner caps for stacking and no damage to cars
BEST AIRLINE XL DOG CRATE
Petmate Sky Kennel
Construction And Extras
The crate comes with basic things needed for air travel like stickers, ID stickers, and bowls. The winged nuts used to hold the bottom and top shells together are non-corrodible. It's also a heavy-duty plastic dog crate with wire bits so you can be sure it'll last long.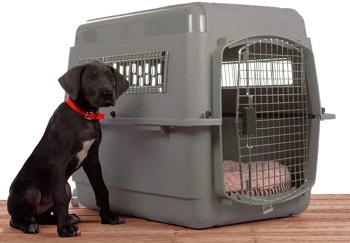 Air Safety
The lock on the single wire door is a vault-type lock that won't accidentally unlock due to excess movement. To make sure that you get the best possible locking extra large airline dog crate make sure to read more about them in the article linked below.
In Short:
Comes with travel extras
Made out of 2 shells
The plastic is heavy duty
The winged nuts are non-corrodible
Features a safe vault type lock
BEST GREAT DANE EXTRA LARGE DOG CRATE
MidWest Ginormous Dog Crate
How Big It Actually Is
Great Danes and other giant dog breeds require crates over 50-in long. That's why the Midwest ginormous dog crate works since it's 54-in long. It requires two people to assemble because it's also 45-in tall and 37-in wide. To prevent the sides from dropping in, it has L bar hooks on top.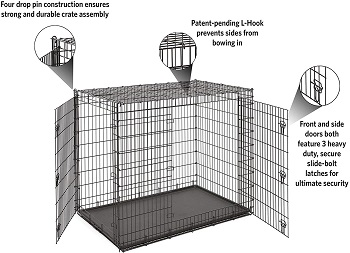 Crate Stability
Each corner features drop pins for more stable construction. It's colored black with an e-coat finish that makes it rust and corrosion-resistant. It has a 2 door entrance and locks with 3 locks each. If you'd like a more durable option, you can always check out the article about crates for giant dog breeds.
In Short:
It's 54-in long, 45-in tall, and 37-in wide
Requires two people for assembly
It won't bend in due to L bar hooks
Has drop pins for a more stable construction
Features 2 doors with 3 locks each
Has rust and corrosion-resistant e-coat finish
How To Pick An Extra Large Dog Crate
You won't have to look far and wide to find an extra-large dog crate but you will have to know a few things before purchasing one. These things include getting the size right, some warnings on size, materials, special crate type pros, and cons, and a lot more so stay and make your next crate purchase easy.
XL Crate Size – To know how big an xl dog crate is we have to check its dimensions. An extra-large can range anywhere from 42-in in length up to 48-in in length. This all depends on the type of crate and its function. 42 dog crates with a divider or without it are also considered large.
XXL Dog Crate Cover – For more privacy, you can always line your dogs' crate with a cover for large dog crates. Branded crates tend to have their own covers that fit them perfectly while for others, you'll just have to check the dimensions to see if it's the right fit. They can be water-resistant so they're wonderful travel additions as well
Xl Dog Crate Tray – Trays are an important part of every dog crate and every crate comes with on the bottom. They are almost always slide-out trays that help you clean the crate and keep the surrounding crate area cleaner. Some can be found on the outside and some already on the inside of a crate.
XXL Kennel – Kennels are very different from crates because they're made to be used outdoors. They're extremely large and they can fit dog crates inside of them. They're also made to be weatherproof and to withstand harsh weather conditions. Think of a kennel as a house and a crate as a bedroom.
Dropping The Weight Limit – A weight limit for a dog crate won't do you any good if it's too small for your dog. That's why you should always look at the crate dimensions and compare them to your dog to find a suitable crate. The crate should be at least 3-4 inches longer and taller than your dog.
Measuring Your Dog – To properly measure your dog, you will have to measure him from the tip of his nose to the beginning of his tail and from the floor to the top of his head. A lot of brands have their own measuring systems and size charts so don't skip o those either.
Puppy Housing Specifics – We're sure that some of you have puppies and if you do, you should check out how big your dog is going to get depending on the breed and then apply the same principle of sizing. A crate for puppies should also include a divider because your puppy will need to be in a smaller place, appropriate for his size specifically for potty training.
Why Get A Crate – Crates are wonderful things if you know that it's a dog's place to call home. They do have natural den-like instincts so with a crate and a dog that has been crate trained, your dog will never leave home even if you tend to move a lot and travel.
Crate Types – The xl dog crates we reviewed here are heavy-duty, wire, furniture style, and plastic dog crates. A wire crate is a good place to start with crate training, a heavy-duty one is made for aggressive dogs, plastic dog crates and soft dog crates are usually meant for travel and in this case, should only house calm and crate trained dogs.
Ranking Them In Price – The cheapest crates are going to be plastic but more specifically soft crates. They do have a larger price since they are all extra-large so around 100 dollars for one won't be so bad, the most expensive ones are heavy-duty and furniture style crates with some having the price of up to 300 dollars.
To Sum Up
We can't recommend the best extra large dog crate for the simple reasons that they all can't compare to others in certain areas. What we can suggest is that you measure your dog, add 3-4-in to his or her length and height and you've got yourself an appropriately sized dog crate. If you want exclusively steel metal crates, we advise you to read the article about steel dog crates and if you found all of them to be boring visually, check out the article about white dog crates. To get a full understanding of just how many and what types of dog crates are out there. we'd recommend you read the article about the best dog crates in general.