Do you wish your dog crate could be just a little bit better into our home so you set out to find a white dog crate?
If you still can't find one, we'd advise you to continue reading this article because we only reviewed ones that fit the description here. Not only that but we made sure to review the best ones and with a large variety of crates like metal, small, and even wooden crates, one is sure to fit your style.
The Summary
Best 10 White Dog Crates
BEST OF BEST WHITE DOG CRATE
Pupzo Heavy Duty Dog Cage
Construction And Abilities
Initially, this crate is made to house aggressive dogs due to. This wire dog crate is mostly made out of carbon steel tubes which makes it rust and corrosion-resistant. For more crates protected in such a way, you can read the article about them below.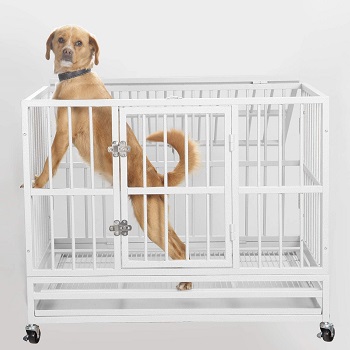 Size, Doors, And Movement
It's 48-in long which makes it an extra-large dog crate. Since it weighs 74 lbs it's good that it has 4 wheels on the bottom for you to move it easily. It has a top door for you to interact with your dog and a front door used for cage access. It locks with 2 hasp latch locks to prevent dog escape.
In Short:
Made out of carbon steel
It's rust and corrosion resistant
Mostly made out of metal tubes
Weighs 74 lbs
Has 4 wheels on the bottom for easy moving
Has a top and front door
The front door locks with 2 hasp latch locks
BEST END TABLE WHITE DOG CRATE
Casual Home Wooden Crate
Size, Top Function, And More
On the inside, the crate is around 24-in long which makes it suitable for small dogs. The top makes it act as an end table and can hold a weight of up to 120 lbs. It has a single door in the front that locks with one hasp latch lock. The vent spaces feature wooden tubing instead of metal.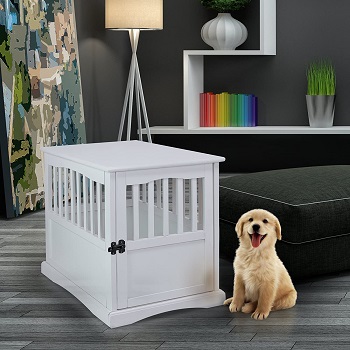 Construction Materials
Commonly, dog crate furniture is made out of wood. This one uses solid wood as its build material which makes it chew-resistant. This is a rare feature with any white dog crate end table but you should still check them out if this one's too small for your dog.
In Short:
Made with solid wood
It's chew-resistant
Can hold up to 120 lbs on top
Has a single front entrance
Air circulates through wooden tubes
Designed to house small dogs
BEST FURNITURE WHITE DOG CRATE
Zoovilla Dog Crate
Positioning Inside Homes
Luckily, you'll get to position this crate in multiple ways due to the 2 entrance design. The side entrance is a double door and each entrance locks with one lock. You can fully push the two doors to save space. For more unique style entrances you can read the white dog crate furniture article to find them.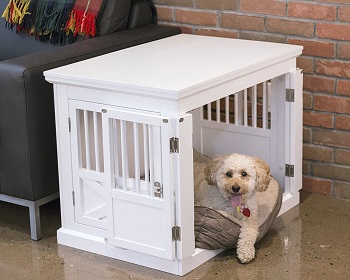 Build And Dogs
It's made with MDF wood which makes it able to house only crate-trained dogs. The top doesn't have a weight limit but be careful with how much stuff you put on there. It's made to house medium dogs up to 40 lbs due to its interior length of around 28-in.
In Short:
Made for medium dogs up to 40 lbs
Its interior is around 28-in long
Has 2 entry points with a total of three entrance
The 2-doors entrance doors open fully to save space
Made out of MDF wood
BEST WIRE WHITE DOG CRATE
Unipaws Furniture Dog Crate
Wood And Wire Combo
It's not fully made out of wire but only features wire sides. These wire sides make it chew-resistant but the MDF wooden frame is not. Apart from the front lock on the double and single doors, you'll get one interior lock for extra locking safety on this crate.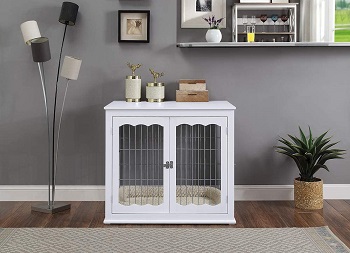 Top And Interior
The top makes it act as a piece of furniture and can hold up to 150 lbs. The interior is equipped with a bed that's easily washable and waterproof. If you want a crate with a more durable, fully wire construction, you can check the white wire dog crate article to easily find them.
In Short:
Made with MDF wood and wire
The wire is chew-resistant, the wood is not
The top has a 150 lbs weight limit
Has a double door and a single door entrance
Comes with a waterproof and washable bed
BEST WOODEN WHITE DOG CRATE
EcoFlex Dog Crate
Wood Abilities
It's easy to think of it as a great wooden crate since it's made out of a wood and plastic composite material called eco flex. In practical terms, this means that it won't split crack, or warp nor will it get damaged if it gets into direct contact with liquids.
Ventilation, Size, And Cleaning
The tubes all around it used for ventilation are made out of stainless steel. The top where you can usually put stuff on comes off for cleaning or you can clean it through the single front entrance. It's made to house large dogs that fit inside 42-in long crates. If you're after a different-sized white wooden dog crate you can find them in the article.
In Short:
Made out of ecoflex
The wood doesn't get damaged when in contact with liquids
It doesn't warp, crack, or split
The top and front door are cleaning access points
On top, you can place your personal stuff
Vent points are made out of stainless steel
Able to house large dogs
BEST SMALL WHITE DOG CRATE
Simply Plus Wood & Wire Crate
Cute Details
With screws shaped like dog paws and a bone-shaped tray blocker, this is definitely one pretty dog crate. Its white wooden frame is made out of MDF while the sides are made out of wire. Small dog crate furniture tends to look like this with other variants available os check them all out.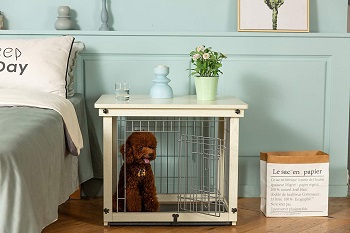 Other Details
On the outside of this white cage, it's 25-in long which means it can house most small dogs that fit inside 24-in dog crates. The cleaning tray on the inside is made out of plastic and the wooden top can make it act like a piece of furniture. It has a small front door that locks with 2 sliding bolt locks.
In Short:
Made out of MDF and wire
Has a small, 2 locks door
Can house small dogs
Has paw and bone-shaped screws
The cleaning tray is plastic
The top can hold your personal things
BEST MEDIUM WHITE DOG CRATE
Iris Usa Wire Open Crate
Top, Middle, And Bottom
Its top and bottom frame look like they're wooden but because of them, the iris dog crate white model is a medium plastic dog crate. For more obvious-looking plastic crates, make sure you check out others. The middle holds the white wire parts. The white comes from the epoxy finish.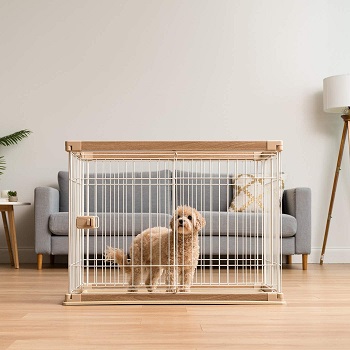 Door, Locks, And Stability
It does not feature a top so it acts more like a dog crate playpen. It has a sliding door that locks with a positive push lock. On the bottom, there is a tray that's molded to fit the rest of the crate so that it doesn't move much. It will contain medium dogs up to 40 lbs well.
In Short:
Looks like wood but it's plastic
The wire sides are coated with epoxy
Can house up to 40 lbs medium dogs
Doesn't feature a top
Has a single sliding door entrance
The bottom tray is molded to make the top stable
BEST PLASTIC WHITE DOG CRATE
SportPet Designs Kennel
Build And Main Function
We can say that half of this crate is white and the other half is grey. The two shells connect either with plastic locking clips but can be reinforced with nuts and bolts that come with them. If you haven't already guessed it, this is a crate made for air traveling. It comes with stickers ad bowls for it as well.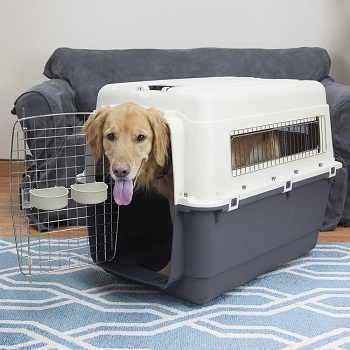 Crate Size
The white crate is made for dogs that are up to 32-in long, and 24-in tall. That's why it has wheels on the bottom that you can easily remove and two top handles for lifting it up. It's an extra-large plastic dog crate but it's not the only one so check others out if you need a different kind.
In Short:
Made for air travel
Consists of two plastic shells
The shells connect with clips and nuts and bolts
Comes with stickers and bowls for air travel
Made to house large dogs
Comes with easily detachable wheels
For heavy lifting, it has 2 top handles
BEST PUPPY WHITE DOG CRATE
Zoovilla Dog Crate
Chew Resistance
The frame that includes the top and corners of the crate is what makes it white. It's MDF wood while the sides are made out of black wire. MDF is not chew-resistant so it should only house crate trained dogs. The inside bottom of this white puppy crate features a hidden slide-out cleaning tray.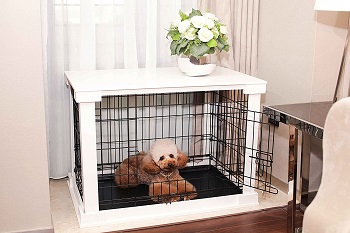 Size And Top
It's impressive that you'll get to house large dogs inside this contemporary dog crate. For other sizes of crates that blend wonderfully inside homes check out the article about them. The top can make it double as an end table and you won't have to do too much when assembling it.
In Short:
Can house large dogs
Has an MDF frame and wire sides
Should only be used with crate trained dogs
The top can hold your personal items
Has a hidden cleaning tray
It takes minimal assembly
BEST LARGE WHITE DOG CRATE
BarkWood Large Pet Crate
Construction Stability
Reason number one for this crate being durable is that it's made out of solid wood. Each panel is connected with mortise and tenon joints that are known to be reliable. Its constructional stability is unmatched compared to other furniture style crates.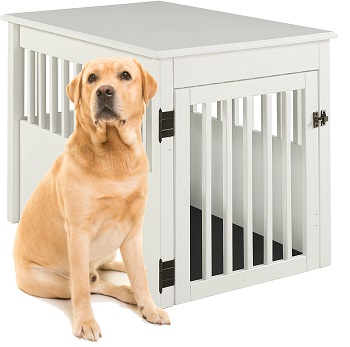 Unique Wood Crate Features
The bottom on the inside is rubberized so that it minimizes liquids absorption and the door opens fully to the side to not get in the way. For a more classic style door opening, be sure to read the article about large white dog crates next. It's made to house some medium and some large dogs since it's 36-in long.
In Short:
Made out of solid wood
The panels are connected with mortise and tenon joints
Has a rubberized, minimum liquid absorbing bottom
It's 36-in long
Can house medium and large dogs
Acts as a piece of furniture
How To Pick A White Dog Crate
You can't just pick out any white dog crate even if you're careful with size. You have to learn about all of them, the types, their functions, durability, size, and a lot more. You'll get to learn about it all here in this guide if you don't already know everything you should.
Large White Dog Crate – We maybe reviewed one or two large dog crates in this article. The lower the size of a crate, the more likely it is to be colored in a different color other than black and grey. This doesn't reign true for large dog crate furniture though. A large crate is usually a 42-in long crate, a 48-in crate is extra-large while anything above is for giant dog breeds.
White Dog Kennel – Although many manufacturers use "kennel" as their crate description this is not actually what they are. A kennel is a large enclosure meant to be used outside. Dog care professionals usually use them and they're made to be weather protected. In terms of size, they can easily house dog crates inside.
Wire VS Metal – White wire dog crates are usually going to be a great choice if you're crate training your dog. This stands true if the crate is fully made out of wire. By metal crates, we usually mean heavy-duty metal dog crates and those specifically made to house aggressive dogs that easily tear through wire crates.
Sizing A Crate Right – To get an appropriately sized crate for your dog, you should drop the weight limit and only focus on dimensions. Your dog should be at least 3 or 3 inches shorter than the crate in two dimensions which are length and height. Crate length usually determines crate size.
Known Crate Sizes – As we mentioned, length usually determines the size of a crate. The most typical crate sizes are 24-in long crates made to house small dogs, 30-in dog crates made to house medium dogs, a 42-in crate for large dogs, and a 48-in crate for extra large dogs. Any size below or above this range is made for extreme dog sizes like giant and toy dog breeds.
Most Common White Crate Type – Most commonly, you'll find furniture-style crates to be colored white. They are the easiest to find but they come with a big con. They can't really house dogs that haven't already been crate trained. If you do the job right, you'll end up with a dog inside a crate that won't even disrupt the visual appearance of your home.
Determining Price – Price varies from crate type to crate type and is also determined by crate size. Larger crates are always going to be more expensive. The most expensive crates here are furniture crates with some having a price as high as 300 dollars, but ever lower than around 130 dollars. The cheapest crate types here are fully wire crates and plastic crates.
To Sum Up
If these were all the same and had the same main functions, it would be easy to recommend the best white dog crate. Since that's not the case we can only suggest a few things that will make it easy for you to pick one. Make sure you leave at least 3-4 inches of room for a dog to be comfortable inside a crate and watch out for crates that can only house crate trained dogs. For complete reviews of furniture crates, we advise you to read the article about wooden dog crate furniture and for truly wire crates, we have an article about wire cages for dogs you can read. If you want to learn more about them in general and check out all of the crate types we left out in this article, everything you want to know you can find in the article about dog crates.